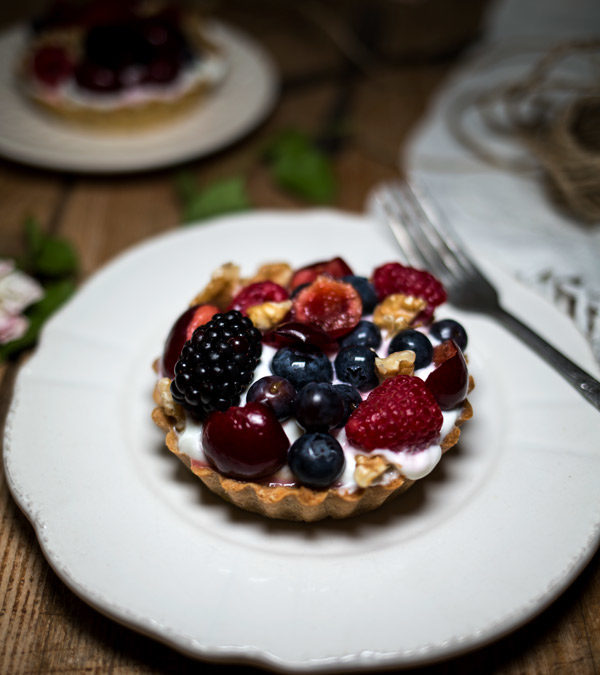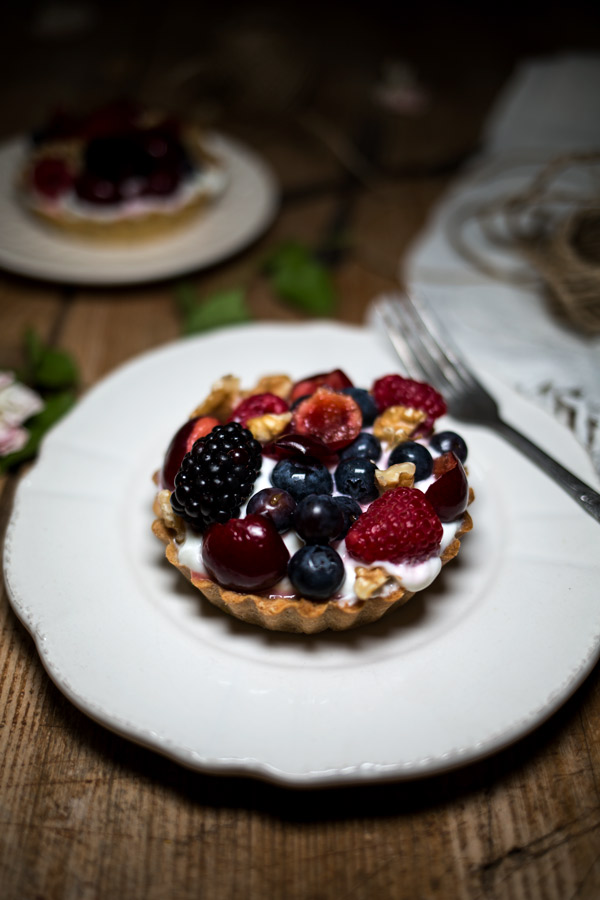 Sorry for dropping off the map! Mr. Italicano, Baby Italicana and I spent over a month in the USA visiting my family ❤ and I did cooking classes and demos around Seattle, Portland and in Virginia for Caruccio's and Smeg USA. Now we're back in Italy, and I've been aching to write a recipe post, so let me get straight to it and tell you about these amazing mini farro tarts!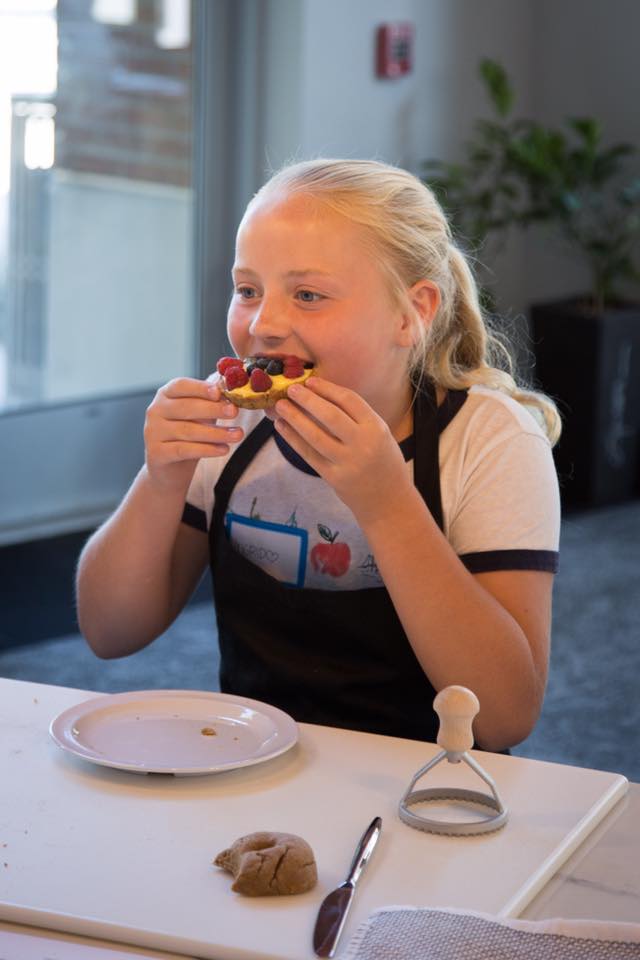 Besides being just extremely cute, these mini farro tarts were a huge hit with the participants at my kid's cooking class at Caruccio's, a beautiful new culinary event space in Mercer Island. In this cooking class each child made her own tart, filled it with a homemade lemon curd and topped it with fresh berries. Not a crumb remained!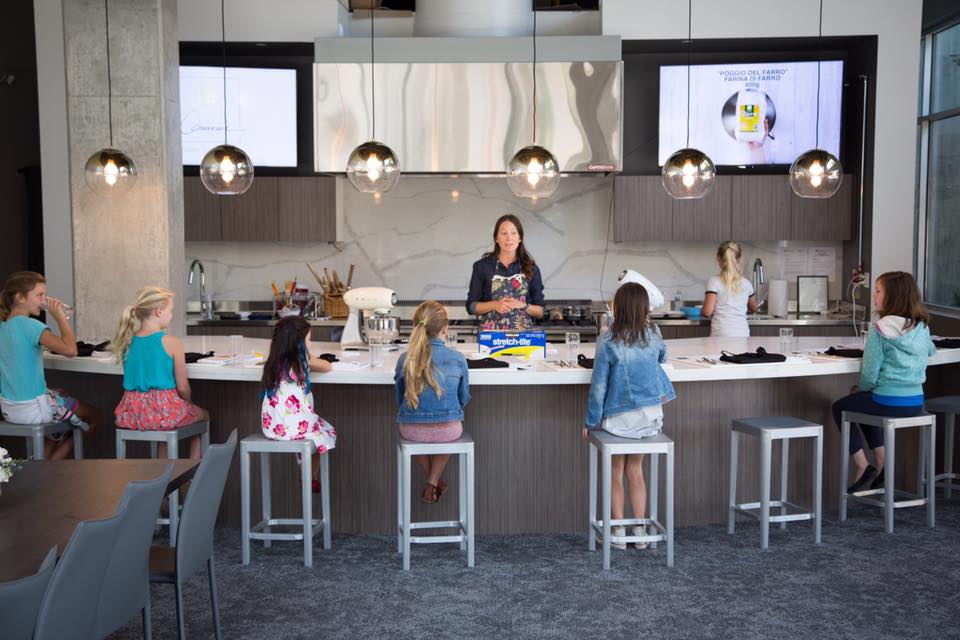 Here is what a I love about these mini farro tarts:
Kid Friendly —

They are the perfect recipe to make for (or with) your child. Fill them with homemade lemon curd, jam or yogurt and top them with berries for a healthy breakfast, dessert or after school snack.

Low in Sugar

— Most desserts are pumped with sugars. This tart crust just has 1/3 cup raw turbinado sugar. Obviously, depending on what you fill it will make it more or less sugar-y, so if you are looking for a simple & healthy treat, opt for a good yogurt and fresh fruits, nuts and/or seeds.

Farro — I am a huge proponent of farro. It's an ancient grain grown in Italy which is nutty in flavor, high in protein and fiber and is often suitable for people who have gluten sensitivities (but not those who have celiac disease). Just search farro recipes

in the search box for more recipes. One of the brands I collaborate with and absolutely love is

Poggio del Farro.
Since I love discovering new ways to cook with farro, I thought I would bring my knowledge to the USA! I created farro recipes for all of my adult classes, pop-up dinner and demo's at Caruccio's. Throughout the various events, we made homemade farro salad, farro beet soup, farro ravioli, farro matcha pasta, farro beet pasta, farro crostata and farro chocolate chip cookies. Participants were enthusiastic to learn more about farro, the health benefits and and the best recipes to make with this ancient grain. I was really delighted to see how curious everyone was (even kids!) to learn about farro. ❤
Cooking Demo
Adult Cooking Class
Pop Up Restaurant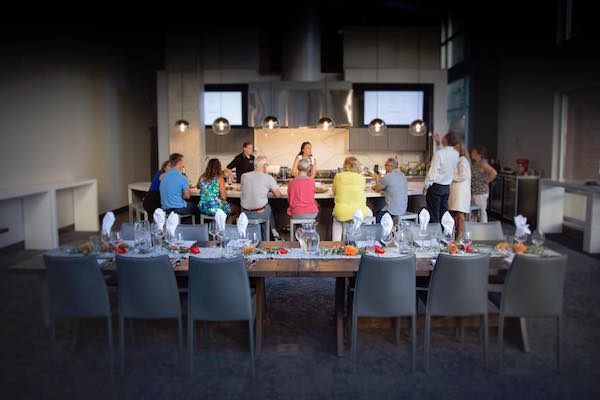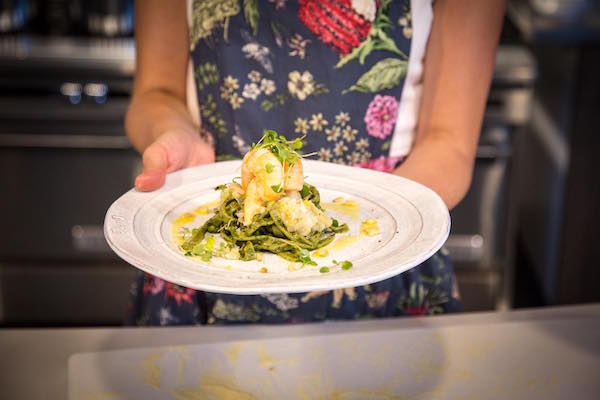 Farro also appeared in my Smeg USA cooking demonstrations at Williams-Sonoma and Nordstroms. I showed customers how to make homemade matcha farro pasta with Smeg's 1950's style stand mixer and pasta attachments (<—affiliate links) hence the reason I'm dressed up in 1950's style! 🙂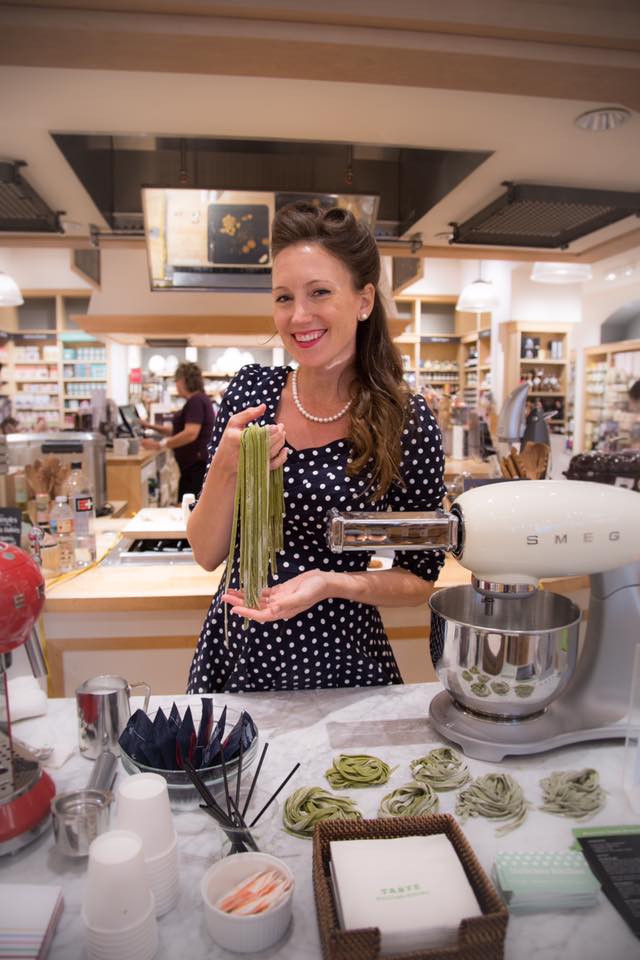 The pasta is bright in color, packed with antioxidants and I put in just the right amount of matcha to not leave any bitter taste—making it easy to pair with any sauce.At some of my demos, I also showed how to make matcha tea with Smeg's Variable Temperature Kettle (<—affiliate link). I really enjoyed using  Sugimoto America 's delicious organic matcha culinary and ceremonial grade teas. I'm not a big tea drinker, unfortunately I often find it too bitter, but matcha tea is one that I actually like because it's smooth and I find it less pungent.
I'm surprised with how "italicana" I've become over the eight years of living in Italy.  My usual craving for a Starbucks coffee has passed—for me it's too sugary and sweet. I usually drink American drip coffee (straight up black) or I choose to make a homemade latte with just a little added maple syrup for flavor or I'll make a quick espresso, macchiato or cappuccino. I love how Smeg's 1950's style Espresso Machine (<—affiliate link) is easy to use, so stylish and takes up such little space on my countertops. In this video I show you how simple it is to make a macchiato using it!
Another simple but satisfying recipe I had the pleasure of demoing is a sparkling citrus juice using Smeg's 1950's style citrus juicer (<—affiliate link).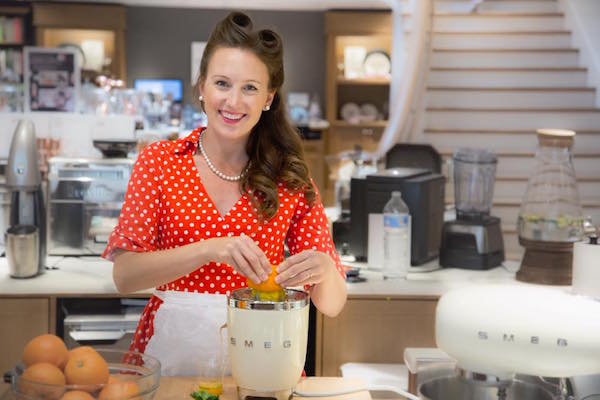 Now that I have Baby Italicana to think about, I've been consuming many homemade non-alcoholic drinks. Here's the easy and delicious recipe:
For a Sparkling Citrus Juice:
1. Squeeze some oranges or grapefruit in a glass
2. add equal parts sparkling water
3. top with a mint leaf
It's that easy! Great for prego's like me, for kids or to serve as a nice refreshing drink  for your family and friends. 🙂 I made these citrus juice drinks for my nieces and nephew at Lake Chelan when were there with my entire family celebrating my mom's 70th birthday. They adored this "fizzy drink" and I love knowing that I, their auntie, was giving them something that is 100% natural. ❤
How is Baby Italicana?
This little globe trotter is doing well! She's 29 weeks old and we're already in the 3rd trimester! She has become a little ninja in my belly and is kicking all the time (the most incredible feeling ever). She loves her daddy and responds with kicks and high fives when Mr. Italicano taps three times on my tummy (I think he'll soon start teaching her morse code. Hah!).  We love celebrating life moments with her. For my and Mr. Italicano's 4th wedding anniversary we took her to a Seattle Seahawks game…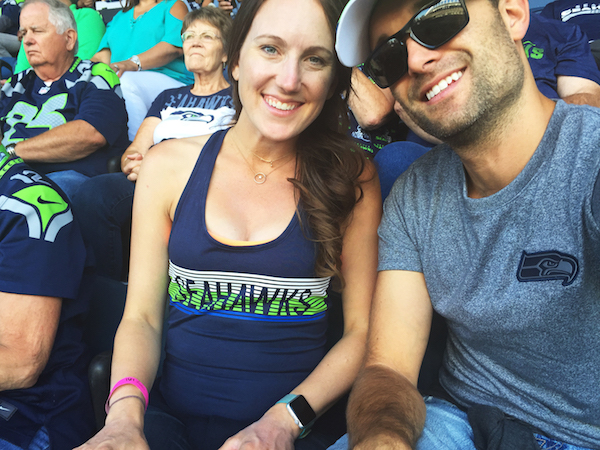 …and spent a night at Sleep Lady Mountain Resort in Leavenworth where we got married.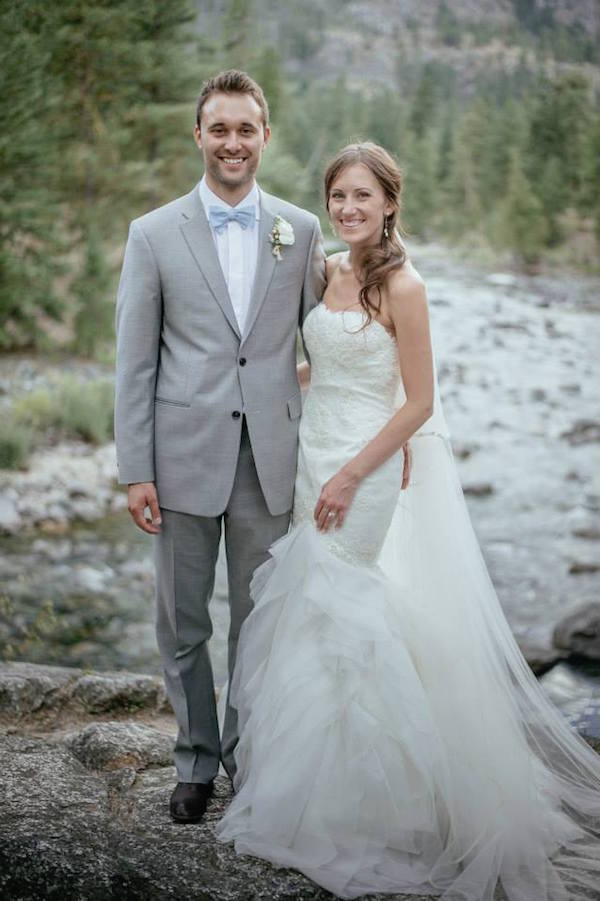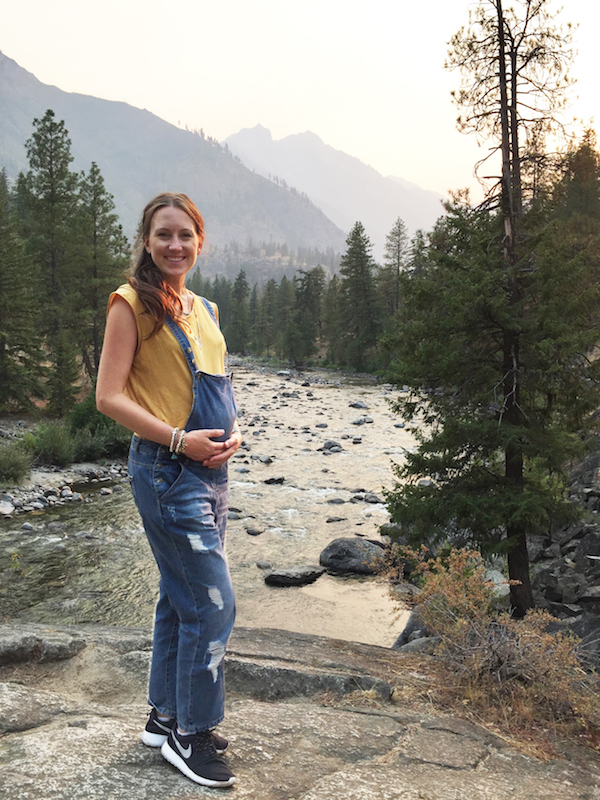 We took her on the outdoor stage where we said our vows, to a beautiful rock overlook where with views of the river and mountains and strolled through the rest of that magical place describing to her all of the special memories of that unforgettable day.   ❤

Mini Farro Tarts
These mini farro tarts are the perfect recipe to make for your family. Fill them with homemade lemon curd, jam or yogurt and top them with berries for a healthy breakfast, dessert or after school snack.
Ingredients
For the tart:
2½ cups (300 g) farro (emmer) flour (Triticum Dicoccum)
½ teaspoon (1 g) baking powder
2 pinches salt
⅔ cup (150 g) cold butter, cut into cubes + more to butter pans
Zest from 1 organic lemon
⅓ cup (75 g) turbinado sugar
1 large organic egg + 1 egg yolk
For the filling:
Greek yogurt, lemon curd, homemade jam (etc)
Fresh berries
Instructions
Preheat the oven to 350°F (180°C).
In the bowl of a stand mixer equipped with the paddle attachment, add the flour, baking powder, salt and butter. Mix on medium speed for 1-2 minutes.
Add the lemon zest, turbinado sugar and eggs. Combine until the dough comes together as a ball. Flatten the dough into a disc, wrap with plastic wrap and place in the refrigerator for 30 minutes.
Butter fifteen 4-inch tart pans with removable bottoms. Divide the dough into 15 pieces. Push each piece of dough into the tart pan until the dough evenly covers the bottom and sides. Pierce the bottom of the dough with a fork many times. (If you have fewer tart pans, you can take turns baking. In this case, keep the dough in the refrigerator until ready to use. You can also use this recipe to make the crust for an 11-inch (28cm) pan crostata. If so, follow the recipe in that link for tips on how to roll out the dough and fill the crostata.)
Bake the mini farro tarts for 22-24 minutes or until the crust is golden brown.
Add your filling of choice (Greek yogurt, lemon curd, homemade jam etc) and top with fresh berries. Enjoy!
In this post, there are affiliate links and links to the companies I work with. These collaborations allow me to work full time on this blog. I am very selective in my choices of collaborations and products that might be of value to those who follow me. Thank you for your support. ❤