Smoothie bowls are a huge food trend these days, and what's not to love? Eat them as a healthy breakfast, lunch or a snack. Pack them with superfoods to jumpstart your day or keep you going when you need a burst of energy.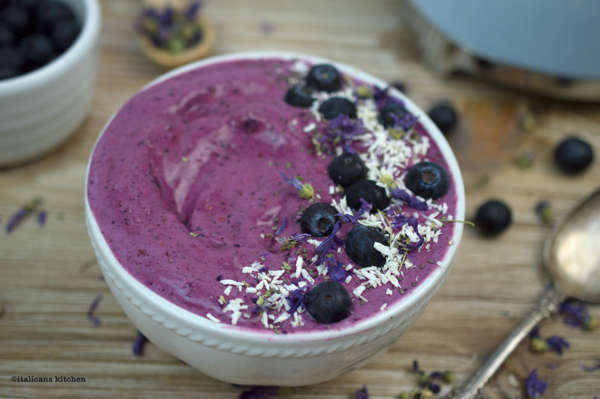 So what is the difference between a smoothie and a smoothie bowl? Two things: the consistency and toppings. Whereas a traditional smoothie you drink through a straw, a smoothie bowl has a thick consistency allowing you to pile on delicious toppings. If you like sundaes but want a healthier version, you are going to love these smoothie bowls.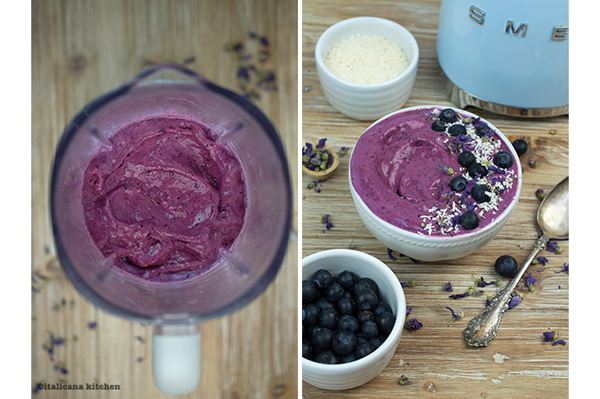 There are infinite ways to make smoothie bowls, but a simple master smoothie fruit bowl recipe is: 1 cup frozen fruit +1 sliced frozen banana + 2 tablespoons nut butter + 1 cup plant milk. Toss it all in a good blender, like Smeg's, and hit the smoothie button. You want just enough liquid so that the blender can do it's magic, but not so much where the mixture is runny. If it's too thick, add a bit more liquid. If it's too runny, add some more frozen fruit. Once you have the right consistency, you can have some fun. Pour the mixture in a bowl and top it off with:
fresh fruit (blueberries, raspberries, peaches, mango etc.)
dried fruit (goji berries, dates, raisins, apricots, coconut flakes etc)
nuts and cereals (walnuts, almonds, pecans, toasted granola etc)
seeds (chia seeds, hemp seeds, flax seeds etc.)
powders (maca powder, turmeric powder, flax seed powder)
The options for creating different delicious smoothie bowls are endless. Here is my version for a mixed berry smoothie bowl. Buon appetito!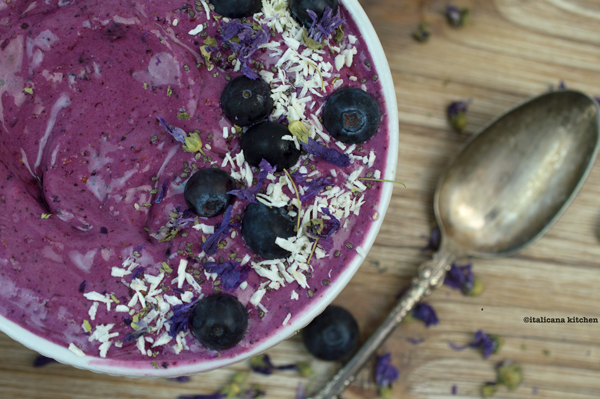 P.S. If you create this smoothie bowl or another one of my recipes, tag @italicanakitchen on instagram so I can see your creations! 🙂
xoxo,
Mrs. Italicana

How to Make a Smoothie Bowl
Smoothies bowls can be eaten as a healthy breakfast, lunch or a snack. Pack them with super foods to jumpstart your day or keep you going when you need a burst of energy.
Serves:
Two small portions or 1 big one
Ingredients
For the smoothie:
1 cup (150g) frozen mixed berries
1 sliced frozen banana
2 tablespoons almond butter
1 to 1½ cups soy milk
For the toppings:
Coconut flakes
Fresh blueberries
Chia seeds
Edible dried flowers
Instructions
Put the frozen fruit, almond butter and 1 cup of soy milk in the blender. Press the "smoothie" button. Stop the blender to scrape down the sides. Add more soy milk if needed so that the smoothie is thick but not too runny.
Divide the mixture in two bowls and top with coconut flakes, fresh blueberries, chia seeds and edible flours. Eat immediately.
*This post is sponsored by Smeg. All of the content, ideas and words are my own. Thanks to sponsors, italicana kitchen is able to bring your more new recipes.
Related posts: