If your vegetable garden :: orto is overflowing with zucchinis (check!), I have a delicious solution for you: zucchini pancakes! They're easy to prepare and and a delicious "italicana" (Italian+ American) twist to the classic pancake recipe.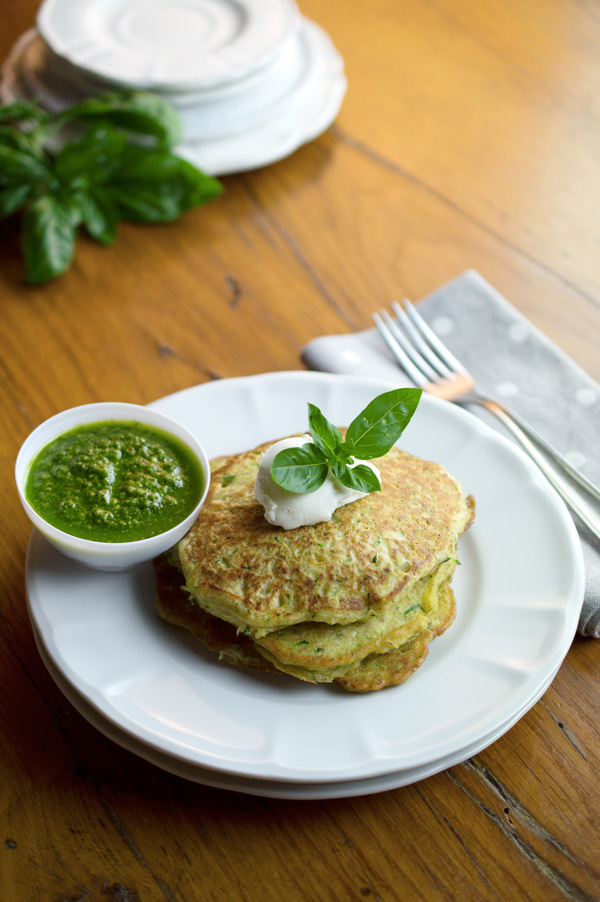 These pancakes are absolutely divine for brunch or served as a gourmet appetizer. I suggest pairing them with a glass of prosecco, a sparkling white Italian wine :: vino.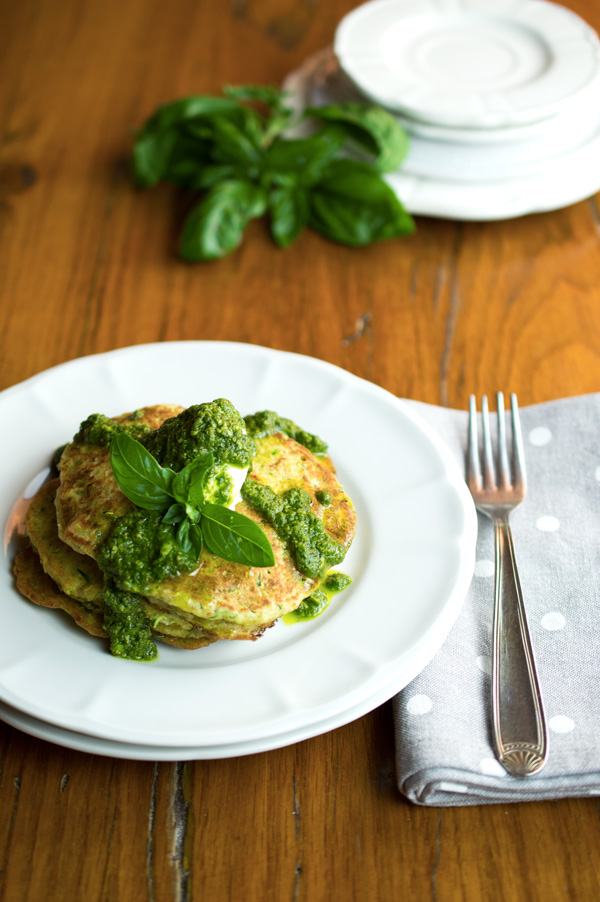 In this recipe, the grated :: grattugiate zucchini is actually added into the mixture, whereas in my whole wheat pancakes with pear, arugula, walnuts, gorgonzola cream and balsamic vinegar the ingredients are served as a topping.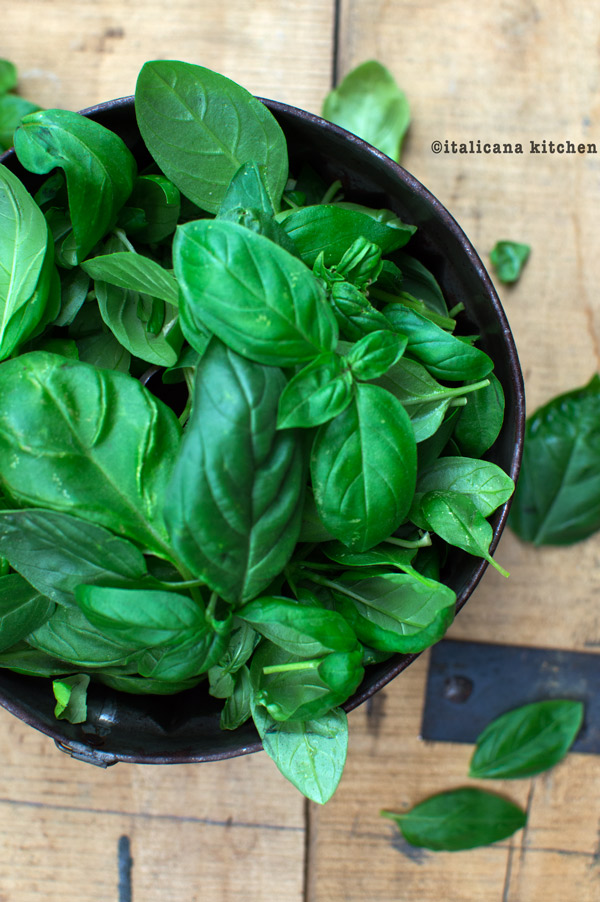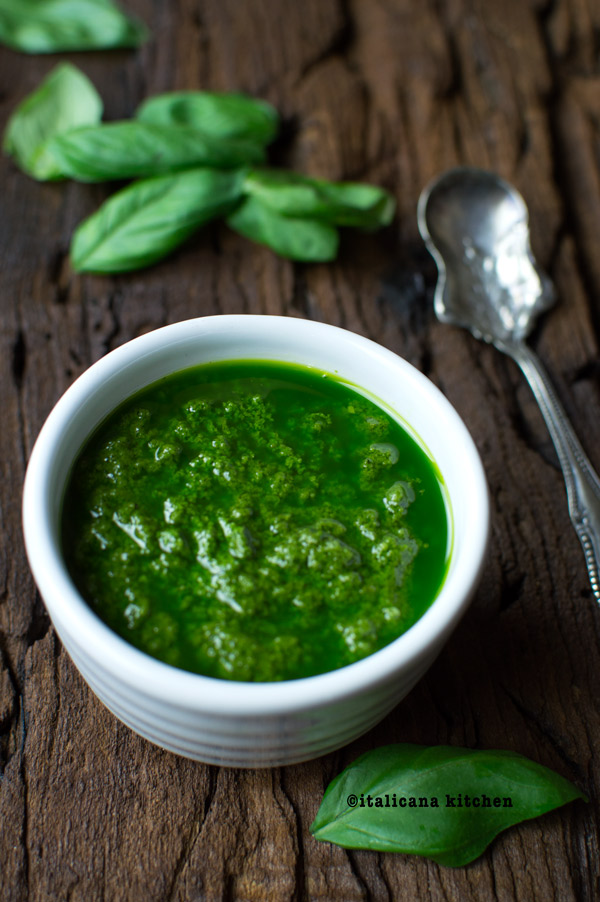 Speaking of toppings, these zucchini pancakes are smothered with a creamy basil pesto, called in Italy "pesto alla genovese." I also recommend adding a dollop of soft cheese :: formaggio morbido, like ricotta, cream cheese or stracciatella, to make these pancakes even more dynamic in flavor and texture.

Zucchini Pancakes with Basil Pesto
Ingredients
For the Pesto:
2oz (55g) basil leaves, without stems and rinsed
1 clove garlic, skin removed
1 tablespoon (10g) of pinenuts or walnuts
1.3oz (40g) Parmigiano Reggiano cheese, freshly grattugiato
.75oz (25g) Pecorino cheese, freshly grated (*or you can use all Parmigiano Reggiano*)
6 tablespoons extra virgin olive oil (*plus more if needed to arrive at a creamy consistency*)
1 pinch of sea salt
For the pancakes:
½ cup (60g) all-purpose flour
½ cup (60g) whole-wheat flour
¼ teaspoon (1g) table salt
1 teaspoon (4g) baking powder
¼ teaspoon (1g) baking soda
2 large eggs
½ cup soy milk (or skim milk)
3 tablespoons extra virgin olive oil
2 cups (125g) shredded zucchini (from 1 medium zucchini)
Extra virgin olive oil or butter, qb
Soft cheese (ricotta, cream cheese, stracciatella), optional
Instructions
For the basil pesto:
Put all of the ingredients in a blender or food processor and blend, adding more extra virgin olive oil if needed until smooth.
For the pancakes:
In a medium bowl, whisk together: flours, salt, baking powder and baking soda.
In a separate small bowl, beat together the eggs, milk and extra virgin olive oil.
Pour the dry ingredients into the wet ingredients and mix gently until just combined. There should be lumps; don't over mix.
Put the shredded zucchini in a clean kitchen towel. Squeeze well to remove the moisture then fold the zucchini into the pancake mixture.
Heat a large skillet over medium heat. Splash a few drops of water on the pan. If it sizzles, it's ready. Add a swirl of extra virgin olive oil or a small nob of butter and swirl it around to coat the bottom of the pan. Use an ice cream scoop or a ¼-cup container to easily create a few small circles in the pan, being careful that the mixture doesn't run into one another. Cook for 2-3 minutes. When lots of bubbles form on the top use a spatula to peek underneath. If the bottom is golden brown flip the pancake. Do not press down on the pancake with the spatula. Cook for another 1-2 minutes until the bottom is golden brown.
Add another small knob of butter and repeat these steps until you have cooked all six pancakes.
Serve the pancakes with with a dollop of soft cheese like ricotta or cream cheese (optional) and a drizzle of fresh pesto.
Adapted from:
Related posts: