Making pancakes is so easy! Here is a quick 2 minute video showing you how to make perfect whole wheat pancakes.
When I think of pancakes, the first thing that comes to mind is a dab of butter melting on top of the warm stack then swimming in a river of natural maple syrup. Or, I think of garden strawberries :: fragole and mountain blueberries dropped on a pillow of fresh whipped cream. Either way, I associate pancakes with sweet flavors.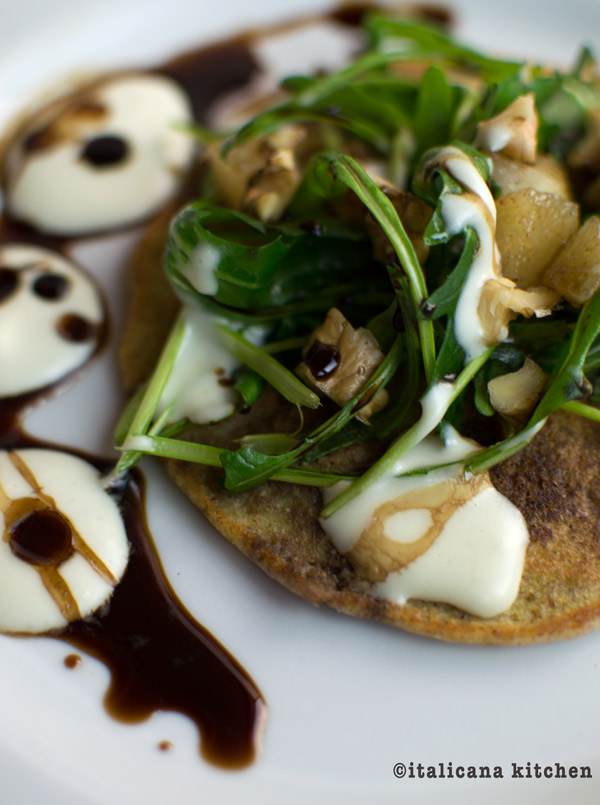 Yet, pancakes are so versatile and one of the best ways to enjoy them are with savory flavors or a blend of sweet and savory, like this recipe. I've paired the arugula :: rucola which is quite bitter with the sweetness of the pear. I've thrown in some walnuts to give the dish a nice contrast between soft and crunchy. And, I've topped everything off with a creamy gorgonzola and crème fraîche dressing to simulate maple syrup. Drooling yet?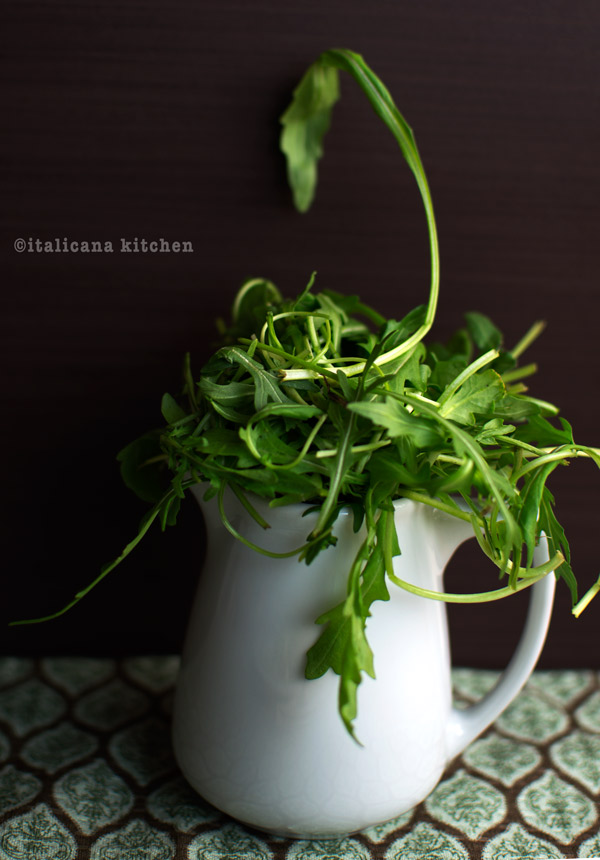 I've used this whole pancake recipe that is already on the site because after experimenting a lot with different recipes this is one that works great for me. Read that post for more tips and tricks, and always remember this important fact: flours absorb liquid differently. I've had my Italian friends ask me why certain pancake recipes that they had found on the internet didn't work for them and my guess is that they didn't adjust the liquid correctly. The indications below are subjective. You may need to add a bit more liquid to your mixture :: miscela or it may be the right quantity. The key for success is that the batter must easily drip off your spoon. This tip is obviously  for thin pancakes, which is recommended for my whole wheat recipe; otherwise, you risk that the pancake will be too tough.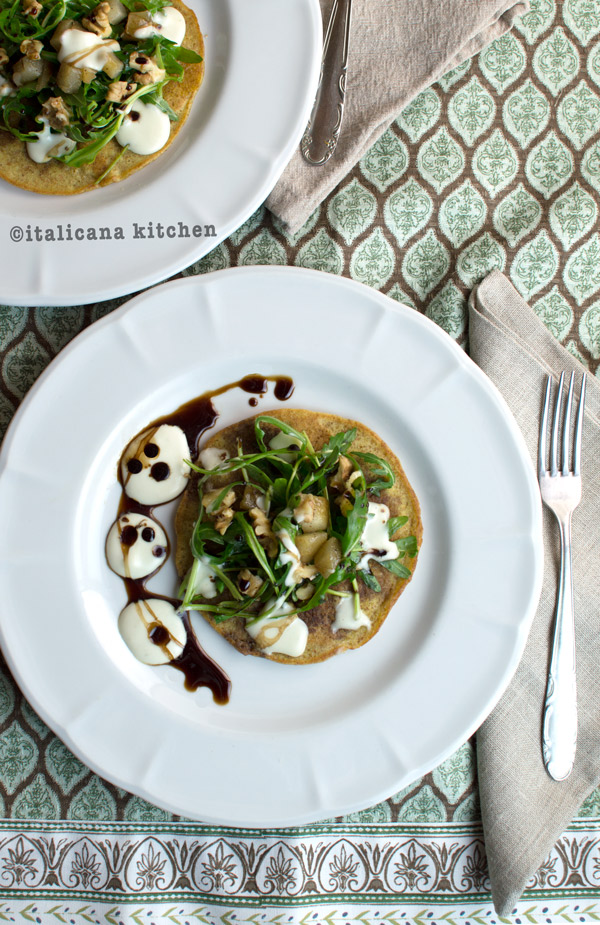 For the creamy gorgonzola and crème fraîche topping you can use a blend like I did, because I had both on hand; otherwise, feel free to use one or the other.
I hope you enjoy this recipe. Have a wonderful weekend!

Pancakes with Arugula, Gorgonzola, Pear and Walnuts
You're weekend brunch recipe has arrived: Pancakes with Arugula, Gorgonzola, Pears and Walnuts.
Ingredients
For the whole wheat pancakes:
1 cup milk
1 tablespoon apple cider vinegar (or white vinegar or lemon juice)
1 cup (125g) whole wheat flour (or all-purpose)
2 teaspoons (8g) sugar
1 teaspoon (4g) baking powder
½ teaspoon (3g) baking soda
½ teaspoon (3g) salt
2 tablespoons melted butter
1 egg
Butter, as needed
For the topping:
3.5 oz (100g) gorgonzola
3.5 oz (100g) crème fraîche
1 pear, peeled, cored and diced
2 handfuls arugula, washed and dried
4 walnuts, shelled and chopped
Extra virgin olive oil, as needed
Balsamic vinegar, as needed
Instructions
For the whole wheat pancakes:
In a small bowl, combine the milk and vinegar and let sit for 5 minutes.
In a medium sized bowl, combine the whole wheat flour, sugar, baking powder, baking soda and salt. Mix well.
Add the the melted butter and egg to the milk and vinegar mixture and mix well. Combine the two mixtures and stir until just combined, lumps are fine. For a thin pancake, the batter should run off the spoon. If the batter is too thick add a splash of milk or water. I recommend thin pancakes because thick ones may turn out tough when using all whole wheat flour.
Heat a large skillet over medium heat and add a small knob of butter rotating the skillet so that it covers the bottom. Using a ¼ cup (59ml) measuring cup or ice cream scoop, measure out the batter and pour it in the skillet. Depending on your pan size, you'll be able to fit 2-3 pancakes at a time.When lots of bubbles form on the top use a spatula to peek underneath. If the bottom is golden brown flip the pancake. Do not press down on the pancake with the spatula. Cook for another 1-2 minutes until the bottom is golden brown.
Add another small knob of butter and repeat these steps until you have cooked all nine pancakes.
For the topping:
With an immersion hand blender, blend the gorgonzola and crème fraîche together.
In a small bowl, dress the arugula with a splash of extra virgin olive oil.
Put one or more pancakes on a plate, top with the arugula followed by the gorgonzola mixture, pears and walnuts. Drizzle with balsamic vinegar. Buon appetito!
Notes
If you don't have crème fraîche you can just use gorgonzola. The servings 3-9 depends if you serve 3 pancakes per person or only 1 per person.
Related posts: