In Italy, Sunday lunch is the tradition; in America we usually eat a Sunday brunch. Where I live in Emilia-Romagna Sunday lunch usually entails of at least two hours at the table surrounded by family and extended family enjoying: erbazzone, chunks of Parmigiano Reggiano cheese with balsamic vinegar, and homemade bread for an appetizer; tortelli verdi or pumpkin tortelli for the first course; meat or fish, like baked sardines, marinated anchovies or John Dory with capers and tomatoes for the second course; various sides like sautéed spinach or borlotti beans and of course dessert: either a homemade tiramisù or pastries and artisanal gelato :: gelato artigianale.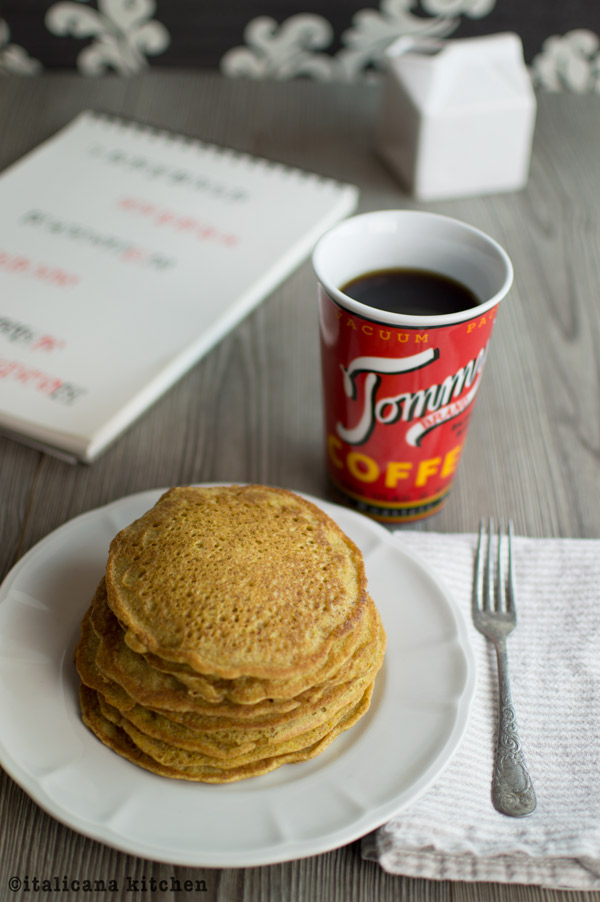 In America, we look forward to a relaxing Sunday brunch either eaten in a nearby restaurant :: ristorante or in our pyjamas at home. Although my family is quite fond of many of the typical brunch items: poached eggs, scrambled eggs, muffins, coffee bread, apple or pear crisp, our favorite food to eat for Sunday brunch are pancakes.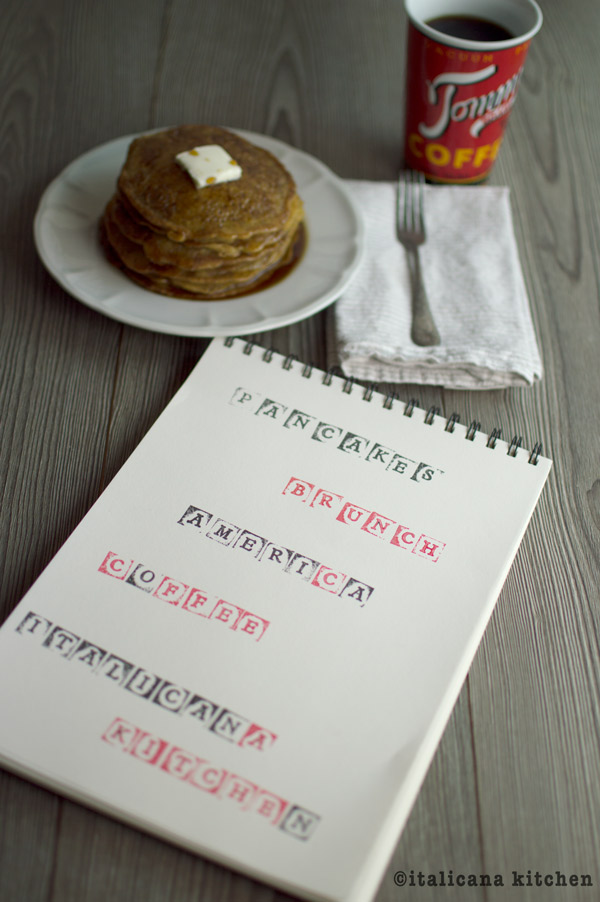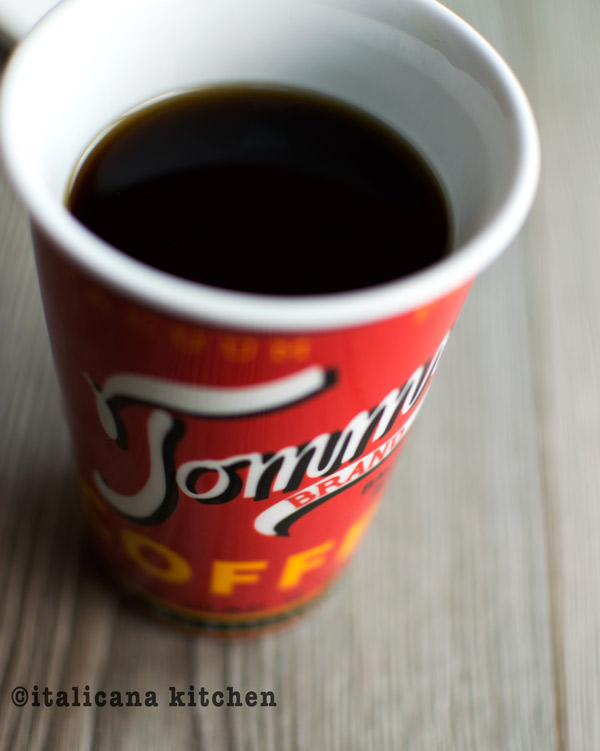 As a child, each Sunday I would always wake up to the smell of bacon frying in a skillet and I would see my dad with a spatula in hand flipping giant pan-sized pancakes. The size and thickness of pancakes are a personal choice. For a thick fluffy :: soffice pancake, go lighter on the liquids; for a thin moist pancake, the batter should be quite runny. If the batter sits for awhile, it will start to become more dense, which you can easily thin out again with a splash of water or milk.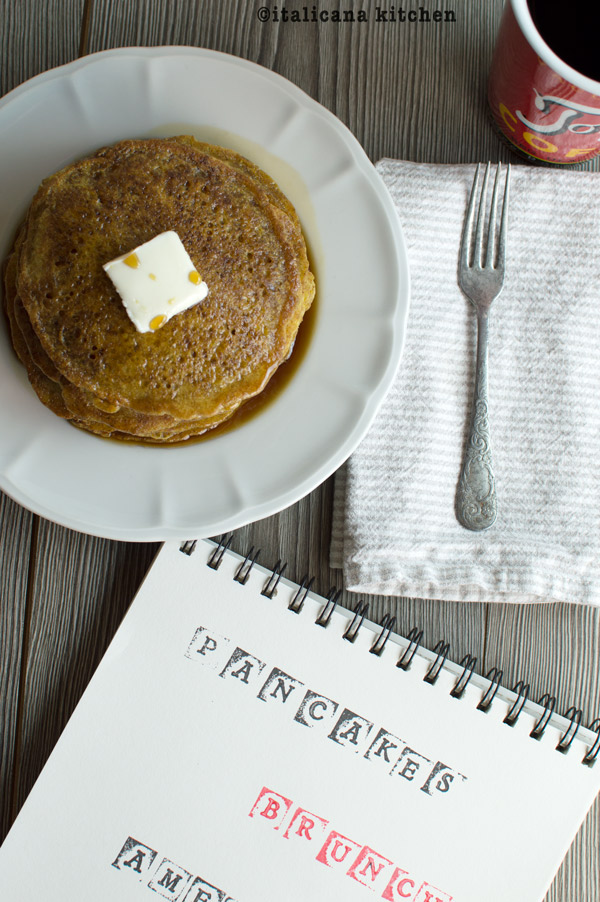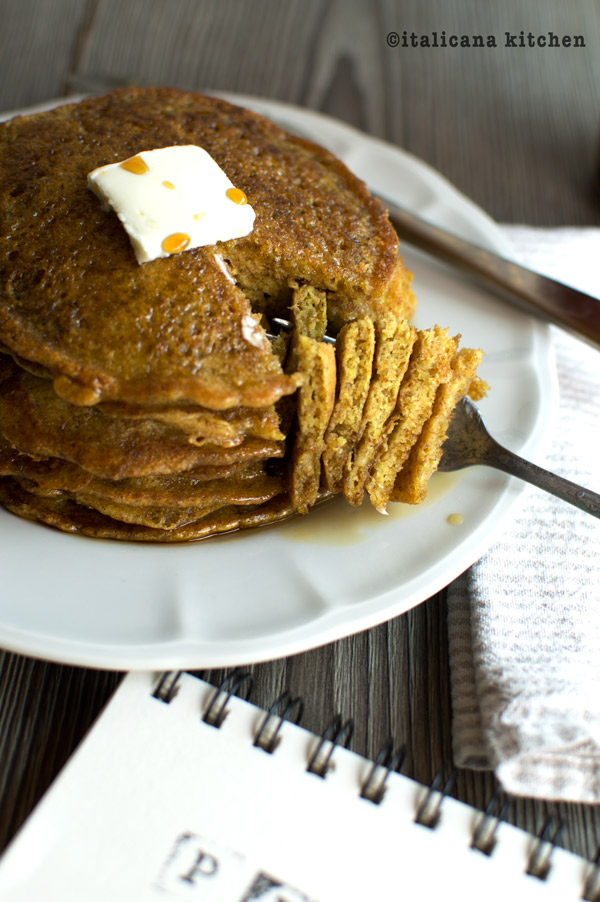 There are a variety of pancake toppings; here are some of my favorite:
100% pure maple syrup
Honey :: miele
Banana and walnuts
Butter
Chocolate chips
Strawberries, blueberries, or raspberries
Whip cream
Natural peanut butter
Jam
You can also make savory zucchini and pesto pancakes or even a fancy pancake cake. The options are truly endless. What are your favorite flavor combinations? Leave a comment below!

Whole Wheat Buttermilk Pancakes
Say goodbye to box mixes. These homemade whole wheat buttermilk pancakes are a cinch to make and will be perfect for your next Sunday brunch!
Ingredients
1 cup milk
1 tbsp apple cider vinegar (or white vinegar or lemon juice)
1 cup (125g) whole wheat flour (or all-purpose)
2 tsp (8g) sugar
1 tsp (4g) baking powder
½ tsp (3g) baking soda
½ tsp (3g) salt
1 egg
2 tbsp melted butter
butter for greasing the pan, as needed
Instructions
In a small bowl, combine the milk and vinegar and let sit for 5 minutes.
In a medium sized bowl, combine the whole wheat flour, sugar, baking powder, baking soda and salt. Mix well.
Add the the melted butter and egg to the milk and vinegar mixture and mix well. Combine the two mixtures and stir until just combined, lumps are fine. For a thin pancake, the batter should run off the spoon. If it is too thick add a splash of milk. (O leave it as is if you prefer a thick pancake.)
Heat a large skillet over medium heat and add a small knob of butter rotating the skillet so that it covers the bottom. Using a ¼ cup (59ml) measuring cup or ice cream scoop, measure out the batter and pour it in the skillet. Depending on your pan size, you'll be able to fit 2-3 pancakes at a time.When lots of bubbles form on the top use a spatula to peek underneath. If the bottom is golden brown flip the pancake. Do not press down on the pancake with the spatula. Cook for another 1-2 minutes until the bottom is golden brown.
Add another small knob of butter and repeat these steps until you have cooked all nine pancakes.
Serve the pancakes with with maple syrup, honey, fruit or whipped cream.
Related posts: