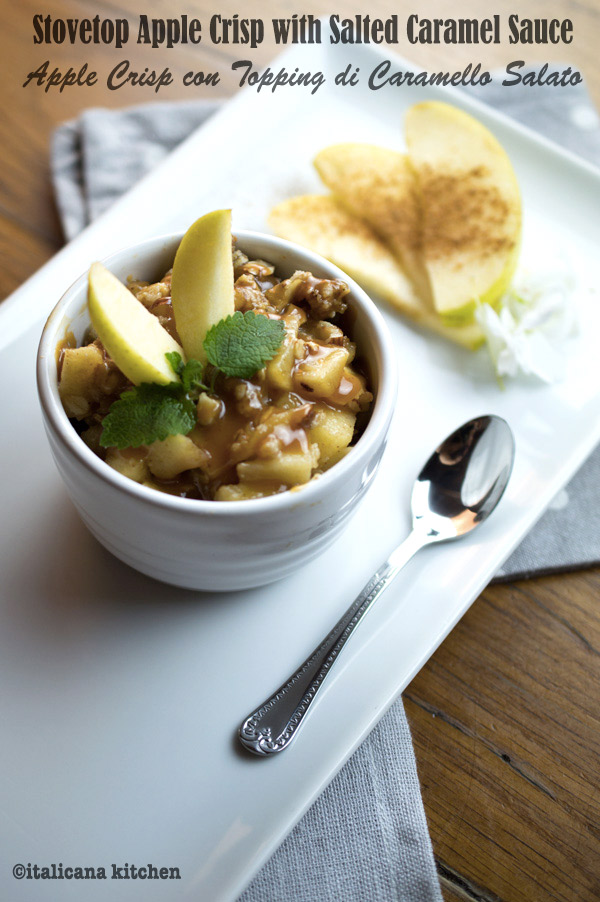 All Italians know about the traditional American apple pie but many have never heard of apple crisp, another classic American dessert.  It is also a British favorite known as apple crumble. The beauty of this recipe is in its versatility: you can use apples or substitute with various other fruits like rhubarb, peaches, pears or berries.
The soft sweet baked apples contrast with the crunchy topping made of flour, oats, nuts and spices.  It is common to serve this dessert with a scoop of vanilla ice cream.  I am an ice cream addict, so I do this all the time; however, if you want to keep the integrity of the crunchy topping, a drizzle of warm salted caramel is the perfect solution.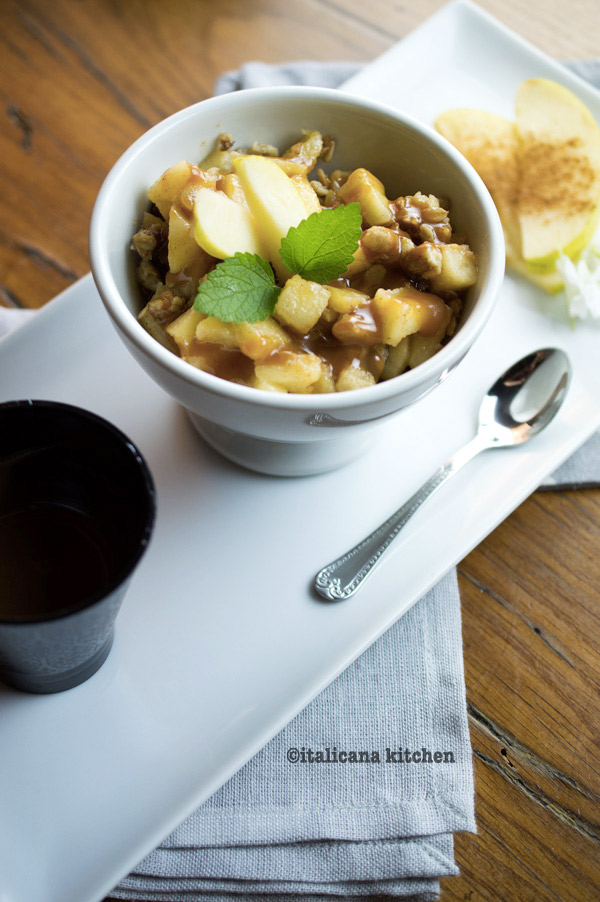 Although Americans may find it strange to see apple crisp or apple pie on the table for brunch, since living in Italy, I have become accustomed to eating sweets for breakfast. Not to say that we Americans never eat sweets for breakfasts, quite the contrary, as we often have coffee cake, sweet breads,,, pancakes, scones and muffins, but for some weird reason it's hard to find pie, cupcakes, cakes or chocolate on dessert menus—they are considered desserts. Since I am italicana, I say go for it. I think it is completely acceptable to eat your apple crisp when you want: for breakfast, a snack or for dessert!  Enjoy!

Stovetop Apple Crisp with Salted Caramel Sauce
This stovetop apple crisp with salted caramel sauce takes the classic recipe to a whole new level.
Ingredients
For the apples:
1 apple, peeled, cored and chopped
½ teaspoon cinnamon (20shakes, 10pinches)
1 teaspoon (4g) sugar
2 tablespoons (28g) butter
For the crumble:
2 tablespoons (22g) flour
2 tablespoons (16g) oats
2 pinches cinnamon
2 tablespoons (24g) dark brown sugar
2 walnuts, chopped
8 almonds, chopped
2 pinches salt
4 tsp (20g) unsalted butter
For the salted caramel:
3 tablespoons (50g) sugar
2 tablespoons butter (28g) butter
2 tablespoons (30ml) heavy cream
¼ tsp salt
Vanilla ice cream, optional
Instructions
Put all of the ingredients for the apple mixture in a small saucepan and cook over medium high for 5-7 minutes or until the apples are tender. Stir often.
In the meantime, prepare the crumble. In a small bowl combine all of the ingredients for the crumble. Transfer the mixture into a small saucepan and cook over medium heat until the butter has melted and the nuts are lightly golden. Remove from the heat.
Now prepare the salted caramel. In a small saucepan cook the sugar over medium heat, keeping it constantly stirred with a rubber spatula.
When the sugar has completely melted and is an amber color, add the butter. Be careful as the butter will try to bubble up out of the saucepan. Stir constantly for 1-2 minutes.
Remove the saucepan from the heat and slowly stir the heavy cream into the saucepan. The mixture will also try to bubble up again so be careful.
Divide the apple mixture among two bowls, then top with the crumble mixture, salted caramel and ice cream, if desired.
Related posts: