Warm weather has arrived in Italy. Actually, I should say, warm humid :: umido weather where we live in Emilia-Romagna. I'm a Pacific Northwest gal, so I don't think I'll ever get used to the sweltering humidity that blankets our small town every late spring and summer.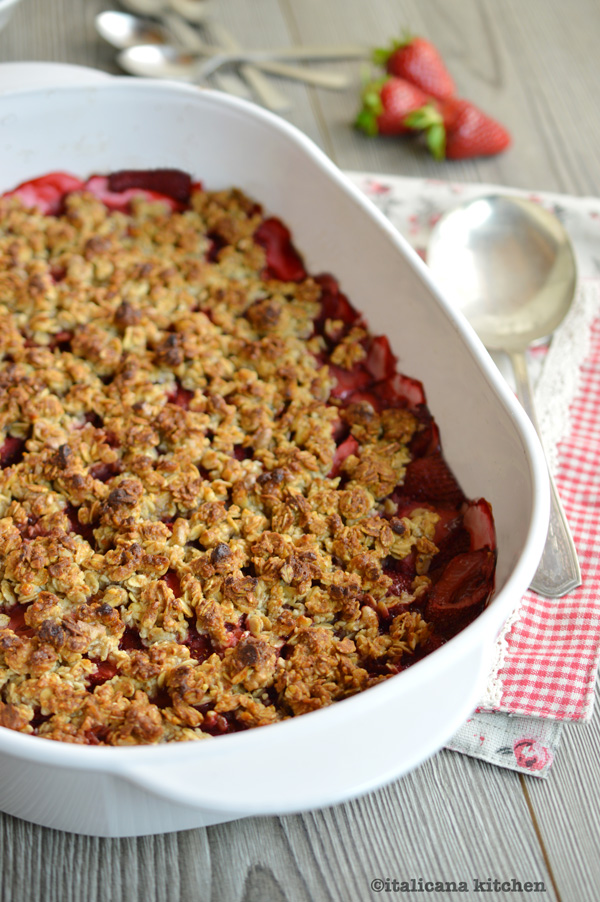 This year there was no gradual change from winter to spring (to even summer time temps.) We went from wearing heavy winter coats last week to slipping on flip flops :: infradito and a t-shirt to get a gelato after dinner last night.  Ahhh….flip flops. I adore them. Americans wear them almost all year round, even in the Seattle rain you'll see people flopping around in them. Italians, on the other hand, wear various kinds of sandals, but contrarily to Americans they only wear rubber flip flops at the beach. Be warned that you'll immediately be pinned a "foreigner" if you walk around Italian city centers in thongs, you'll also be sure to get quite a few looks of disapproval from the "fashionistas".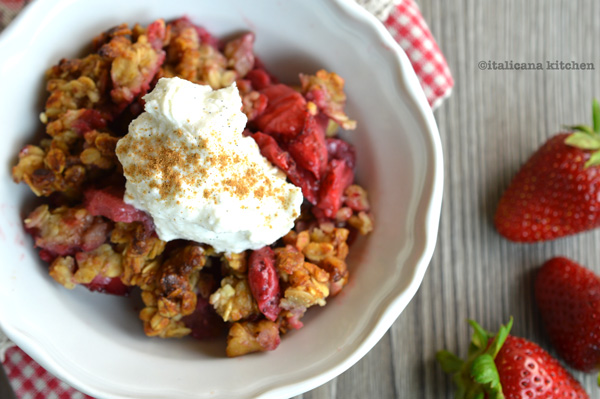 I am excited to make this strawberry crisp with whipped vanilla ricotta again for outside dinner parties under our gazebo. I think that this dessert :: dolce beckons to be eaten outside on a warm evening where you crave something sweet but not overly rich or decadent.
Each season I make a crisp. It is one of my favorite desserts that I can adapt to flavorful seasonal fruits. In the fall I make a delicious apple crisp, in the winter a mouthwatering pear crisp and in late spring a strawberry crisp. Crisps are great because you can generally substitute with whatever in season fruit that you like.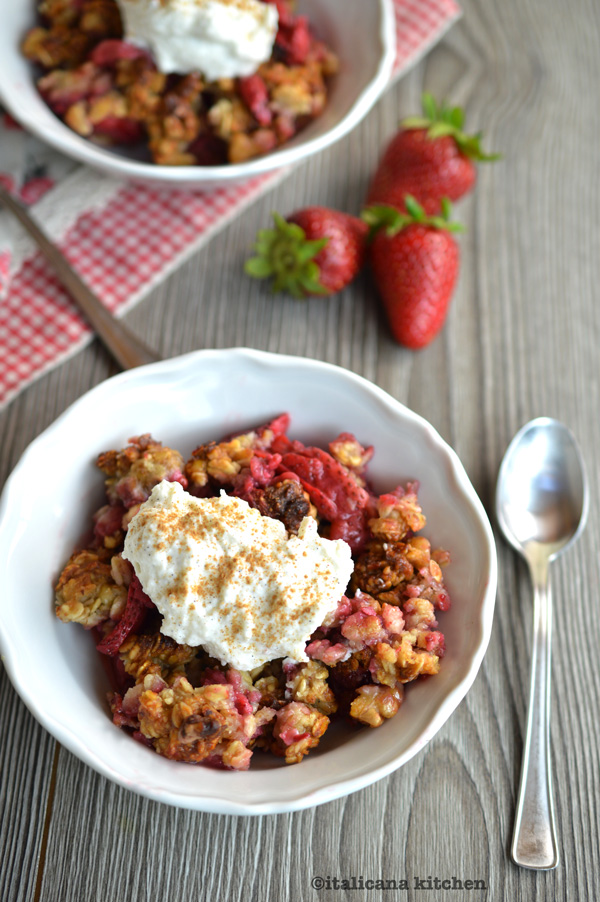 I used a small amount of butter :: burro and brown sugar in my apple and pear crisps, but for this strawberry crisp I really wanted to increase the health factor by using honey and coconut oil to sweeten and bind the ingredients. I also use whole wheat and almond flours to give it a nice nutty taste. I hope you enjoy it as much as Mr. Italicano and I did!

Strawberry Crisp with Whipped Vanilla Ricotta
This Strawberry Crisp with Whipped Vanilla Ricotta is a wholesome dessert made with coconut oil, almond meal, honey and oats and walnuts.
Ingredients
For the strawberries:
1 pound 3 ounces (500g) strawberries, sliced
1 tablespoon lemon (about ½ a small lemon)
For the crisp:
2 tablespoons coconut oil, melted
½ cup (130g) honey
¾ cup (90g) almond meal (*see instructions below to make it homemade)
¼ cup (30g) whole wheat flour
1 cup (110g) rolled oats
½ cup (55g) chopped walnuts
For the topping:
300g (10oz) ricotta, drained
1-2 tablespoons of pure maple syrup
1 tablespoon honey (I used acacia which is runny)
1 vanilla bean pod
Ground cinnamon, as needed
Instructions
Preheat the oven to 375° (190°C). Grease a 9 x 13 inch baking dish. Toss the strawberries with the lemon juice and then spread them out in the baking dish.
In a medium bowl, whisk together the coconut oil and honey then add the almond meal, whole wheat flour, rolled oats and chopped walnuts; stir until combined.
Pour the crisp evenly over the strawberries then bake for 20-30 minutes. The crisp should be slightly golden.
(Optional) With a whisk or hand mixer, whisk together the ricotta, maple syrup and honey. Scrape the vanilla bean seeds into the mixture with a knife and keep whisking until light and fluffy.
Let the crisp cool for 10-15 minutes before serving. Top with the whipped vanilla ricotta and a dash of cinnamon or a scoop of vanilla ice cream.
*To easily make the almond meal, simply put ¾ cup blanched or unblanched whole almonds into a food processor and blend until fine. Don't over blend otherwise it will turn to almond butter.
Related posts: