For all you ladies out there, let me ask you a question. Have you ever bought a beautiful dress and a pair of heels that you absolutely love but have only worn once or twice? Maybe you splurged on the items or found them on sale, maybe you bought them for a wedding or a special date. Regardless of how much you love them, they sit at the back of your closet collecting dust while slowly making their way to becoming vintage. It's a waste that can be avoided. You just need reasons to dress. That tagline is also the blog name of my newly acquainted fashion blogger friend Angie Nardiello (in the black dress) who suggested that we get dolled up and enjoy an aperitivo (aperitif) together.
Angie is a Canadian expat who I met through our lovely mutual American friend Adrienne (pink dress). Within the first five minutes of meeting her, she suggested putting together this summer cocktail style evening. Adrienne was to host at her beautiful house, Angie was to coordinate our outfits and I was to prepare the menu.
Here are some tips to executing a beautiful summer aperitivo:
Keep the recipes simple and light. Save the hearty meals for the winter months and take advantage of all the fresh vegetables and fruits from your garden or farmer's market.
Pick recipes that you can make in advance. This way you can avoid adding red tomato sauce polka dots to your dress.
Create a menu then divvy up the recipes so not one person is making all of the food. It should be a fun event, not work.
Liven up the table with bright colored produce or go with a color theme. Green was the dominant color for the menu.
Exaggerate with fresh cut flowers. You can never have too many. Use raised cake plates to add height to your table making it easier to serve the food. (And, it just looks awesome.)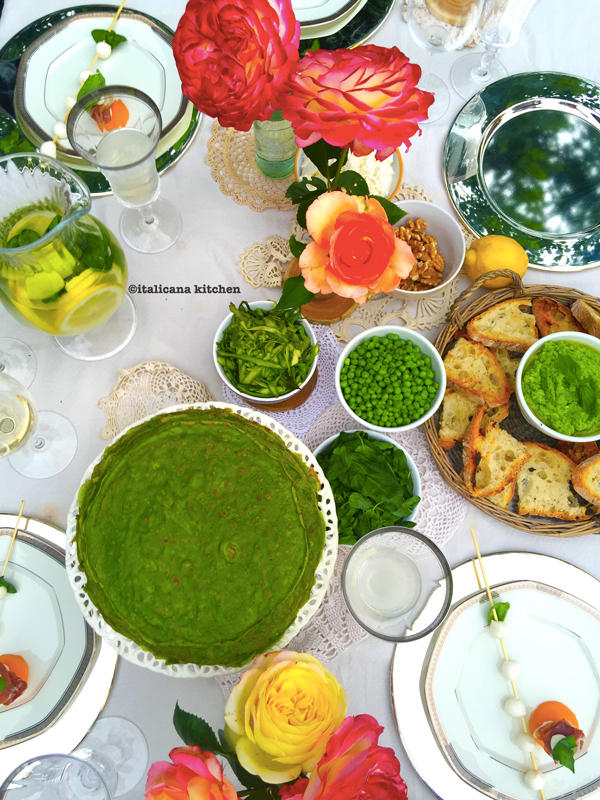 Our  Menu:
Lemon, Ginger and Basil Iced Tea
Dry White Sparkling Wine
Bruschette with Fava Bean Pesto 
Mozzarella & Melon Ball Skewers (with or without prosciutto)
 Panzanella Salad
Green Farro Crepes with Ricotta, Asparagus and Buttered Peas (recipe below)
Baked Peaches with Gelato
(If you want you could serve the gelato with fresh berries or homemade caramel sauce)
The green farro crepe recipe below is delicious and easy. You can substitute white flour but I like the nutty taste of the farro flour and reaping the nutritional benefits of this antique grain.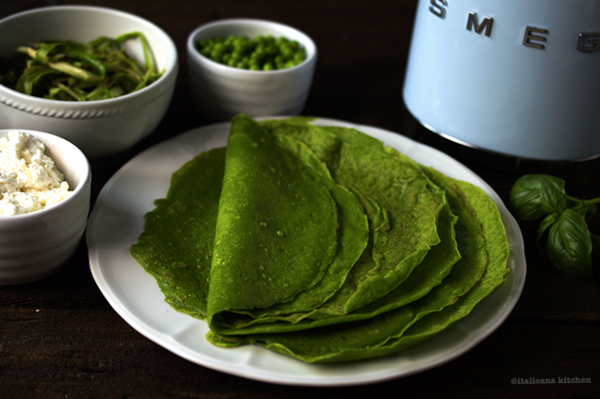 I use a good blender to quickly make these crepes (I love Smeg's). The batter and cooked crepes can be made up to a day beforehand and stored in the refrigerator. Just let the crepes come to room temperature before serving.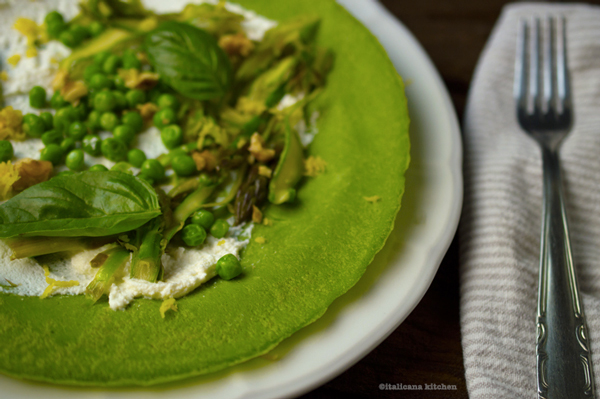 I hope this post inspires you to gather some friends, get dressed up and enjoy an Italian aperitivo together. If you need some fashion advice on what to wear, you can read Angie's post about this event.   Thank you Angie and Adrienne for a lovely evening to remember!

How To Prepare a Beautiful Italian Aperitivo + Sample Menu
These green farro crepes are packed with nutrition and perfect for a summer Italian aperitivo.
Ingredients
For the Crepes:
2 large eggs
1 cup (130g) farro flour (or whole wheat or all purpose)
1 cup (45g) fresh spinach, packed
¾ cup soy milk
½ cup water
1 tablespoon melted coconut oil or melted butter
2 pinches salt
For the Toppings:
1 tablespoon extra virgin olive oil
20 asparagus stocks, bottoms snapped off then shaved with a vegetable peeler
1 tablespoon butter
2 cups fresh or frozen peas
1⅛ cup (250g) ricotta
¼ cup walnuts halves, chopped
25 basil leaves
For the vinaigrette:
1 lemon, juiced and the peel zested
2 tablespoons extra virgin olive oil
Salt, to taste
Instructions
For the crepes:
In a blender, mix together all of the ingredients for the crepes. Chill in the refrigerator for one hour.
To cook the spinach crepes, heat a little butter or extra virgin olive oil in a crépe pan or frying pan over medium heat. Add just enough of the mixture to barely cover the bottom of the pan. Cook for 1-2 minutes then flip and cook for another 1-2 minutes. Repeat for the rest of the crepes.
For the filling:
Heat one tablespoon of extra virgin olive oil in a skillet, add the shaved asparagus and cook over medium heat for 2-3 minutes until soft. Transfer the asparagus into a bowl and set aside. Now add a tablespoon of butter to the pan and cook the peas for 2-3 minutes until soft.
For the vinaigrette:
In a small bowl, combine 2 tablespoons of extra virgin olive oil, the juice and zest from one lemon and a few pinches of salt.
To assemble:
Put one crepe on a plate, spread with ricotta and top with some shaved asparagus, peas, walnuts, basil leaves and a few spoonfuls of the vinaigrette. Buon appetito!
Notes
Active time is around 40 minutes, but note that the crepe mix need to chill in the refrigerator for an hour.
Related posts: