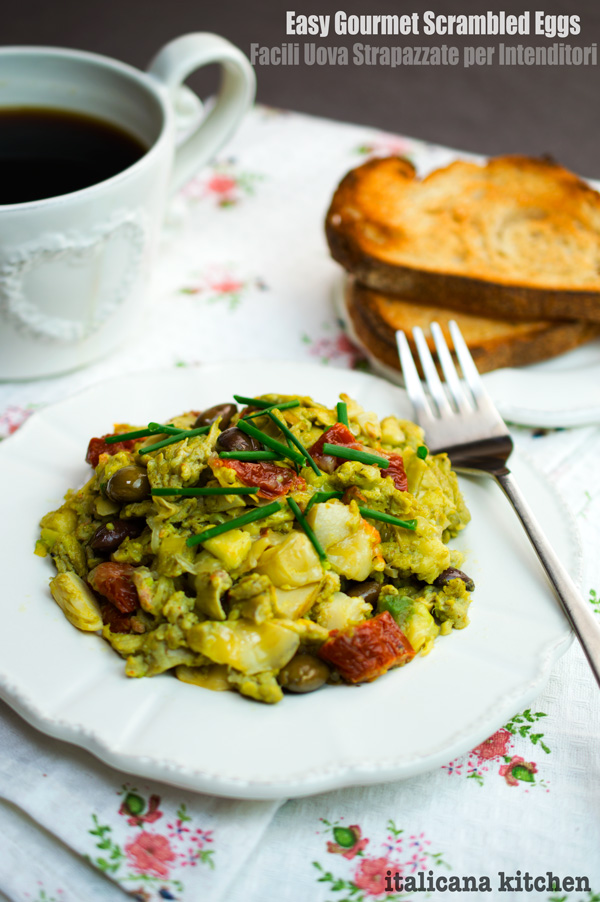 If you like scrambled eggs, you are going to love these easy gourmet scrambled eggs. Why? The answer lies in the fact that these aren't your typical plain Jane scrambled eggs, but they are rather bursting with flavor thanks to the marinated artichokes, buttery avocado, intense sun-dried tomatoes, pungent olives and aromatic pesto all topped with sharp grated pecorino cheese. Is your mouthwatering? Mine is.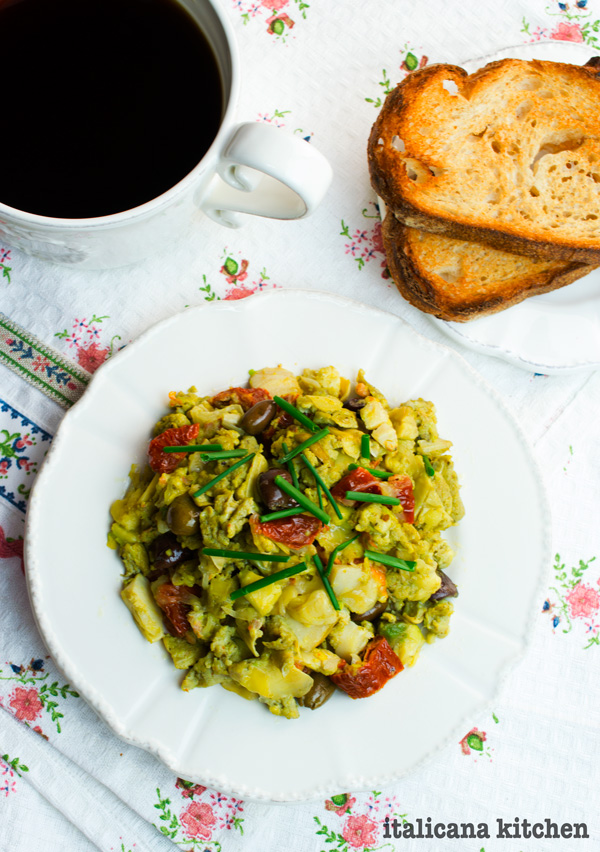 Eggs are such a weird ingredient. You cook them one way—you love 'em; you cook them a different way—you hate 'em. I absolutely love poached eggs; yet, for the longest time I hated scrambled eggs and omelettes until I started packing them with veggies, then they became my go-to protein-packed breakfast of choice. If you think they look a little "green", that's because of the delicious pesto.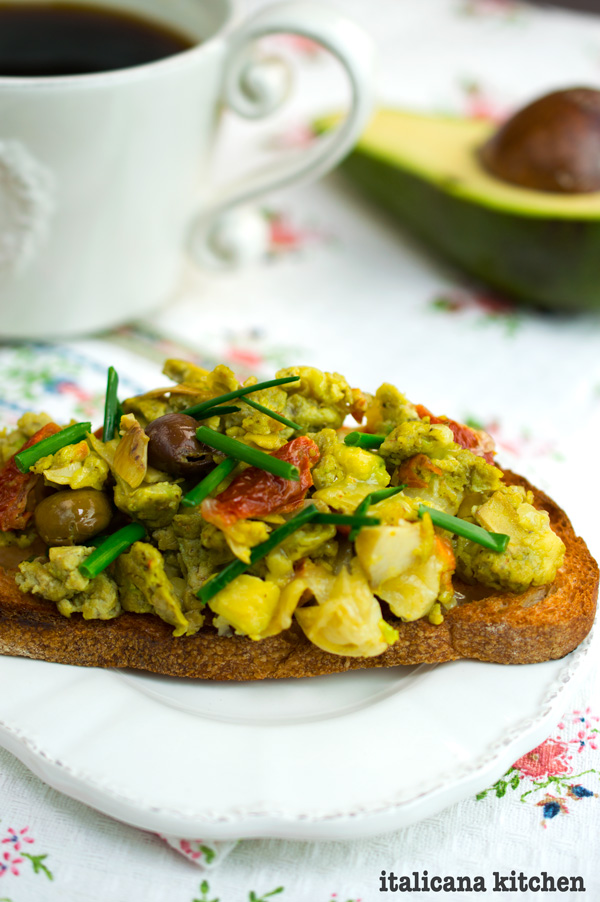 Mr. Italicano was thoroughly impressed with this recipe, telling me that he had always hated uova strapazzate :: scrambled eggs and frittata, the Italian version of the omelette, but he loved these scrambled eggs—it was like nothing he had ever eaten before. I titled them gourmet because they certainty couldn't be called just scrambled eggs—they're way too special! If you are looking for the perfect breakfast or brunch, try them for yourself. They marry happily with a cup of dark roasted coffee and a slice or two of toast.
Easy Gourmet Scrambled Eggs
If you are looking for the perfect breakfast or brunch, try these easy gourmet scrambled eggs. They are packed with veggies and loaded with bold flavors.
Ingredients
2 eggs
¼ cup ( 44g) chopped marinated artichokes
2 tablespoons ( 24g) chopped marinated sun-dried tomatoes
1 tablespoon (13g) taggiasche olives (or you can use kalamata or black olives)
¼ avocado, diced
½ teaspoon pesto
Salt and pepper, to taste
¼ cup (17g) shredded pecorino cheese
Instructions
Beat the eggs together in a small bowl with a fork. Add the artichokes, sun-dried tomatoes, olives, avocado, pesto, salt and pepper. Pour the egg mixture into a small skillet and cook on medium-low, stirring occasionally until the eggs have set, about 3-4 minutes. Sprinkle the cheese on top. Serve warm with toasted bread.
Related posts: