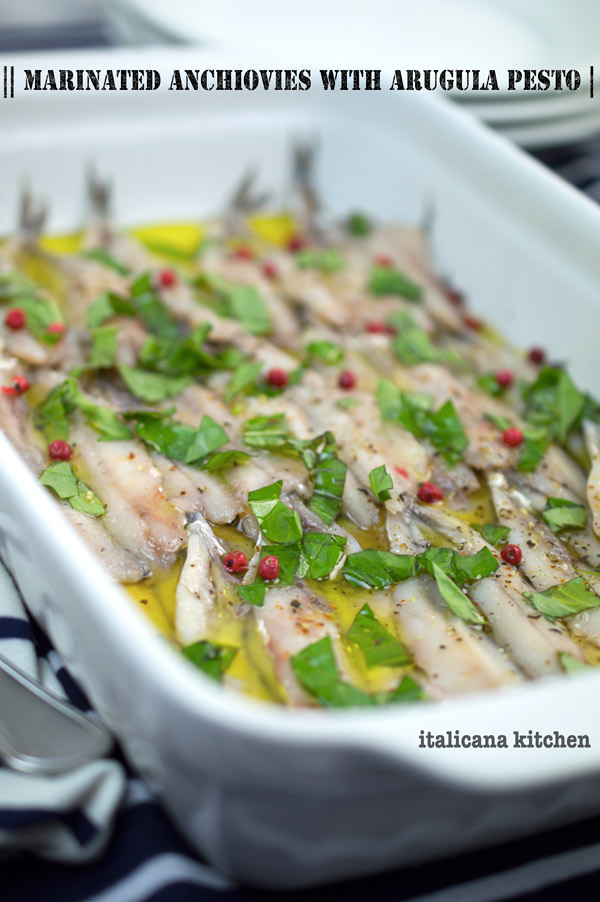 Anchovies get a bad rap. Many people instantly think of anchovy pizza and how peculiar it is to have salty fish :: pesce on their beloved thin crust bread.  You may be among them; you may be quick to snub this recipe after reading the title, or maybe you already have and will never read these words.  It's quite a shame, however, as anchovies are the secret punch of flavor in a lot of Mediterranean dishes :: piatti and even tucked away in commonly used American sauces, ahem, Worcestershire sauce or ceasar salad dressing, just to name two.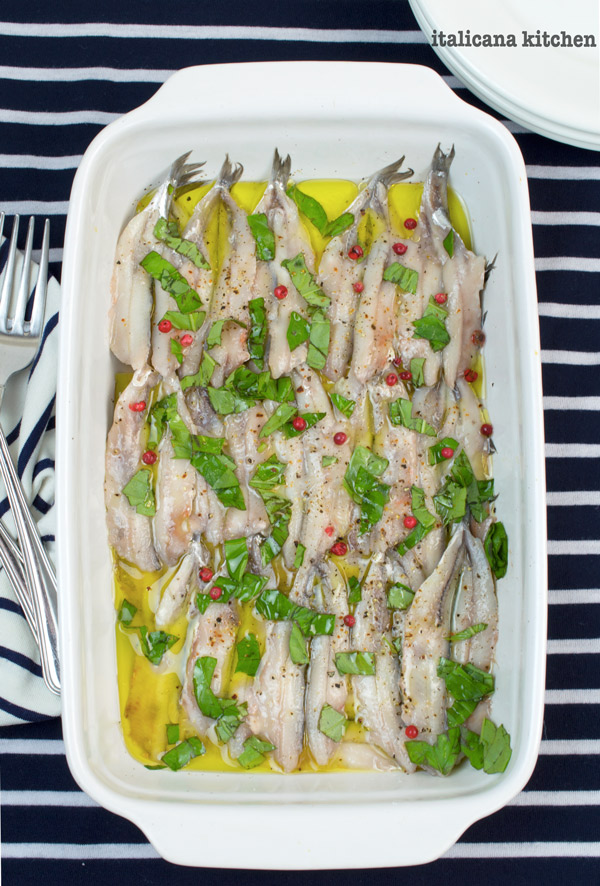 Italy's gastronomy often incorporates this salty little fish into a variety of different recipes.  From appetizers to pastas, main dishes to pizzas, anchovies, or acciughe in italian, are quite common.  I, like many of you, was quite skeptical to try them; yet, now I find myself craving for this salty flavor much like I do soy sauce.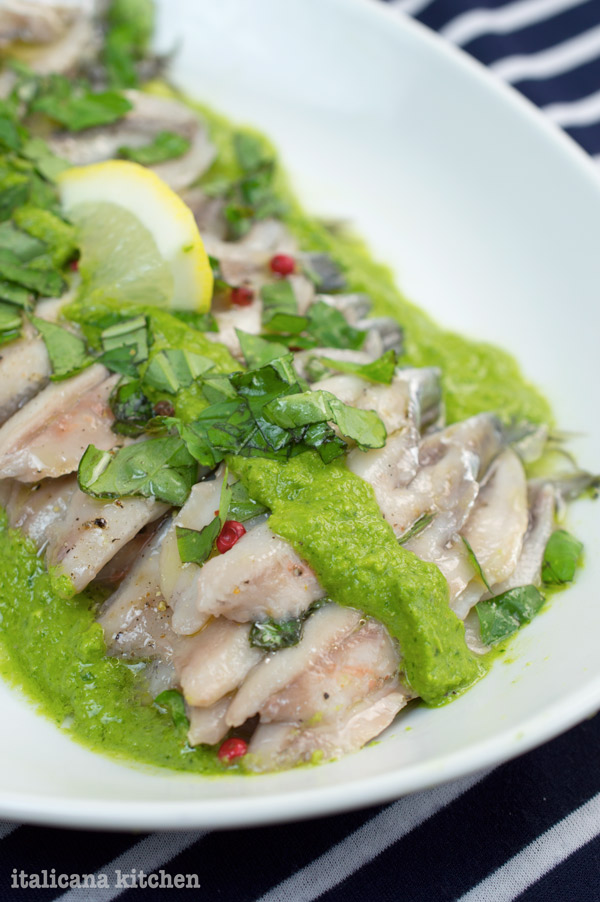 What I truly love about traveling is immersing myself in the local traditions and food is a big and important part of every culture :: cultura.  Fresh anchovies aren't nearly as salty as those conserved in oil. Anchovies also boast numerous health benefits like being rich in omega-3 fatty acids, high in protein and iron, and are beneficial for heart, skin and eye health.  I implore you to let your daring side take action before joining in on the naysaying about this tiny little scrumptious fish, this really is a recipe to try!
Marinated Anchovies with Arugula Pesto
Marinated anchovies are a typical Italian dish and are delicious alone or served with this arugula pesto.  They an be eaten as an appetizer, side or main dish. 
Ingredients
For the marinated anchovies: 
8 ounces (250g) fresh anchovies, cleaned, scaled and opened
White wine vinegar 
Salt and freshly ground black pepper, to taste
½ lemon, juiced 
Handful of basil, chopped
1-2 teaspoons red pepper corns (optional)
Pinch of ground chili pepper (optional)
Extra virgin olive oil 
For the arugula pesto: 
3 ounces (85g) arugula
¼ cup (23g) walnuts
½ tablespoon (7.5g) capers
¼ cup freshly shelled peas, boiled in unsalted water for 2-3 minutes
7 large basil leaves
1 clove garlic
2 tablespoons extra virgin olive oil 
¼-1/2 lemon, juiced (adjust to taste) 
Salt and freshly ground black pepper, to taste
Instructions
For the marinated anchovies: 
Layer the anchovies in a rectangular casserole dish. Pour enough white wine vinegar to completely cover the anchovies. Season with salt and freshly ground pepper. Store in the refrigerator for a few hours. The anchovies are ready when they change from transparent to a whitish color. 
Drain the marinade and layer the anchovies in a clean rectangular casserole dish or rimmed serving plate. Squeeze lemon on top of each layer of anchovies and top with basil, red pepper corns and ground chili pepper. Pour extra virgin olive oil on top until the anchovies are completely covered. Refrigerate until cold. Consume within 1 day. 
For the arugula pesto: 
Put all the ingredients in a blender or food processor and pulse until well blended.  Refrigerate. Serve on top or alongside the marinated anchovies. 
Inspired from Apron and Sneakers
 
Related posts: