These spinach balls are the perfect no fuss side dish for your upcoming holiday gatherings or for a weekday dinner when you want something nutritious in a matter of minutes.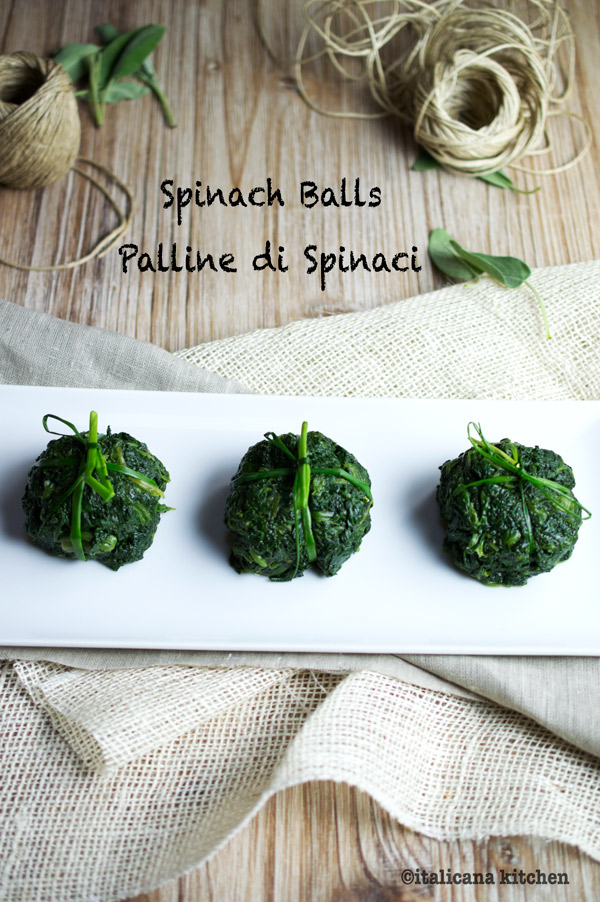 This time of year in Italy the outdoor farmer's market always has crates piled high with bright green spinach leaves. Because they wilt down to nothing, I always buy about 2 kilos (4.4 pounds).  If you are rushed for time, you can definitely buy the prepackaged washed spinach, but I find cleaning spinach a relaxing affair—just like shelling peas or shucking corn :: mais. Even though my agenda is filled with countless things to do, I don't want to forget my upbringing and the feeling of doing things by hand.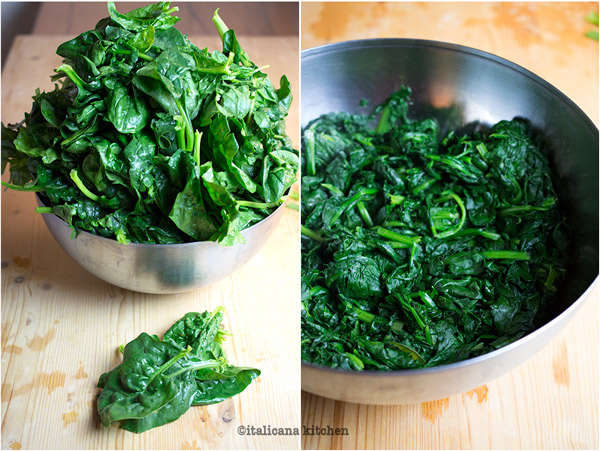 It's important to clean the spinach well. I often fill up my sink with water and give the spinach a good clean soak, then empty the water with the main dirt residue. I then fill the sinks up again and add some baking soda. My mom always washed her vegetables from the garden with just plain tap water, and that's what the FDA recommends as well; however, since living in Italy, almost every Italian cook I've come across washes his vegetables with bicarbonato :: baking soda. The research I've done online leaves me with inconclusive data as to whether this step is truly necessary. What is your opinion on the use of baking soda to wash vegetables?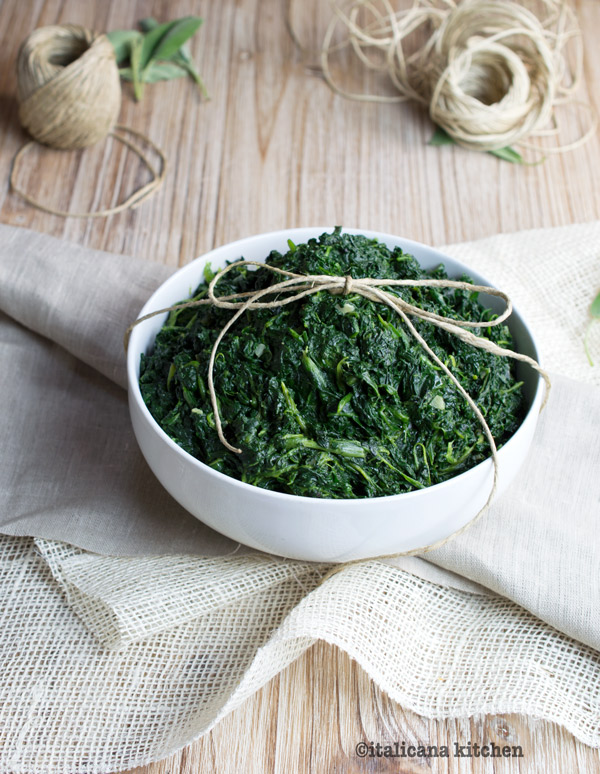 Spinach :: spinaci is considered to be one of the most nutrient-dense foods and has advantages of being eaten both raw and cooked.  In America, I often ate raw spinach salads topped with caramelized pecans, pears and shaved pecorino cheese. In Italy, I hardly see people eat raw spinach. What is typical here are cooked spinach balls. If you go to any fruit and vegetable store, they usually have spinach balls for sale which are simply steamed, sautéed or boiled then rolled together in a ball.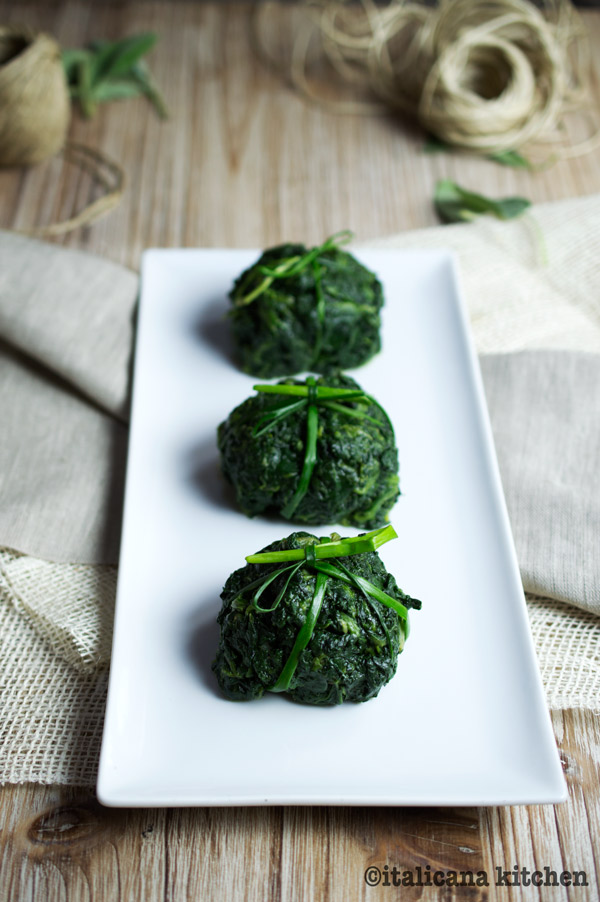 Typically these balls are just made with cooked spinach and are eaten plain with a drizzle of good extra virgin olive oil. I like to give them a bit more flavor by adding garlic, green onions :: cipollotti, spices and cheese.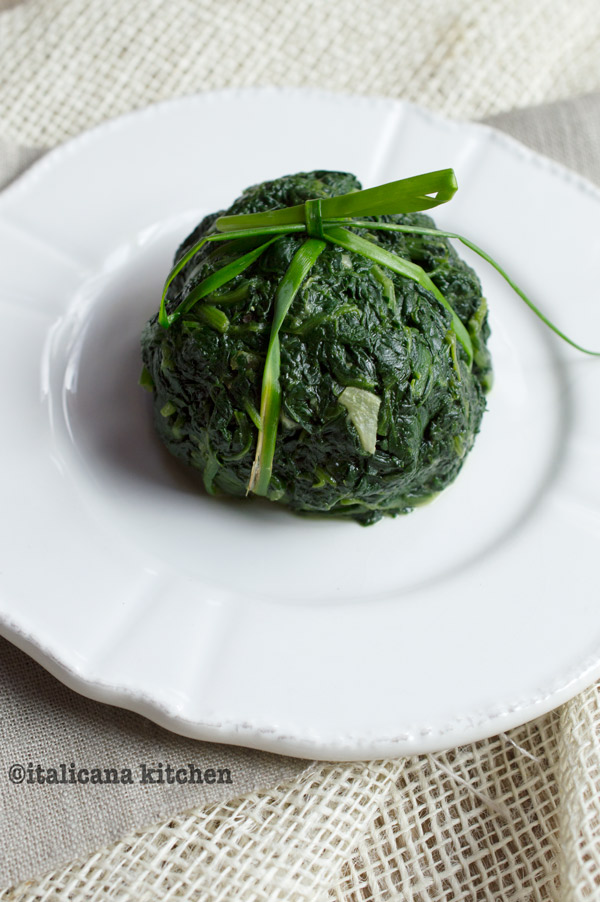 Using a chive stem isn't necessary to keep the balls intact, but I like the presentation; it reminds me of a little personal present :: regalo ready to be unwrapped. What a great little side dish to fit in with the holiday spirit.

Spinach Balls
These spinach balls are the perfect no fuss side dish for your upcoming holiday gatherings or for an weekday dinner when you want something nutritious in a matter of minutes.
Ingredients
2 tablespoons extra virgin olive oil
1 clove garlic, chopped
2 green onions, chopped
4.5 pounds fresh picked spinach or prepackaged spinach
3 dashes of ground nutmeg
5 cloves
3 dashes of dried rosemary
3 dashes of dried oregano
3 pinches of salt
2 handfuls of freshly grated Parmesan cheese
Instructions
Pluck off the spinach roots and wash the spinach at least 3-4 times in cool water. Add baking soda if desired during the 3rd soak. Use a salad spinner to thoroughly dry the spinach leaves.
In a large skillet, add the extra virgin olive oil and sauté the garlic and green onions for 1-2 minutes over medium low heat. Add the spinach and cover until slightly wilted. You may need to add the spinach in batches if your skillet isn't large enough to hold all the leaves at once. Just wait 30 seconds until the leaves of the first batch have wilted and add more spinach. Repeat if necessary.
Add the nutmeg, cloves, rosemary, oregano, salt and Parmesan cheese. Continue to cook for a few minutes until the cheese has melted and any liquid has evaporated. Serve warm in a bowl or wait until cool and roll into balls and serve cold. They are a great side dish that can be made a day in advance, and reheated before serving or served cold.
Related posts: