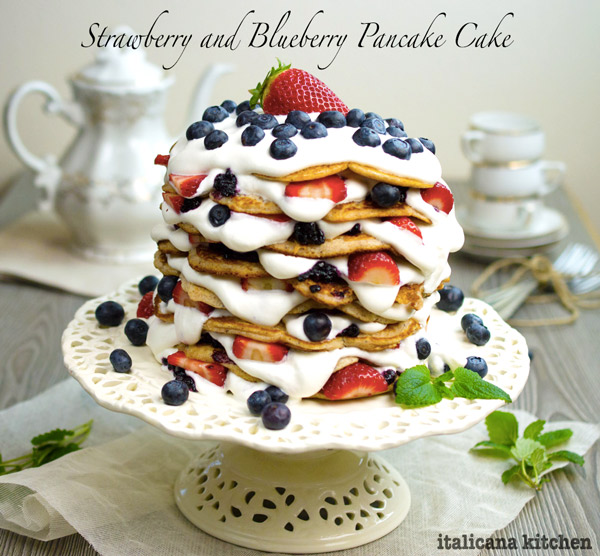 My dad is the king of making pancakes. Every Sunday since I was a child I would wake up to the smell of bacon, pull back my covers and walk sleepily to the kitchen where he would be standing with a fork in hand turning the thin slices that sizzled in the frying pan. "Good morning, Pumpkin," he would tell me as I sat down and poured myself a glass of orange juice :: spremuta.  My stomach would rumble as I watched him set the strips onto a plate covered with paper towels, the oil leaving a yellow mark like a line of wet paint on a white house.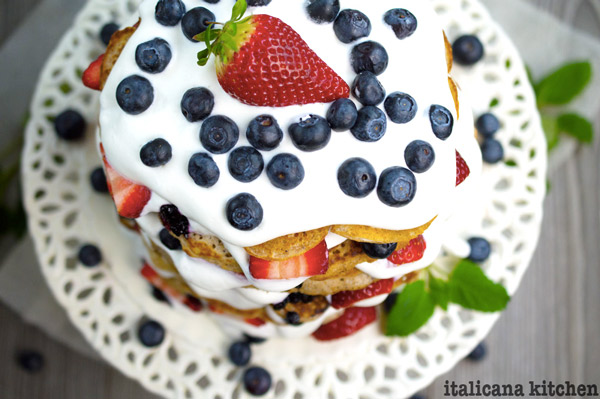 He would carefully tilt the pan to pour the bacon grease into an old rectangular coffee tin, making sure to catch every last drop. Bacon grease to my dad was like a toy to a child—it was precious.  In a small red bowl he would combine water and Krusteaz Original Pancake Mix. When my mom and brothers were at the table, he would start cooking the pancakes; mine was always first. (Advantages of being the only daughter.) The first thing was to add one spoonful of bacon grease to the pan and swirl it around, then he would ladle in enough batter to cover the bottom and wait a minute. Next, he would add a handful of chocolate chips ::  gocce di cioccolato, just the way I liked it, and patiently wait for the bubbles to form. After which he would position the spatula under the pancake and look at me, "No, fear, Cindy. No, fear," he would say. With one fluid motion he would gracefully flip the pan-sized disc so it landed perfectly in position. "Once you start going, you can't stop," he would add.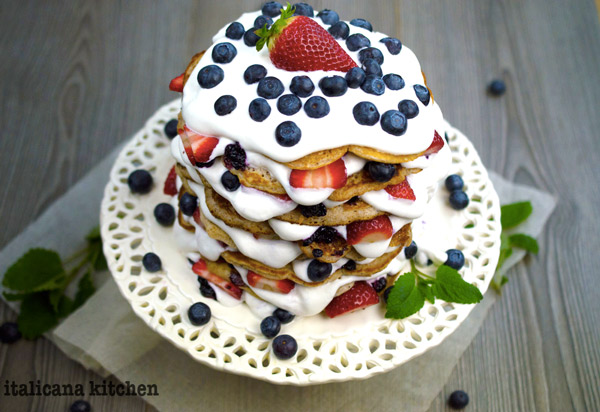 After a few minutes he would pat the center with his fingertips :: le punte delle dita to feel if it was soft, then slide the pancake onto a plate adding 2 pieces of bacon on the side. I would stare at him with hungry hopeful eyes, and he would sneak another piece of bacon on my plate. I would usually gobble that one up still standing, before my brothers could see that I got an extra piece.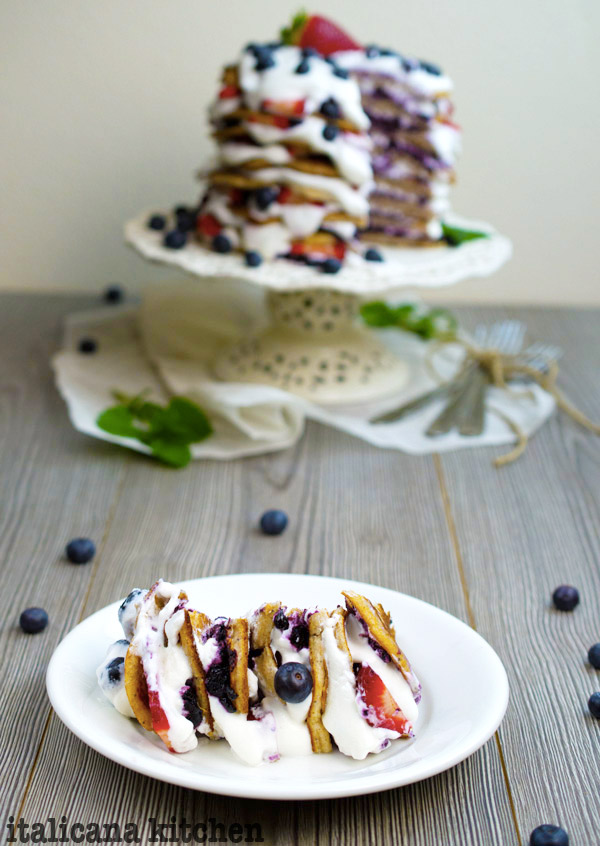 Wanting to make a healthier pancake version but equally satisfying like those I had growing up, I started to experiment in the kitchen. After a few trial and errors :: tentativi ed errori, I perfected a recipe that has quickly become a favorite.  I don't believe in box mixes (sorry, dad!). Brownies, cakes, muffins, cupcakes etc. are so easy to make with household staples. Sure, it may take a few minutes longer to prepare them by scratch, but at least you will be eating something wholesome without additives or preservatives.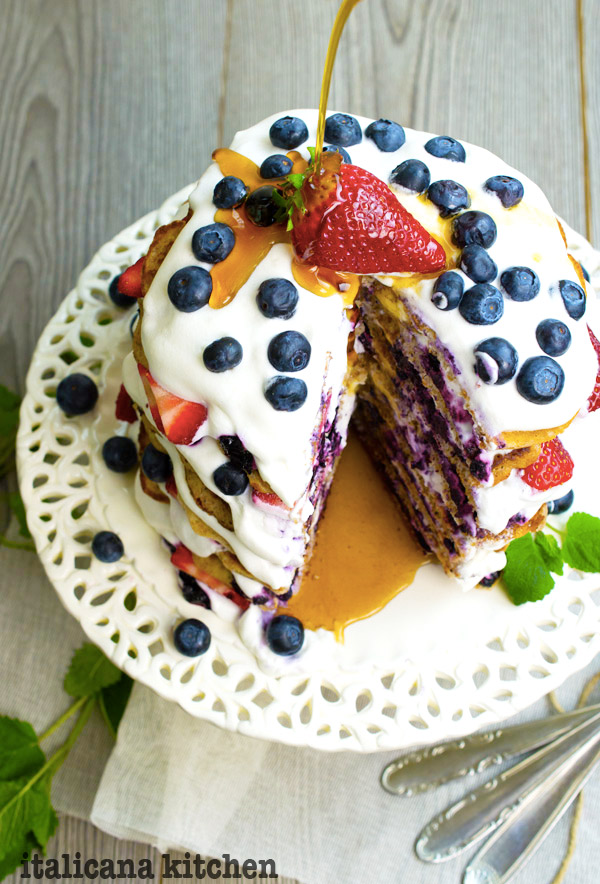 This strawberry and blueberry pancake cake recipe is perfect for entertaining guests and you can easily make it ahead. Simply make the pancakes and blueberry sauce and store them in the fridge for up to one day in advance. When you are ready to serve, make the whipped cream :: panna montata and compile the pancake cake. Another alternative is just to make the pancakes, and serve them with maple syrup, jam or fresh fruit. Enjoy!
Strawberry and Blueberry Pancake Cake 
The perfect brunch recipe: a delicious and gourmet looking strawberry and blueberry pancake cake.
Ingredients
For the blueberry sauce:
2 cups (230g) frozen blueberries
3 tablespoons (60g) sugar free blueberry jam
For the homemade buttermilk:
3 cups (750ml) skim milk
2½ tablespoons fresh squeezed lemon juice (about ½ a large lemon)
For the pancake mix:
2 cups (300g) whole wheat flour (using the spoon and sweep method)
3½ (14g) teaspoons baking powder
2 tablespoons (30g) granulated sugar
1 teaspoon (6g) salt
1 teaspoon (2g) poppy seeds
1 tablespoon (14g) extra virgin coconut oil, melted (or vegetable oil)
2 tablespoons (28g) melted butter
1 teaspoon (4ml) vanilla extract
For the maple syrup whipped cream:
2 cups (500ml) fresh heavy cream
1 tablespoon (20g) all natural maple syrup
For the topping:
1 pint (around 400g) strawberries, sliced
¼ cup (30g) fresh blueberries
Instructions
For the blueberry sauce:
Bring the frozen blueberries and blueberry jam to a simmer over medium-low heat. Smash the blueberries and cook until the juice has reduced, about 5-10- minutes. Once the liquid has reduced, remove from heat and let cool.
For the homemade buttermilk:
Combine the milk and lemon juice in a small bowl and let sit for 5 minutes.
For the pancake mix:
In a large bowl, combine the whole wheat flour, baking powder, sugar, salt and poppy seeds.
Make a well in the middle and add the buttermilk, melted coconut oil, butter and vanilla extract. Mix until just combined; there should be lumps. The batter should run off the spoon. If it is too thick add a splash of milk. Don't over mix.
Heat a skillet over medium heat, once it's hot add a small knob of butter rotating the skillet so that the base is covered. Using a ½ cup (120g) measuring cup, measure out the batter and pour it in the skillet. When lots of bubbles form on the top use a spatula to peek underneath. If the bottom is golden brown flip the pancake in one decisive movement. Cook for another 1-2 minutes. Do not press down on the pancake with the spatula. To know when it is ready, simply touch the center of the pancake with your fingertips and if it is soft then you can remove the pancake and set on a wire rack to cool. Add another small knob of butter and repeat these steps until you have cooked all 9 pancakes.
For the whipped cream:
While the pancakes cool, put the fresh heavy cream in a bowl, add the maple syrup and whip until stiff peaks form.
To compile the pancake cake, put one pancake on a flat serving plate and distribute a spoonful of the blueberry sauce followed by a few spoonfuls of the whipped cream. Arrange six strawberry pieces towards the edge then top with another pancake. Repeat all steps. On the final pancake top with the remaining whipped cream, a strawberry and fresh blueberries.
To serve, cut slices and top with maple syrup, if desired.
Note: You can make just the pancake recipe, if you don't want to make the entire cake, and simply serve with maple syrup. This pancake cake is also great to make ahead. Simply make the pancakes and blueberry sauce, store them in the fridge for up to one day in advance. When you are ready to serve, make the whipped cream and compile the pancake cake.
Related posts: