Being that Mr. Italicano and I spent the weekend with friends on a sailboat in the Italian region of Liguria, it was only fitting that I posted this delicious recipe for homemade pesto alla genovese since it is a typical Ligurian delicacy, by now known and celebrated throughout the world.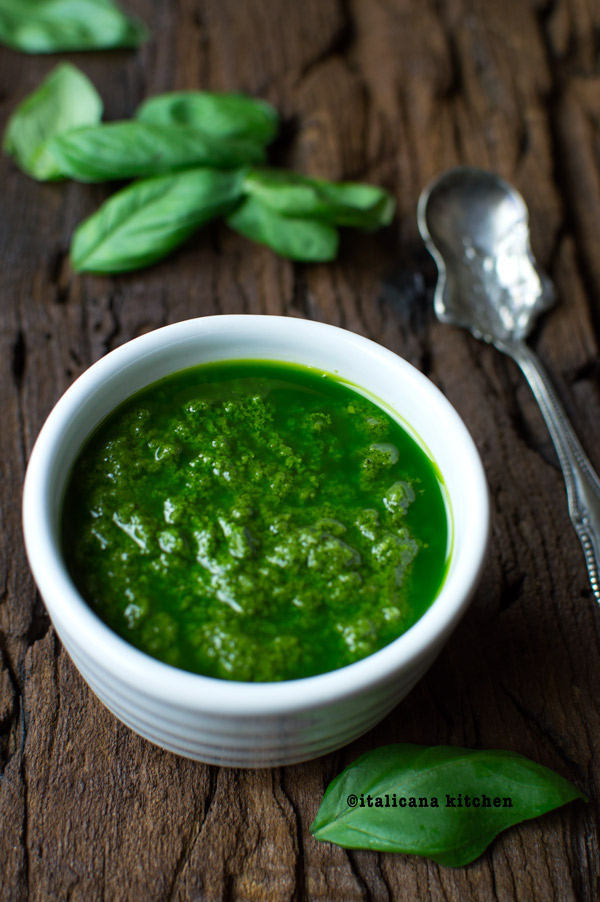 If you are planning a trip to Italy and are thinking about making your way to Liguria to check out the Cinque Terre, I highly recommend taking another few days to do these following three things: 
Three Ultimate Things to Do in Liguria, Italy
1. Rent a sailboat for 2-3 days. You can hire a skipper and rent the boat for yourself and a group of friends or join another group of tourists.  Mr. Italicano is a skipper. Who knows, maybe someday we'll be offering sailing tours and I'll come be your personal chef onboard! 🙂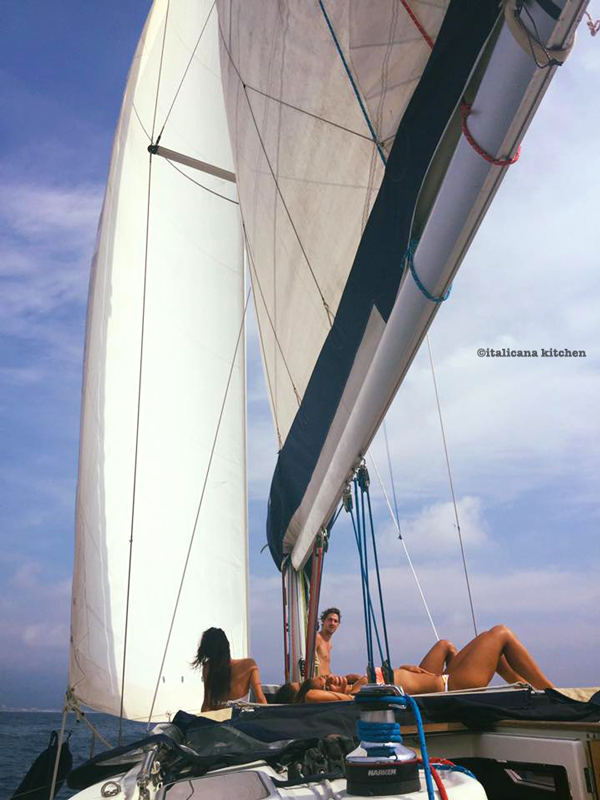 2. Check out the lovely coastal town of Camogli. A fun little fact: the name comes from "ca'" (slang for casa :: house) and "mogli" (wives) because it was the fisherman wives place while the men were out at sea. The architecture and colorful houses are truly stunning.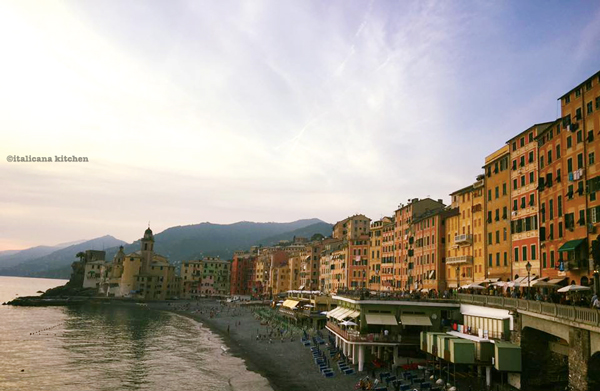 3.  Eat focaccia genovese in Portofino. Oh man, this is an absolute must. There is nothing like freshly baked focaccia genovese. At Portofino head away from the port up the busiest side street and you'll find the "panificio" on the right hand side. Ask for a slice and enjoy this mouthwatering bread as you stroll back down to the water. Bring napkins or be prepared to lick the olive oil off your fingers.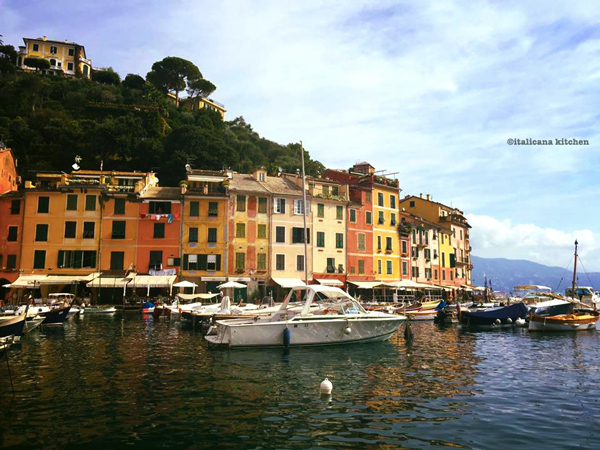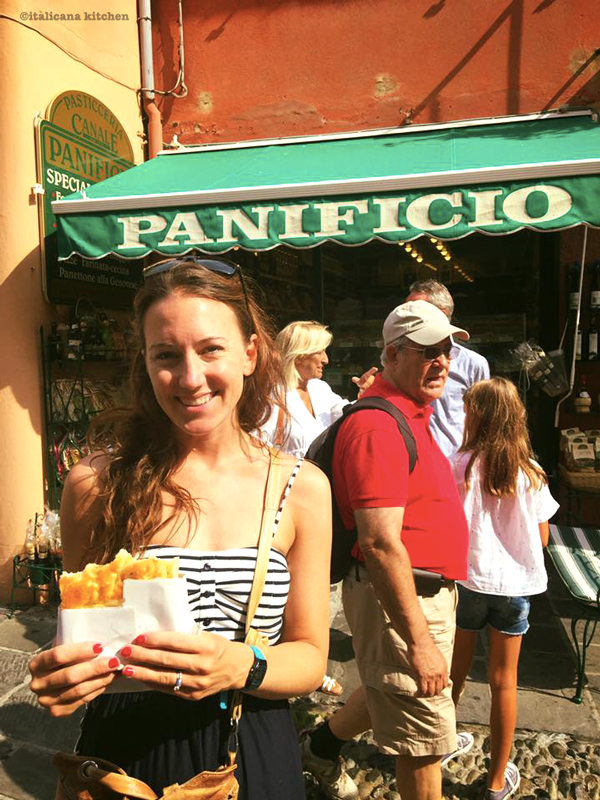 One thing I discovered this weekend was the difference between the words "pesto genovese" and "pesto alla genovese". Pesto genovese indicates the traditional pesto and to ultilize this name 7 ingredients must be used: Genovese Basil DOP, extra virgin olive oil (preferably from the Ligurian riviera), Parmigiano Reggiano, Pecorino, pine nuts, garlic and salt. When there are modifications to this traditional recipe it should then be called "pesto alla genovese".  So being that my homemade pesto ultilizes basil from my garden, the option of walnuts in place of pine nuts and I don't use a mortar & pestle to blend the ingredients, the correct name for my version is pesto alla genovese. The world "genovese" is an adjective used to describe something coming from the town of Genova (called Genoa in English) which is located in Liguria.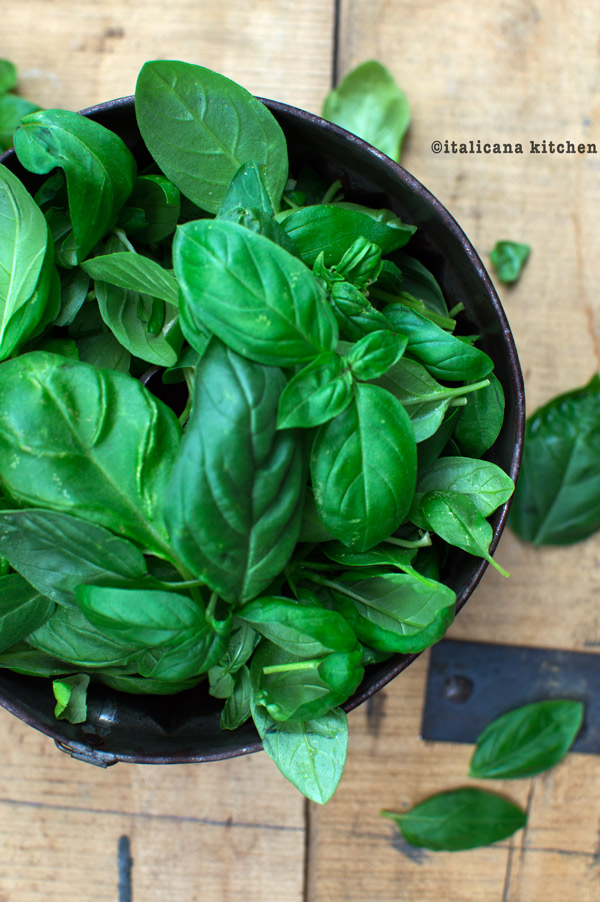 The great thing about homemade pesto alla genovese is that it is so versatile. In Liguria pesto genovese was typically used as a sauce for pasta (principally trofie), gnocchi and minestrone soup. Now a days you'll find recipes incorporating this prized basil sauce in just about everything. For instance, I love mixing my homemade pesto alla genovese in scrambled eggs, drizzling it on top of zucchini pancakes or spreading it on top of a lovely frittata with shaved asparagus and mozzerella. Really, the options are endless. And, it's fresh bold taste adds so much flavor to any meal.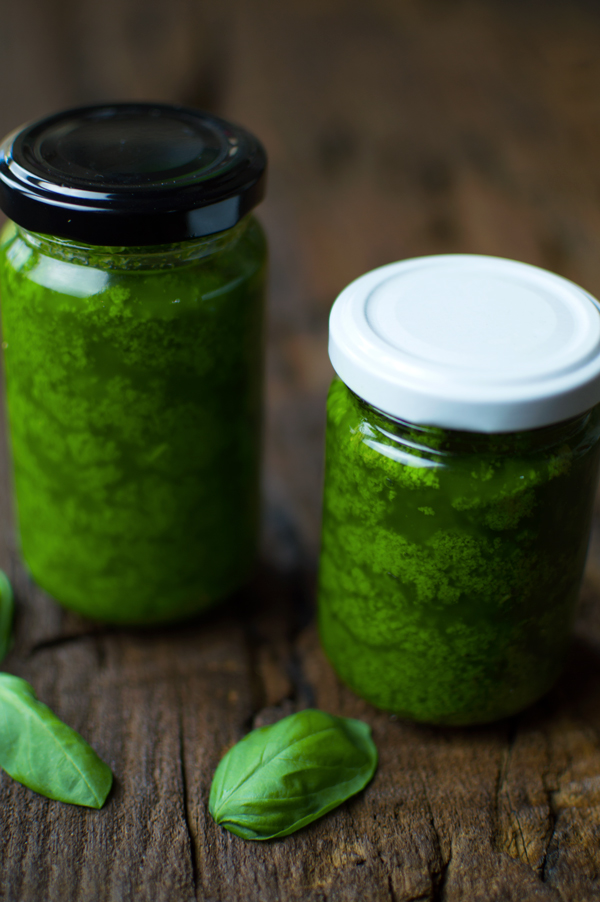 This homemade pesto alla genovese can also be easily frozen. You can pour it in a little jar, pop it in the freezer and let it thaw out before use or you can pour it in an ice cube tray and pop out a cube or two for your recipe without having to unthaw the entire jar. This is a great way to use up all of your basil and to stock up for the winter.
For all you U.S. folks, I hope you enjoyed your Labor Day and end to a beautiful summer!

Pesto alla Genovese
This delicious homemade pesto alla genovese is simple to make and can easily be added to a variety of your favorite dishes. Two easy ways to freeze this sauce allows you to have homemade pesto alla genovese all year long.
Ingredients
2oz (55g) basil leaves (without stems), rinsed and dried with a salad spinner
½ cup (50g) Parmigiano Reggiano cheese, freshly grated
*1/2 cup (50g) Pecorino cheese
1 small clove garlic, skin removed
2 tablespoons pine nuts or walnuts
⅓ cup (100ml) extra virgin olive oil
2 pinches of sea salt
*To make it dairy free, simply leave out the cheese
*If you don't have pecorino, just use 1 cup (60g) of Parmigiano Reggiano
Instructions
In a food processor blend together the basil and Parmigiano Reggiano cheese. Then add the garlic, walnuts or pine nuts, extra virgin olive oil, and salt. Adjust the seasonings to your taste and adjust the amount of extra virgin olive oil to arrive at the consistency desired.
Conserve: Store in the refrigerator for 5-6 days always covered by a thin layer of extra virgin olive oil. This will prevent the pesto alla genovese from turning black on the top.
To Freeze: pour the pesto into a small glass jar, close tightly and pop in the freezer. You can also freeze the pesto in ice cube trays. Once frozen transfer the pesto cubes to a zip lock bag for easy storage. Consume within 12 months.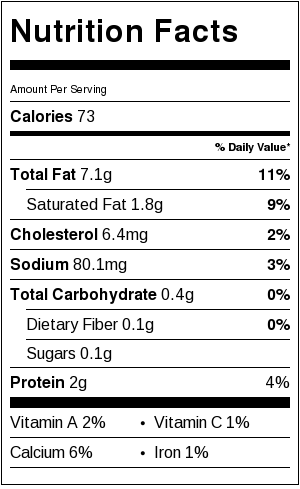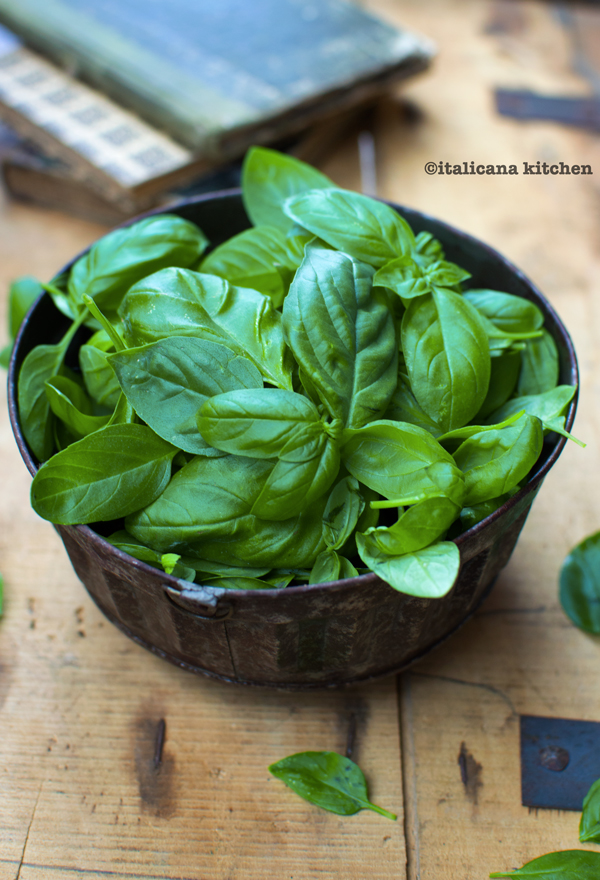 Related posts: