While you may think of an omelet purely as breakfast fare, in Italy the frittata, a similar egg-based dish, is much more versatile and commonly eaten for lunch, happy hour or dinner.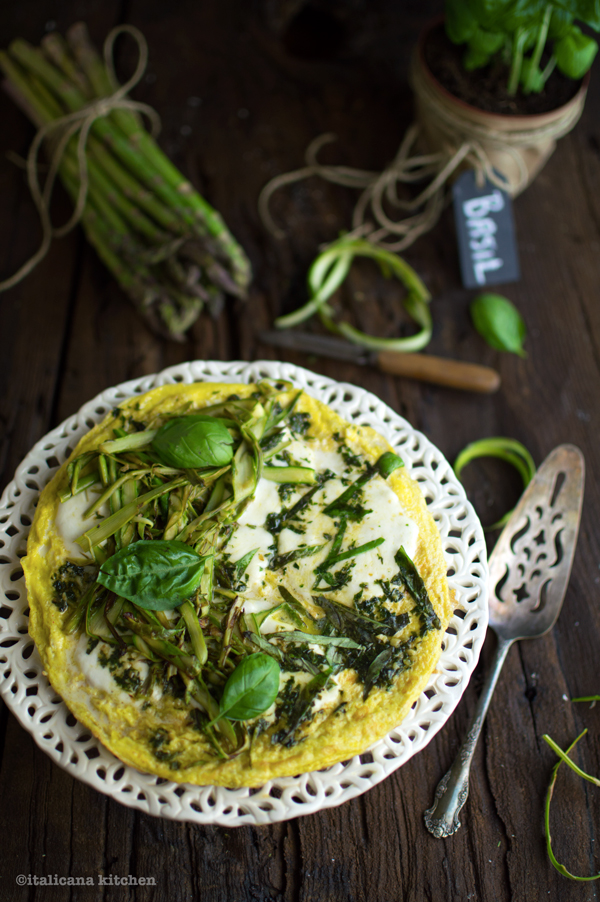 While traveling in Italy, you may find a rectangle of frittata served in a sandwich on crusty Italian bread, or cut in small squares and jabbed with toothpicks to be accompanied by a Spritz  for an aperitivo, or sliced into large triangles and served as a main course for dinner.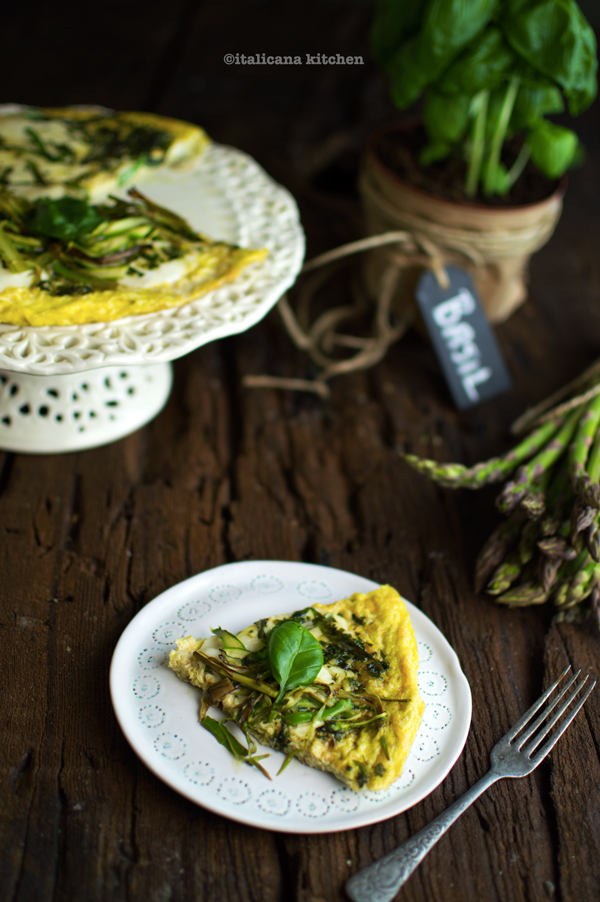 While an omelet has a pocket of goodies stored in its crescent moon shape, the frittata has the ingredients often beaten into the egg mixture beforehand and often spread on top. The frittata is slowly cooked over low heat and often flipped onto a plate then returned to the pan to cook for a few more minutes. I personally find this method rather awkward and prefer to pop the oven-proof non stick skillet in the oven for a minute or two until the top has set and the cheese, if I'm using it, has melted.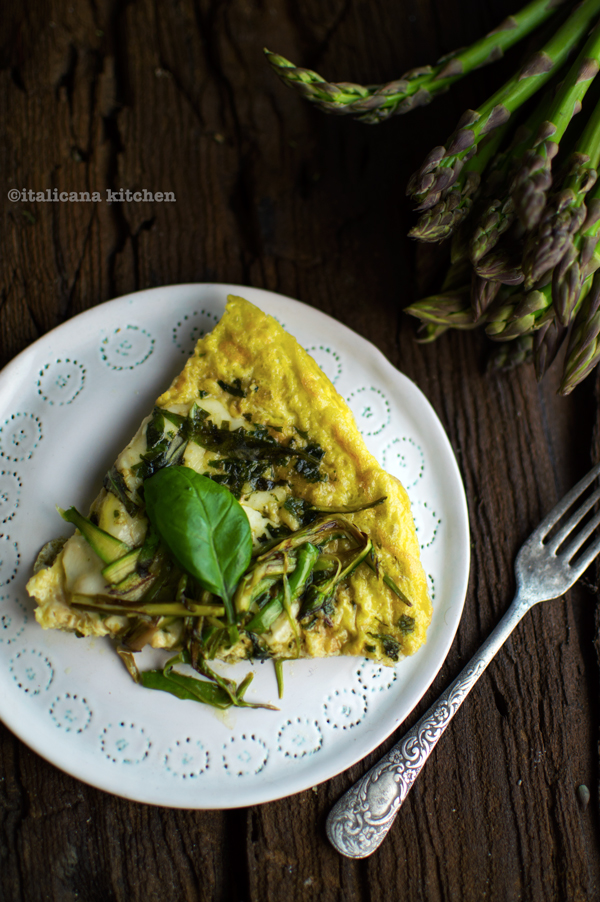 Just like an omelet, you can incorporate a variety of fresh ingredients and cheeses. I have become obsessed lately with shaved asparagus. Combine that with a delicious fresh basil pesto and some good mozzarella cheese and you have yourself a delicious dish to eat for any meal.

Frittata with Shaved Asparagus, Basil and Mozzarella
Learn how to make an easy Italian frittata. It's a versatile egg-based dish that can be served for breakfast, lunch, happy hour or dinner. 20 minutes is all you need for this delicious Frittata with Shaved Asparagus, Basil and Mozzarella.
Ingredients
For the basil pesto: 
2oz (65g) basil leaves (without stems) rinsed and dried with a salad spinner
1.3oz (60g)  Parmigiano Reggiano cheese, freshly grated
¼ small clove garlic, skin removed
2 tablespoons walnuts or pine nuts
¼ cups (100ml) extra virgin olive oil
2 pinches of sea salt
For the shaved asparagus: 
1 tablespoon extra virgin olive oil
1 clove garlic, skin removed but left whole
10 asparagus stocks, shaved with a vegetable peeler
For the frittata: 
1 tablespoon extra virgin olive oil
6 eggs
Salt and black pepper
5 basil leaves
1 mozzarella ball, sliced
Instructions
Preheat the oven to 400°F (200°C).
In a food processor, blend the basil leaves and Parmigiano Reggiano cheese together. Add the rest of the pesto ingredients, and blend for another minute, adding more extra virgin olive oil if needed.
For the asparagus, heat the extra virgin olive oil in a skillet. Add the garlic clove and shaved asparagus and cook for 3-4 minutes over medium heat until soft. Discard the garlic.
Heat the extra virgin olive oil in an oven proof non stick skillet. Beat the eggs with a few pinches of salt and a few cracks of black pepper. Pour the mixture into the skillet and rotate the pan to distribute the mixture in a round frittata. As the frittata cooks over medium low heat, lift the frittata in different parts of the circle and let the liquid egg flow underneath. Cook until nearly set, about 5-7 minutes.
When the top is almost cooked, distribute the mozzarella cheese in a layer and slide the pan into the oven for a few minutes until the egg has set and the mozzarella is slightly melted. If you don't have a ovenproof skillet you can flip the frittata onto a plate or lid and slide it back into the skillet, then add the mozzarella, cover with a lid and continue to cook for another minute or two until the cheese is slightly melted.
When the frittata is ready, layer on the basil pesto, and top with the shaved asparagus and fresh basil leaves.
Eat for breakfast, lunch, happy hour or dinner. Can be served cold, warm or hot.
Related posts: