There are two ways to make colored pasta. The first is to have a very colorful sauce that changes the pasta's color completely. The second way, is to add in various purees, spices, herbs or other natural colorings when making the dough. Although you see photos for the pink pasta I would suggest making just a normal colored fresh pasta since the color will turn pink regardless thanks to the beet sauce! 
Here's a 30 second time lapse video of me in my italicana kitchen making three types of homemade pasta and sauces (all recipes to come!) You can pop on over to my youtube channel for more videos. 
Oh man, this recipe is a winner. It's quite the pleasant surprise for even the pickiest of eaters. For example, my dad, a steak and potatoes kind of guy, LOVED this fresh pasta with beet sauce topped with roasted Brussels sprouts, goat cheese and toasted pine nuts. Then there is Mr. Italicano who snubs any recipe made with beets, yet devoured a whole plate of this pasta before I could relay to him the main ingredient. Um. Yah. It's that good.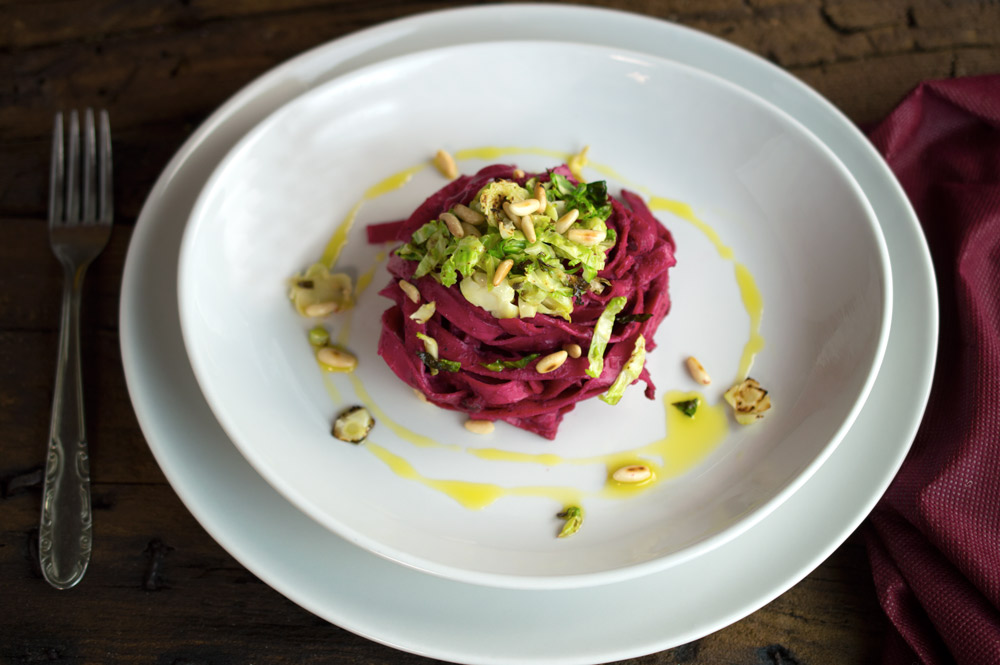 Apart from it's utter deliciousness, it's also festive—look at those vibrant colors! I mean, who doesn't like to wow their dinner party guests with stunning dishes at Thanksgiving or Christmas? So to recap: it's super yum, it's downright beautiful, but I still haven't even told you the best part: it's so dang easy to make! FYI in the photo below I've taken out 1 egg and added 4 tablespoons (4g) cooked beet puree to give the pasta a nice pink color, but like I mentioned before, it's not needed in this recipe.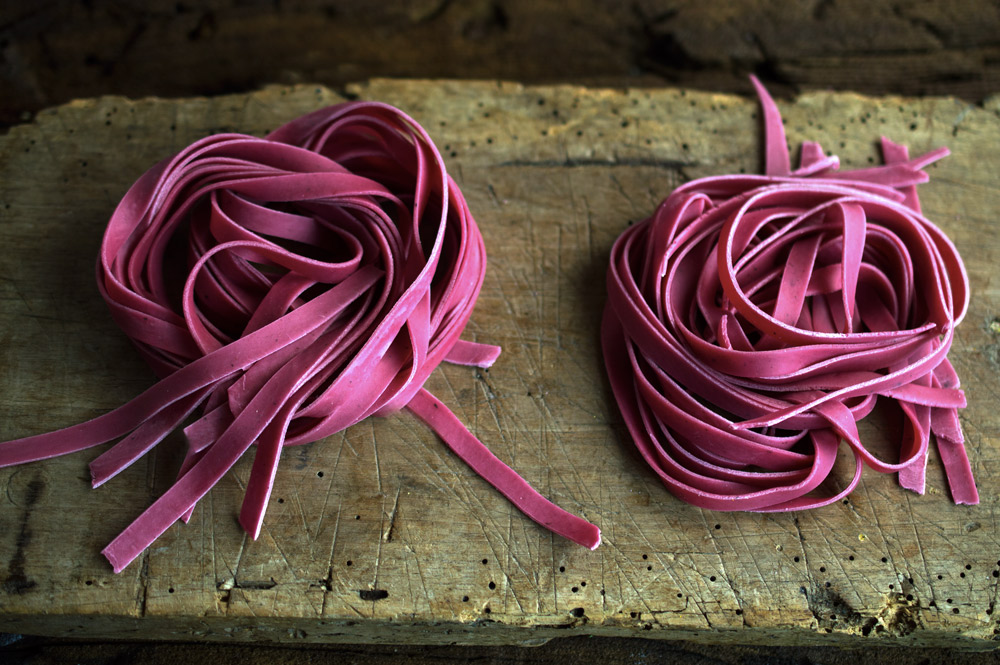 "What? How can fresh pasta be easy?" you may be asking yourself. Before living in Italy, I thought the same thing, that homemade pasta was wayyyyyy too complicated. I wouldn't DARE make it at home and consequently, I was obliged to enjoy this delicious delicacy only at nice Italian restaurants, usually paying a fortune for a dish that costs a fraction of the price when made at home.
Then the Smeg stand mixer entered my life. *Imagine little fireworks exploding around me as I say that.* I am in love. I can whip out fresh pasta in 30 minutes (with 30 minutes of resting time in the refrigerator).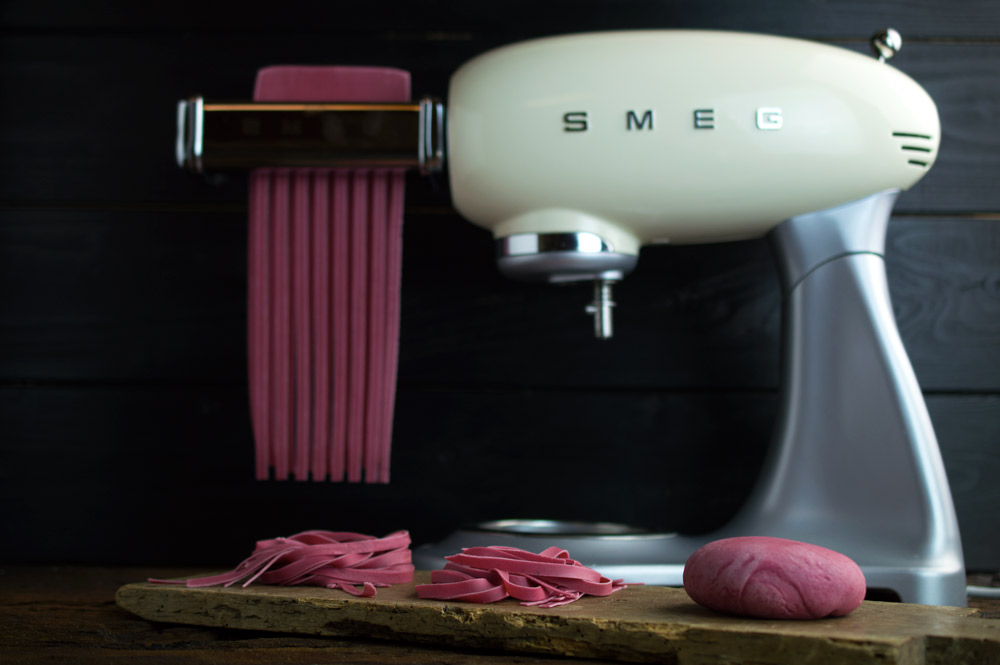 I shot the video above when I was recipe testing for the upcoming events I will be doing in New York City! In collaboration with Smeg USA I will be doing 10 Food Events around NYC to celebrate Smeg USA's 10th anniversary.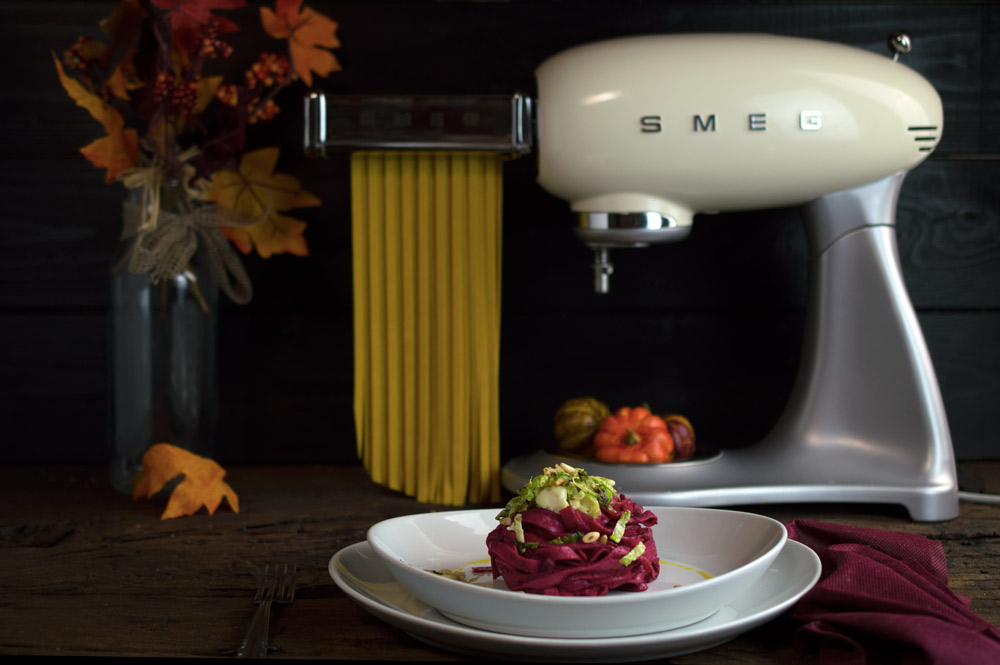 Smeg is an awesome Italian family owned company with gorgeous products that are perfect for those who like high quality and design. Final dates will be coming soon, but in the meantime you can check out the calendar of events. I will be doing cooking events at Bloomingdales, William-Sonoma, Macy's and other stores around the city. If you live in NYC or have friends or family who do, please pass on the word. I would love to meet you in person! In the meantime, happy pasta making!

Fresh Pasta with Beet Sauce Topped with Roasted Brussels Sprouts, Goat Cheese and Toasted Pine Nuts
This fresh pasta with beet sauce topped with roasted Brussels sprouts, goat cheese and toasted pine nuts is perfect for the holidays! Bright, festive and healthy!
Ingredients
For the dough:
3 cups (14oz, 400g) all-purpose or 00 flour, plus more for rolling out
2 pinches salt
4 large eggs (around 65g, 2.3 ounces each), beaten
*The sauce below will color the dough pink. However, if you want to make pink colored dough like in the photos, simply subtract 1 egg and add 4 tablespoons (40g) of cooked beet puree.
For the sauce:
1 pound red beets, medium size (roughly all the same size)*
Extra virgin olive oil, as needed
Coarse salt, as needed
30 Brussels sprouts, thinly sliced
6 tablespoons butter
2 pinches of fine salt
1 goat cheese log, crumbled
2 tablespoons pine nuts
*You can also use cooked store bought beets and skip the roasting step.
Instructions
Cook the beets:
Preheat the oven to 400°F.
Cut off the leafy part of the beet and stem. Wash and scrub the beets, but leave the skin on. Place each beat on a square of aluminum foil. Drizzle a little bit of extra virgin olive oil and a few pinches of coarse salt. Carefully close, like you would a package. Place the wrapped beets in a shallow baking dish or on a cookie sheet with a lip. Bake for 1 hour.
While the beets are cooking, slice the hard end of the Brussels sprouts and discard. Finely slice the rest of the Brussels sprouts. Put the Brussels sprouts in a single layer on a cookie sheet and drizzle a few tablespoons of extra virgin olive oil on top and 3-4 pinches of fine salt. Stir. Bake on another rack of the hot oven for 10-15 minutes. (Check at 10 minutes, if you want them more crunchy bake for 5 minutes increments until you get the right kind of crunchiness.)
In the meantime, make the dough:
Attach the dough hook to the Smeg stand mixer and add the flour, salt and eggs. Mix on speed 1 for 3-5 minutes until the mixture comes together as a ball, adding a spoonful of water at a time if needed or extra flour if the dough is sticky. Wrap the dough with plastic wrap and place it in the refrigerator for 30 minutes.
Attach the pasta roller accessory to the stand mixer. Divide the dough into 4 pieces, press them into flat rectangles and flour each side. Pass one of the pieces through the machine on speed 1 on no.0. Fold the ends towards each other and pass it through again. Continue to pass the dough through, reducing the thickness from no. 0 to 5.
Let the past sheets dry for 10 minutes on a floured work space. Attach the fettuccine accessory and run one sheet through on speed 1. Continue with the rest. Flour the fettuccine ribbons well so they don't stick together.
Now make the beet sauce:
When the time is up, take out the beets, open one up and if the beet can be easily pierced with a fork, it's ready. Otherwise continue to bake for 10-20 minutes. Carefully open the aluminum foil and let them cool. Once cooled, peel the skin off, roughly chop the beets and add them to a food processor or use an immersion mixer to blend into a puree.
Cook the pasta:
Bring a large pot of water to boil. Salt the water. Add the fresh pasta and cook al dente, 1-3 minutes (or according to the package). Reserve ½ cup pasta water and drain.
Finish off the sauce and plate:
Add the butter to a large skillet. Brown the butter over high heat, about 1 minute. Reduce the heat to medium and add the pureed beets and mix until combined. Remove from heat and add the pasta. Stir until coated, adding ¼ cup pasta water to the skillet to thin the sauce if needed. Divide the pasta on the plates and top with the roasted Brussels sprouts, crumbled goat cheese and toasted pine nuts. Serve immediately. Buon appetito!
CONSERVING EXTRA PASTA
Cooking later that day or the next day:
If you're not cooking the fresh pasta immediately, let the noodles dry on pasta racks or on a cutting floured board for 20 minutes then take 5-6 noodles in one hand and roll them around your fingers as if you were rolling up your cell battery charger cord.
When all of the pasta has been loosely wrapped around your fingers, gently set it down on the floured board. These little clusters of pasta are called "nidi" in Italian, or "nests", since they resemble bird nests. Repeat with the remaining noodles. Leave them out to dry until ready to use.
Freezing:
Once you have the little nests, stick them on a plate in a single layer and pop them in the freezer for half hour. Afterwards, take them out and stack them in ziploc freezer bags for easy storage. When you cook them you will usually need 1-2 minutes longer (total 3-6 minutes). They last up to 3 months.
This post is sponsored by 
Smeg
. I only work with brands that I believe in and whose products I use and love.
Related posts: