Easter is a week away! What better way to celebrate than to serve up a beautiful green pasta dish to your family and friends. This homemade matcha pasta with spinach, lemons and zucchini is a great vegetarian meal and, if you want to add some protein, you can top with grilled shrimp. Either way, it's delicious.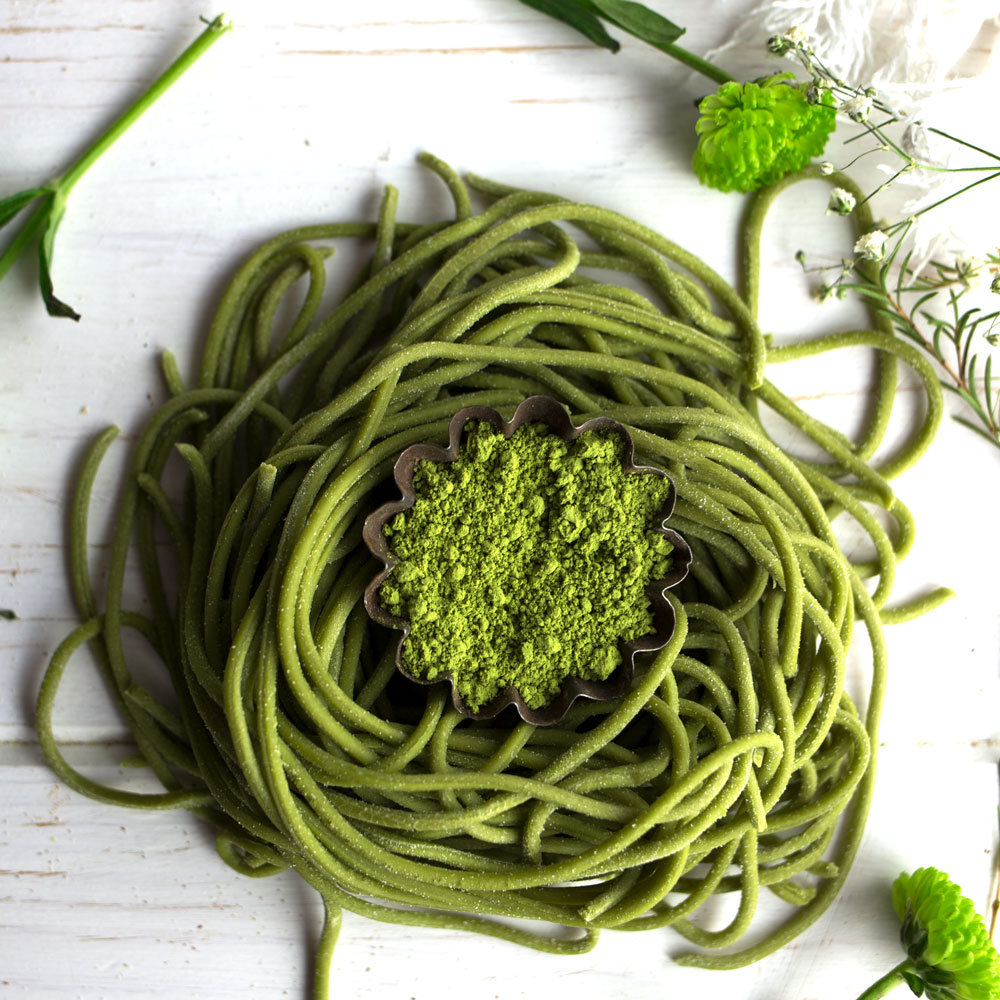 In Italy, Easter is celebrated with a 3-hour family lunch, where laughter is abundant, hand gestures are inevitable, wine is always flowing and there is enough food on the table to feed a small army.  I don't eat breakfast before this festive meal, otherwise I wouldn't make it past the first course, which sometimes is still hard to do. Portions in Italy are not small, by the way.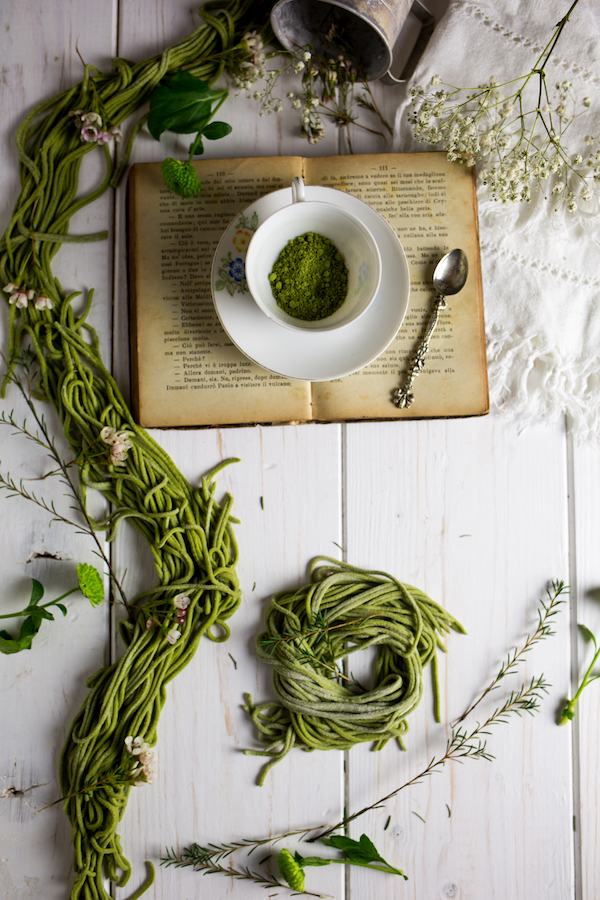 Just to give you an idea, here is the menu for Sunday's Easter lunch that my mother-in-law Patrizia is hosting. It's also her birthday. Buon Compleanno :: Happy Birthday, Patrizia!
Easter Menu
Various appetizers
Ricotta & Asparagus Cannelloni
Mushroom Tortelli with Castellano Cheese and Tartufo Butter
Roasted Lamb with Parsley and Lemon Sauce
Raw Vegetables with Olive Oil, Lemon and Salt
Napoleon dessert
Colomba
Ricotta Crostata
Fresh Fruit
Marsala Aged for 35 years
Passito
Caffè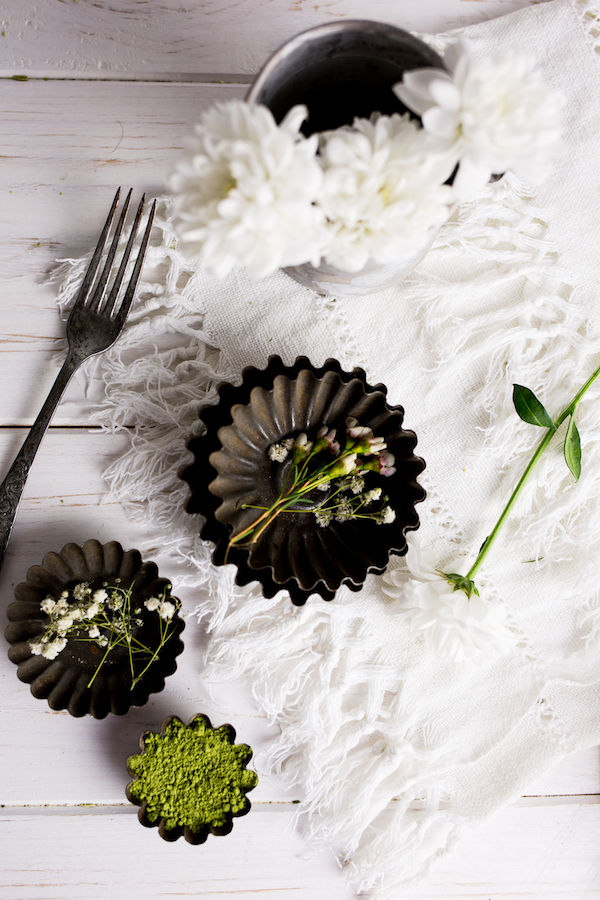 The Easter bunny does not exist in the small country town where I live in the region of Emilia-Romagna.  There are no pastel weaved baskets filled with chocolates and candies to find when you wake in the morning, nor are there Easter egg hunts at the local park.  When I first started living here, I momentarily felt kind of sorry for Italian children, but then again, they have something we Americans don't: chocolate eggs filled with surprises.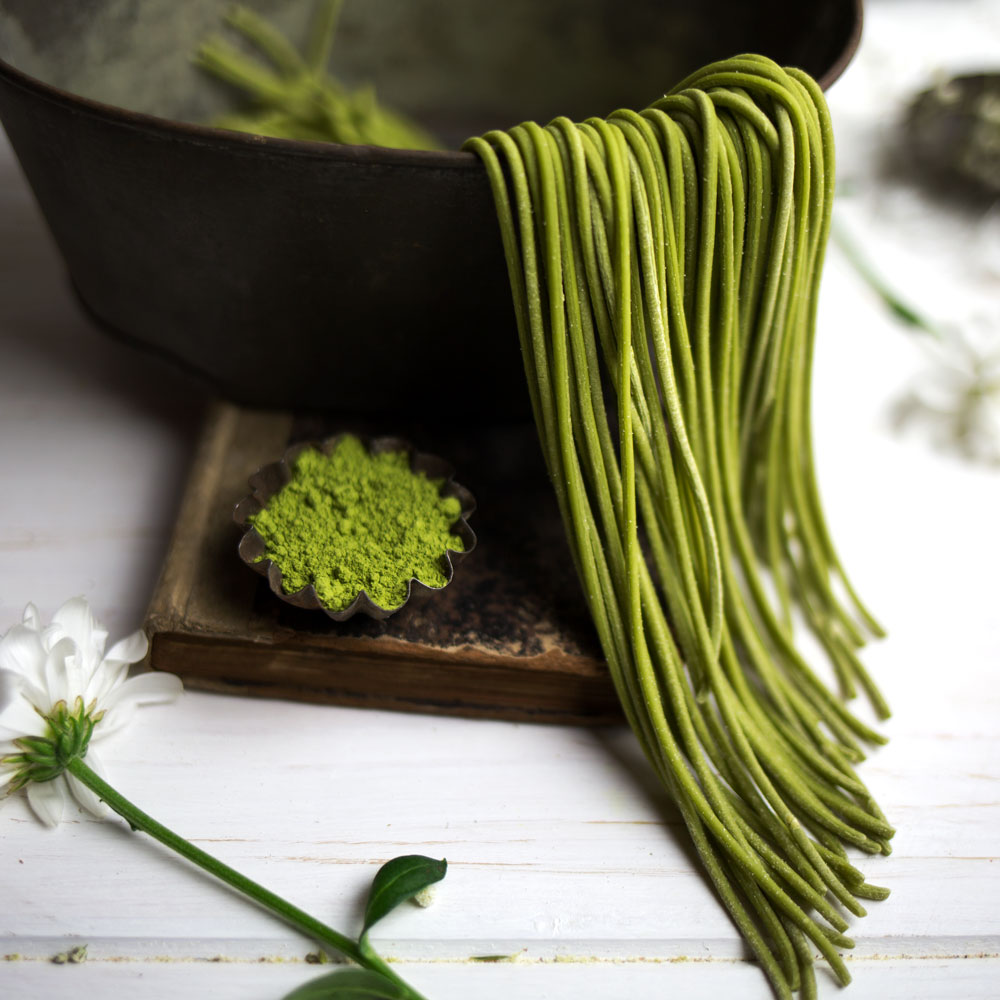 Now you may be skeptical, I mean, in America, chocolate eggs are the norm. But, these aren't just any chocolate eggs. These oval delicacies are both fun and melt-in-your-mouth-delicious. They come in all different sizes: from eggs the size of your palms to the size of your head to the size of an adult body. The surprises are relative to the size and cost of the egg: from small little plastic figurines, to dolls and cars to giant stuffed animals (and much more).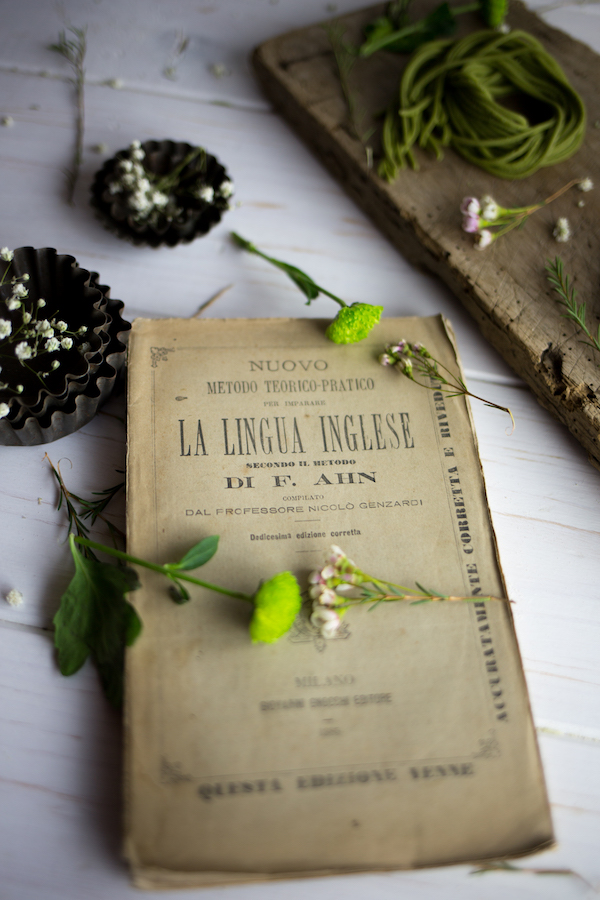 How to open one of these chocolate eggs: Remove the shiny wrapper, admire the chocolate that you are going to shortly devour, and smash the chocolate egg against the table to reveal a plastic egg. Inside you'll find your surprise. Outside you have all of the chocolate pieces to eat and share. Or not. 🙂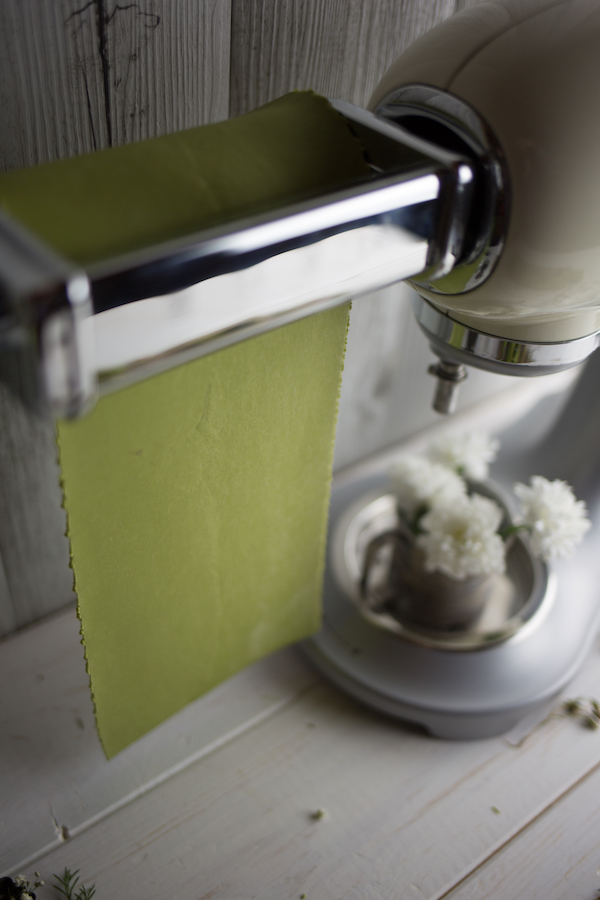 Traditional American Easter desserts are filled with colored dyes. How else would you color your cakes and frosting pastel green, yellow and pink? Believe it or not, there are so many easy ways! I used natural colorings for my pasta recipes: matcha and spinach for green, turmeric for yellow and beet puree for pink. You can also use these natural colors for your baked goods.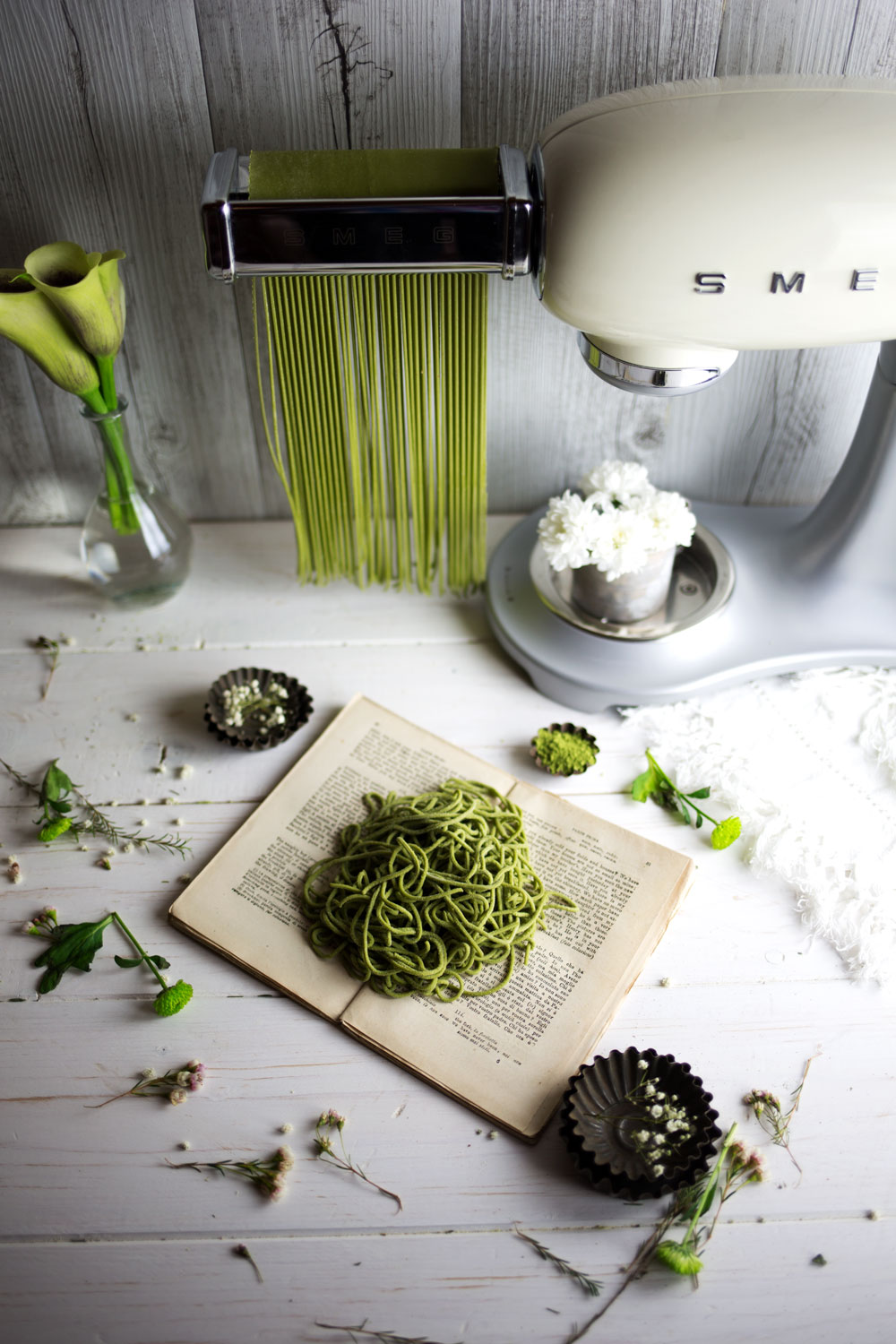 Here's the thing: synthetic dyes are bad for adults and children. According to Eating Well, "Research has also associated food dyes with problems in children including allergies, hyperactivity, learning impairment, irritability and aggressiveness."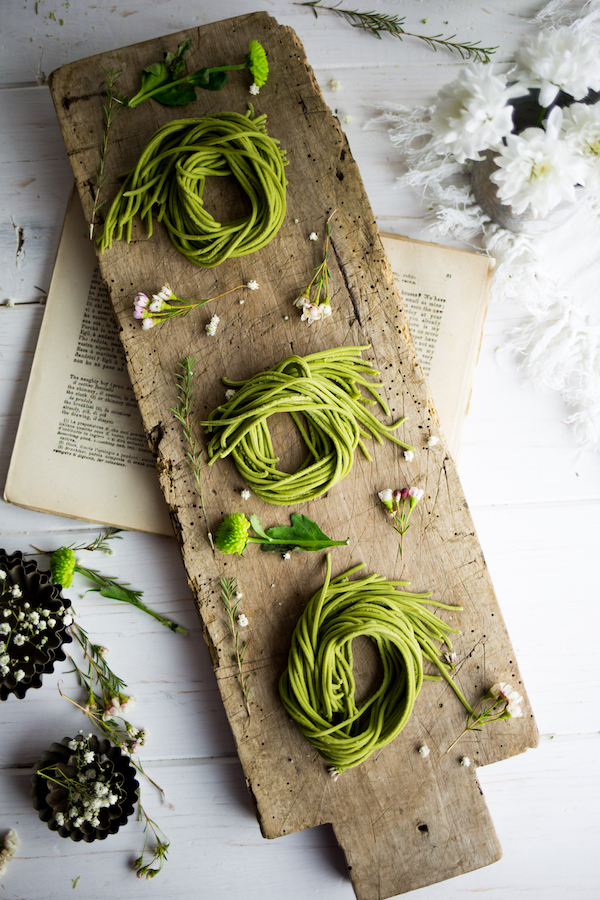 I was actually quite tentative to use real ingredients to color my food, I mean, wouldn't it taste weird? The surprising answer is no. Usually the amount that you add to your recipe is so minimal that you can't even detect what ingredient it is. For instance, in this homemade matcha pasta you can't taste the flavor of the green tea but you get all of the antioxidants and heath benefits. Is matcha tea good for kids, you ask? I found this article quite interesting.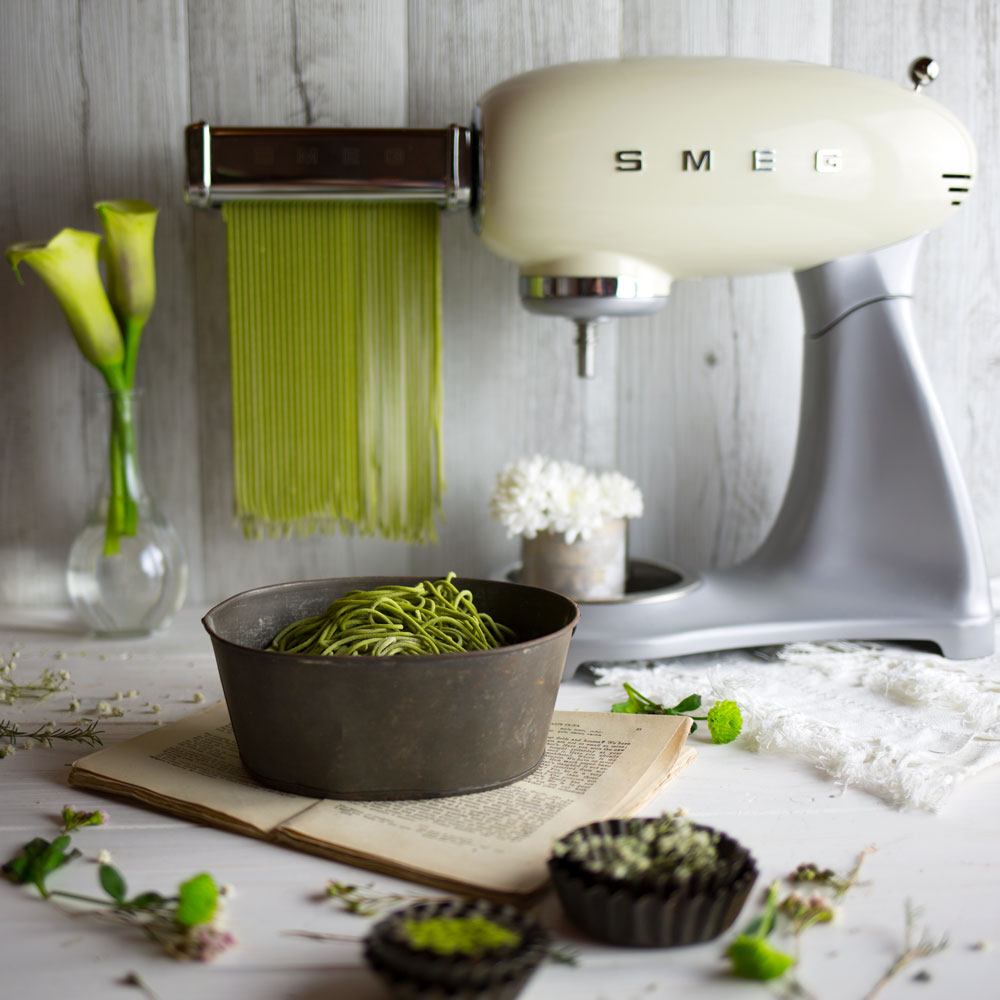 I had a lot of fun developing this recipe; it was also quite a challenge. It took me about three tries to get the pasta the way I wanted it, and about 8 tries to find the "perfect sauce" (see my video on youtube.) I am very happy with the result and the responses during the 2 week cooking show tour in America with Smeg USA. Over the course of 17 cooking shows and demos in Chicago and New York City, I showed consumers how to make this pasta dough in Smeg's beautiful stand mixer , and how to make the raw spinach lemon sauce in their vintage style blender.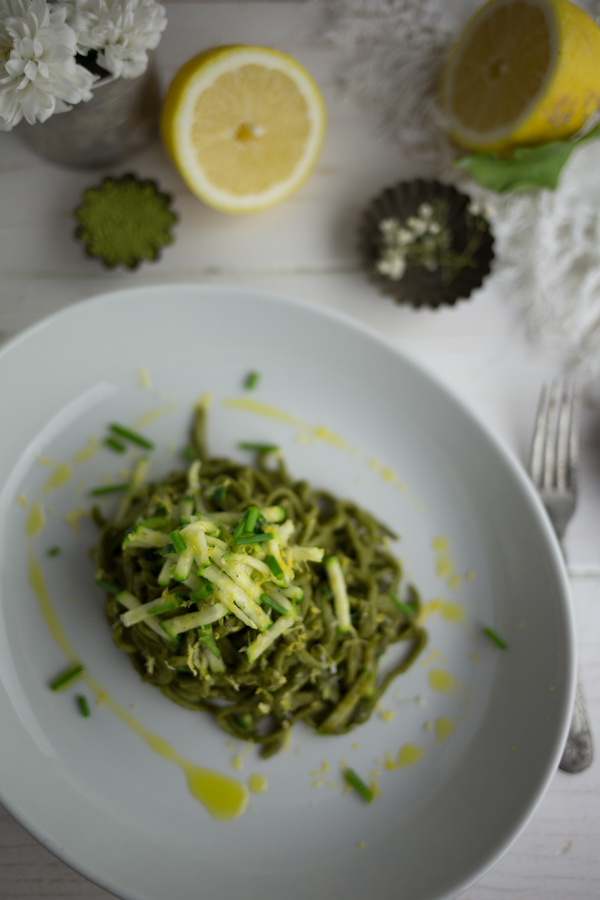 I used their vegetable attachment to cut matchstick pieces of zucchini in seconds. Not only was it fun, but I absolutely love showing people how to eat healthy with simple recipes. It's truly easy when you have the right kitchen tools.
Homemade Matcha Pasta with Spinach, Lemons and Zucchini
This homemade matcha pasta with spinach, lemons and zucchini is a great vegetarian dish perfect for Easter and the arrival of spring. It's naturally colored and fresh in flavor. Enjoy!
Ingredients
For the dough for spaghetti:
2½ cups + 2 tablespoons (400g) semola
1⅛ cup (230g) water
2 pinches salt
2 tablespoons (10g) matcha powder
For the dough for fettuccine or tagliolini:
3 cups (14oz, 400g) farro flour
4 extra large organic eggs
1 pinch of salt
2 tablespoons (10g) organic matcha
For the sauce:
8 tablespoons extra virgin olive oil, divided
½ onion, skin removed and finely chopped
1 clove garlic, skin removed and finely chopped
½ cup water
1 lemon, juiced
6 oz (180g) organic baby spinach
¾ tsp salt
For the topping:
2 zucchini, cut into matchstick pieces
2-3 lemons
Chives
Instructions
For the dough:
Attach the dough hook to the Smeg stand mixer and add all of the ingredients for either the spaghetti dough or the fettuccine/tagliolini dough. Mix on speed 1 for 3-5 minutes until the mixture comes together as a ball, adding a spoonful of water at a time if the texture is crumbly or extra flour if the dough is sticky.  Wrap the dough with plastic wrap and place it in the refrigerator for 30 minutes.
Attach the pasta roller accessory to the stand mixer. Divide the dough into 6 pieces, press them into flat rectangles and flour each side. Pass one of the pieces through the machine on speed 1 on no.0. Fold the ends towards each other and pass it through again. Now turn it to no.1 and pass it through three times. Let the sheets dry for 20 minutes or until they are no longer moist but not too dry where they break. Now proceed with one of the following:
For Spaghetti:
Attach the spaghetti attachment and pass each sheet through on speed 1. Repeat. Hang the spaghetti on a pasta rack or broom handle lined with a clean cloth and let dry completely before cooking.  Cook time: 2-4 minutes in boiling salted water.
For Fettuccine & Tagliolini:
Attach the fettuccine or tagliolini accessory and run one sheet through on speed 1. Repeat. Pasta can be used immediately. Cook time: 2-4 minutes (fettuccine) or 1-2 minutes (tagliolini) in boiling salted water.
For the sauce:
Heat 2 tablespoons extra virgin olive oil in a skillet, add the onion and cook over medium heat for 4-5 minutes until translucent, but not brown. Add the garlic and cook for another minute.
Add this mixture to a blender followed by 6 tablespoons of extra virgin olive oil, water, lemon juice, baby spinach and salt. Blend until smooth, adding more salt or lemon to taste.
To plate:
Cook the pasta according to the directions above. Add the sauce back to the skillet. When the pasta is done add it to the skillet along with a few spoonfuls of cooking water. Stir to distribute the sauce evenly and heat over medium heat for 30 seconds. Divide into 4-6 plates, and top with zucchini, chives and ½ lemon zest for each plate. Buon appetito!
This post is sponsored by Smeg. I only work with companies whose products I use and love.
Related posts: