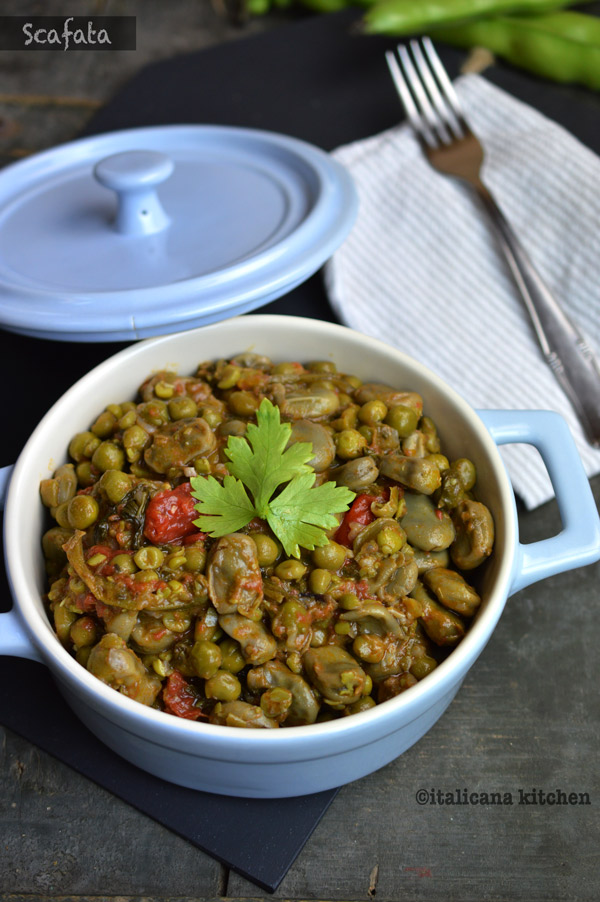 Last weekend I was invited to Umbria (a region in central Italy) along with six other wine, food, and travel bloggers, to participate in a three day educational tour. You can read about this incredible experience and get some travel tips :: consigli di viaggio from my previous post about Umbria. Now, let's talk about a delicious traditional dish I tried called Scafata.  Oh my, if you haven't tried this Italian stew with fava beans :: fave you are in for a treat!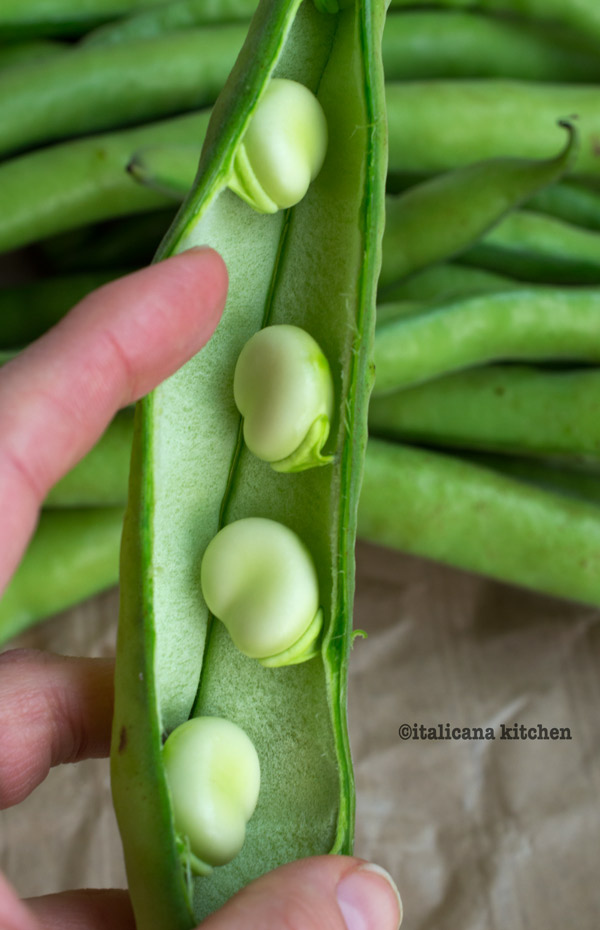 Fava beans, or broad beans as they are often called, are the oldest known beans. Like lentils, they are used in various European and Mediterranean dishes. Fava beans grow in a soft fuzzy pod :: baccello, but are much larger than peas. In France and America it is custom to peel the transparent skin off the bean, but here in Italy, we just shuck them from the pod and eat them raw, or cook them in various dishes.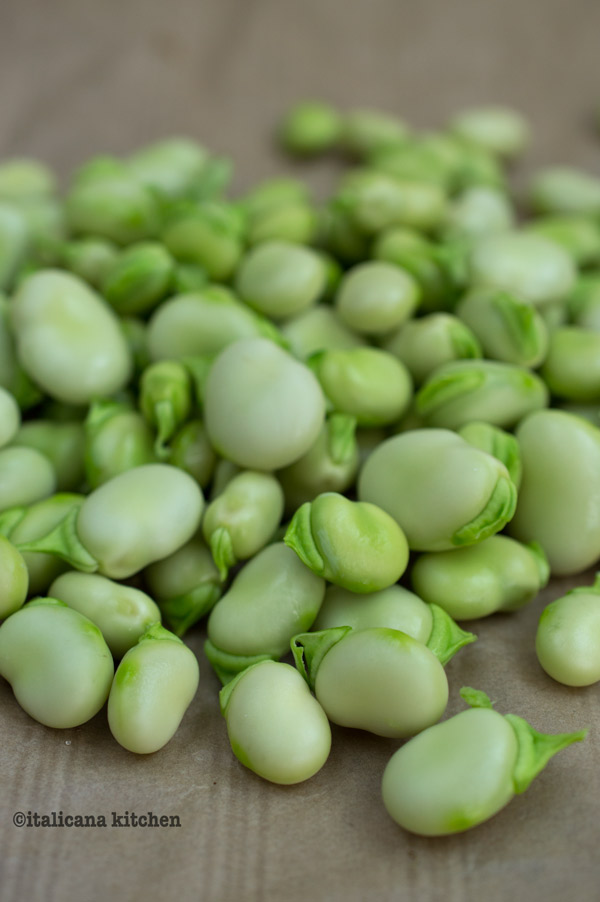 Fava beans are the main players in this dish. From here you can toss in a variety of seasonal vegetables. I've used a sweet Tropea onion, freshly shelled peas and a large bunch of Swiss chard :: bietole. Asparagus would work well, which I unfortunately didn't have on hand.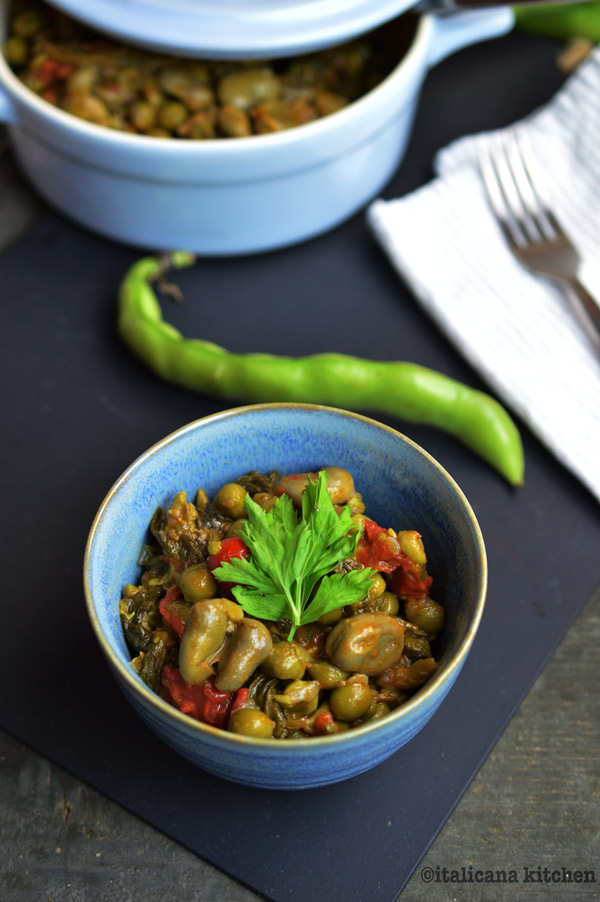 Scafata is good when eaten warm right after being cooked, but like many great Italian dishes, it becomes absolutely darn right mouthwatering when made a day or two ahead and eaten cold or heated up. The traditional recipe doesn't call for cheese :: formaggio, but Mr. Italicano tried it with grated Parmesan as well as a spoonful of Burrata, which were also great variations.

Scafata
"Scafata" is a traditional dish from Umbria, Italy that is loaded with vegetables and perfect for summertime.
Ingredients
2 tablespoons extra virgin olive oil
1 garlic clove, finely chopped
1 red or Tropea onion, finely chopped
3 cups (400g) shelled fava beans (or frozen)
2 cups (285g) shelled peas (or frozen)
13.5 oz (400g) cherry or datterini tomatoes, without the skins*
12.5 oz (350g) Swiss chard, chopped
1 handful basil or mint, chopped
Salt and freshly cracked black pepper, as needed
Grated parmigiano reggiano (parmesan cheese), as needed (optional)
Instructions
Bring a medium pot of water to boil. Don't add salt to the boiling water as the peas and fava beans will toughen up. Salt the dish at the end of the recipe.
Put the extra virgin olive oil in a skillet. Add the garlic and onion and cook for a few minutes over medium heat.
When the water is boiling, cook the fava beans for 2-3 minutes then drain them (reserving the hot water) and put them in the skillet with the garlic and onions. Add the tomatoes, swiss chard and half of a ladle of the hot water. Cover the skillet and cook for 15-20 minutes, stirring occasionally and adding more water if necessary to keep the mixture from sticking to the pan.
Now that the stew is ready, bring the water reserved back to boil and cook the peas for 1-2 minutes; drain and add to the fava mixture. Add the basil or mint, salt and pepper to taste. If desired, add the parmesan cheese. Cook for 1-2 minutes. Serve warm o cold. This dish is best made a day or two in advance and eaten cold or reheated.
*To easily remove the tomato skins, stick the tomatoes in the freezer over night and run them under lukewarm water to remove the skins; or, boil them for 1 minute and then run them under cold water and the skins will easily come off.
Here is another great recipe to try with fava beans:
Avocado and Fava Bean Dip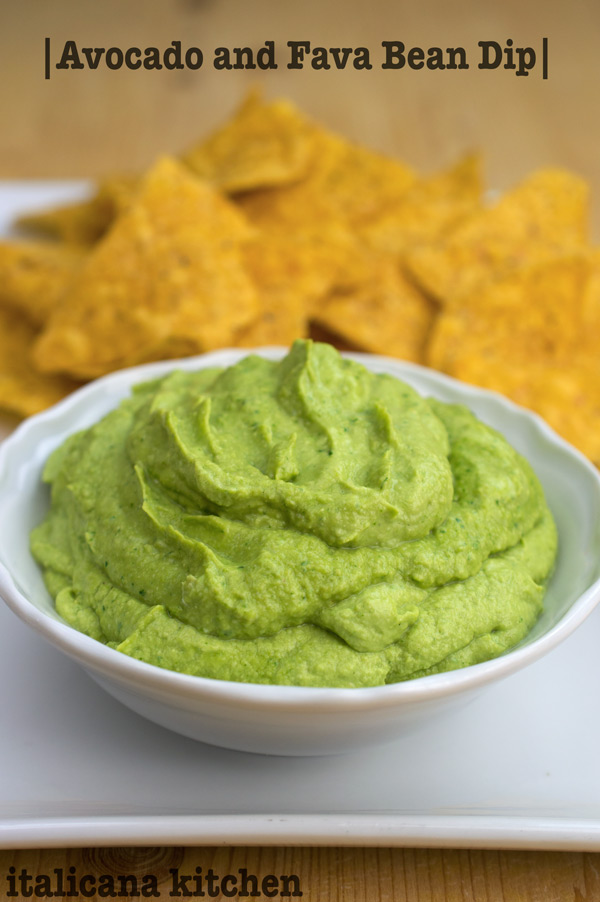 Related posts: