I have a confession to make. Before traveling, my geographical knowledge of Italy was limited to four cities: Rome, Florence, Venice and Milan, and one region: Tuscany. I knew these cities and region thanks to Hollywood movies, fashion or art, but had no idea of the paradise :: paradiso waiting for me in other areas of Italy…like Umbria.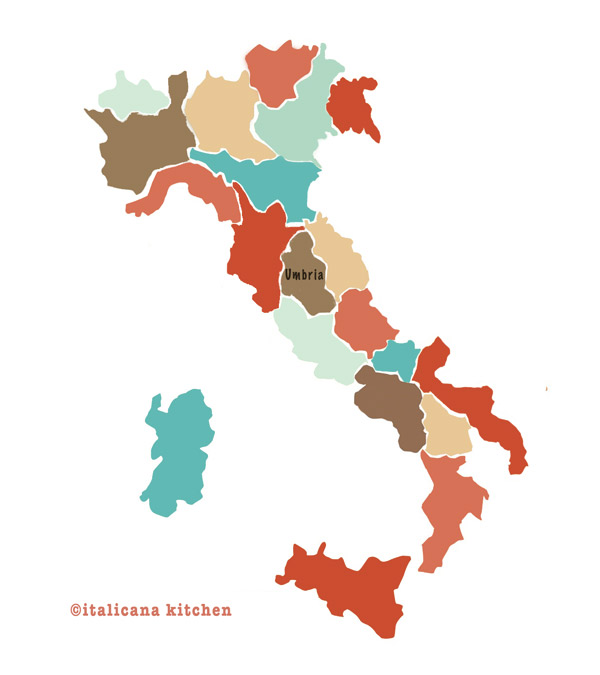 Umbria? Where is Umbria?, you may be asking yourself. It is a region in central Italy bordered by Tuscany to the west, Marche to the East and Lazio to the South.  Still to this day, the most famous city, Assisi, often times gets more press then the actual region of Umbria as a whole, which has countless historic sites, great gastronomy and wine and infinite options for nature lovers.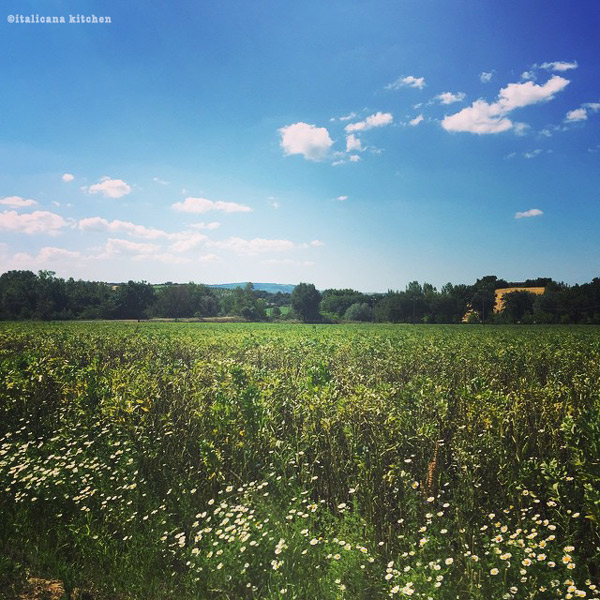 I discovered this cuore verde d'italia, or "green heart of Italy" as it's often called, last week when I was invited by La Strada dei Vini del Cantico and Terre dei Bulgarelli, along with six other wine/food/travel bloggers on an educational tour based on sustainable tourism and food and wine.
We were picked up at the train stations in electric cars from Umbria Green Card. I've never been in an electric car :: macchina electric, but I've always appreciated the idea of traveling without polluting the air. The first thing I noticed when we took off was the silence. In the backseat I lost myself in a trance watching the forests, valleys, rolling hills, meadows, vineyards and castles pass me by. The silence made everything much more intense and all of the vibrant colors melded together like a Claude Monet painting.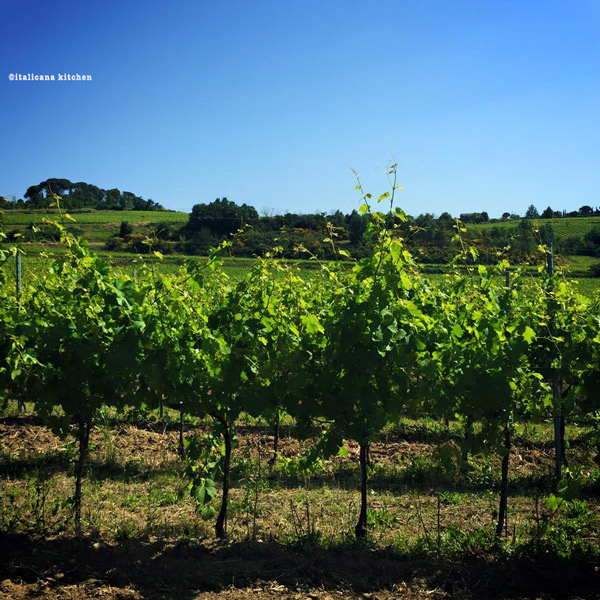 Just as the panorama flew by while driving in the car, our weekend as well passed in a hurry. What is the phrase? Oh, yes. "Time flies when you are having fun." So true. Yet, the magic thing about traveling is that you can always bring with you the memorable moments and emotions you experienced. I will always remember my first sip of Sagrantino di Montefalco DOCG del 2007 that was tannic and intense with a rich bouquet of red fruits, cinnamon and soil. I won't ever forget our trip in an electric jeep on a day that was almost 80°F; sunshine kissed our faces as we drove through the vineyards and olive groves :: oliveti that were over 400 years old! The first bite of "scafata", a traditional stew made with fava beans, left such an impression that I couldn't help but make the recipe when I returned. Then, of course, there were all the wonderful conversations with the other bloggers and event organizers who I connected with and shared the same thoughts and values.
Exploring the lands, getting to know the locals, discovering their traditions and history :: storia and enjoying yourself during every moment is what traveling is all about. Umbria left me with great emotions and I invite you to go there to understand why!
Here's a few websites that can help you organize your next trip to Umbria and a few places not to miss! 
Trip Planning Resources
Hotels, Agriturisms and Farms: 
Highlight: Fantastic farm-to-table food or as they say in Italy "Kilometer 0." A typical dish from Umbria that is not to be missed is "La Scafata" made with fava beans.
Highlight: You get to sleep in an 18th century Italian Villa nestled among nature. Need I say more?
Highlight: Take an informative tour of their expansive organic fruit and vegetable garden and a stroll through their lovely property.
Farm and Agriturismo Borgo Casaglia 
Highlight: Terrace with views of a stunning valley in a rustic and tranquil setting.
Highlight: Waking up to views of vineyards in every direction.
Wineries: 
Highlight: Electric jeep tour through the vineyards and olive groves with a wine and olive oil tasting on their eco-friendly terrace, which is made from recycled woods and unused corks.
Highlight: Great quality wines made with handpicked grapes.
Highlight: Their "Vero Amore Sangiovese Passito", or "True Love Sangiovese Passito", which is a sweet wine made from Sangiovese grapes and is perfect to pair with chocolate or other desserts.
Highlight: The tour in the vineyard and winery with a detailed description of their sustainable practices. Not to miss: a bottle of their "Freccia degli Scacchi".
Highlight: Helicopter tour over the vineyards and rolling hills of Umbria.
Other Bloggers who Participated:
Take a look at the blogs and social media channels of these other bloggers who participated on this fantastic educational tour:
Alessandro Paolucci on Twitter @lddio
Silvia Trigilio del Il Giornale del Cibo
Manuela Mancino, expert taster and consultant, on Twitter @ManMancin
Giusi Carai del Gente in Viaggio
Francesca Maroncelli e Nico Tomei del Cum Gaudio Magno
In the Newspapers: 
Giornale di Umbria
Related posts: