The beauty of this lentil, avocado and feta salad in red radicchio cups is that it is very versatile; you can serve it as an appetizer, as a side dish or a vegetarian main entrée.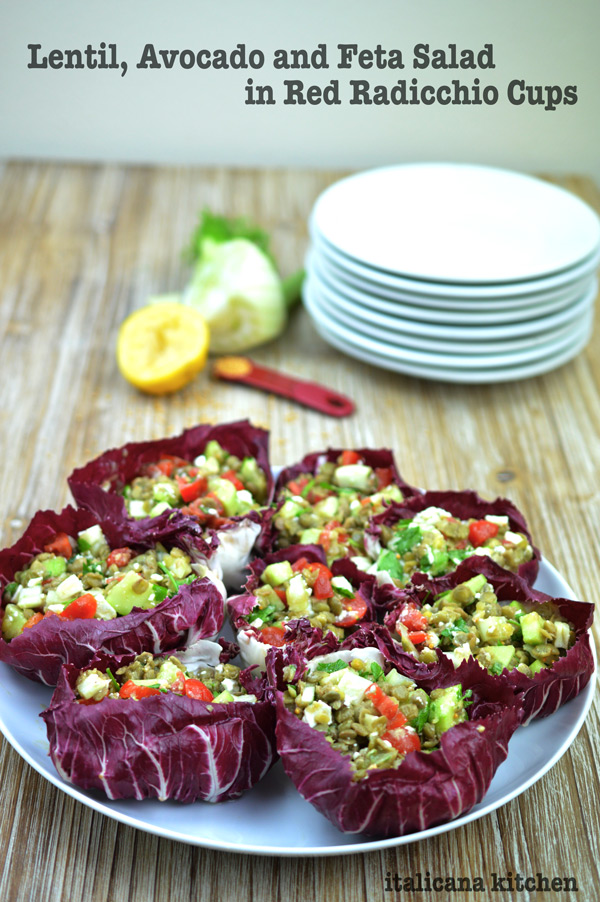 As an appetizer, use the inner leaves of the red radicchio which will be smaller, whereas for a side dish or main entrée :: secondo you can use the outer, larger leaves. Make sure that the leaves are crisp and have no brown spots.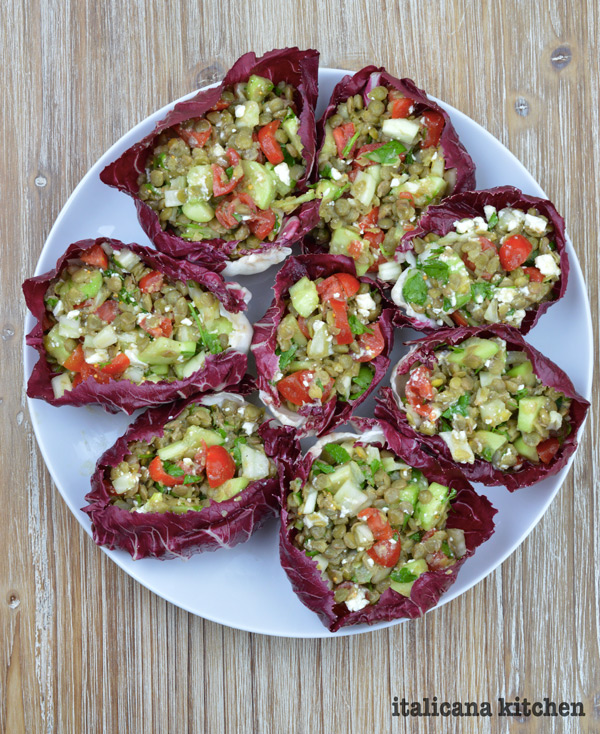 There are many varieties of radicchio (pronounced rah-deek-key-oh), each of which are named after the Italian region where it was originally grown. The two types that are most widely available in specialty grocers in the United States are Verona and Treviso. Verona is round and similar in shape to a small cabbage head whereas the Treviso variety is characterized by its oblong leaves :: foglie oblunghe.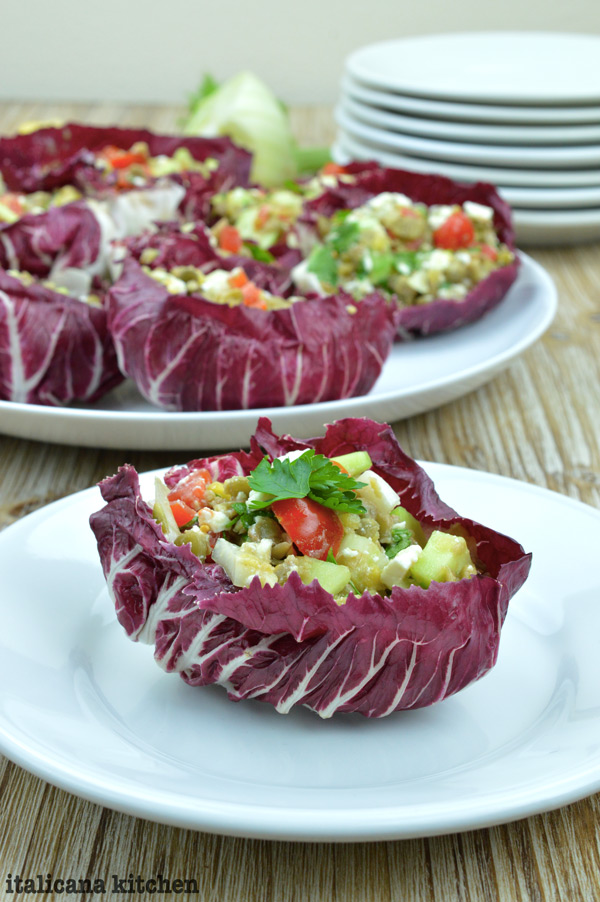 Being a leaf chicory, you may also find that radicchio is called Italian chicory, Verona chicory, Treviso chicory etc.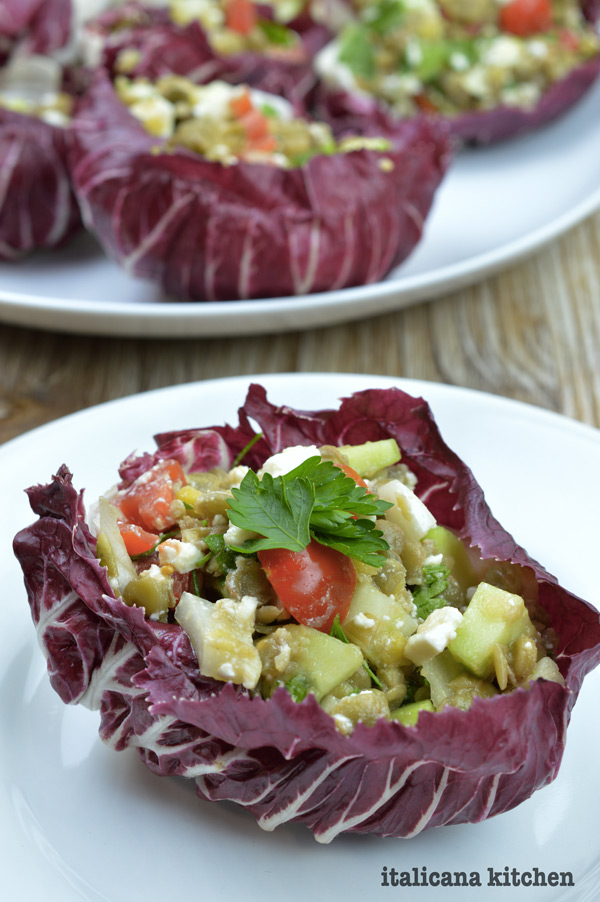 In Italy, red Treviso radicchio, along with other raw vegetables :: verdure crude, is commonly dipped into pinzimonio, a condiment made of olive oil, salt, pepper and a splash of lemon juice.  The red Treviso radicchio is one of the most prestigious varieties of radicchio, yet is harder to find in the States.
Lentil, Avocado and Feta Salad in Red Radicchio Cups
This lentil, avocado and feta salad in red radicchio cups is very versatile; you can serve it as an appetizer, as a side dish or a vegetarian main entree.
Ingredients
For the salad:
1 cup (200g) lentils, rinsed
1 teaspoon course salt
1 cucumber, chopped
15 datterini tomatoes, chopped
½ fennel, finely chopped
1 avocado, peeled and chopped
1 handful parsley, chopped
6 ounces (150g) feta, crumbled
8 large Verona radicchio leaves, rinsed
For the vinaigrette:
1½ lemon, juiced
2 tablespoons extra virgin olive oil
1 tablespoon mustard (dijon or grainy)
½ teaspoon mustard seeds
2 pinches salt
Lots of freshly cracked pepper
Instructions
For the vinaigrette:
Combine the ingredients together in the order given then chill in the refrigerator until ready to use.
For the salad:
Bring a medium sized pot to boil, salt the water and add the lentils. Cook according to the package, about 15 minutes. Drain and cool.
In the meantime, add the chopped cucumbers, tomatoes, fennel, avocado, parsley and feta to a bowl. Add the cooled lentils and vinaigrette and stir until combined. Divide the mixture among the radicchio leaves and serve.
If made in advance, make the lentil salad without the avocado and cover tightly with plastic wrap. Prepare the vinaigrette in a small bowl and cover with plastic wrap. Rinse the radicchio leaves, wrap in a paper towel then store in a plastic bag in the refrigerator. When ready to serve, peel and chop the avocado and add the pieces to the salad mixture along with the vinaigrette. Stir well then distribute among the radicchio cups.
Related posts: