I am addicted to salads in the spring and summer :: estate months.  Who doesn't love bright and flavorful seasonal produce adorning a bed of fresh crisp lettuce? If you mix up your ingredients, you are sure to never get bored.Here are just a few of my favorites: lentil salad in radicchio cups;  quinoa salad with feta and caramelized walnuts;  apple, dried cranberry, caramelized almonds and feta salad and, of course, not to be missed from this list is this rucola salad with strawberries, radishes and macadamia nuts topped with a rich gorgonzola dressing.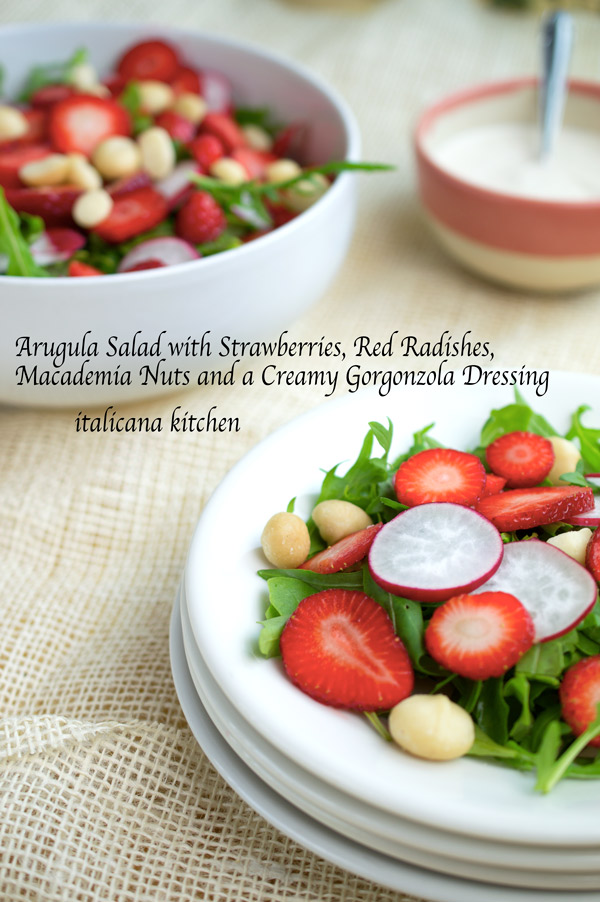 When I lived in the U.S., the word "gorgonzola" for me was just a name of an Italian blue cheese. Little did I know that gorgonzola bears the name of the Italian city :: città where the product originated. Asiago is another example of a cheese named after a city, as well as Parmigiano Reggiano (what we often call parmesan cheese), an area that includes the cities of Parma and Reggio Emilia.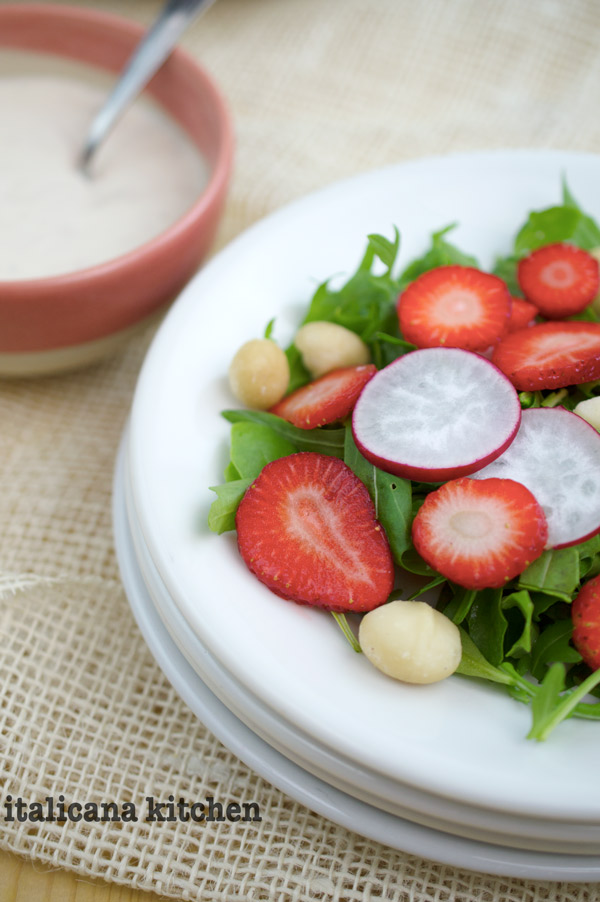 Gorgonzola has quite a strong taste, so if you are not a fan of this cheese you can simply add a splash of extra virgin olive oil and balsamic vinegar.  I personally love gorgonzola as you can use it for both sweet or savory dishes. Add gorgonzola to a pear and walnut pizza, melt it down to create a gorgonzola sauce for pasta or risotto or prepare an apple and gorgonzola pie.  A while back I made some very bland savory muffins :: muffin salati. Instead of throwing them out, I created a hole in the center with a small spoon, added a dollop of gorgonzola and instantly they were transformed into gourmet savory muffins with a gorgonzola-filled center.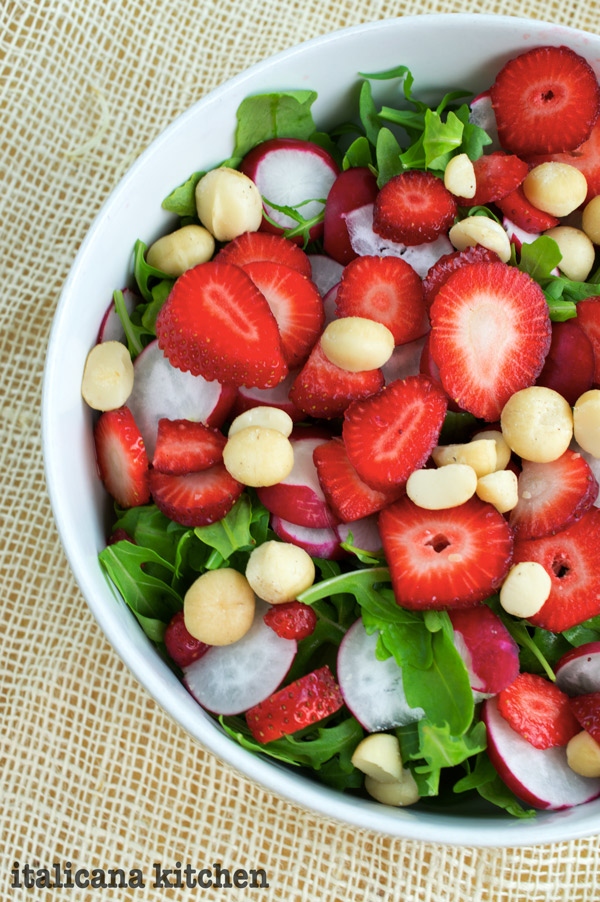 Make the dressing :: condimento right after preparing the salad as the strawberries that are blended in the gorgonzola dressing become too sour if stored for days or overnight in the refrigerator.  I also like to warm my radish slices in a splash of apple vinegar on the stove.
You may already be accustomed to buying your blue cheese salad dressings in a bottle, but living in a country where these are practically non existent, I've learned to make my own.  I also make homemade dressings to moderate what goes inside. Who needs 10+ ingredients and preservatives with long names that you don't know?  All that is needed to make a tasty and satisfying salad dressing is just a few simple ingredients.
Arugula Salad with Strawberries, Red Radishes, Macadamia Nuts and a Creamy Gorgonzola Dressing
Light and colorful ingredients make this arugula salad with strawberries, red radishes and macadamia nuts perfect for celebrating the summer days; all topped with a creamy homemade gorgonzola dressing.  
Ingredients
For the dressing: 
2 tablespoons Greek yogurt
½ cup (105g) gorgonzola 
4 tablespoons extra virgin olive oil 
4 strawberries
Salt and pepper, to taste 
For the salad: 
8 ounces arugula (about 12 cups)
15 strawberries, hulled and thinly sliced 
4 red radishes, thinly sliced 
¼ cup (38g) macadamia nuts 
Instructions
In a blender, mix together the Greek yogurt, gorgonzola, extra virgin olive oil, strawberries, sat and pepper. Pour into a small serving bowl. In a large bowl, add the arugula, strawberry slices, radish slices and macadamia nuts. 
Note: Since the gorgonzola dressing has a strong flavor, I suggest serving the dressing separately from the salad so that each person can add as much flavor as he/she desires. Due to the strawberries, the gorgonzola dressing doesn't conserve well in the refrigerator, so make the dressing right before serving the salad. 
Related posts: