Salads don't have to be boring. In fact, they shouldn't be; otherwise you'll be quick to skip them all together and find yourself with a hamburger in one hand, fries in the other and a pop wedged between your thighs.  This salad is anything but bland.  The plump :: paffute, juicy strawberries combined with quinoa, caramelized walnuts and feta are little flavor explosions in your mouth, ok, not Pop-Rock style (remember those?), but definitely some taste bud dancing is going on. Which is why I decided this recipe would be perfect for my "girl's night in" dinner I was hosting.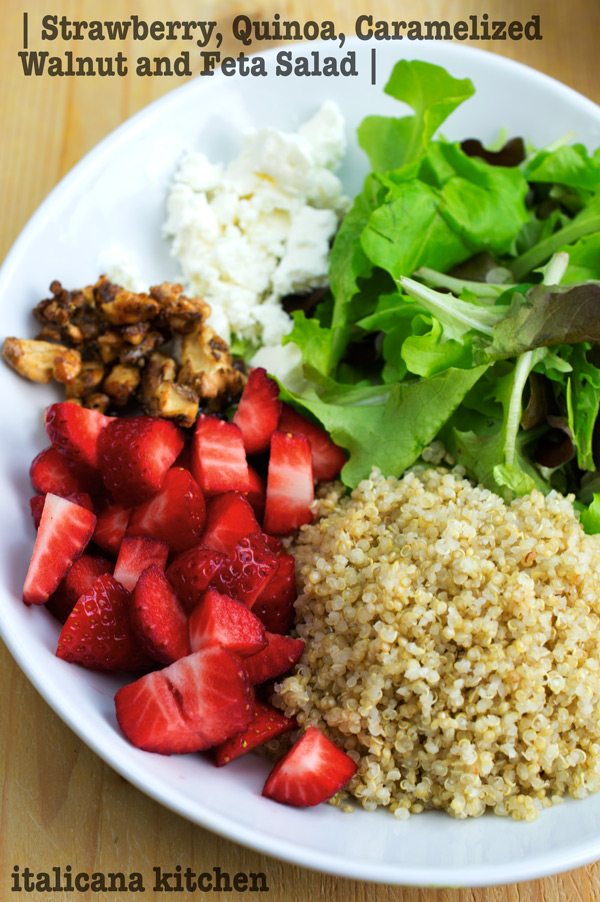 I adapted this from Lindsey's recipe at Pinch of Yum. She's been my food blog guru since I started blogging  2 months ago.  Her book "Tasty Food Photography", filled with how to's and Photoshop tutorials, is essential for any beginner blogger.  Her husband Bjork even writes up detailed posts on how they earn money :: soldi from blogging (a question that everyone asks me.)  Hands down good people that produce awesome recipes/content, volunteer/donate to worthy causes and are such an inspiration on finding the right kind of balance  between work/life and receiving/giving. Major kudos.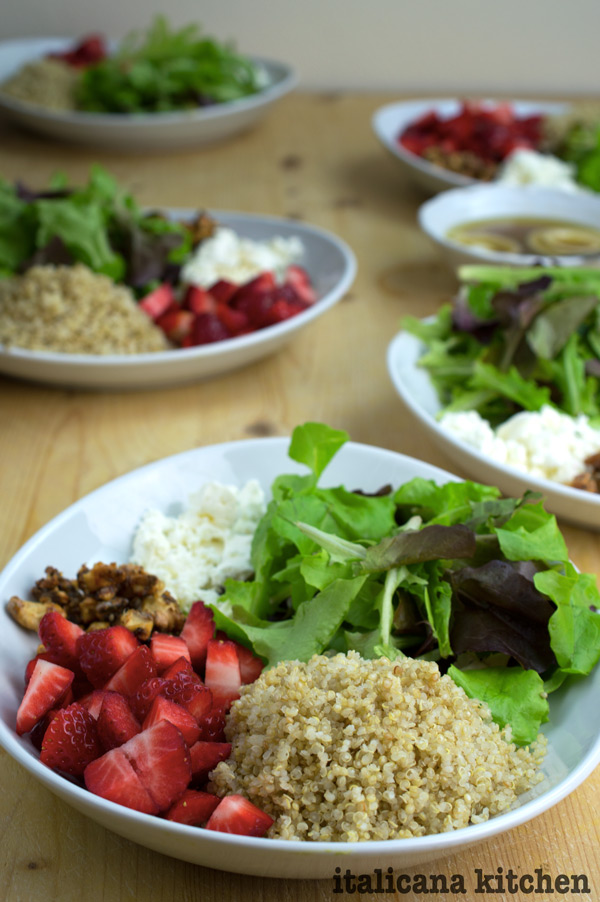 Lindsey's recipe included pomegranate, baby kale, wild rice, salad, walnuts and feta. Unfortunately, I coudn't find some of these ingredients so I made some adaptations.  Pomegranates are out of season so I substituted with strawberries; I couldn't find baby kale at the market so I opted for salad; was too lazy :: pigra to go to the store for the 3rd time in a day so I used quinoa instead of wild rice; I caramelized the walnuts and the feta, well, that remained the same.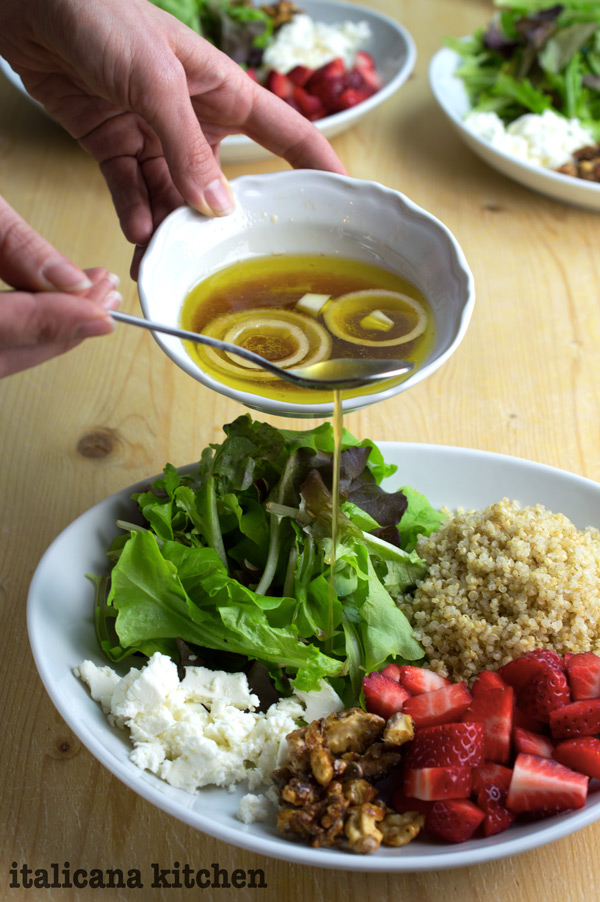 As for the dressing :: condimento, using the same ingredients, I adapted it to my own taste and put the onion slices in a bowl to infuse instead of mincing—great for those who want a little tang but not too much.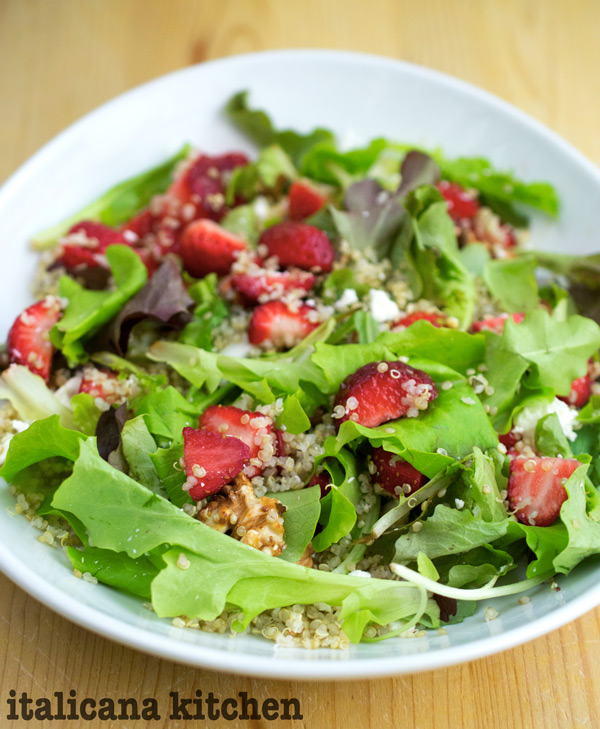 The "girl's night in" menu included:
Fava Bean and Avocado Dip with Tortilla Chips
Strawberry, Quinoa, Caramelized Walnut and Feta Salad
Double Baked Ricotta, Kale and Roasted Tomato Potatoes
Roasted Purple Carrots with Extra Virgin Olive Oil and Sea Salt
Corn Cake
*Recipes to come!*
I adore dinner parties surrounded by friends around a table of good wholesome food :: cibo sano.  Stories are shared, laughter is heard and memories are created.  Simplicity at its best.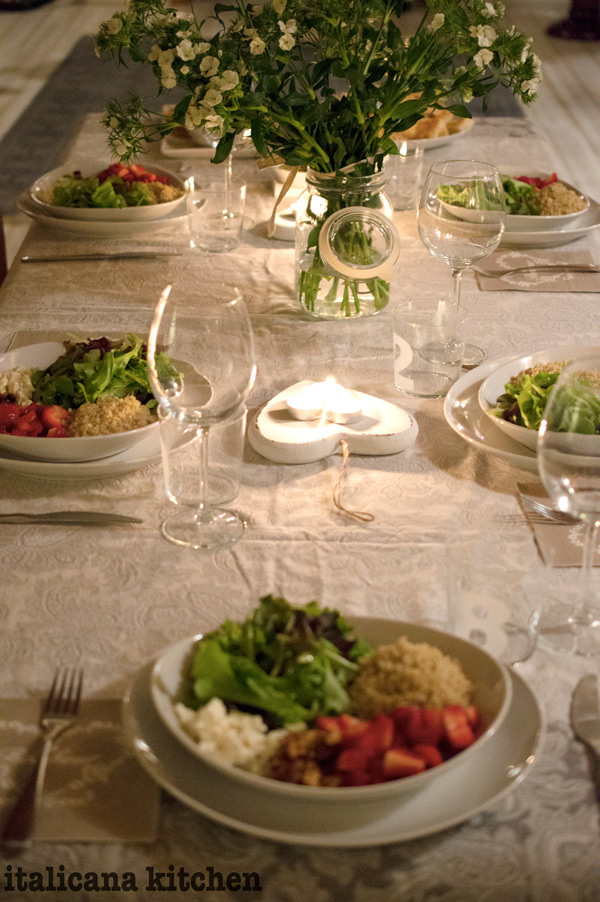 No TV, no internet, no Facebook during this dinner.  Just good real life contact with friends, something that is getting to be rarer and rarer in our digital age :: epoca digitale.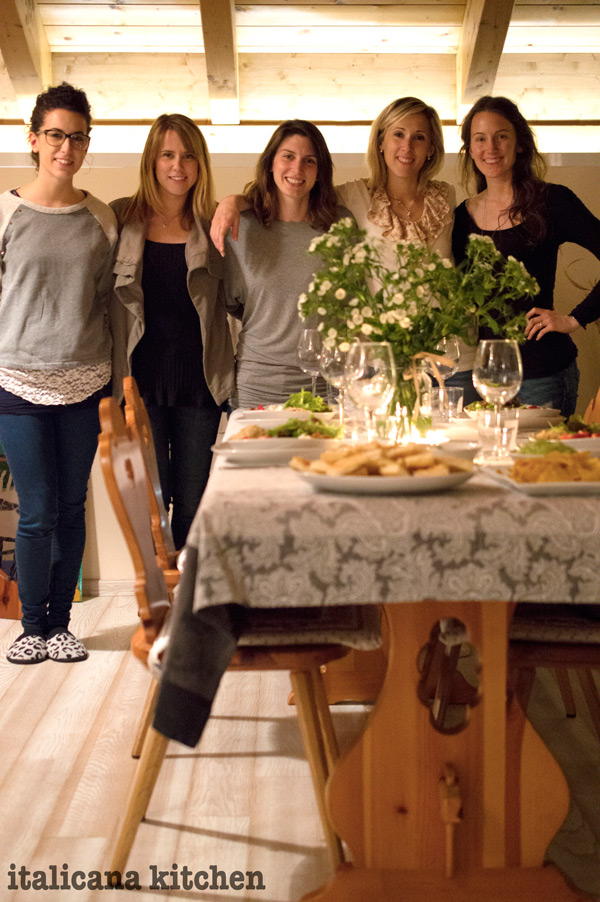 Strawberry, Quinoa, Caramelized Walnut and Feta Salad
Plump and juicy strawberries combined with, quinoa, caramelized walnuts and feta will be a salad your taste buds won't forget.
Ingredients
For 5 people (for specific amounts for 1 person look in the instruction section below)
For the salad:
3½ ounces (100g) mixed green salad
2½ cups (375g) cooked quinoa
3¾ cups (500g) quartered strawberries
7 ounces (200g) feta, crumbled
2 ounces walnut halves (about 30 halves) (75g), broken in pieces
5 teaspoons white sugar (25g)
For the Dressing:
4 tablespoons extra virgin olive oil
2 tablespoons water
1 tablespoon honey
½ tablespoon apple cider vinegar
Pinch of salt
¼ blood orange, juiced
2 thin slices white onion or shallot
Instructions
For the salad:
Put the walnuts in a skillet, add the sugar and cook over medium to medium-high heat for about 3 minutes stirring continuously. The sugar will melt and will turn brown caramel color. Remove from heat and spread out on a piece of wax paper for a few minutes to cool so the walnut pieces won't stick together.
Divide the ingredients among 5 plates and top with the dressing before serving.
*To make this salad for 1 person use the following measurements: .7 ounces (25g) mixed green salad, ½ cup (75g) quinoa, ¾ cup (100g) quartered strawberries , 1.4 ounces (40g) feta and 6 walnut halves (15g) (caramelized with 1 teaspoon sugar).
For the dressing:
Combine the ingredients together in the order given and stir well. Use at room temperature or slightly chilled. Store left over dressing in the refrigerator.
Related posts: