If you have ever been to Italy, there is no doubt that there is one thing that automatically comes to mind when you think back on your trip: the food.  Although the evening strolls along cobblestone streets with ancient Roman ruins lining your way may certainly be impressive, the mouthfuls of handmade pasta with a flavorful sauce between sips of Tuscan wine are surely more memorable.  Tragedy usually strikes your palate when you return back home and crave the freshly grated parmesan cheese, robust olive oil drizzled over salad or cured ham that bursts with flavor.  Fret not.  Thanks to the genius Italian entrepreneur, Oscar Farinetti, 25 Eataly shops around the world have opened and are offering just what you desired the most: high quality Italian products straight from the motherland.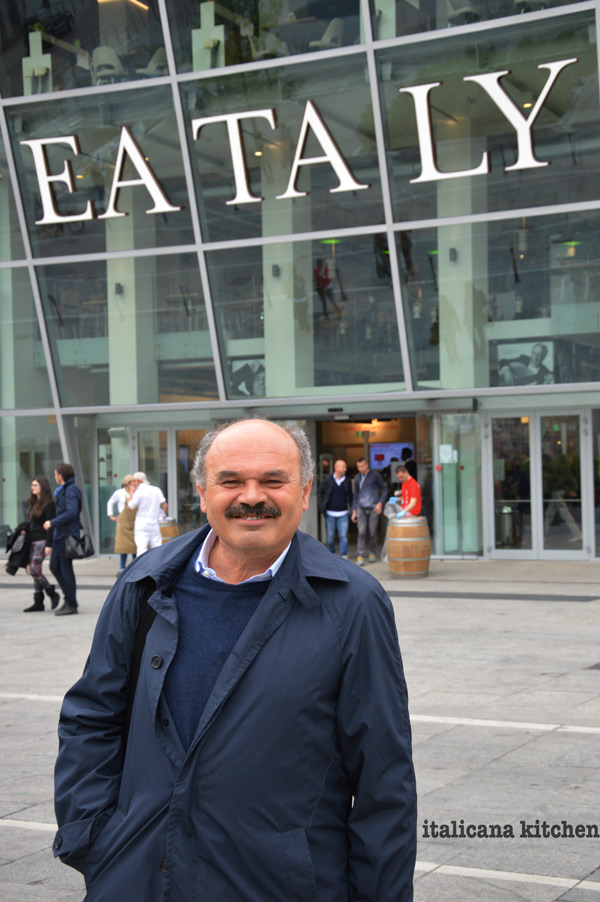 It was already a great day when I headed to Eataly Smeraldo in Milan.  I had just visited the online magazine Fine Dining Lovers who gave me the fantastic news that a few of my articles would be published as well as a personal bio.  I was on cloud nine.  As I strolled through the Eataly doors I was greeted by curated market stalls that resembled the outdoor vegetable and produce markets that can be found weekly in almost every Italian town square.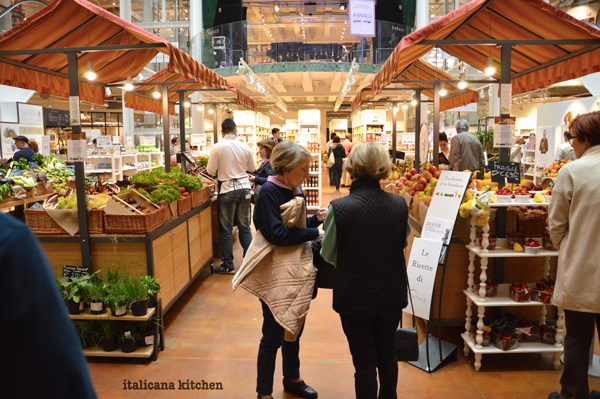 Filling the stall were bursts of colorful fruit and vegetables nestled into wooden baskets and galvanized buckets.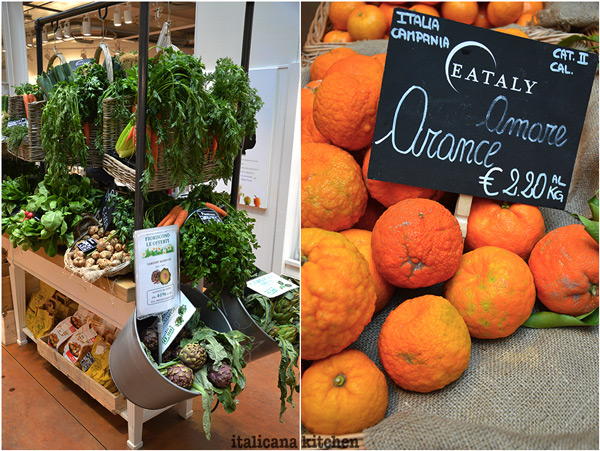 In addition to the name and price, each product had its place of origin listed: stubby cucumbers and purple cauliflowers from Puglia, round zucchinis from Lazio and giant fava bean pods from Basilicata were just a few of the produce coming from the different Italian regions.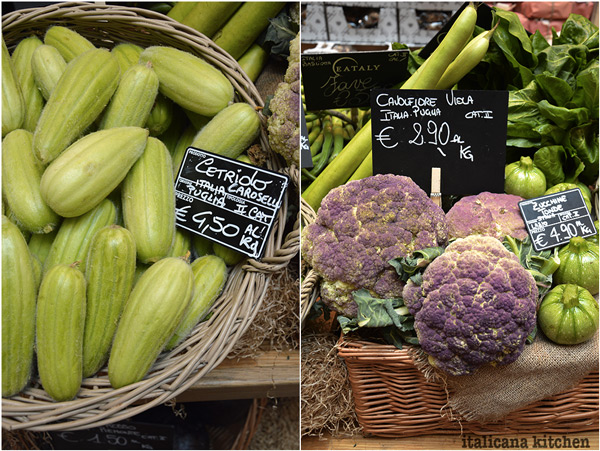 Passing through the market stalls I found myself amidst rows of jams, marmalades and giant mason jars of canned peaches, reminding me of my mom's root cellar that was filled with similar garden and orchard treasures.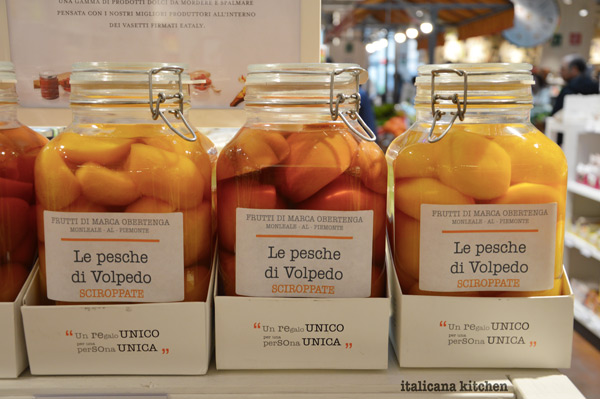 Following my nose, I found myself standing in front of freshly baked loaves of crusty artisan bread, golden breadsticks and pizza by the slice which you could buy for take away.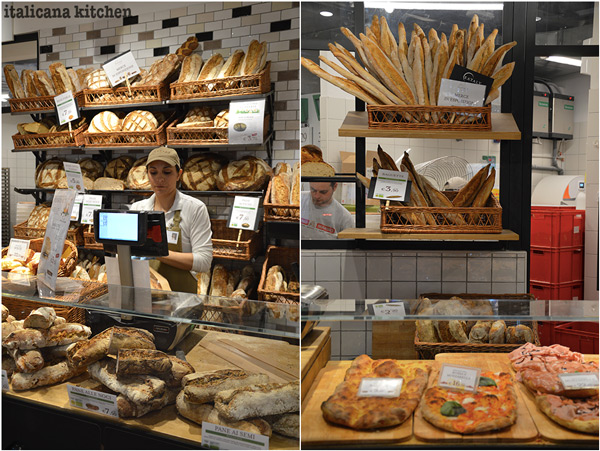 For those wanting to sit and enjoy a wood fire pizza, an angle of the building was dedicated to just that.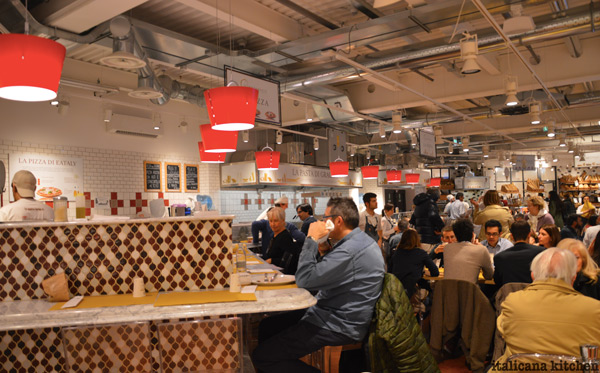 Scattered around the 3 level building were 15 other corners including various bites of Italy like a piadina stand and a gelato shop;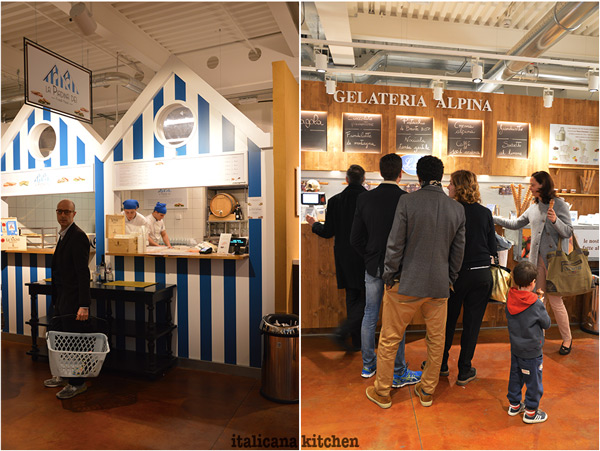 a dessert corner and a pasta making booth;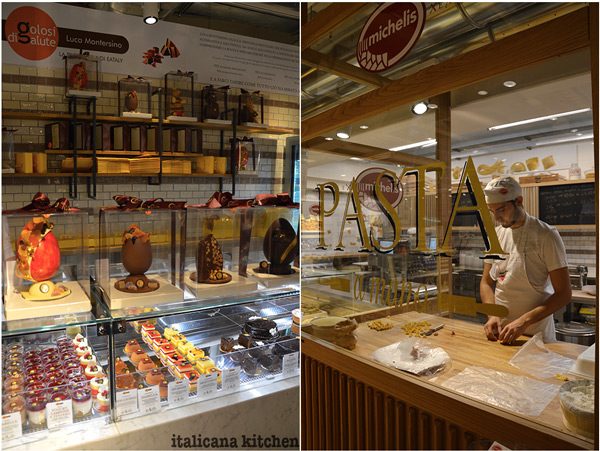 fish, meat and cheese counters;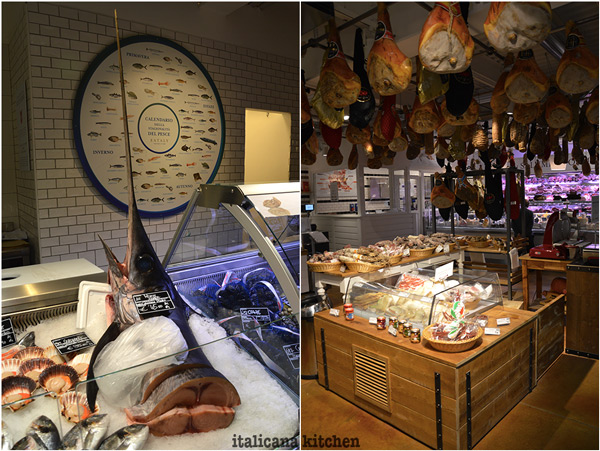 and a large wine and beer selection just to name a few. There is also a luxury restaurant in addition to 3 floors filled with essential Italian high quality goods. If that isn't enough to make your mouth drop, there is also a book & cooking gadget section, 2 conference rooms, a cooking class space and a majestic piano positioned strategically on a stage in the center of the open space for musical concerts to honor the building's heritage which was previously a historical theater. Talk about your all-in-one-I'm-in-heaven-experience.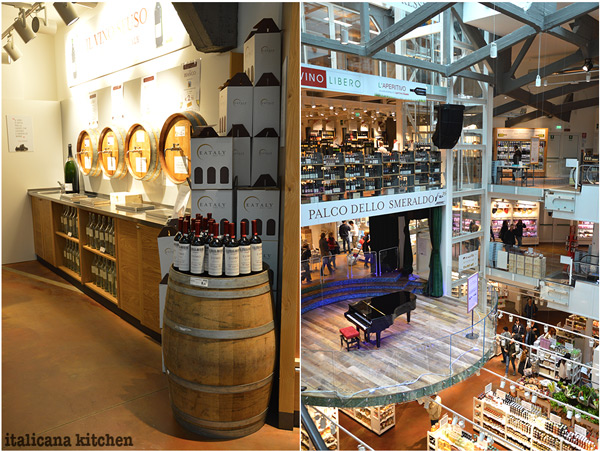 I didn't want to leave; however, I'm glad I did.  As luck would have it, I was in the check out line when I heard the name "Farinetti" pronounced by a grey haired woman behind me. I turned to the direction she was staring to see a kind-looking man in a dark blue trench coat. I paid for my jar of caper berries and followed him out the door. He was saying farewell to two men and as he turned the other direction to leave, I took the opportunity to introduce myself before he started walking away. He politely posed for a photo and before I could ask him a few questions about his business, he started to ask me about mine.  Who would have thought that a multi-millionaire, successful entrepreneur would be in the least bit curious about the life of a beginning food blogger.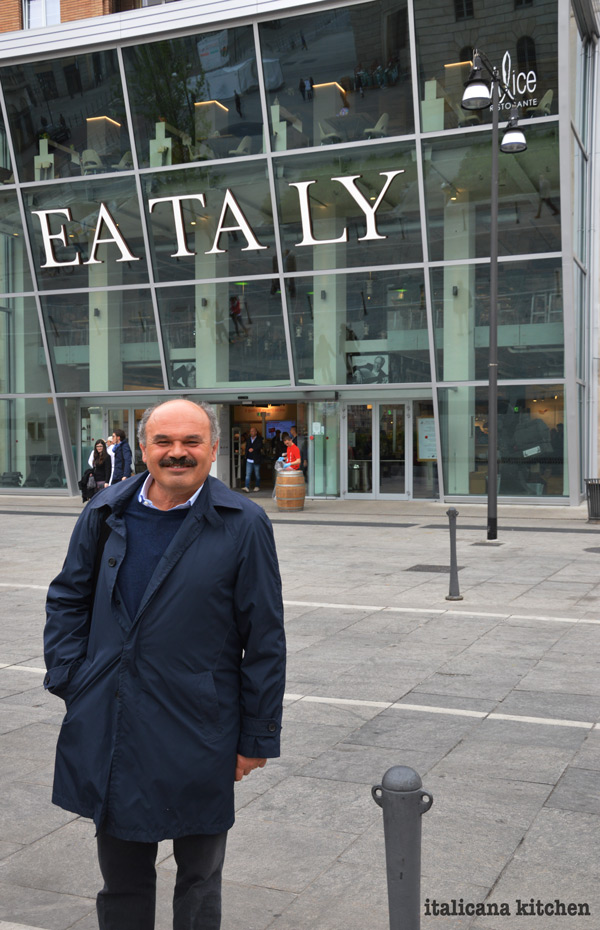 If luck struck on our first encounter then fate played a role in our second. Although we had said our goodbyes only moments before, 5 minutes later we found ourselves together again at a traffic light stop. I was curious to know more about his life and Eataly and so I offered to walk him and his architect to the metro stop.
"Do you know why I opened this Eataly Smeraldo store in Milan on March 18th?" asked Farinetti.
"No," I replied.
As we walked through a large square he explained that March 18, 1848 was the first of five days of an important revolutionary event that started a war for independence against the Austrian Emperior who had taken over the regions of Lombardy and Veneto.
"I symbolically chose this date because I wanted to show that if Italians could do something big in the past, then they can also come together and do something important in the present," Farinetti continued.
We can consider Eataly a modern day revolution against mass produced food and a road to return to the consumption of goods made with care.  We can learn to eat better and  live better, as Eataly promotes, and it all starts with the awareness of high quality artisanal products.
Related posts: