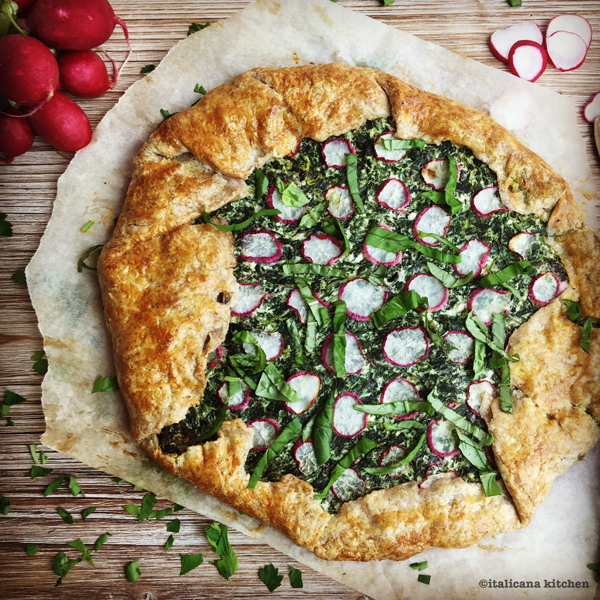 My family and I live over 5000 miles apart, but we were doing the same thing this weekend: harvesting.  My brothers' and their families got together at my parent's house in Washington State for their annual "Harvest Weekend" where they picked apples :: mele and made apple cider, apple pies, apple crisps, dried apples and apple sauce. It's one of my favorite family traditions. There is a lot of work, laughter, cooking and quality family time. I've been missing out on this event for the past seven years, but this year I got to help my American friend, Michelle, and her Austrian husband, Josef, during their olive harvest weekend. It reminded me of home.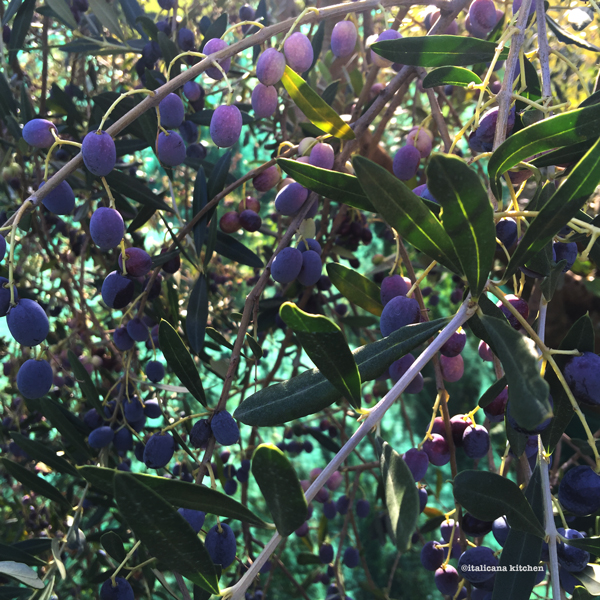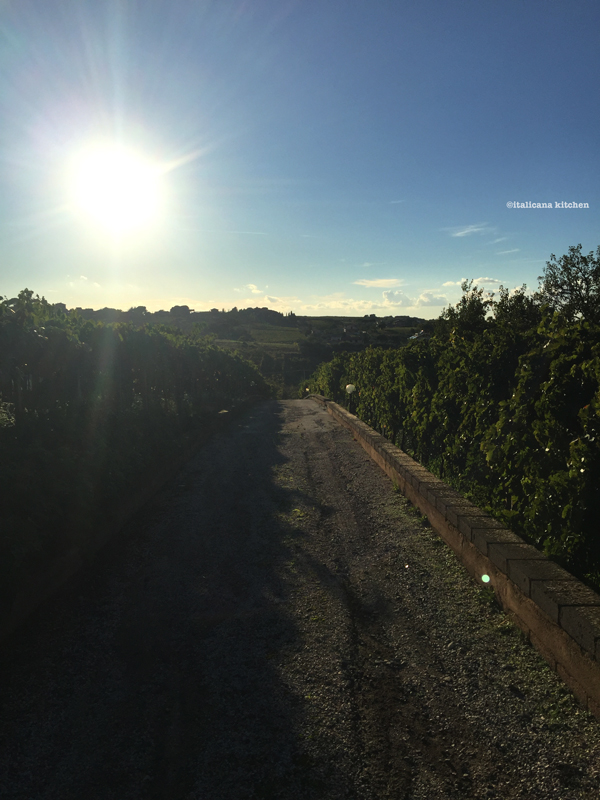 Harvesting olives sounds romantic, especially when you find yourself on the hillsides of Rome under a warm Italian sun with views of olive groves and vineyards :: vigneti in all directions. It's extremely romantic…for the first hour that is! Afterwards, it's work…hard work, actually. First you have to lay big awkward nets around the tree to catch the olives that fall. Then you have basically three choices: you can pick by hand, you can use a little handheld rake to brush them off, or you can use a battery operated rake that gently shakes them off. The olive tree in the photo took over two hours with the help of the battery operated rake. Whether you use the hand rakes or the battery operated rake you have one common problem: your back, arms and neck start to hurt after 1 hour! Once you get the olives off the tree, your work isn't over. You then need to carefully transfer them to crates to be taken to the olive press, ideally within 24 hours.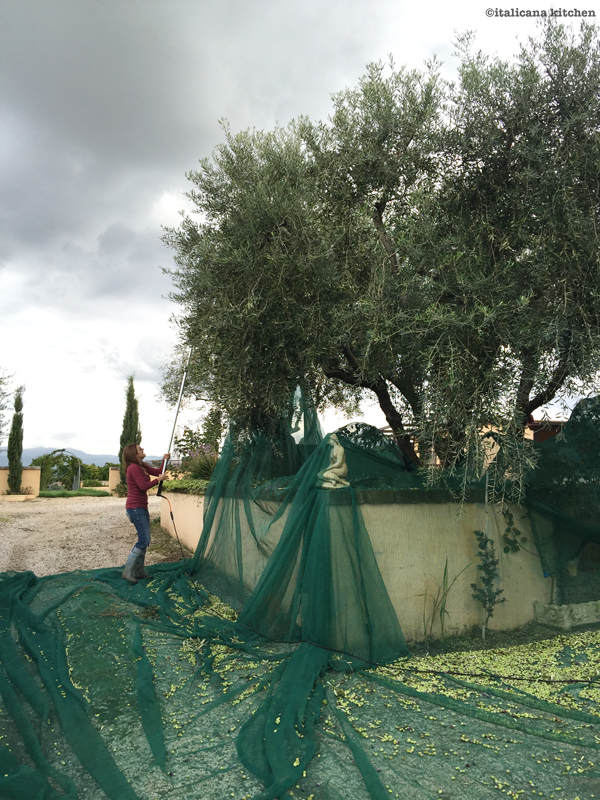 Last week I posted a recipe for mashed potatoes made with extra virgin olive oil.  I now have a new appreciation for extra virgin olive oil, because I know just how much work it takes to pick the olives!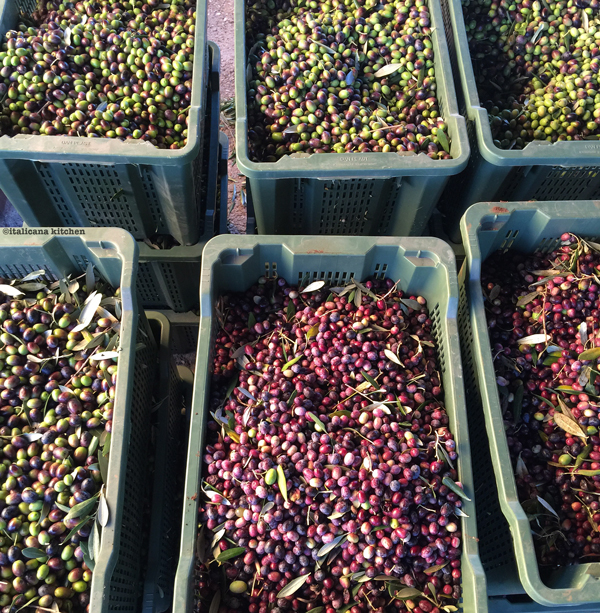 The olives we picked were destined for the olive press, so instead of an olive recipe, this week I'm proposing a delicious rustic spinach and radish pie. I adore homemade rustic pies. The last savory one I made was with Swiss chard, gorgonzola and feta, and I used the same dough to make mini sweet ones with nectarines, although you could thrown in almost any fruit :: frutta.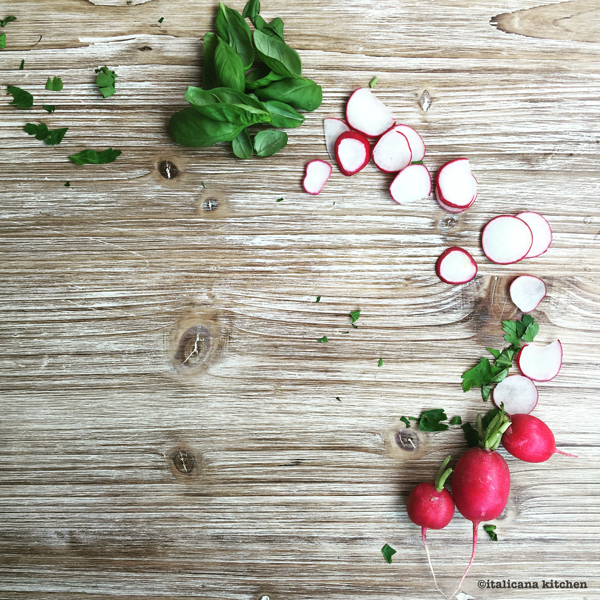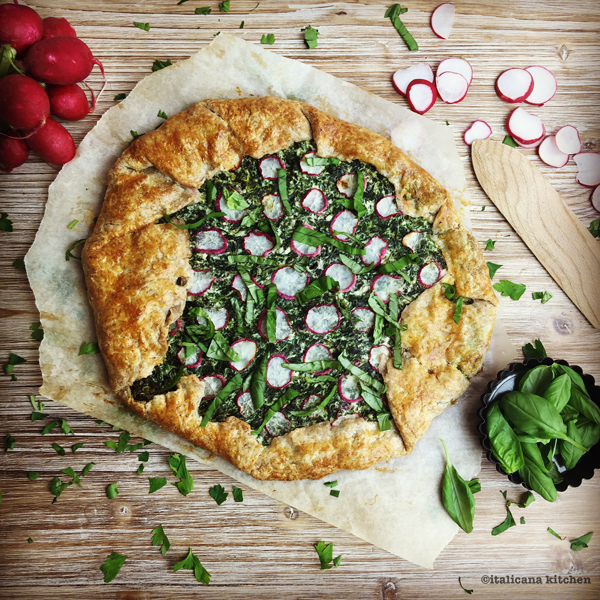 Have you ever participated in a "harvest weekend" with your family or friends?  And, if so, what did you harvest?
P.S. My friend Michelle, who I helped harvest olives with, is an incredible photographer. I highly recommend her if you are planning an Italian wedding, would like portraits of your kids or would like to go on an Italian photography tour.

Rustic Spinach and Radish Pie
Ingredients
For the crust:
½ (72g) cup whole-wheat flour
¾ (95g) cup all-purpose flour
½ teaspoon (3g) salt
8 tablespoons (1 stick, 113g) butter
2-3 tablespoons ice water + more if needed
For the filling:
Salt, as needed
1lb 2 oz (500g) spinach
10 oz ricotta (280g), drained
½ lemon, juiced
¼ teaspoon dried thyme
Salt and pepper
4 radishes, thinly sliced
1 egg, beaten (or a little milk or extra virgin olive oil)
Basil, chopped (optional)
Instructions
For the rustic tart crust:
Chop up your butter, place it on a plate and stick it in the freezer for 5-10 minutes.
In a medium bowl mix together the flours and salt. Dump in the cold butter and toss with the flour so it's covered. Cut in the butter using a pastry cutter or using a snapping motion with your fingers until the mixture is crumbly and is the size of peas.
Add the ice water, 1 tablespoon at a time, mixing just until the dough comes together as a ball. Pat the ball into a flat disc, wrap tightly in plastic. Chill in the refrigerator for at least an hour or even overnight.
For the filling and assembly:
Preheat the oven to 200°C.
Bring a large pot of water to boil, add salt and the spinach. Cook for about one minute.
Drain well, squeezing out excess liquid then pat spinach dry with paper towels. Place in
a large bowl to cool.
In the meantime, flour your rolling pin and roll the dough into a circle on a piece of parchment paper or silicon mat. Slide the parchment paper or silicon mat with the rolled out dough onto a cookie sheet.
Add the ricotta, lemon juice, thyme, salt and pepper to the bowl. Stir until everything is combined. Pour the filling into the center of the dough, leaving about a 1 inch border.
Fold the edges towards the center.
Layer the rustic tart with the radish slices.
Brush the crust with the beaten egg and bake for 40-45 minutes or until the crust is golden.
Remove from the oven and let the rustic tart sit for 5 minutes before cutting into slices.
Serve with chopped basil on top, if desired. Buon appetito!
Notes
There is only about 30 minutes of work, the rest of the time the fridge or oven does the rest!
Related posts: