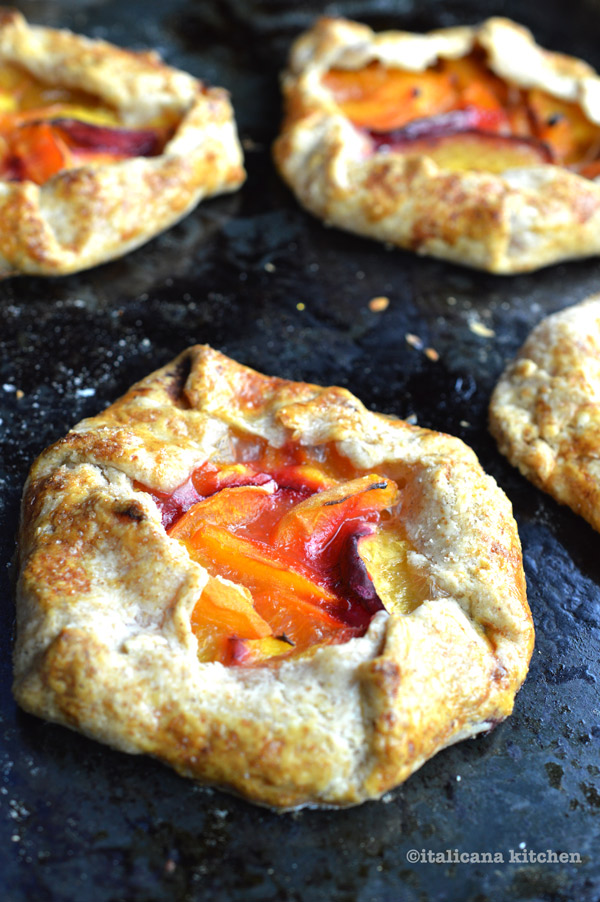 In a perfect world, I would have posted this recipe last month when I created it and apricots :: albicocche were in season. In reality, I'm posting it now because I finally have the time to sit down to write an article! 'Tis life. But, no harm done. This recipe is fantastic made with  all nectarines, and when apricot season rolls around next year, follow my notes to try it with both fruits like you see in the photos.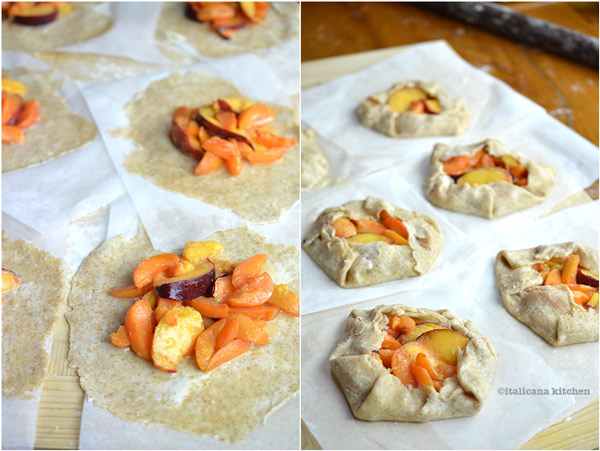 I can't complain about being busy :: impegnata, I've had a fantastic month participating at a number of food blogging events all over Italy, like holding cooking shows at Smeg's new store in Milan, learning how to make piadine in Riccione, and watching Italian chef Simone Rugiati in action.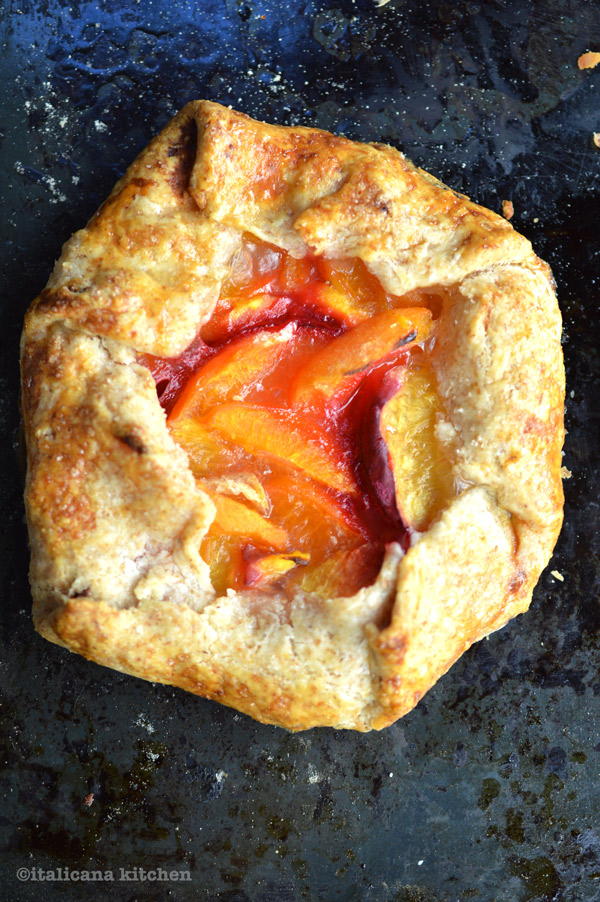 Food :: cibo has officially become my life. Each waking moment I am constantly thinking about what new things I can learn about the interesting (and delicious!) Italian culinary world. On second thought, I often tend to dream about food as well. Oh my. Does this happen to anyone else?
"Saint" Mr. Italicano. He's so patient with my continual ramblings and food centric conversation topics. I'm lucky that he is a good sport about my food obsession, which is now expanding into a wine obsession as well. I'm staring the third level of an Italian wine sommelier course tonight (AIS) and my suggested "homework" by the professors is to frequently taste wine :: vino. Gosh they are mean to assign such horrific homework. 🙂
Tomorrow morning at 8a.m. Italian time, I will be on Radio Bruno with Enrico Gauldi and Sandro Damura from La Strana Coppia to start up a new season of teaching English culinary words! If you don't live in Italy, you can easily listen to the podcasts on my recipe column page on the Radio Bruno website. Enrico and Sandro are absolutely hilarious so it will definitely be a good time.
Happy Monday everyone! Wishing you a great start to your week!
xoxo,
Italicana

Mini Nectarine Galettes
These mini nectarine galettes are the perfect dessert to serve to your dinner guests. Each person can have his own!
Ingredients
For the dough:
½ (72g) cup whole-wheat flour
¾ (95g) cup all-purpose flour
½ teaspoon (3g) salt
8 tablespoons (1 stick, 113g) butter
2-3 tablespoons ice water + more if needed
For the filling:
*4 nectarines, washed with skins on
3-4 tablespoons honey
1½ tablespoons whole wheat flour
1 pinch of salt
A few dashes of nutmeg
A few dashes of ground cinnamon
1 beaten egg or some o milk (optional)
Cane sugar, as needed
*If you would like to make nectarine and apricot galettes like shown in the photos, simply use 2 nectarines and 10 apricots.
Instructions
For the rustic tart crust:
Chop up your butter, place it on a plate and stick it in the freezer for 5-10 minutes.
In a medium bowl mix together the flours and salt. Dump in the cold butter and toss with the flour so it's covered. Cut in the butter using a pastry cutter, two knives or using a snapping motion with your fingers until the mixture is crumbly and is the size of peas. You can also you a stand mixer with the paddle attachment.
Add the ice water, 1 tablespoon at a time, mixing just until the dough comes together as a ball.
Pat the ball into a flat disc, wrap tightly in plastic. Chill in the refrigerator for at least an hour or even overnight.
For the filling:
Slice the nectarines, discard the pit and put the slices in a large bowl. Add the honey, whole wheat flour, salt, nutmeg and cinnamon.
For the assembly:
Preheat the oven to 200°C.
Flour your rolling pin and divide the dough into 6 equal parts. Roll each piece into a circle on a piece of parchment paper or silicon mat. The sides might be irregular; that's okay, imperfections are beautiful. Slide the parchment papers or silicon mat with the rolled out pieces onto a cookie sheet.
Put some filling in the center of each circle, leaving a 2 finger width edge. Fold the edges towards the middle.
For a golden crush, slightly brush the crust with a beaten egg or some milk. Sprinkle some cane sugar on top of the crust and bake for 30-40 minutes or until the crust is golden. Check every 10 minutes or so.
Remove from the oven and let the mini nectarine galettes sit for 5 minutes. They are delicious served with gelato, ice cream or whipped cream. Buon appetito!
Related posts: