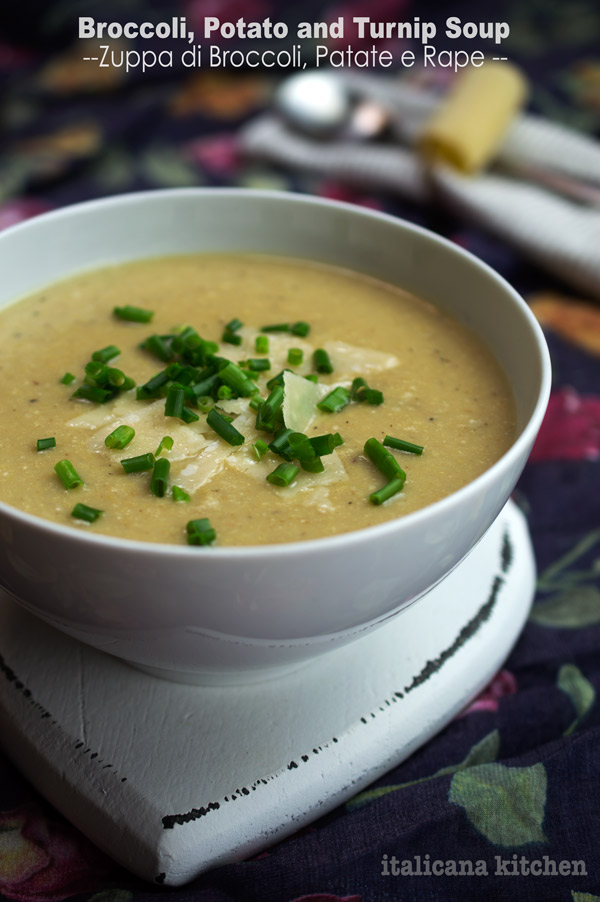 I am on a soup-making craze. If you're like me, there is nothing more satisfying than a warm soup for lunch or dinner during the fall. Last week I posted recipes for carrot soup, spiced pumpkin soup and you'll also find roasted tomato and basil soup and mushroom and broccoli rabe soup on my blog. Today I am bringing you a new one that Mr. Italicano absolutely loved: broccoli, potato and turnip soup.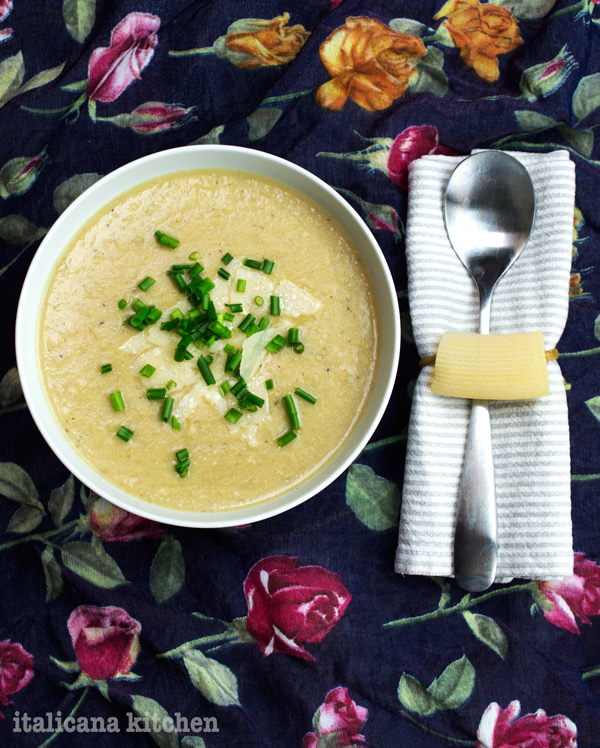 Of course you can use the common green broccoli when you make this soup, but if you can find romanesco broccoli you are on your way to eating like a true Italian.  The markets in the Italian cobblestoned historic squares are filled with romanesco broccoli this time of year, and it is the first thing that stands out when I am shopping for produce. The bright green spiral buds that form the head seem more like a psychedelic piece of art or Madonna's pointy bra from the 80's than an actual edible vegetable. Though, however strange it may look, the romanesco broccoli is absolutely delicious.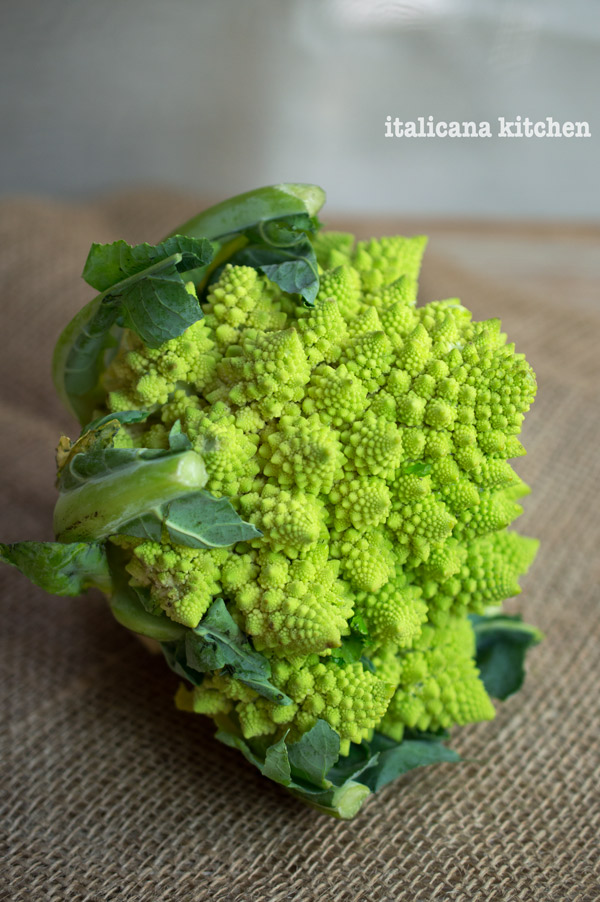 The romanesco broccoli is technically an edible flower and is from the same family as the broccoli and cauliflower. Mr. Italicano and I love to eat it raw, roasted with some cheese sprinkled on top or in soups.  The flavor is much earthier and nuttier than a typical broccoli and adds depth and richness to the dish.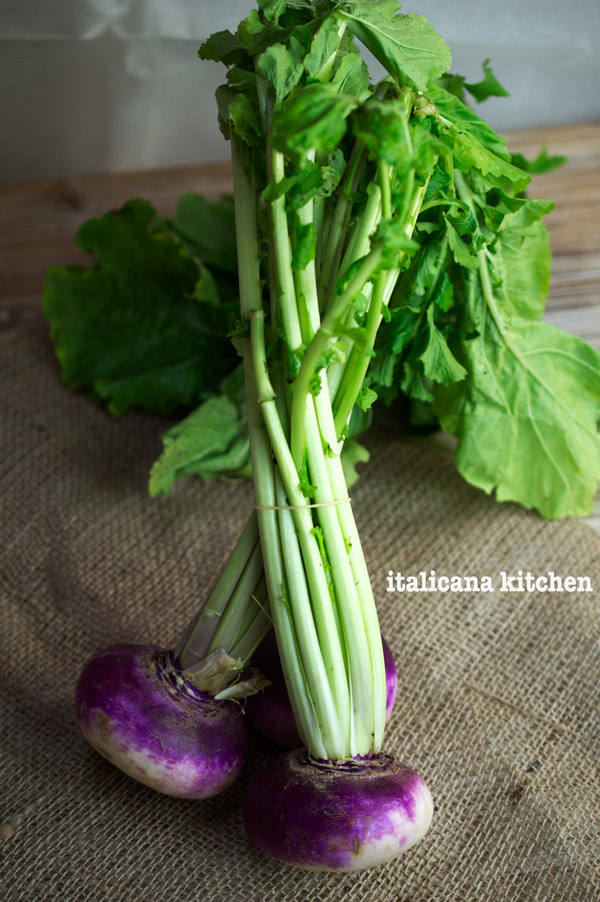 When making this soup, whatever you do, don't throw away the turnip leaves—you can use these greens to make a delicious side dish like they do in the Southern U.S. states. Many recipes call for salt pork or bacon, but you can easily keep this side dish vegetarian by sautéing garlic and shallots in a little extra virgin olive oil then adding the turnip greens, white wine, salt and pepper—and, if you want an extra kick of flavor, some dried red pepper flakes.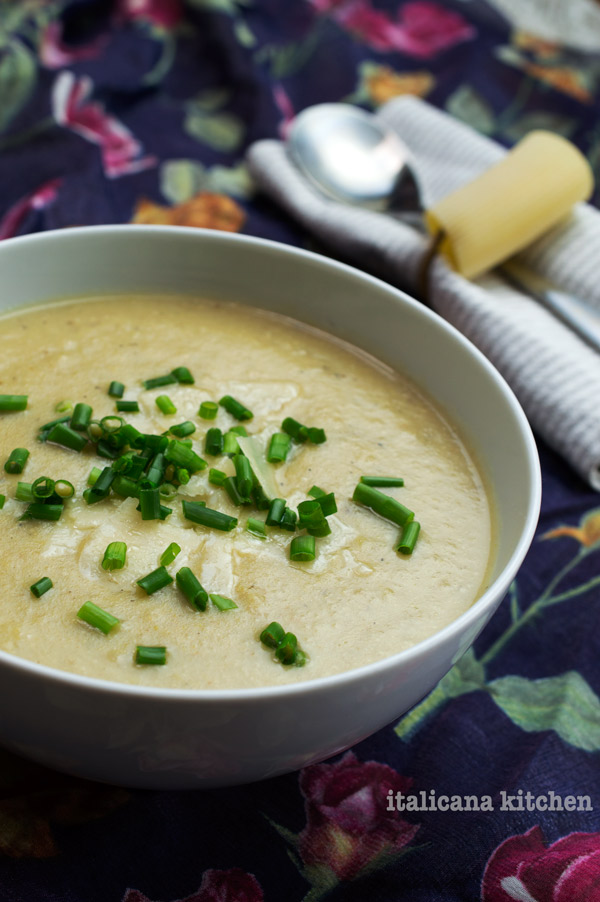 Have you ever tried romanesco broccoli? And, if so, what do you think about this vegetable?
Broccoli, Potato and Turnip Soup
This delicious broccoli, potato and turnip soup is packed with rich autumn flavors and lots of nutrients.
Ingredients
2 tablespoons extra virgin olive oil
5 small shallots, chopped
2 large garlic cloves, chopped
3 turnips, leaves removed, well washed and chopped
1 broccoli, chopped (I used a romanesco broccoli)
1 large potato, peeled and chopped
6 cups (1.4L) vegetable broth
2 bay leaves
½ teaspoon thyme
½ teaspoon nutmeg
1 teaspoon cumin seeds
¼ teaspoon salt
Generous amounts of cracked pepper
½ cup (100ml) heavy cream
1 cup Parmesan cheese
2-3 Parmesan crusts, cut in small cubes (optional)
Instructions
In a large pot, sauté the shallots and garlic in the extra virgin olive oil over medium heat, until translucent but not brown; 1-2 minutes.
Add the turnips, broccoli and potatoes and cook for 3-4 minutes. Add the broth, bay leaves, thyme, nutmeg, cumin, salt and pepper. Cover and bring to a boil. Reduce the heat and simmer until the vegetables can be pierced with a fork; about 10-15 minutes.
Remove the bay leaves. In a blender or with a handheld immersion mixer, purée the vegetable mixture until smooth. Return to the pot, add the cream and Parmesan cheese and stir over high heat until the soup just begins to boil.
Ladle into bowls and topped with a few cubes of Parmesan crusts, grated Parmesan or chopped chives, if desired.
Related posts: