This creamy mushroom, parmesan and broccoli rabe soup has quickly turned into one of my all time favorites. With a slightly bitter and nutty flavor, it pairs well with warm chunks of parmesan rinds and toasted walnut pieces.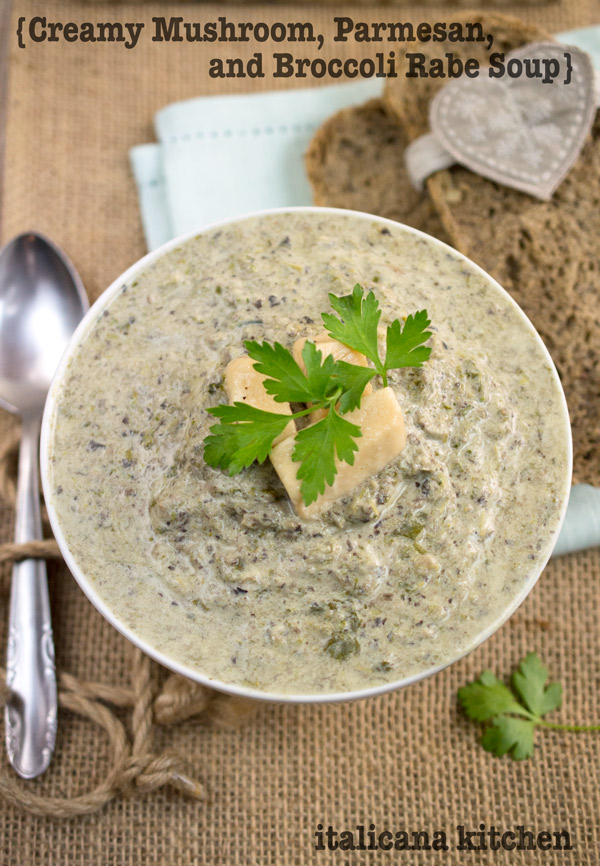 You may be asking yourself what "broccoli rabe" is. Like you, I had no idea until I visited the local market and among the spinach, radicchio and lettuce, I spotted a new green leafy vegetable :: verdura I had never seen before.  And, of course, my curious palette just had to try it.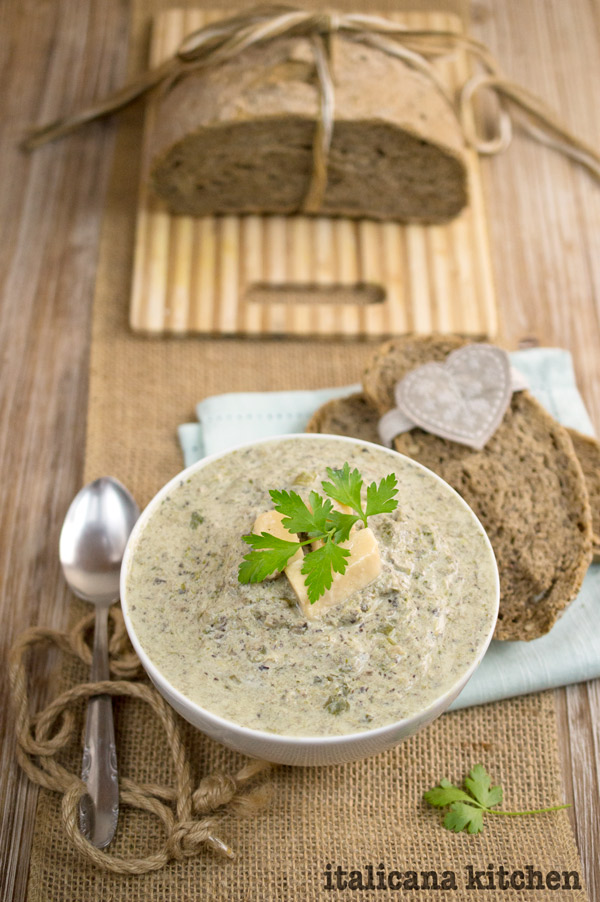 Broccoli rabe, or raab, also called, rapini,  has spiked leaves and little green buds :: boccioli that resemble tiny heads of broccoli.  The leaves, buds, and stems are all edible and have a slightly bitter and nutty taste.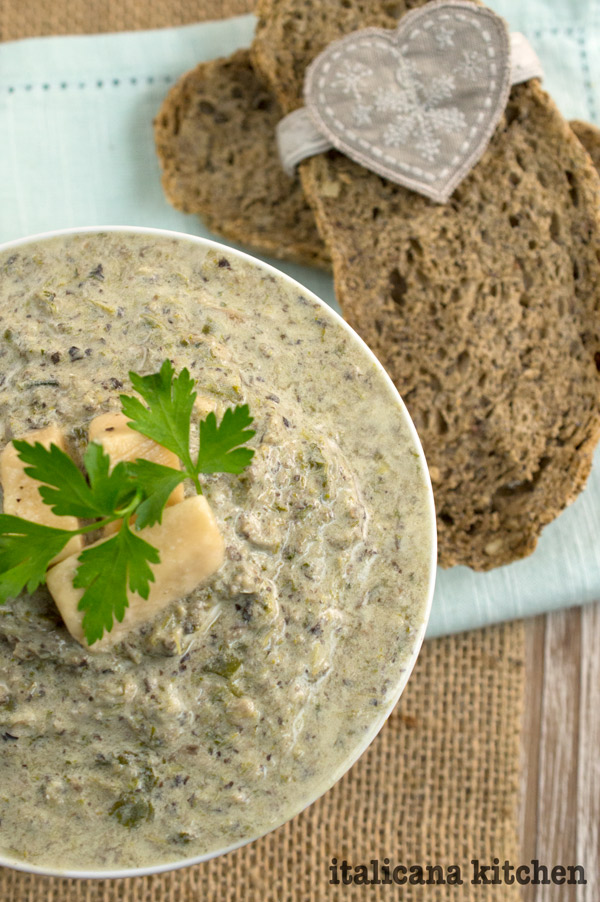 This vegetable is often used in Italian and Portuguese gastronomies but is grown throughout the world.  Although it is available :: disponibile all year long, rapini is in season from the fall to spring in the Northern Hemisphere.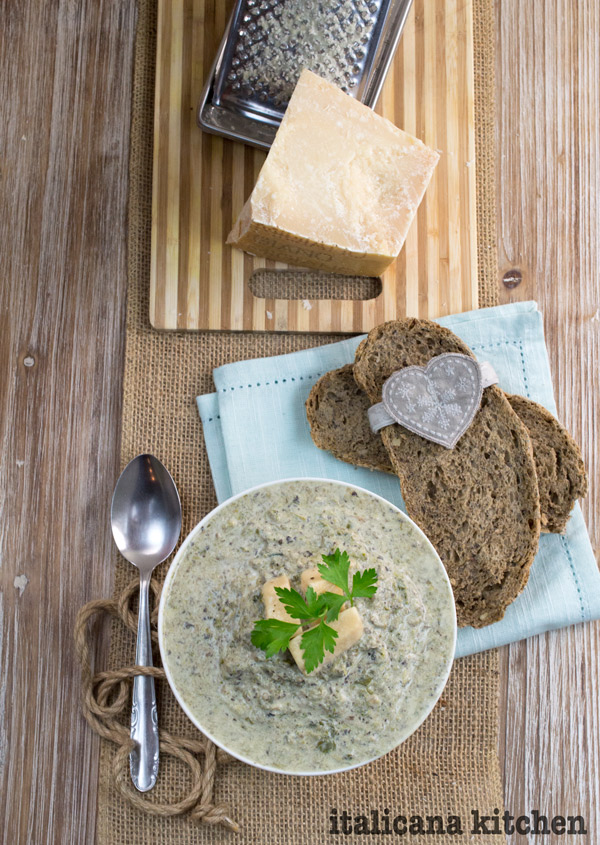 It was yet another grey rainy day :: giorno piovoso in Emilia Romagna and thoughts of something warm and satisfying filled my mind when I whipped this soup together.  I needed something  that I could make in advance that would greet Mr. Italicano and I when we arrived home from tennis lessons.
This recipe was perfect. It didn't take long to prepare and all I had to do when we arrived home was reheat the soup, toast some of my homemade 7 grain bread and dinner was on the table. Let's just say, Mr. Italicano was happy, he gets kind of grumpy :: irritabile if he has to wait. (And, super grumpy if I make him wait a long time while I take pictures of the food. Which, I don't blame him.)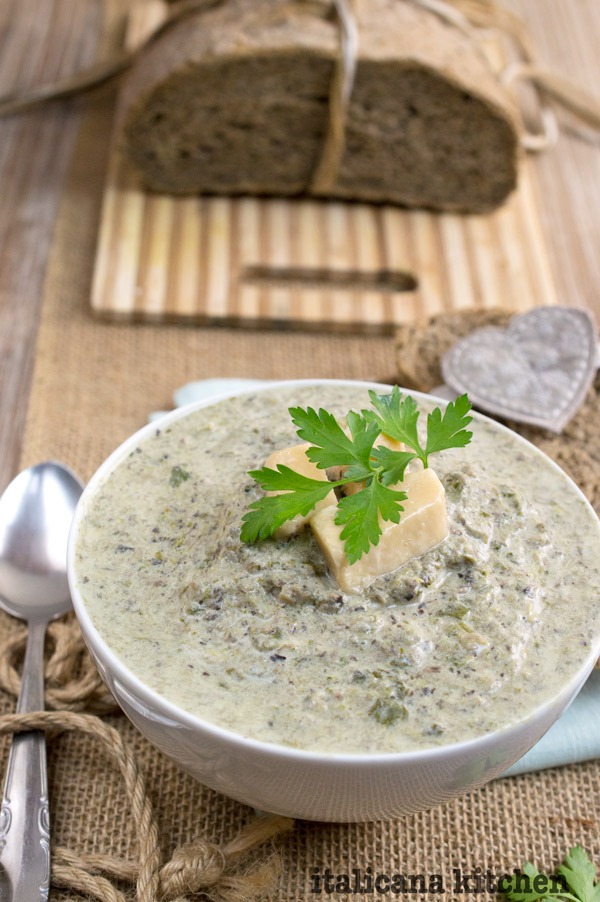 I love good food.  I love when the words "wow" involuntarily burst out of my mouth after taking a bite.  This was one of those moments thanks to the nutty broccoli rabe flavor combined with sautéed mushrooms, parmesan and cream :: panna all topped with warm chunks of parmesan rinds and crunchy walnuts.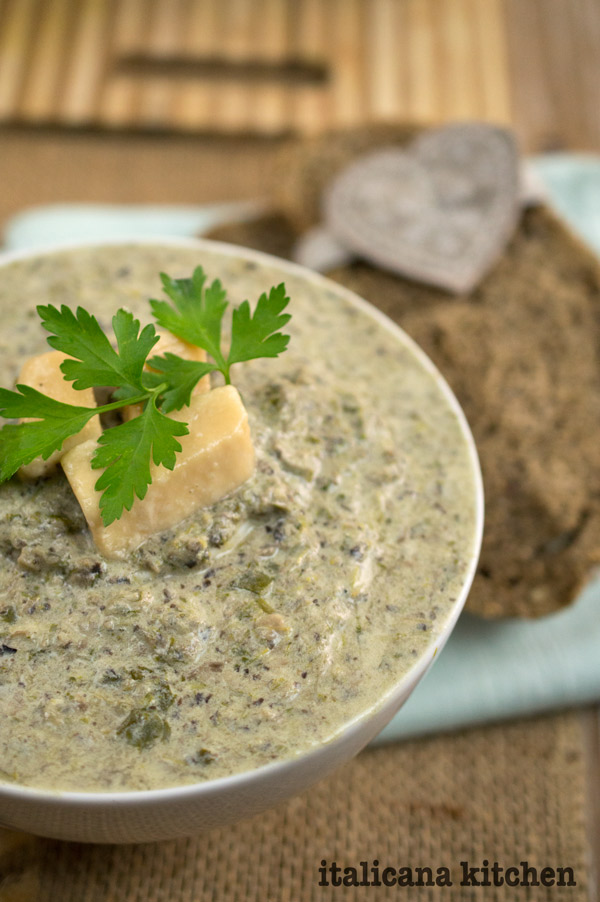 You can easily leave the soup with big chunks, but I prefer to blend :: frullare it to make a creamier textured soup.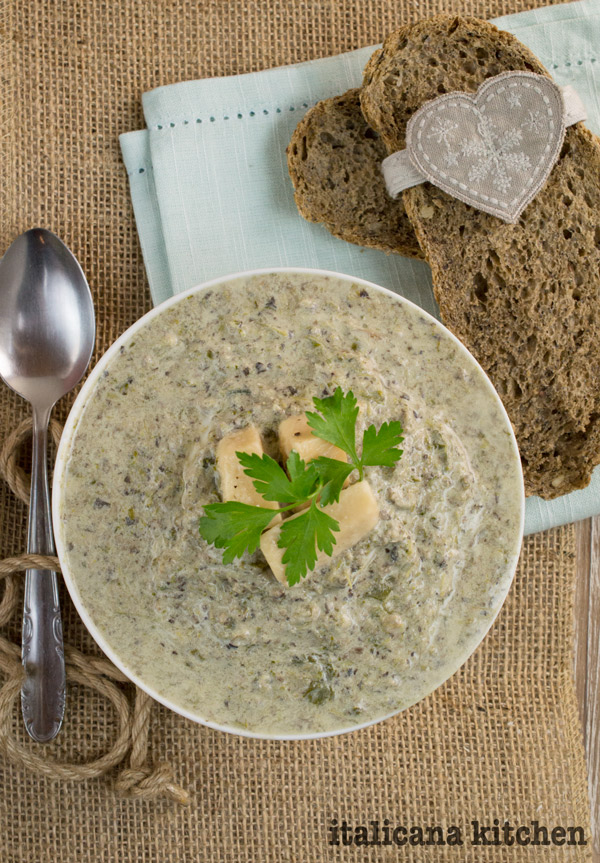 This is a perfect recipe to use up your parmesan rinds :: croste. Simply wash them well, drop them in the soup and simmer for 5 minutes. Finding chunks of warm parmesan is like finding little treasures in your bowl.
Creamy Mushroom, Parmesan, and Broccoli Rabe Soup
This creamy mushroom, parmesan and broccoli rabe soup has a slightly bitter and nutty flavor, and pairs well with warm chunks of parmesan rinds and toasted walnut pieces.
Ingredients
2 tablespoons extra virgin olive oil
1 clove garlic
½ red onion, finely chopped
6oz (175g) chopped button mushrooms
5 cups (250g) roughy chopped broccoli rabe stems, leaves and buds
3 cups (750ml) chicken broth
¾ cup (200ml) heavy cream
1 teaspoon course salt & freshly ground pepper
1 teaspoon fresh rosemary, chopped
¼ cup chopped parsley
1 cup (150g) of grated parmesan cheese (parmigiano reggiano)
Rinds of parmesan (whatever you have), washed and chopped into chunks
3 walnuts per bowl, broken in pieces
Instructions
Heat the olive oil in a large pot over medium heat and cook the garlic for 2 minutes then add the red onion and continue cooking for 10 minutes until the onions are translucent.
Add the mushrooms and continue to cook for 5 minutes.
Add the broccoli rabe, chicken broth, heavy cream and bring to a boil then reduce heat and simmer for 20 minutes until the rapini stems are soft.
Add the parmesean cheese and stir until combined.
Transfer the soup into a blender and pulse until relatively smooth.
Return the mixture to the pot, add the cheese rinds and heat on medium low for 5 minutes or until the cheese rinds are soft.
In the meantime, toast the walnuts in a small skillet over medium heat, stirring often.
Ladle into bowls and top with parsley and walnut pieces.
Soup just wouldn't be as good without fresh baked bread.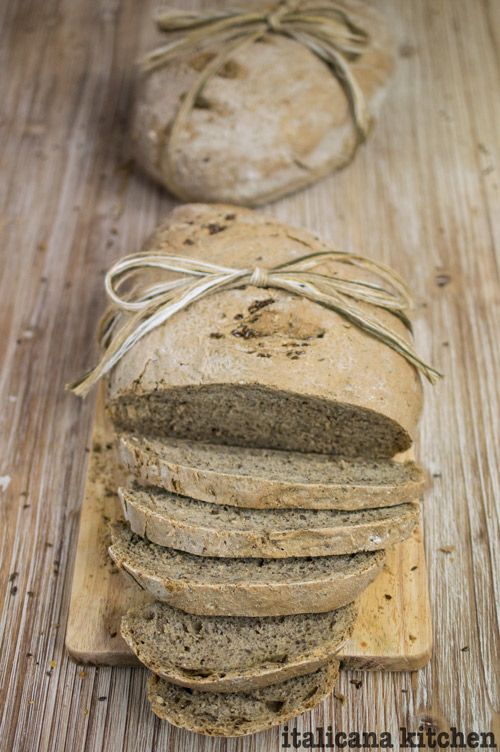 Related posts: