As bright green leaves mute to deep hues of sangria red, burnt orange and mustard yellow, our effervescent summer vigor to explore far off places also subdues, as we seek out the cozy comforts of our home :: casa.  We happily embrace lazy Sunday mornings cuddled under flannel sheets and enjoy wrapping up in heavy sweaters while drinking a steamy hot mug of coffee or tea while reading a book :: libro outside in the backyard, the sun warming our faces as we breath in the earthy and crisp :: frizzante air.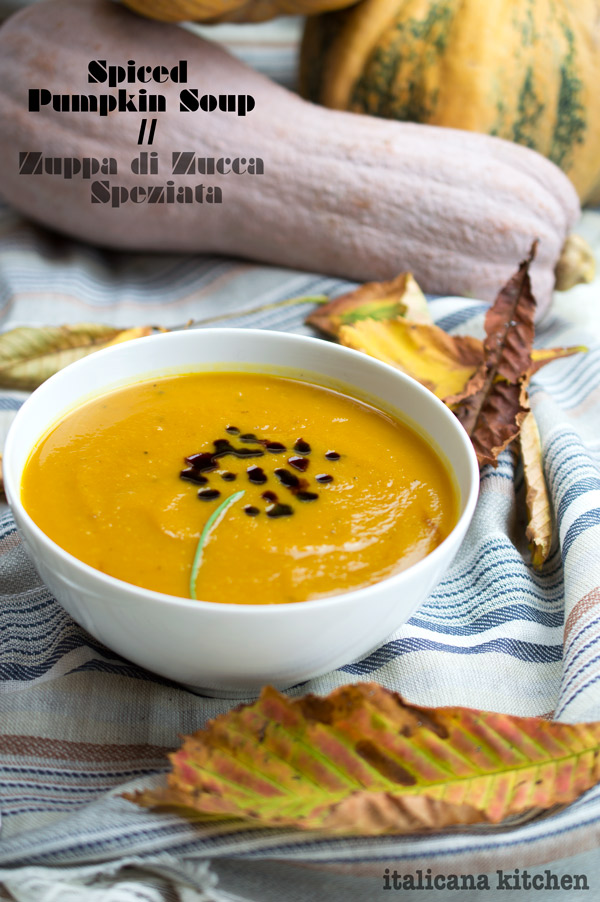 There is something about the changing of the seasons that evokes our souls and awakens our inner spirit.  Four times a year we am reminded of the power of change and our minds swirl with anticipation of what the new season :: stagione will bring.  During these seasonal shifts, I can honestly say I feel more alive :: vivo.  It's mother nature telling me to open my eyes and let myself become enthralled by my five senses, and to be present for a moment instead of lost in a sea of mental thoughts.  Autumn :: autunno is my favorite. I hear the crunching of leaves as I walk down a tree canopied sidewalk, I smell the aroma of freshly roasted chestnuts :: castagne, I feel the soft knit fibers from my scarf under my chin,  I see school children chasing each other in clunky boots and I crave to taste something savory, warm and filling.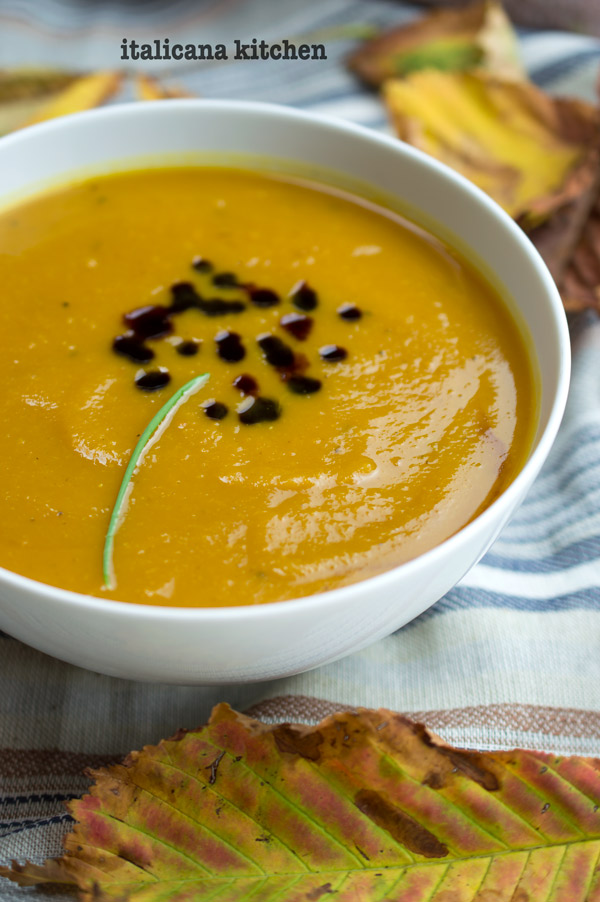 The fragrant base used in this autumn soup was inspired by my new Italian aunt-in-law's borlotti bean recipe.  I still remember when my Italian husband and I had just started dating, he would rave about that bean recipe to almost an incessant point.  I didn't understand what.the.big.deal.was….until I tried them for myself and literally ate three large helpings. I was addicted, and like him begin to drool :: sbavare the moment one of us start talking about the plump oblong beans and savoury sauce. There is something about the chopped spiced and sautéed vegetables that truly leaves your mouth in food heaven that I decided to adapt it for this soup recipe.  The scents of cloves and cinnamon that fill the house are an added plus, making me want to make this recipe just to be surrounded by these warming aromas.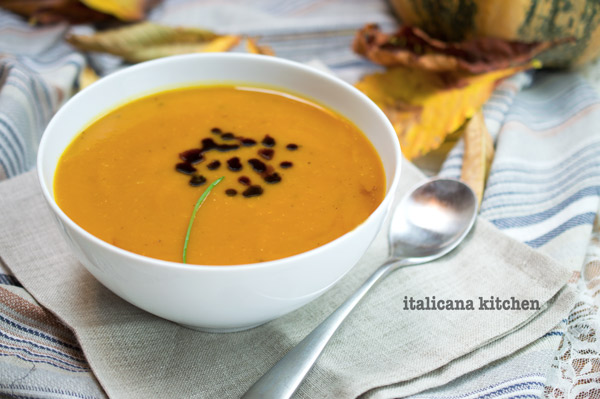 Another benefit of this soup :: zuppa is that you can make it ahead, kids love it and it makes for a nice appetizer for a dinner party when you want awesome presentation and you don't have a lot of time.  Topping the soup with a drizzle of balsamic vinegar or  pesto croutons adds a rich flavor experience and gourmet appeal.

Spiced Pumpkin Soup
This spiced pumpkin soup will warm you up on a crisp autumn day.
Ingredients
1 medium pumpkin, about 5 cups of cooked pumpkin (or you could also use a butternut squash)
1 shallot, finely chopped
1 carrot, finely chopped
1 garlic clove, finely chopped
1 vegetable stock cube
½ cup dry white wine
6 cups water (+ more if needed)
½ cinnamon stick
12 whole cloves
5 cherry, grape or datterini tomatos, skins removed
½ cup Parmesan cheese, grated (optional)
Generous pinch of salt and freshly ground pepper
Instructions
Preheat the oven to 400°F (200°C) and line a cookie sheet with parchment paper.
Cut the pumpkin in half and discard the seeds. Cut each half into four chunks and place  on the lined cookie sheet. Bake until soft and you can insert a fork all the way through the flesh; about 30 minutes. Take the tray out of the oven and cool on the counter.
Heat two tablespoons extra virgin olive oil in a pan, add the chopped shallot and sauté over medium-low heat. Add the garlic and continue cooking for 1 minute, stirring occasionally.
Now add the chopped carrots, white wine and 1 cup water along with the vegetable stock cube. Stir the cube around until dissolved. Add the rest of the water, tomatoes, cloves and crumble the cinnamon into the pan. Cover, bring to a boil then lower to a simmer for 10 minutes. Now that the pumpkin has cooled enough to handle, peel off the skin and add it to the pot. Continue to simmer for 10 minutes.
Once the vegetables are soft, add the mixture to the blender in small batches and pulse until smooth. Or, use an immersion blender and blend it directly in the pot.
Add the parmesan cheese.
If the soup is too thick add ½ cup increments of water, to achieve the desired soup consistency.
Ladle the soup into bowls and top with balsamic vinegar or pesto croutons. Serve immediately. Buon appetito!
Related posts: