It's a sunny :: soleggiante February Monday morning in Rome, but I am in an over air-conditioned Italian TV studio. I find my hands shaking and my stomach fluttering with butterflies as my lips tremble in an awkward, unnatural smile towards the various cameras pointing at my caked on make-up face. Why am I so nervous to return on the La Prova del Cuoco? I was on this live Italian TV show for an entire week in September. Get it together, Cindy. I tell myself.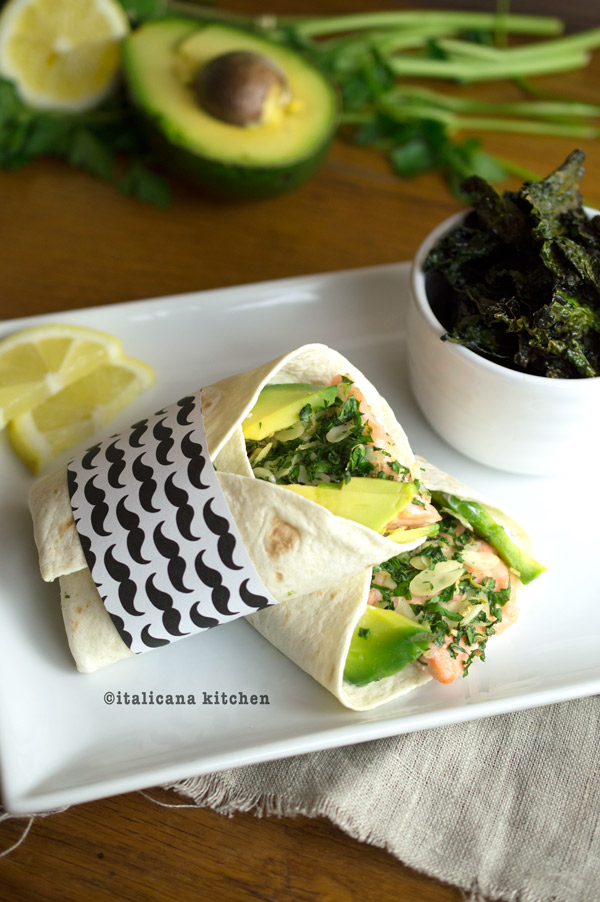 I woke up at 4:30a.m. with a startling nightmare: I was watching myself on stage, my mouth was opening but no words in Italian would flow out. I'm still tired even after having drunk three espressos; that wasn't the best idea, I feel jittery :: agitata.  Stay calm, Cindy. Stay calm and breath. The show is about to start. I squint my eyes at the bright lights and try to hold my lips wide so they don't noticeably shake. My eyes are becoming irritated—too much eyeliner and mascara. I hate TV make-up. All of Italy is about to watch me, criticize my thick American accent and grammatical mistakes and judge my every move as well as my recipe choice. Oh, God. Why did I choose to make Salmon Wraps with Kale Chips? They're absolutely delicious…but no match for my competitor's dish…mouthwatering Phad Thai.  I would vote for her dish….I love Phad Thai. I mean really really love Phad Thai. It's the first thing I eat when I go back to America to visit family and friends. Oh man, I'm going to get schooled. I place my hands on the counter, trying to appear relaxed as I wait for Antonella Clerici, one of Italy's most famous presenters, to introduce me to the home audience.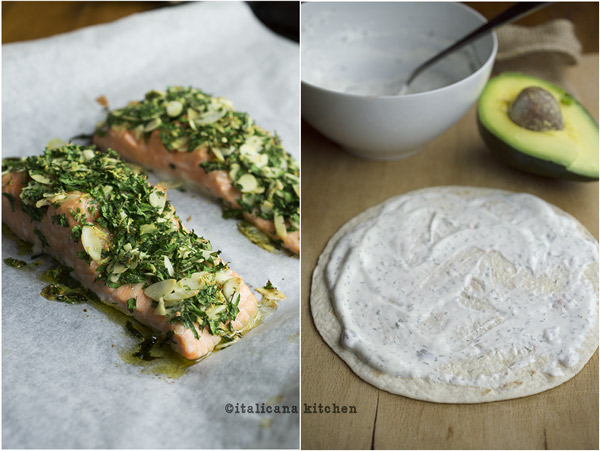 My knees begin to shake :: tremare. I already know I've lost. Don't be melodramatic, Cindy. It doesn't matter who wins or loses, you're on the most popular Italian television cooking show! That in itself is quite an accomplishment that most new bloggers don't get. My inner positive voice says trying to cheer me up, but it's a little too late; I've lost my focus. All the questions and key phrases I rehearsed the days before disappear. All of my reminders of talking slow, giving short responses and communicating interesting information get disregarded like streamers after a party—stuffed in bag and thrown in the trash, never to be seen again.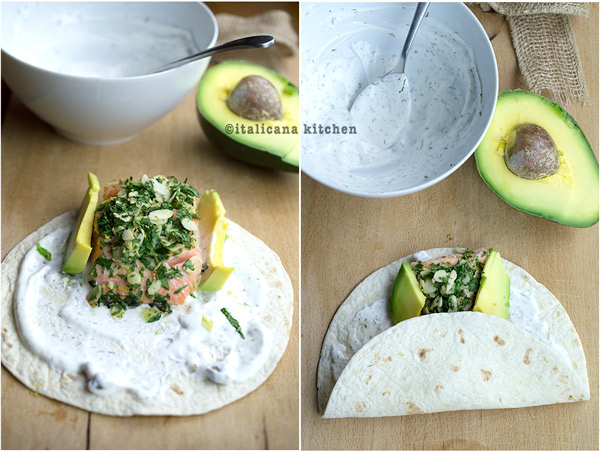 So I do what I do best when I'm nervous: talk too much and extremely fast. Actually, I do that normally; I am quite the chatterbox :: chiacchierona.  Yet, this time on TV, it wasn't just chatterbox Cindy, but turbo speed Cindy….in Italian. Oh dear. Poor poor home audience, I feel sorry for you.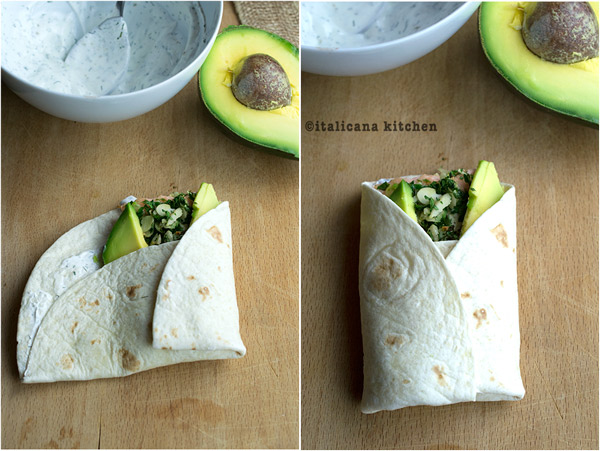 Long story short: I didn't do my best, I lost the competition, and I self pitied myself for half a day lounging around the house in pajamas eating Nutella on toast and watching funny American sitcoms; then I got over it. Don't get me wrong, losing sucks; but, that wasn't the cause for my downer mood. Losing is part of the game, any former athlete knows this. The thing that stings my pride is that I know that I didn't do my best. Regardless if the judges :: giudici liked my recipe, I know I could have expressed myself better in Italian on live TV.  On a positive note, I now know what to work on, and this experience will only make me a better on-camera presenter.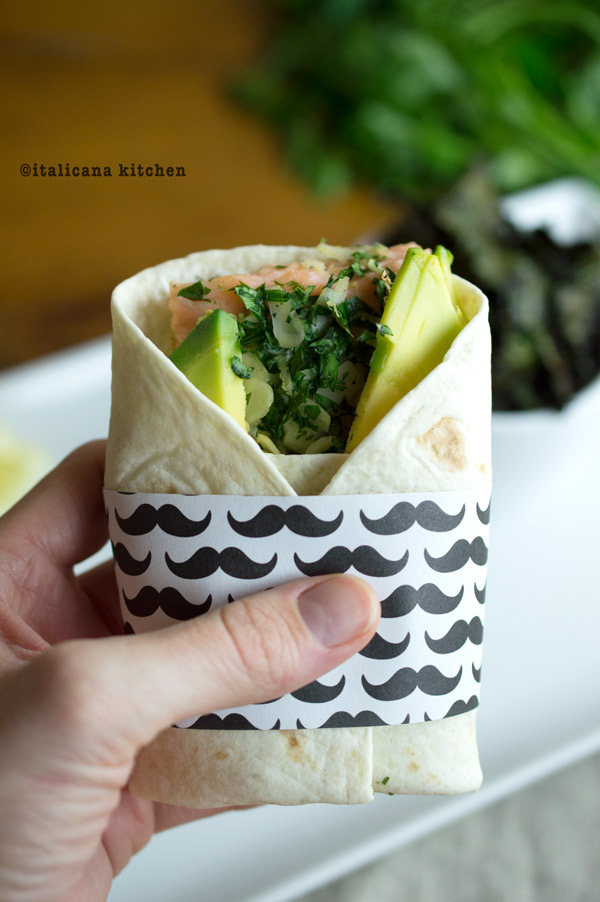 Plus, I can't complain, there were many other exceptional things that came out of the day: I met two amazing and talented bloggers, Vatinee Suvimol, my competitor and blogger at A Thai Pianist and Natalia Cattelani, one of the judges and blogger at Tempo di Cottura; I got to cook again with the sensational Antonella Clerici; I worked with the wonderful staff on the show (thank you Valeria and Nicoletta) and I got to hang out with my two girlfriends photographer Michelle Aschbacher and life style blogger Sara White who are expats like me and live in Rome. Talking of amazing gals, Vatinee also introduced me to an incredible group of new girlfriends, Le Bloggalline, a group of over 400 women food bloggers who got each others backs. I am still overwhelmed with gratitude on all of the sweet and kind messages many of them left me. Women are the salt of the earth. A big thanks to everyone who voted and supported me.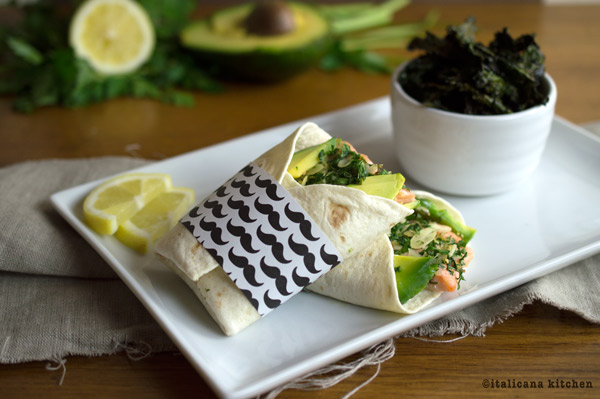 Although, these salmon wraps didn't win on La Prova del Cuoco, they are still winners in my mind. This recipe showcases a lighter version of some of my favorite Pacific Northwest flavors: salmon and tartar sauce. I despise mayonnaise so I've lightened it up by using greek yogurt. Sitting on a bed of spinach and cuddled by some avocado slices is a delicious herb-rubbed salmon topped with crunchy almond slivers for a delicious and satisfying good ol' American wrap.

Salmon Wraps
These salmon wraps are light, flavorful and simple to prepare. Eat them on the go for lunch with some crispy kale chips or serve them with a side salad for a healthy dinner.
Ingredients
For the salmon:
2 fillets of salmon (about 6 ounces (175g) each)
Extra virgin olive oil
3 tablespoons chopped fresh parsley
½ tablespoon of lemon zest
2 tablespoons sliced almonds
½ clove garlic, finely chopped
For the greek yogurt sauce:
1 tablespoon chopped fresh dill
6 tablespoons greek yogurt
½ tablespoon capers, desalinated
¼ lemon, juiced
Salt and freshly cracked black pepper
Other ingredients:
2 tortillas
½ ripe avocado
2 handfuls of fresh baby spinach
Extra virgin olive oil
Instructions
Preheat the oven to 350°F (180°C). Line a baking sheet with parchment paper.
Put the salmon fillet on top and drizzle a little extra virgin olive oil. Put all the rest of the ingredients together in a bowl, mix and spread on top of the salmon fillet. Bake for around 8-12 minutes.
In the meantime, put all the ingredients for the greek yogurt together in a bowl. Mix and set aside.
Toss the spinach with a little extra virgin olive oil.
Heat the tortilla in a medium sized pan for a few seconds then remove and set on two plates. Divide the spinach mixture between the two tortillas and divide the salmon and sauce. Wrap the tortilla like a burrito. Enjoy.
Here is the delicious recipe for
Kale Chips!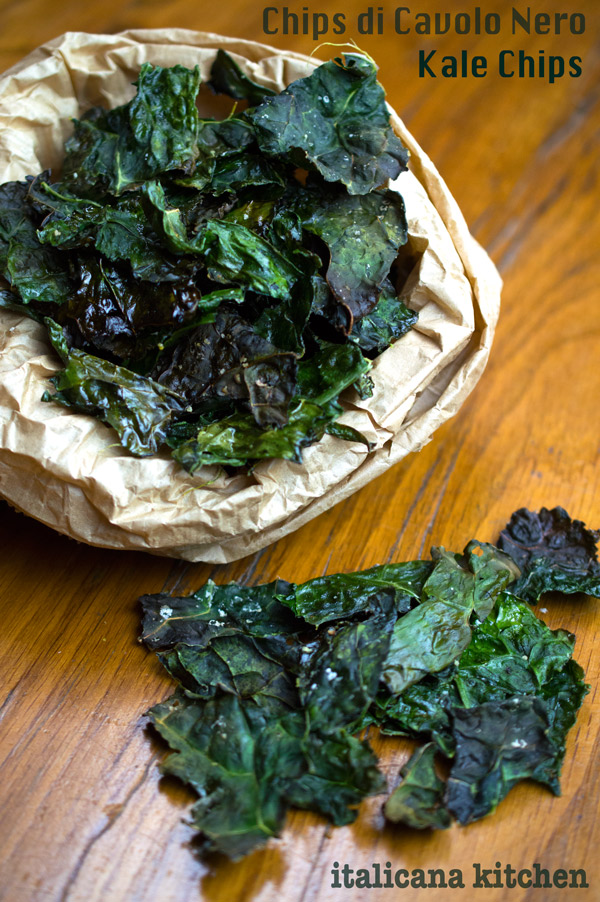 Related posts: