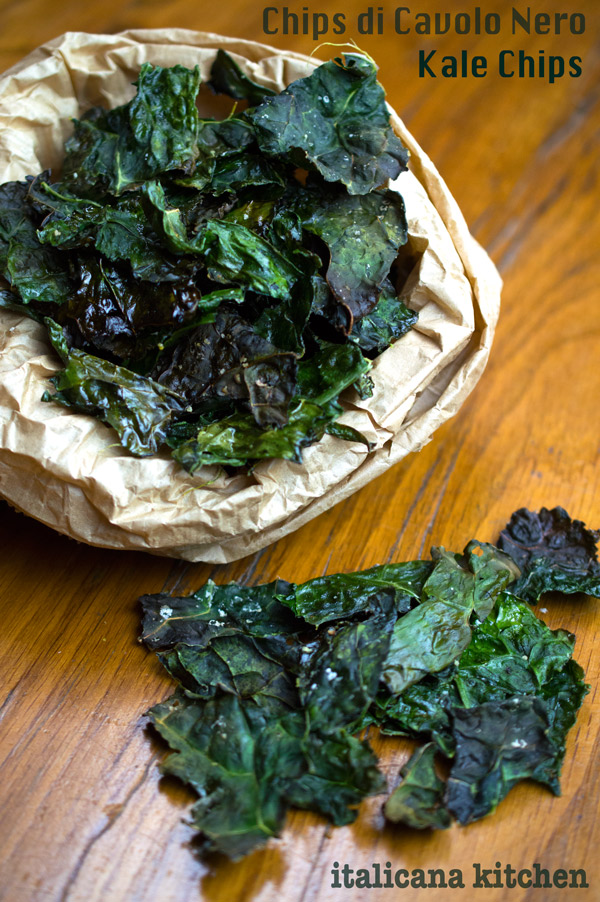 Mr. Italicano and I are not big on sweets, but we do often crave salty foods :: cibi salati. Earlier this year, we got into a bad habit—stocking up on bags of Kettle Sea Salt and Vinegar chips. Of course, we bought them with good intentions—to be able to offer a quick aperitif to unexpected friends who dropped by. However, these unannounced visits happened only sporadically and we found ourselves eating these chips like they were going out of style. They became our go-to snack. We've reduced our consumption as we are trying to eat a healthy diet, but we do still have these salty snack cravings. I'm so glad my friend Adrienne told me about kale chips—they are a perfect healthy substitution!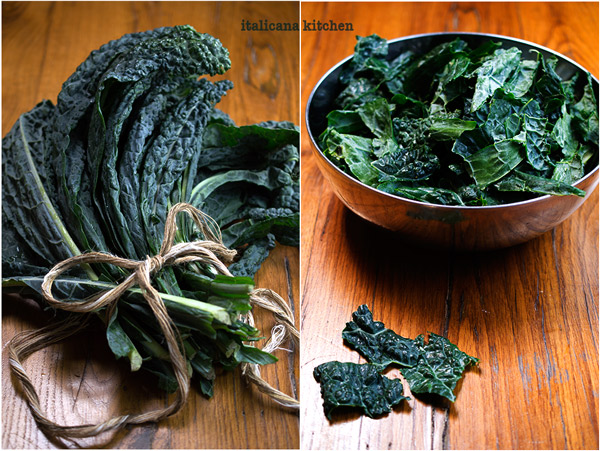 These sea salt and extra virgin olive oil kale chips are very similar to potato chips :: patatine—once you eat one, if you don't have a little self-restraint, you will find yourself eating the whole bag. Kale chips should be crunchy, but not burnt. If you undercook them, you will be left with chewy kale leaves—not the same thing.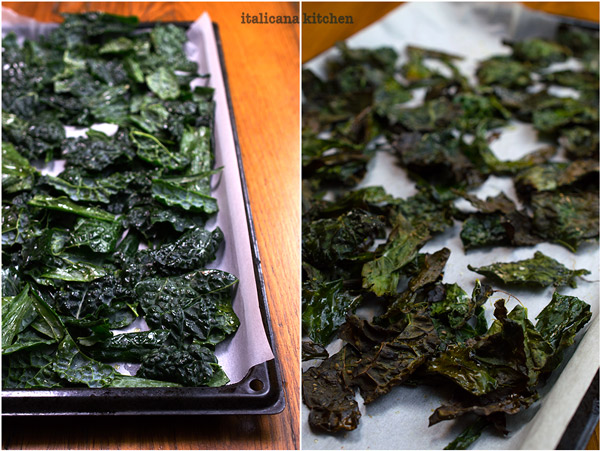 Making a batch only requires 15 minutes. Just wash the kale :: cavolo nero, rip the leaves from the stem and tear them into pieces. Dry them extremely well (I used a salad spinner) and toss them with two tablespoons extra virgin olive oil and a few pinches of salt in a large bowl. Pour them out onto a large baking sheet that has been previously prepared with parchment paper and bake at 350°F (175°C) for 10-15 minutes.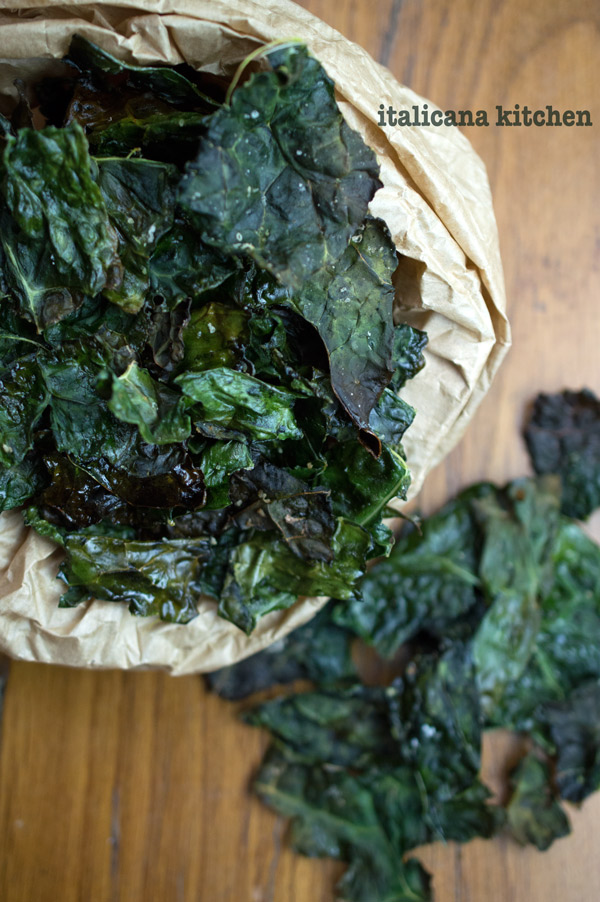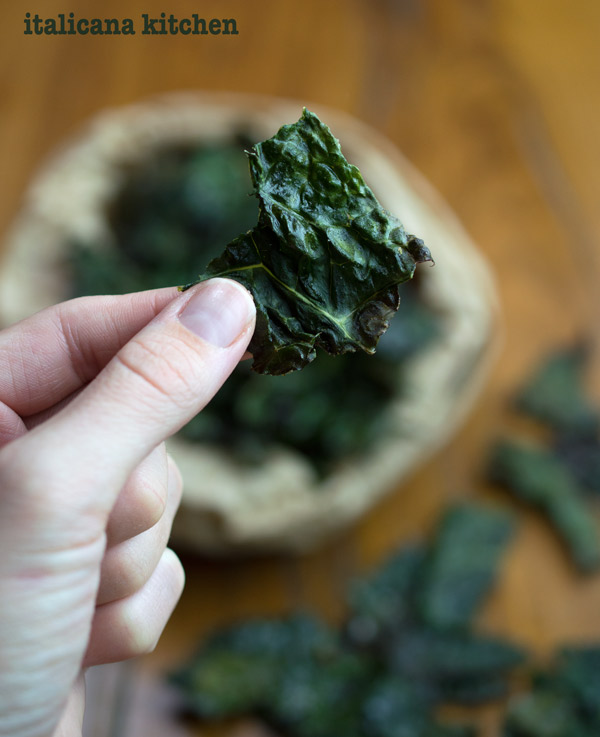 I made half my batch following the recipe above and the other half substituting 1 tablespoon extra virgin olive oil for 1 tablespoon truffle oil. The result? Pure goodness. Other variants that are on my list to try are: garlic :: aglio, Parmesan cheese, red pepper flakes, cumin and chia seeds. If you've made baked kale chips, what is your favorite flavor combination?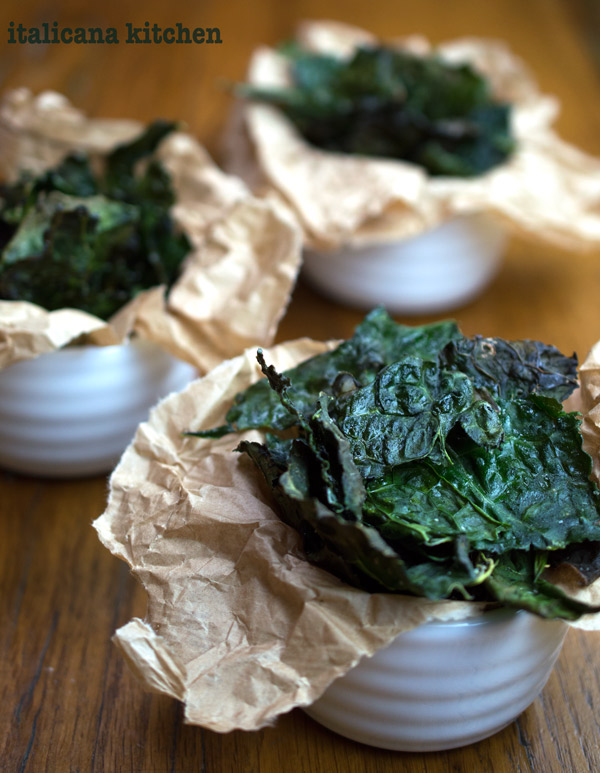 A fun little health fact that I learned from Mind Body Green's list of the top 10 health benefits of Kale  is that  kale has more iron than beef. This is fantastic news for pescatarians, vegetarians or vegans :: vegani.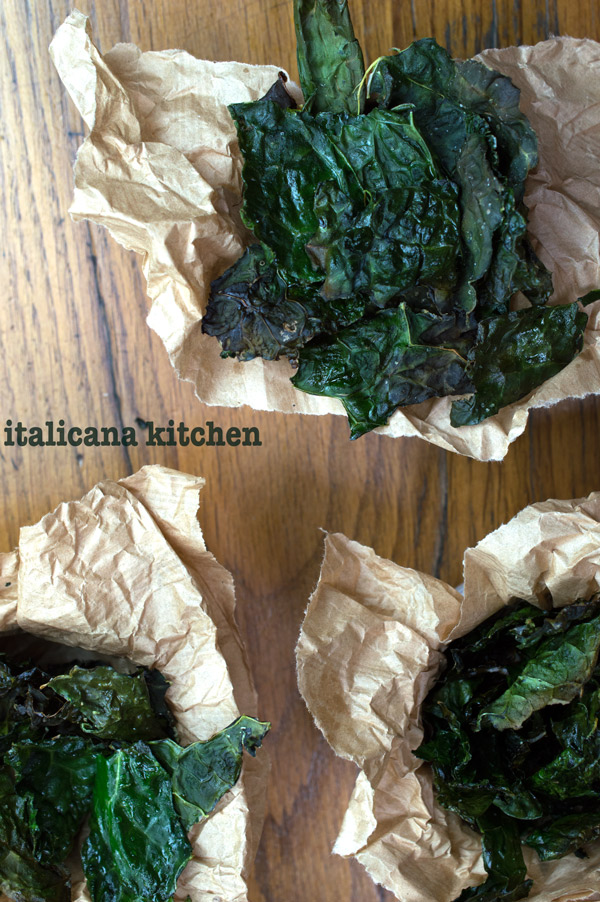 There are many types of kale. I've used lacinato kale, which is also known as Tuscan kale. Whether you use curly kale, red Russian kale or redbor kale, the procedure and cooking times are the same.

Kale Chips
Kale chips are a healthy substitute for the greatly adored potato chips, and guess what, they even taste great too!
Ingredients
300g (14 oz) kale
2 tablespoons extra virgin olive oil
Unrefined sea salt, as needed
Instructions
Preheat oven to 350°F (175°C). Line a cookie sheet with parchment paper.
Wash the kale well, remove the stem and break the leaves into small pieces. Use a salad spinner to completely dry the kale leaves (or pat really good with paper towels) and place in a large bowl. Add the extra virgin olive oil and a few pinches of sea salt then spread out onto a large baking sheet. It doesn't need to be a single layer.
Bake for 10-15 minutes, stirring every 5 minutes. The kale chips are done when the edges are brown but not burnt. Buon appetito!
Related posts: