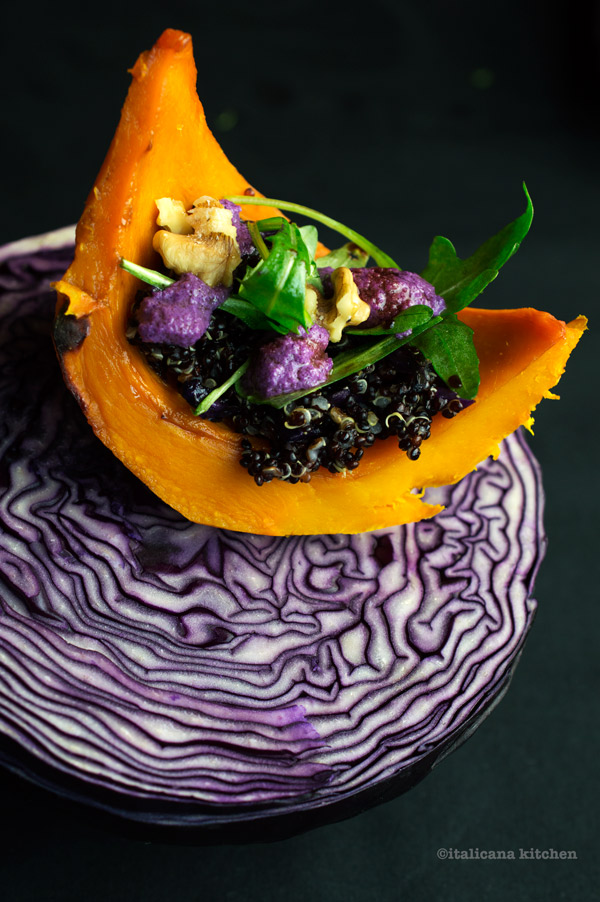 Autumn wouldn't be the same without squash.
Does that phrase sound weird to you? It does to me.
"Autumn wouldn't be the same without pumpkins."
Now that rings better; yet, it's not usually correct since the majority of the "pumpkins" we eat are actually squash. Do you know the difference between squash and pumpkin?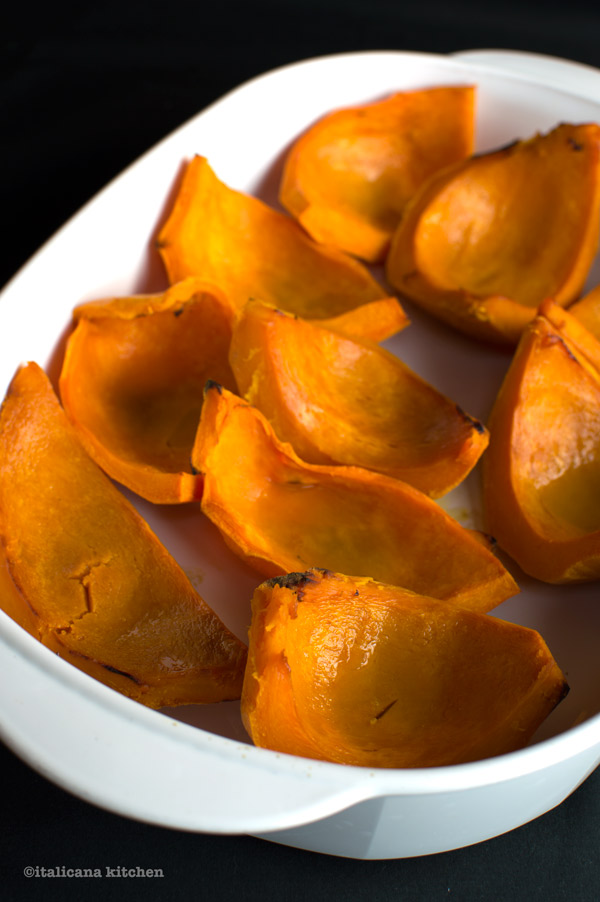 In simple terms, all pumpkins are squash, but not all squash are pumpkins. A comparison would be all Mercedes are cars, but not all cars are Mercedes.  I wish! Squash generally refers to the four species of genus cucurbita. Pumpkin :: zucca belongs to one of these species.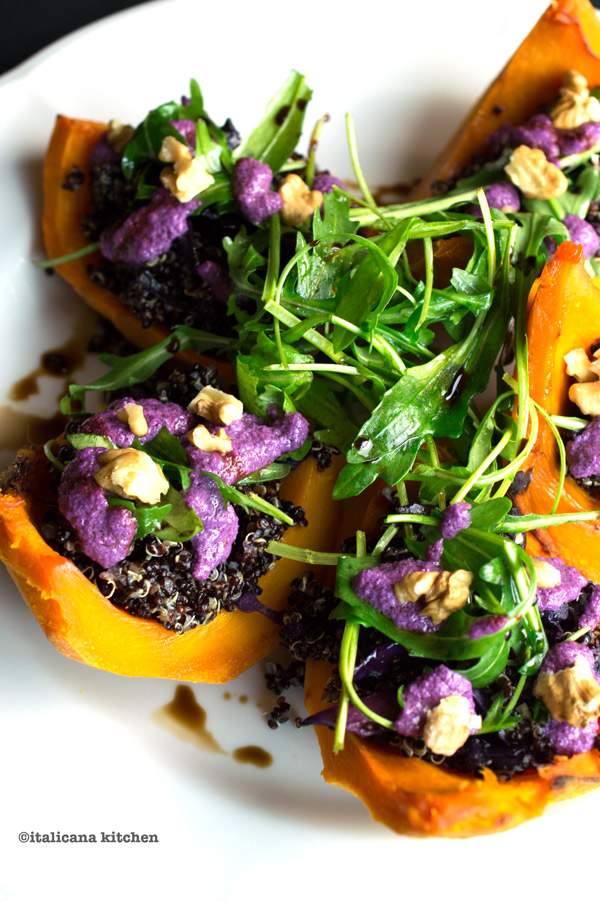 To make matters more confusing in culinary terms, the word "pumpkin" is used to describe squash. Just like in culinary terms we call peanuts "nuts", even though they are legumes. Totally off the subject, but an interesting fact to know: peanuts :: arachidi  don't grow on trees like walnuts and almonds, but grow underground and are pulled up like carrots.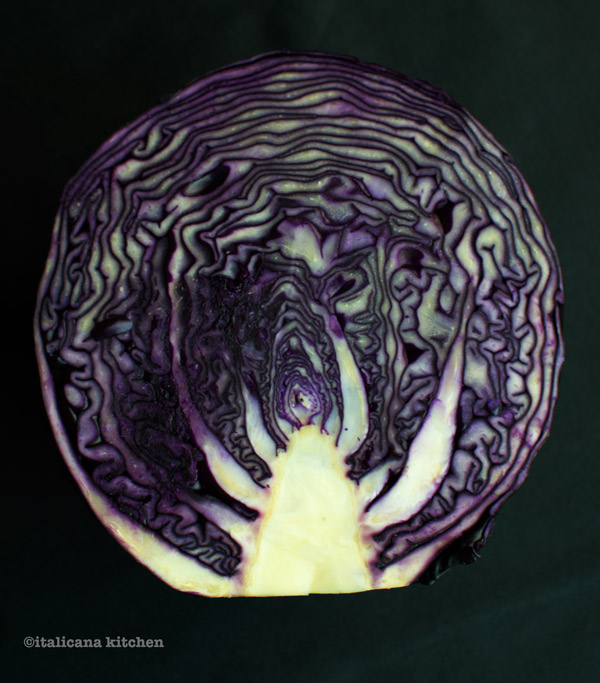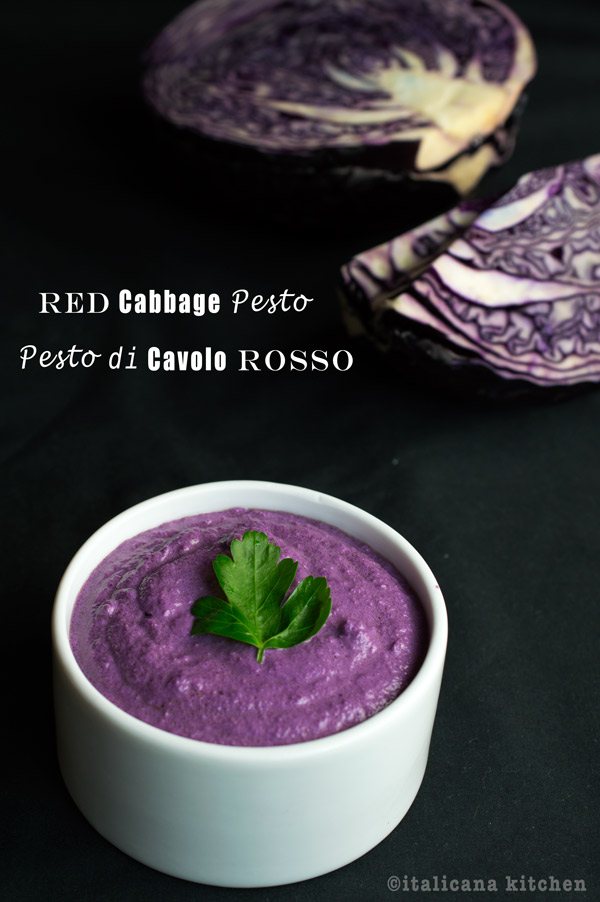 In Italy, I have yet to come across a word for squash, every type of squash is simply called a pumpkin :: zucca, followed at times by a descriptive adjective like "zucca butternut" or "zucca spaghetti". Zucca is highly celebrated in town festivals called "sagre" and is eaten often during Sunday lunch in delicious soups, fries, tortelli, lasagna or risotto.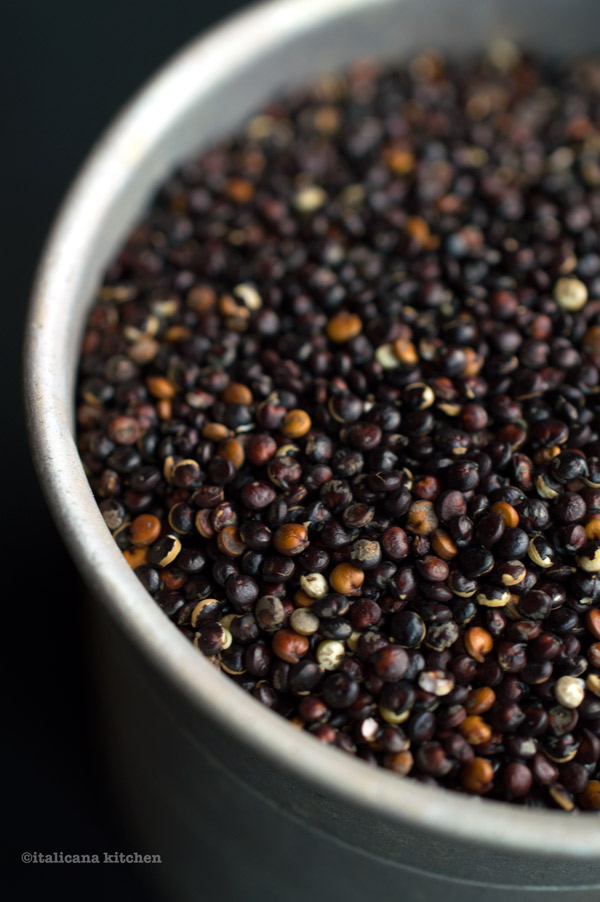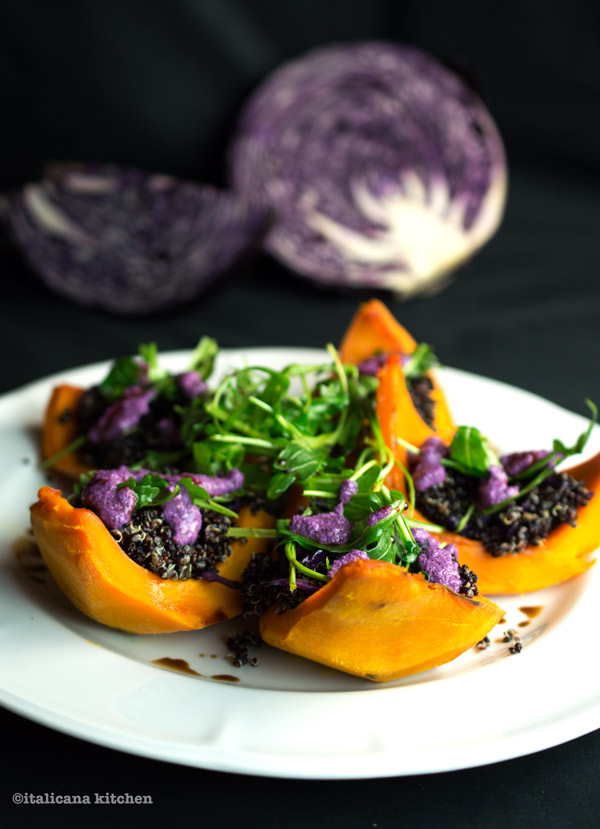 You can use any type of squash or pumpkin for this recipe, but I really like Kobacha squash for its chestnut-texture that is similar to a pumpkin crossed with a sweet potato. The slightly bitter notes of the cabbage pesto contrast well the sweet tendencies of the pumpkin, but if I don't have cabbage :: cavolo on hand, I also make this recipe just with quinoa. In this case I toss the quinoa with extra virgin olive oil, balsamic vinegar and a teaspoon or two of apple vinegar to give it a light kick of flavor.  And, don't forget the walnuts, they give the dish a nice crunch. Buon appetito!

Roasted Kabocha Squash with Black Quinoa and Cabbage Pesto
Ingredients
For the pumpkin and quinoa:
1 medium squash or pumpkin, peeled, seeds removed and chopped into 8-10 wedges (I used a Kobocha squash)
Extra virgin olive oil, as needed
Salt, a few pinches
1 cup (190g) black quinoa (or red or white)
8-10 walnut halves, roughly chopped
5 oz (141g) Arugula, optional
Balsamic vinegar, qb
For the cabbage pesto:
1 clove garlic, finely chopped
¼ red cabbage, chopped
2 tablespoons apple vinegar
4 tablespoons extra virgin olive oil
¼ cup (50g) Gorgonzola*
Instructions
For the pumpkin and quinoa:
Preheat the oven to 400°F (200°C).
Put the pumpkin wedges in a roasting pan and drizzle lightly with extra virgin olive oil and a few pinches of salt. Bake for 30-40 minutes until soft. Check at least 1-2 during the baking to make sure they are not burning.
In the meantime, bring two cups of water to boil, add salt then the quinoa. Cook the time indicated on the package.
For the cabbage pesto:
In a large skillet, add a drizzle of extra virgin olive oil and chopped garlic. Sauté for one minute over medium heat, then add the red cabbage and cook for another 12 minutes.
Put the red cabbage into a food processor and add the apple vinegar, extra virgin olive oil and gorgonzola. Blend until smooth and creamy. Adjust the consistency to your desire by adding more extra virgin olive oil. Conserve the pesto in a airtight container in the refrigerator until ready to serve.
To serve:
Mix the arugula with a drizzle of good extra virgin olive oil. Mix the quinoa with a drizzle of extra virgin olive oil. Fill each pumpkin wedge with some quinoa and top with arugula, cabbage pesto and chopped walnuts. Finish of the dish with a swirl of balsamic vinegar.
*For a vegetarian version, substitute Gorgonzola with a similar vegetarian cheese. Alternately, you can make this recipe without the cabbage pesto. In this case, add some balsamic vinegar and a teaspoon or two of apple vinegar to the quinoa.
Related posts: