After a two month cooking class tour in the USA, I'm back in Italy! Needless to say, Mr. Italicano and I are quite happy to be together again. One of the first things I eagerly did upon my return was head to my beloved weekly market in Correggio, the small town where we live in the region of Emilia-Romagna. I walked my bike through the crowded cobblestone street while letting the melodic shouts of bargaining waft past me just like the smell of the freshly baked bread from the nearby forno :: bakery.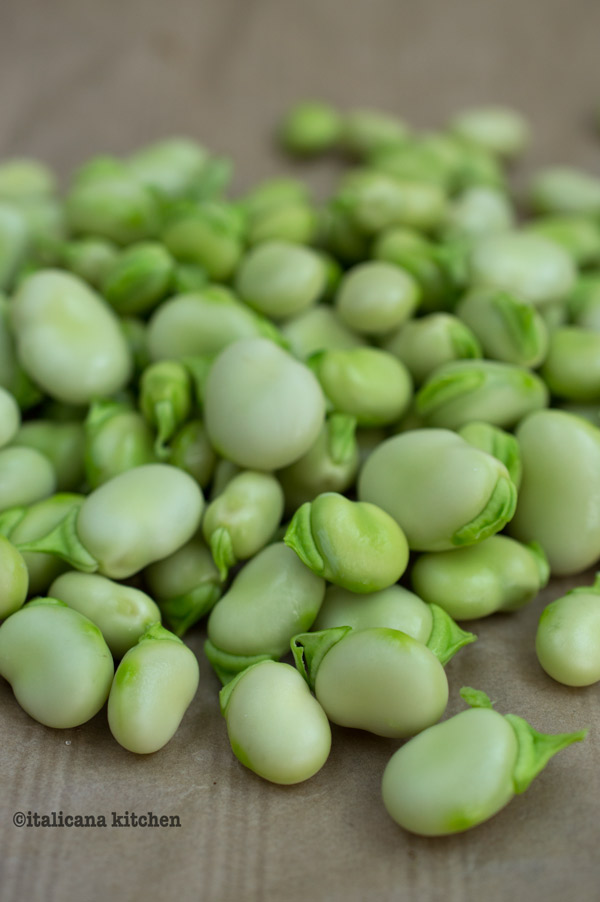 I made my usual rounds: first to my favorite fishmonger :: pescivendolo, because if you arrive later than 9a.m. their selection of seafood is usually cleaned out. Two handfuls of fresh anchovies and a perch fillet later, I set off to my favorite fruit and vegetable stand where I was greeted by name from my produce gurus. Love them. While waiting my turn in line, I gazed around at the rows of plastic crates and wooden boxes overflowing with a dazzling collection of vibrant colored fruits and vegetables—all in season of course. My eyes settled on the steroid sized peas, also better known as fava beans.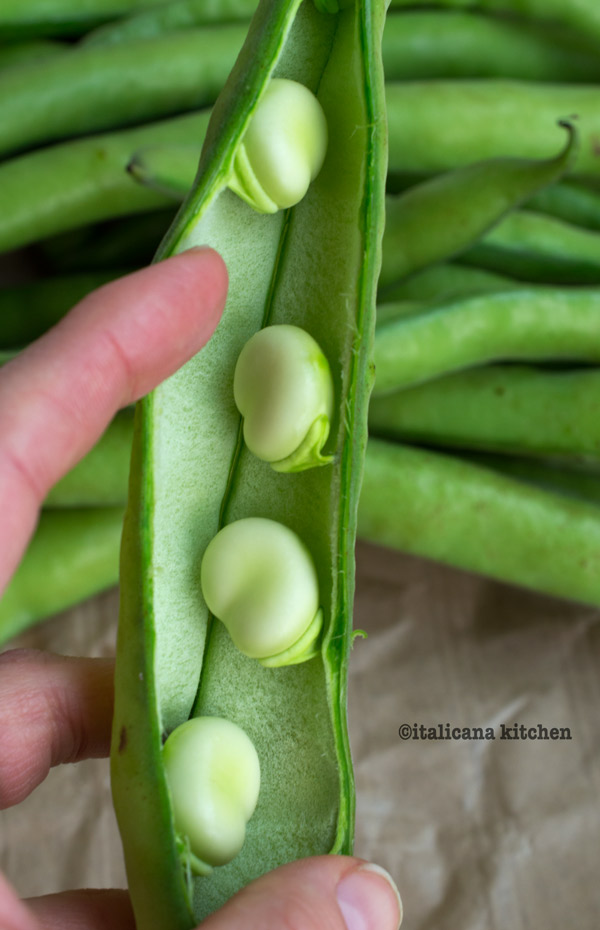 I find that the U.S. farmer's markets seem quite limited in their selection compared to Italy's, yet thankfully, I have seen that fresh fava beans can be found stateside (or at least in Seattle). It's a good thing, spring wouldn't be the same without their soft fuzzy pods that are fun to shuck and the beans :: fagioli the size of giant emeralds protected inside.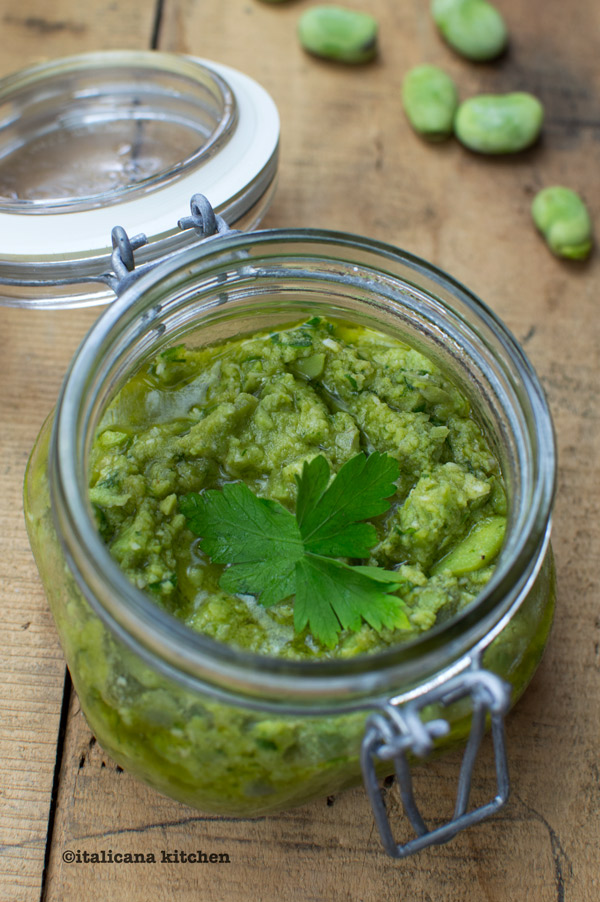 Just like peas you can eat them raw :: crudo, but I think they are better blanched. I also spend the time skinning the broad bean, as they're called in Great Britain, to get the most tender part. Once that's done, it's as easy as pie. Just toss the soft beans in a food mixer along with the following handful of ingredients, press blend and you have yourself a delicious "pesto" if you will, perfect to mix into pasta like this recipe below, quinoa or other grain salads or slather on top of a piece of rustic toasted bread for a quick fava toast in place of your mashed avocado or peanut butter.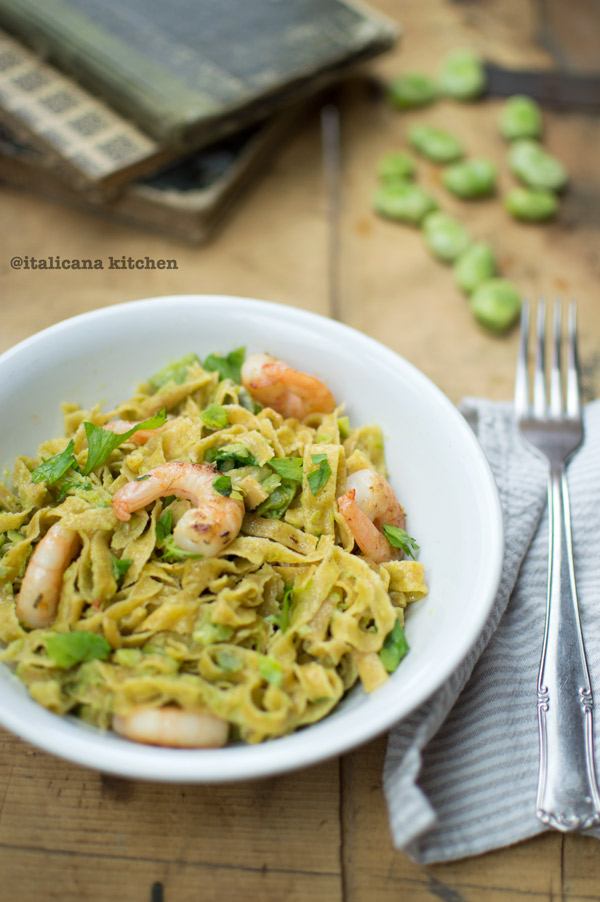 Tomorrow I'll be talking about this recipe :: ricetta and other food and wine trends on Radio Bruno with La Strana Coppia. You can catch me on air at 8a.m.! (In Italian).

Fava Pesto: One Spring Sauce You Must Try
This fava bean pesto is perfect to use as a pasta sauce or simply slather some on a piece of toasted bread for a healthy alternative to mashed avocado toast.
Ingredients
14 oz (400g) fresh fava beans, shucked
1 garlic clove, minced
1 handful parsley
½ cup Parmigiano Reggiano, grated
A few dashes of sweet paprika
Salt and black pepper, to taste
Extra virgin olive oil, as needed
Instructions
Bring a medium pot of water to boil, add the fava beans and blanch them (I.e. cook them for a few minutes then dip them into a bowl of ice water). Peel away the transparent outer skin and discard. Put the remaining soft bean in a food processor. Add the garlic, parsley, Parmigiano Reggiano, paprika, salt, pepper and a few tablespoons of extra virgin olive oil. Blend everything together, adding in more olive oil if needed until it becomes a think chunky pesto.
This pesto is perfect to use as a pasta sauce, to mix in with quinoa or other grain salads or simply slather some of the pesto on a piece of toasted bread for a quick and healthy bruschetta.
*Tip: buy a lot of fava beans while they are in season. Shuck them, blanch them, dry them and conserve them in plastic sacks in your freezer to be used throughout the year.
Related posts: