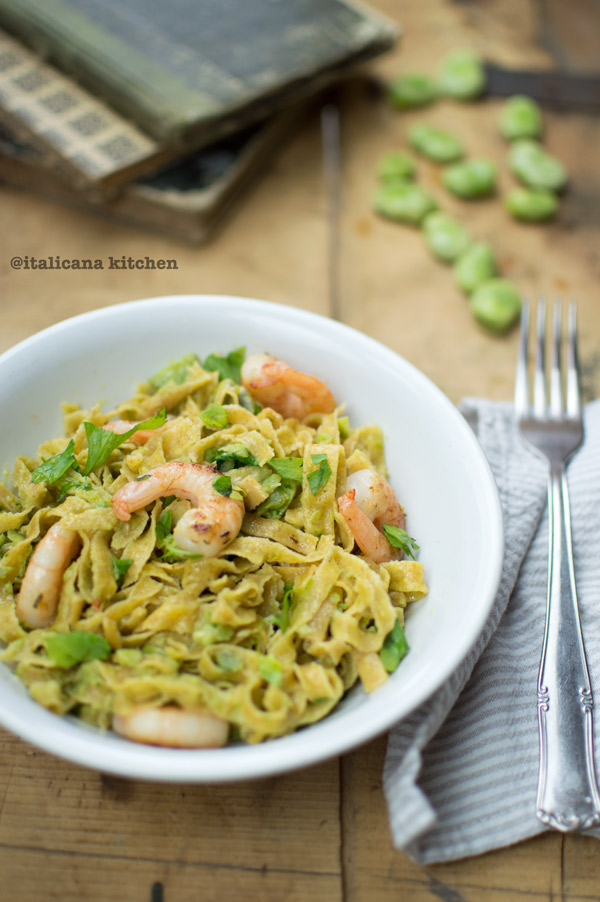 Fava beans, or broad beans, are in season :: in stagione in Italy, and I just can't get enough of them! You can add them to vegetable stews like this Scafata recipe, you can puree the heck out of them to make a delicious fava bean and avocado dip or you can give them a short twirl in the blender and create a healthy chunky pesto that you can eat with crackers, toss it into a pasta dish or do like Mr. Italicano and gobble down spoonfuls straight from the jar.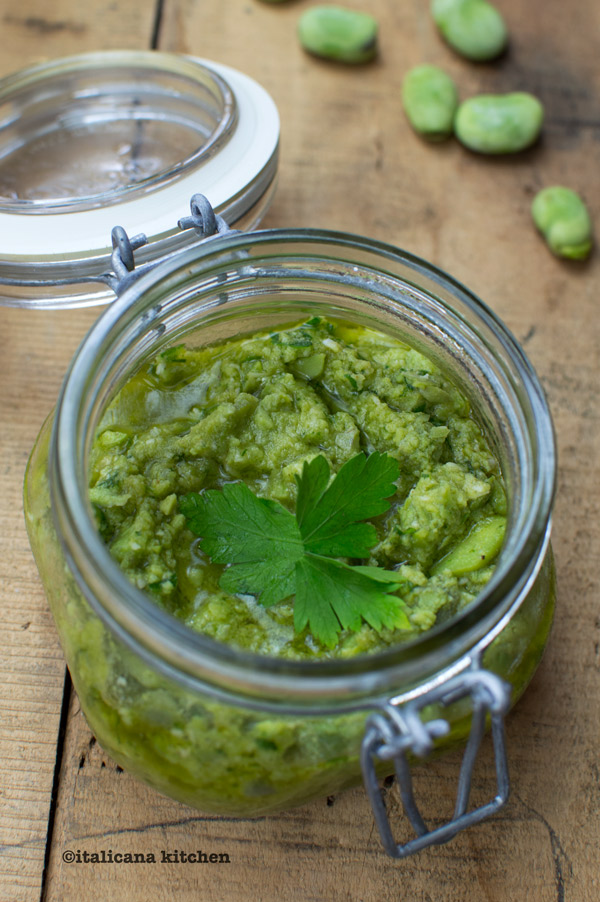 In some recipes I keep the fava bean skins :: le bucce on to add texture, in this recipe I shucked them so that the creaminess of the fava beans had a moment in the spotlight. Oh, boy did they shine. Straight out of Mr. Italicano's mouth came the words, "This is so f$&*@!*$ buona." This time, I didn't scold him for cursing and instead beamed him a smile, happy to receive his mixed Italian/English compliment.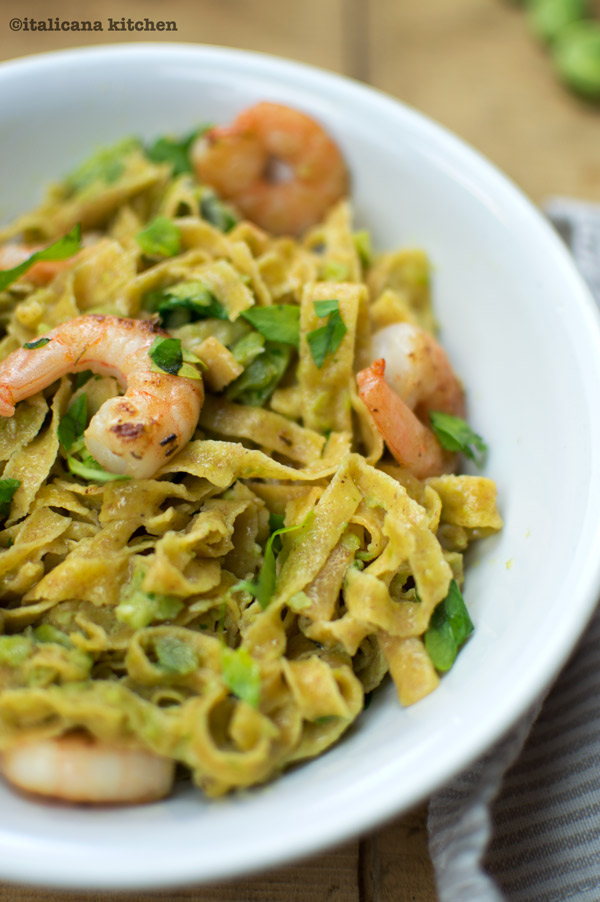 Homemade pasta is really easy to make, especially if you have a stand mixer :: un'impastatrice. It may seem daunting or difficult, but it's not. It takes just a few minutes in the stand mixer, 1/2 hour rest time in the fridge and 15 minutes to roll it out and cut the desired shape. Unlike dried pastas where the cooking time is often from 10-18 minutes, fresh pastas only need a few minutes in a pot of boiling salty water. It's probably quicker to make your own at home than battle the traffic and check out counter lines to buy a bag of dried pasta and a sauce filled with preservatives. Bam. You can impress someone with homemade fresh pasta and a delicious healthy pesto even on a weeknight.
(For those of you who simply can't be bothered to make the pasta, use the store bought kind, but at least try making the fava bean pesto below…trust me, it's dynamite! You can also easily make this into a vegetarian pasta dish by omitting the shrimp.)

Farro Tagliatelle with Shrimp and Fava Bean Pesto
Impress someone with this delicious homemade farro tagliatelle pasta and fava bean pesto. They'll think you are Italian!
Ingredients
For the Farro Tagliatelle:
1¾ cups (210g) whole grain farro
½ cup + 2 tablespoons (90g) durum wheat semolina
3 large eggs (2.2-2.4 ounces each)
2 pinches unrefined salt
1 tablespoon extra virgin olive oil
For the Fava Bean Pesto:
14 oz (400g) fava beans
1 garlic clove, minced
1 handful parsley
½ cup Parmigiano Reggiano
A few dashes of sweet paprika
Salt and black pepper, to taste
Extra virgin olive oil, as needed
For the shrimp:
20 shrimp or prawns
A few dashes of sweet paprika
2 tablespoons of dry white wine
1 tablespoon of extra virgin olive oil
Instructions
For detailed instructions on how to make homemade pasta with photos, check out this post. Attach the dough hook to the stand mixer and add the flours, eggs, salt and extra virgin olive oil. Mix on speed 1 for a few minutes, adding a tablespoon of water at a time, if needed, until it comes together in a ball. Stop the mixer and push against the dough with your finger. If it leaves an imprint (like a ripe peach) and doesn't stick to your finger, it's ready. If the dough, however, is sticky turn the stand mixer back on and gradually add a little more flour, stopping every so often to check the consistency until it no longer sticks to your finger.
If don't have a stand mixer, follow the same procedure but knead by hand until the dough is homogenous, leaves an imprint when poked and isn't sticky.
Divide the dough into two balls and wrap each one individually with some plastic wrap; place in the refrigerator for 30 minutes.
In the meantime, make the fava bean pesto.
Bring a medium pot of water to boil, add the fava beans and cook them for a few minutes. Run them under cold water and shuck their outer skin. Put the inside bean in a blender or food processor. Add the garlic, parsley, Parmigiano Reggiano, paprika, salt, pepper and a few spoonfuls of extra virgin olive oil. Blend everything together, adding in more olive oil until it because a think chunky sauce.
Attach the pasta roller accessory and sprinkle some flour on top. Divide each ball into two pieces (four pieces total), shape them into flat rectangles and flour generously on top and bottom. Pass one of the pieces through the machine on speed 1. Fold it back over on itself, and pass it through again. Repeat one more time before moving on to the next level of thickness. Pass the dough several times reducing the thickness from no. 0 to 5.
Generously flour a large wooden board and lay the pasta sheets on top as you roll them out.
If you are rolling out the dough with a rolling pin, it will be easier to divide the dough into two pieces and roll each one out on a generously floured wooden board. The dough should be rolled out thin enough that when you hold the dough up against a light you can see the light almost pass through.
Roll each side of the pasta sheet towards the center. Even off the ends with a knife but don't throw away these scraps, you can stick them in the middle of the little pasta nests.
Use the stand mixer tagliatelle pasta device to cut them to the right size (or another shape of pasta). If you don't have the pasta device, slice the noodles so that they are about ¼ inch.
Lay out the pasta ribbons on a generously floured board. Take a small handful in one hand and roll them around your fingers as if you were rolling up a cord.
When all of the pasta has been loosely wrapped around your fingers, gently set it down on the floured board. These little clusters of pasta are called "nidi" in Italian, or "nests", since they resemble bird nests. Repeat with the remaining dough.
Bring a medium pot of water to boil; add course salt then dump the tagliatelle inside. Cook for 2-3 minutes then check one to see if one is ready. The pasta should be "al dente" or slightly firm. If it is not ready, continue to cook for 1 minute and check again.
In a medium skilled at the extra virgin olive oil, white wine, shrimp and a few dashes of sweet paprika. Cook for 3-4 minutes over medium high heat or until the shrimp are no longer transparent. Remove the skillet from the heat.
Drain the pasta reserving a cupful of the water. Add the pasta to the shrimp along with the fava bean pesto. Stir well, adding a few spoonfuls of cooking water if needed to thin the sauce.
Conservation:
The uncooked tagliatelle can be stored in the refrigerator for 1 day max, or you can freeze them. The best way to store them in the freezer is to put them on a cookie sheet so that they are not touching. Tuck them in the freezer until frozen, otherwise they will stick together, then you can place them in plastic bags, one on top of the other and take out the quantity you want as needed.
Related posts: