Get out your vegetable peeler, it's time to have some fun! Perhaps you have only used your peeler to shave off potato and carrot skins, but there is a great trick you can do with this common kitchen tool. You can turn ordinary veggies into silky, mouthwatering ribbons that are perfect for green salads, grain salads, pasta or egg-based dishes.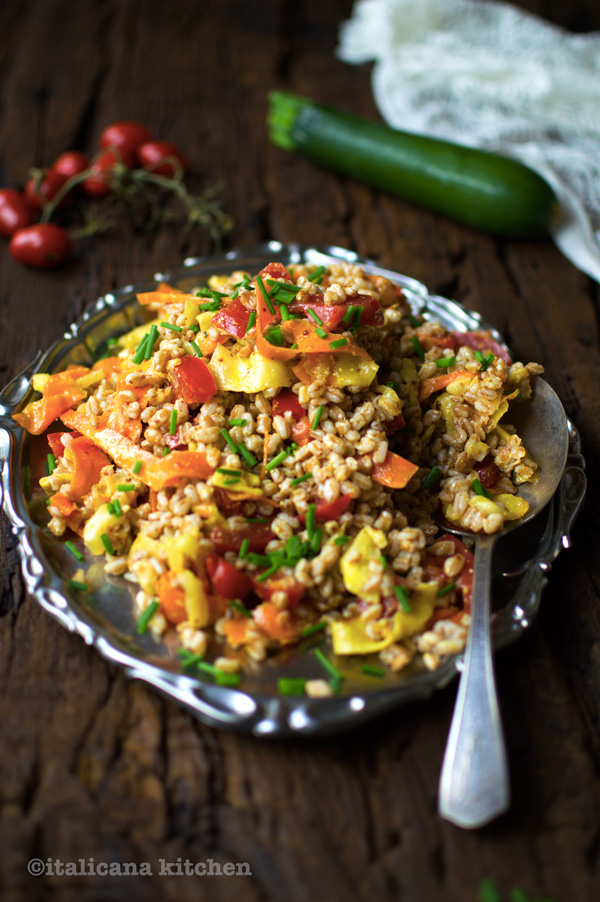 I first used this trick to make a delicious shaved asparagus and pesto dish that I topped with monkfish, although shrimp or another fish of choice could easily be used. And, why stop there? Carrots and zucchini are just as easy to shave and add pops of vibrant color to a variety of dishes, not to mention a satiny texture that, trust me, you are going to absolutely love.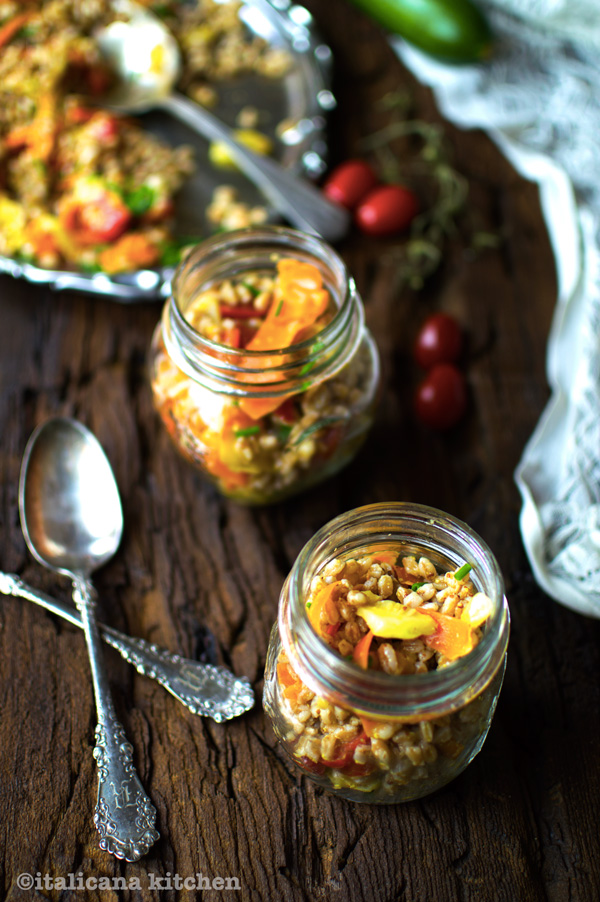 It's amazing how the luxurious texture of peeled vegetables has gotten me to eat more more carrots and zucchini, two vegetables I've often snubbed when cooking in the kitchen. If shaved and lightly sautéed, I could now eat them by the bowlful. Seriously, they're that good. Try this trick for yourself, then let me know what you think!

Farro Salad with Carrot and Zucchini Ribbons
This farro salad with carrot and zucchini ribbons is perfect for spring and summer get togethers and is also a great make-ahead recipe.
Ingredients
For the farro salad:
4 cups (950ml) water
1⅔ cup (280g) farro (or other grain like quinoa, millet or bulgur)
1 tablespoon coarse salt
1 tablespoon extra virgin olive oil
1 garlic clove, peeled
2 zucchini, ends discarded and the remaining shaved like you would a carrot
2 carrots, ends discarded and the remaining shaved
10 grape tomatoes, halved
For the vinaigrette:
½ cup of extra virgin olive oil
4 teaspoons red wine vinegar
2 teaspoons dijon mustard
1 small shallot, thinly sliced
Salt and black pepper, to taste
Instructions
For the farro:
In a medium pot add the water, farro and salt. Bring to a boil then lower the heat to medium low. Cook until the farro is tender, about 25 minutes. Drain well then pour the farro into a large bowl.
In the meantime, heat the extra virgin olive oil in a large skillet, then add the carrots and peeled garlic clove. Cook over medium heat for 2-3 minutes. Add the zucchini and continue cooking for another 2-3 minutes until soft. Remove from heat and discard the garlic.
For the vinaigrette:
In a small bowl, mix together the extra virgin olive oil, red wine vinegar, dijon, shallot, salt and pepper.
Add the sautéed vegetables to the farro along with the tomatoes and vinaigrette. Mix well. Serve warm or cold. Great make-ahead recipe.
Related posts: