Thanksgiving Day is only a few days away, save time and stress by making this easy vegetarian stuffing a day in advance.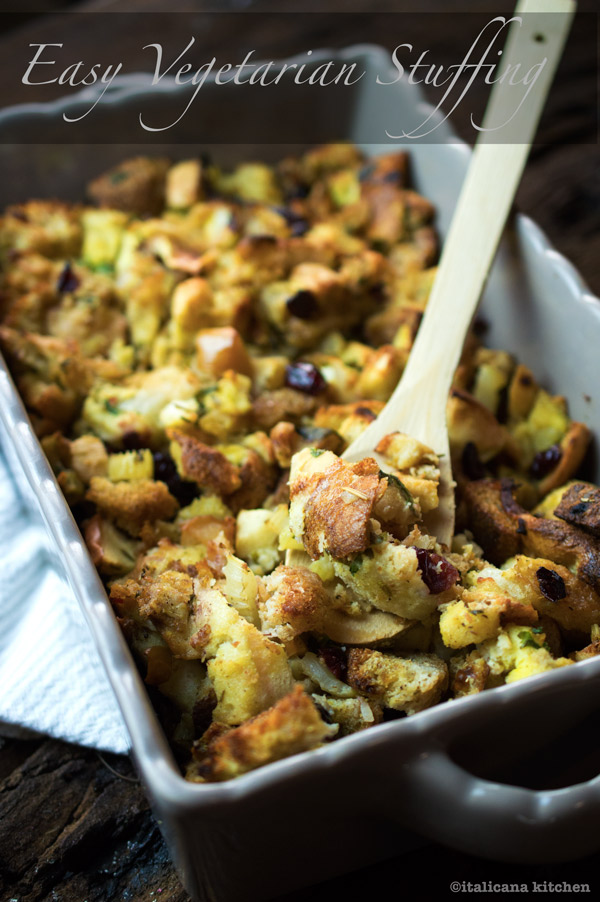 The whole point of Thanksgiving Day :: giorno del ringraziamento is to take a day to focus on giving thanks for all we have; yet this is often times not the case. I'll be the first to admit it. I'm usually guilty of   stressing out about planning the perfect, most beautiful, Thanksgiving feast as though the appearance was the most important thing; rather, than focusing on just being grateful for the company of family and friends, the food on the table and the shelter of a warm home.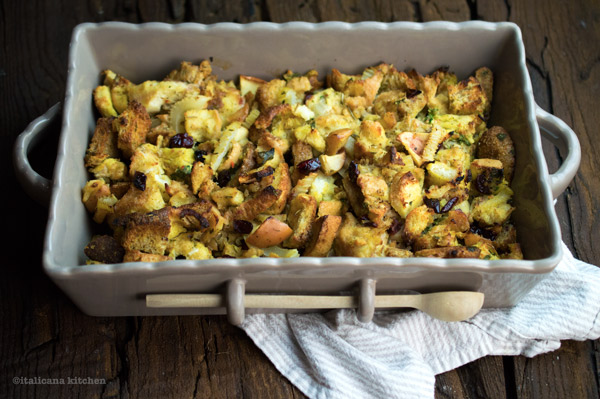 A warm home. This is something I take for granted daily, yet it's fundamental to our well-being, and sadly many people around the world don't even have this basic commodity. Even in developed countries, there are times when things go awry. Currently in Washington State many of my family and friends are bearing the aftermath of a horrible windstorm :: tempesta that caused hundreds of thousands of people to loose power for days, many of which still don't even have electricity. "Oh, that's not so bad," you might think. But, in practical terms means: no heat, no hot showers, no refrigeration and no lights. Although the first day may be an pioneer adventure, living more than a week in a cold dark house is a hardship. It sucks.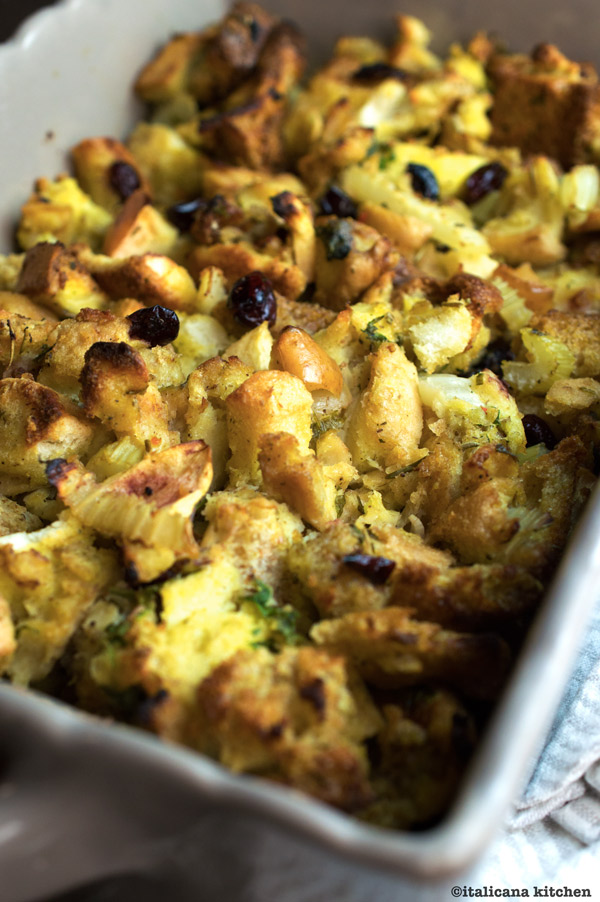 This Thanksgiving I'm focusing on being truly grateful for all of the everyday things I usually take for granted: a warm house, hot water :: acqua calda, a refrigerator full of food and warm clothes. For many of us, these are the norm, but imagine for a moment that you don't have any of them. Doesn't it make you more grateful? For me, it does.
Happy Thanksgiving everyone! Thank you for visiting my blog, and I hope by making this easy vegetarian stuffing recipe in advance you can have more time to spend with the people that truly matter: family and friends.

Easy Vegetarian Stuffing
Thanksgiving Day is only a few days away, save time and stress by making this easy vegetarian stuffing a day in advance.
Ingredients
2 loaves Italian bread (around 20 ounces total), chopped into cubes
2 tablespoons extra virgin olive oil
1 shallot, finely chopped
1 garlic clove, finely chopped
5 celery stalks, thinly sliced
2 teaspoons dried sage
1 ½ tsp dried rosemary
½ tsp dried thyme
A few pinches of salt and ground black pepper
½ cup dry white wine
½ cup parsley leaves, chopped
3 large eggs, lightly beaten
3 to 3.5 cups vegetable broth
½ cup dried cranberries
1 apple, chopped
Instructions
Preheat the oven to 400°F. Arrange the bread in a single layer on a large baking sheet. Bake until toasted, about 10 minutes. Stir at least once during baking.
In the meantime, heat the extra virgin olive oil in a large skillet. Add the shallots, garlic, celery, sage, rosemary, thyme, salt and pepper and cook over medium heat until vegetables are soft; 5-10 minutes. Pour in the wine and continue cooking for 5-10 minutes until it has evaporated. Transfer the mixture to a large bowl.
Now add the toasted bread, parsley, eggs, dried cranberries and apple to the bowl. Stir together to combine. Pour in the broth, one ladle at a time, until the stuffing is moist. Stop pouring the broth if liquid starts to remain at the bottom of the bowl.
Butter or grease a large casserole dish. Pour in the stuffing and level it out. Cover with aluminum foil and bake for 30 minutes, then remove the foil and continue baking for 15 minutes until the stuffing is warm and the top layer is golden.
Make ahead instructions:
You can prepare the entire dish the day before to bake on the day you'll be eating it. Otherwise you can prepare the vegetables and toast the bread a day before, and compile the rest of the ingredients the day of.
Don't miss these other easy vegetarian recipes that are perfect for Thanksgiving Day!
Baked Goat Cheese with Tomatoes and Olives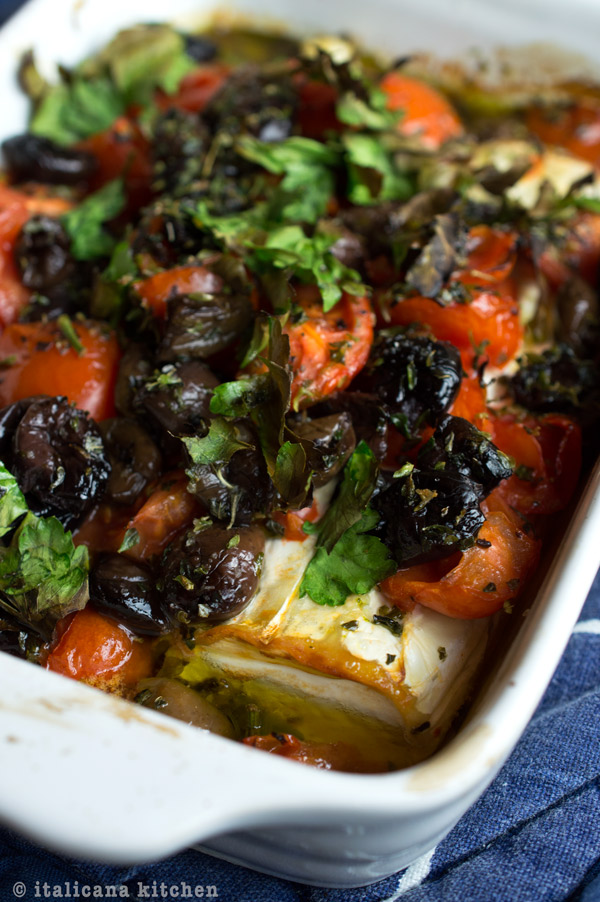 Easy Rosemary and Taggiasche Olive Dinner Rolls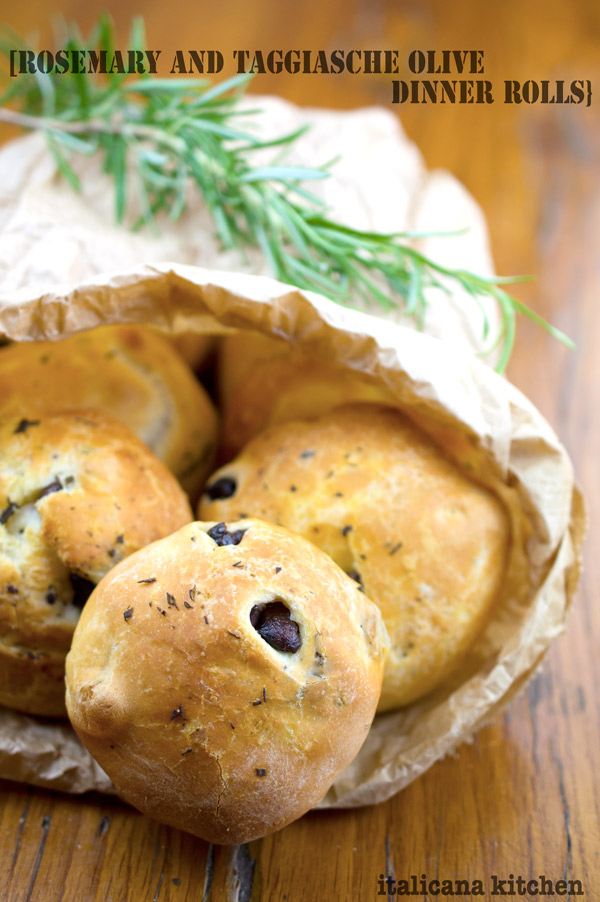 Caramelized Almond Apple Dried Cranberry And Feta Salad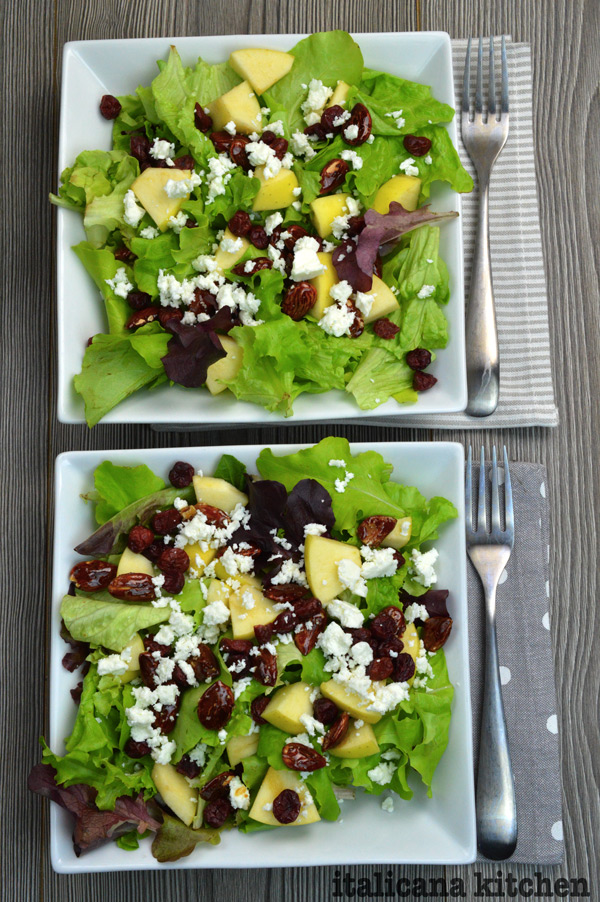 Mashed Potatoes with Extra Virgin Olive Oil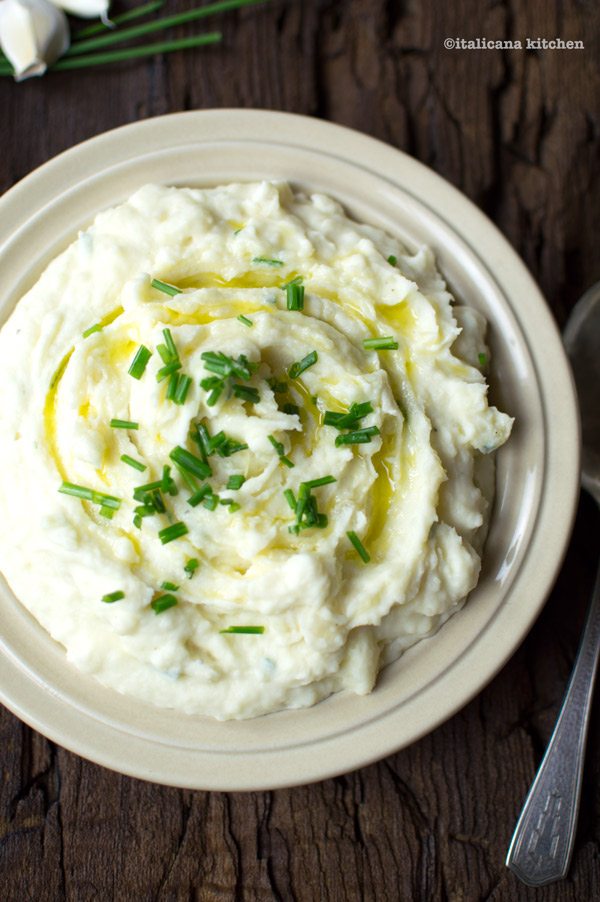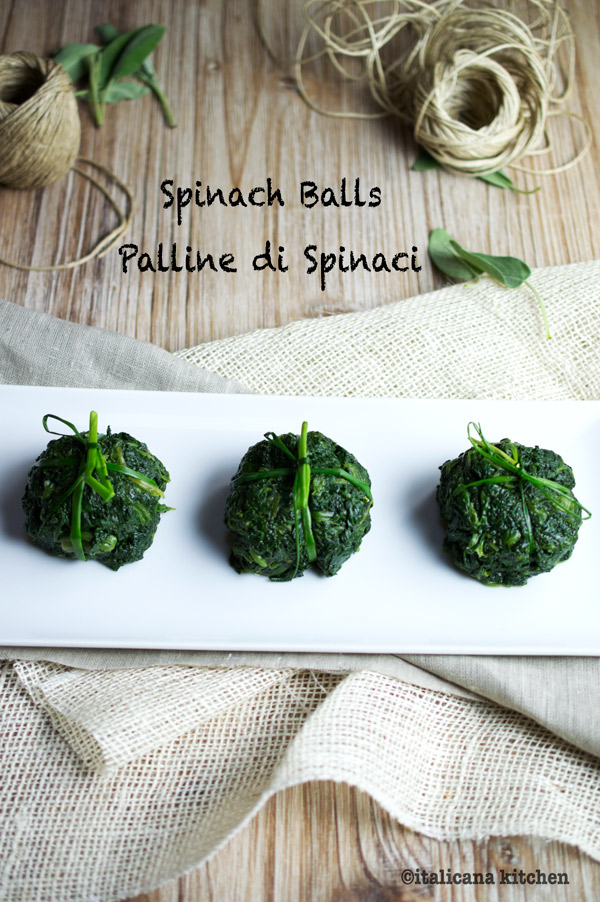 Apple Pie without Refined Flour and Sugar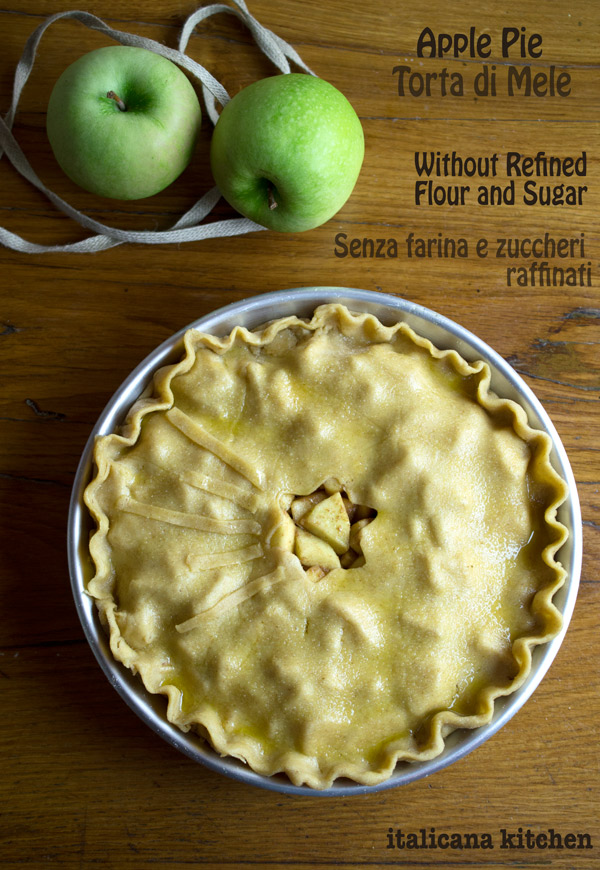 Related posts: