Although Halloween isn't very popular here in Italy, pumpkins have always been. In fact, they steal the show in the fall :: autunno.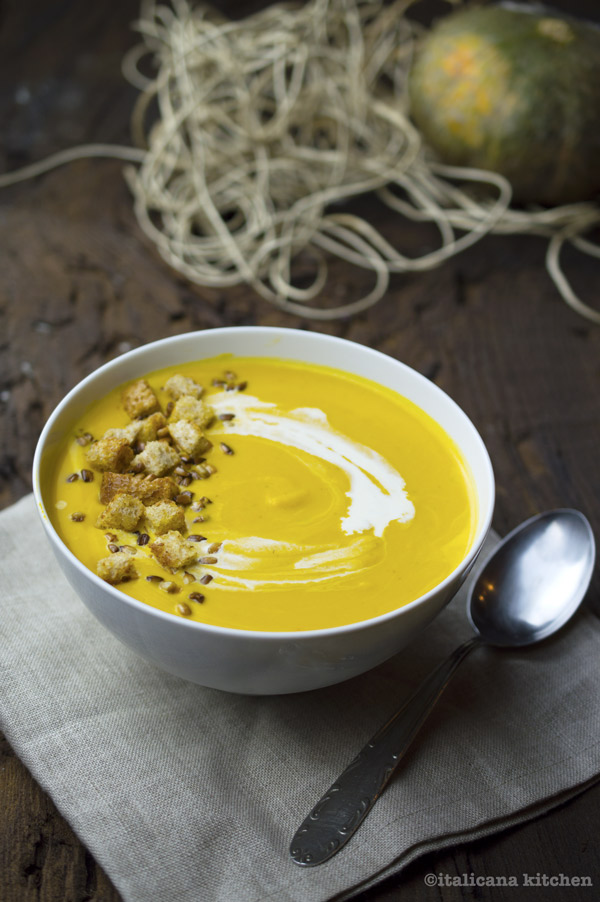 You'll find them in various shapes and sizes at the Italian farmer's market and there are even festivals dedicated specifically to these beautiful knobby fruit :: frutta.
The most traditional dishes you'll find in Emilia Romagna where Mr. Italicano and I live are tortelli di zucca :: pumpkin tortelli (ravioli), risotto alla zucca :: pumpkin risotto, and zucca al forno :: baked pumpkin. Ironically, in our area we have never eaten zuppa di zucca :: pumpkin soup other than when I make it at home. I'm surprised it's not more prolific given the pumpkin-obsession of the area.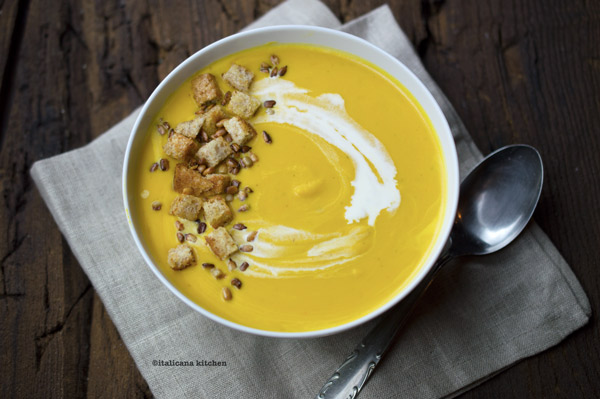 During fall this is my go-to busy weeknight recipe or starter dish when entertaining guests. I just love how easy it is to prepare and how comforting it is to eat on a crisp Autumn evening. This is also one of the recipes that I recently made during our 10 food demonstrations in New York City and I have to say that it was quite the hit by all who tried it. I hope you will enjoy it as much as we do!

Creamy Pumpkin Soup
This creamy pumpkin soup is quick and easy to prepare and perfect to warm you up on crisp fall days.
Ingredients
For the soup:
4 tbsp extra virgin olive oil
1 large white onion, finely chopped
1 small clove garlic, skin removed, finely chopped
2.2 lbs (1 kg) pumpkin or squash, peeled, deseeded and chopped into chunks
24 oz (700ml) vegetable stock
*1/4 to ½ pint fresh heavy cream
Salt and black pepper, to taste
For the topping:
Extra virgin olive oil, as needed
4 slices whole wheat bread
Toasted sunflower seeds
*If you prefer a healthier or vegan option, you can leave out the heavy cream.
Instructions
Heat the olive oil in a large pot, then cook the onions over medium low heat for 10 minutes or until translucent but not brown. Add the garlic and cook for 1 minute. Add the pumpkin cubes and vegetable stock to the pot, and simmer until the pumpkin chunks are soft and can be easily pierced with a fork; about 10 minutes.
Add ¼ to ½ pint of cream, depending on how strong you like the taste. Remove from heat and puree until homogenous with a handheld immersion blender. Alternatively you can mix in a blender, but let the soup cool before blending in the blender otherwise it will explode out the top. (If I'm in a hurry and the soup is still warm, I blend in small batches with my hand on the top so it doesn't shoot out.) Return the pureed soup back to the pot and heat on low to warm.
Toast 4 slices of bread and cut into cubes. Dish up the soup into bowls then top with the toasted bread and some toasted sunflower seeds. Buon appetito!
Tip: This is a great recipe to make in advance and reheat or it can be frozen.
Related posts: