Our garden is overflowing with plump vine-ripened tomatoes :: pomodori!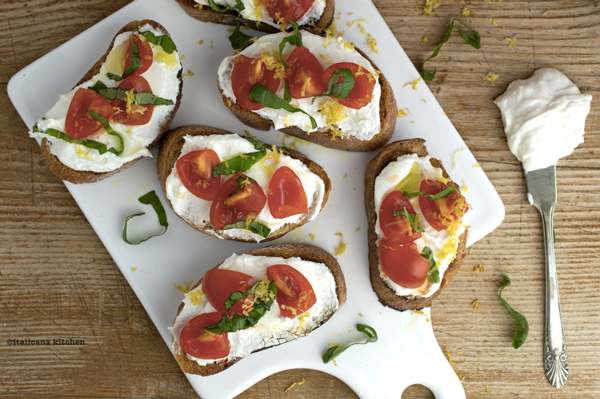 I've been cooking up a storm making millet stuffed tomatoes, basil and tomato sauce and these delightful bruschetta with whipped feta, tomato, basil and lemon zest. 
On a side note, for all you Italian language learners out there, my title should really be "bruschette" because you change the "a" to an "e" to make it plural, yet I never know if it's better to use the real word or the Americanized term so people get what I am talking about. Bruschetta=1, bruschette=more than one. Final note, the real way to pronounce  bruschetta is like this: "brew—sket—ta". Here's a trick to remembering this pronunciation: "you are drinking a brew, when out jumps a skeleton from the closet who yells ta-da!" brew-sket-ta. Random, I know, but these little tricks help with remembering languages at the beginning, at least for me. 🙂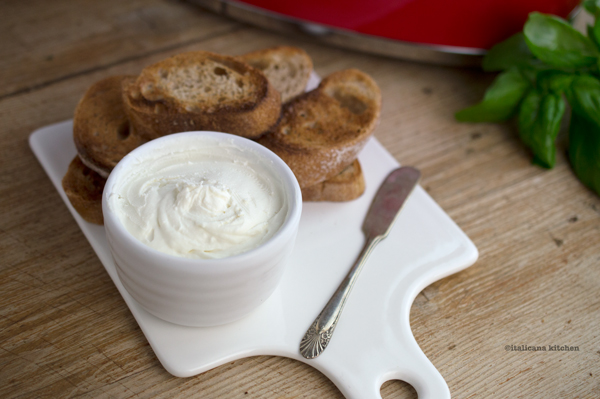 Back to those lovely little tomatoes I was telling you about.  Italians are experts at growing and conserving tomatoes for the entire year. Some of the most popular ways to conserve tomatoes are to freeze them :: congelarli, simmer and can them, let them dry out in the sun and stick them in oil.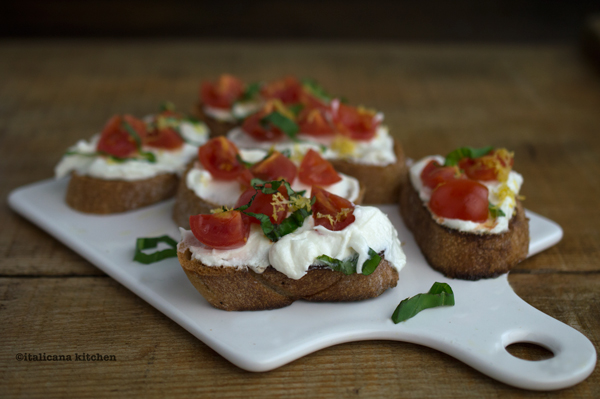 Mr. Italicano and I often debate over which is better: a fresh tomato or sun dried tomato. While I adore fresh tomatoes, oh my gosh do I lovvvveeeee sun dried tomatoes. They are packed with a much more intense flavor and have a nice chewy texture :: consistenza. I could (and do) eat them by the forkful.
Mr. Italicano on the other hand, loves fresh tomatoes. He has turned into a master pico de gallo maker this summer. And, I have to admit, fresh pico de gallo hits the spot. So do bruschette with fresh tomatoes. And, if we want to get real fancy we can add some fluffy whipped feta, basil ribbons and some lemon zest. Oh my!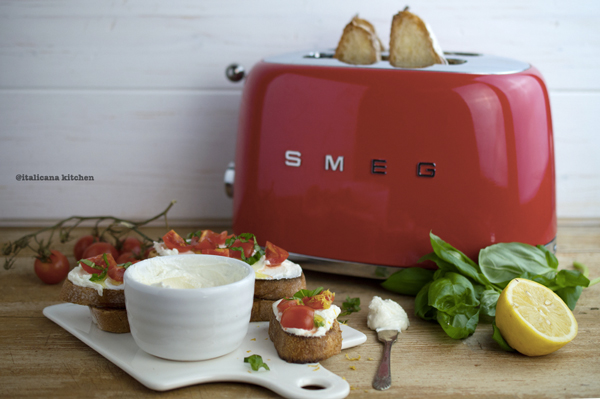 Now that you have all of those delicious ingredients, whatever you do, don't ruin this recipe by buying bad bread :: pane. That's a classic amateur mistake to Italian cooking. Italians use simple, but GOOD ingredients. Make your own bread or pick up a loaf loaf from your local bakery.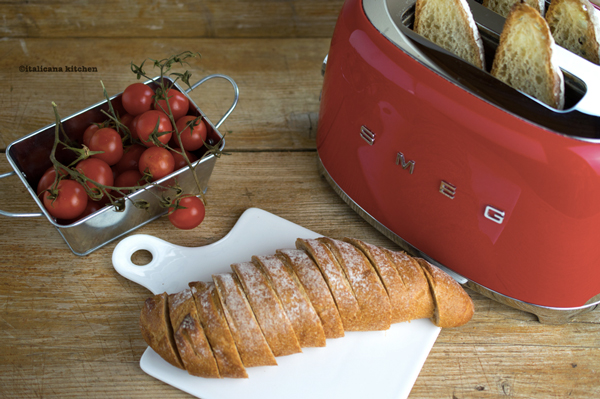 You can slice your bread and stick it on a pan to toast in the oven, or you can use your toaster to do the work. I love Smeg's. It's the first toaster that I don't tuck away in the cupboard but actually leave on my counter. Got to love gorgeous Italian design. 🙂
Bruschetta with Whipped Feta, Tomato, Basil and Lemon Zest
These delicious bruschetta with whipped feta, tomato, basil and lemon zest take less than 10 minutes to make and are sure to impress your guests.
Ingredients
1 baguette or artisanal loaf of bread
8 ounces (250g) feta cheese, crumbled and at room temperature
⅓ cup (2.6 oz, 75g) cream cheese, at room temperature
10 cherry tomatoes, quartered
1 handful of basil leaves, sliced in ribbons
Extra virgin olive oil, as needed
1 lemon, zested
Instructions
Slice and toast the bread. Put the feta and cream cheese in a food processor and blend until fluffy and homogeneous; about 3 minutes.
Spread the whipped cheese mixture on the toasted bread and top with tomatoes, basil ribbons, a swirl of extra virgin olive oil and lemon zest. Buon appetito!
Adapted from How Sweet Eats
Related posts: