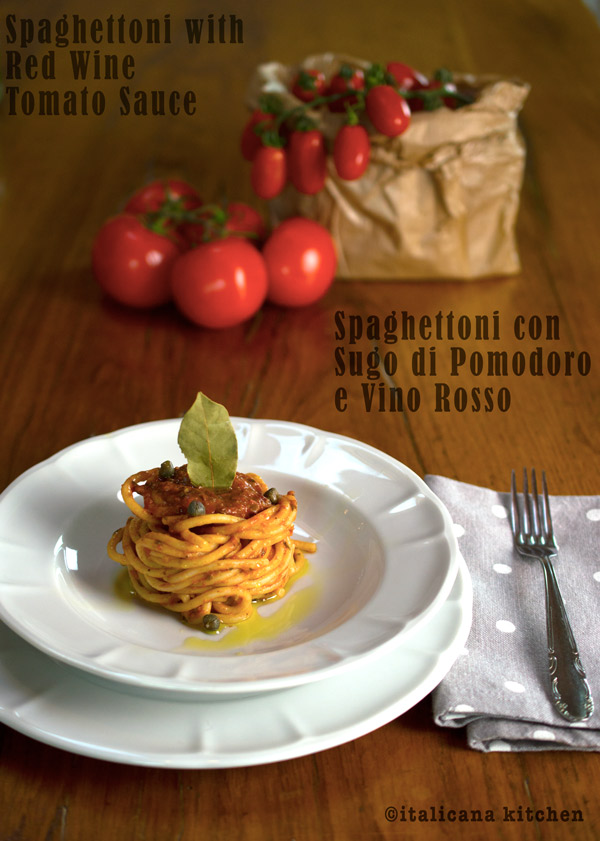 Last week I talked about the beauty of food boxes and without further ado here is the full video-recipe for Spaghettoni with Red Wine Tomato Sauce made with delicious high quality Italian artisanal products.
P.S. If you want to support small Italian artisans who have outstanding quality products head over to augustoitalianfood.com . Just for italicana kitchen followers you can get a 10% discount at checkout by entering in ITALICANAKITCHEN. Buon appetito!
Note: This post is not paid by augusto italian food. All thoughts and opinions are my own. 

Spaghettoni with a Red Wine Tomato Sauce
Spaghetti with Red Wine Tomato Sauce is a delicious Italian pasta dish that is made with high quality artisanal products from AuGusto Italian Food.
Ingredients
Extra virgin olive oil, as needed
1 garlic clove, cut into thick slices
1 shallot, cut into thick slices
400g Peeled San Marzano DOP Tomatoes
¼ cup still red wine
1 teaspoon milk
2 anchovy fillets, under oil
2 teaspoons capers in salt, desalinated
3 pinches of dried oregano
1 handful of fresh basil, chopped
Salt and black pepper, to taste
400g of Spaghettoni (or spaghetti)
Instructions
Bring a large pot of water to boil, add course salt and cook the pasta for 15 minutes.
Put some extra virgin olive oil in a large pan and over low heat, cook the shallot and garlic for a few minutes to give flavor to the oil. Discard the shallot and garlic.
Add the tomatoes and smash them in the pan with a wooden spoon. Bring to a simmer then add the red wine, milk, anchovies, capers, oregano and bay leaves. Continue to simmer for 5-10 minutes or until the sauce has thickened. Add the basil and season with salt and black pepper, to taste.
While the pasta and sauce are cooking, pour yourself a glass of wine. Drain the pasta, keeping some of the water aside in case you need to thin the sauce. Mix the pasta with the sauce until the sauce has been thoroughly distributed. Serve with freshly grated Parmesan cheese. Buon appetito!
Notes
You can also use tomatoes with the skins, but you will need to blend the sauce in a food processor before mixing it with the pasta.
Related posts: