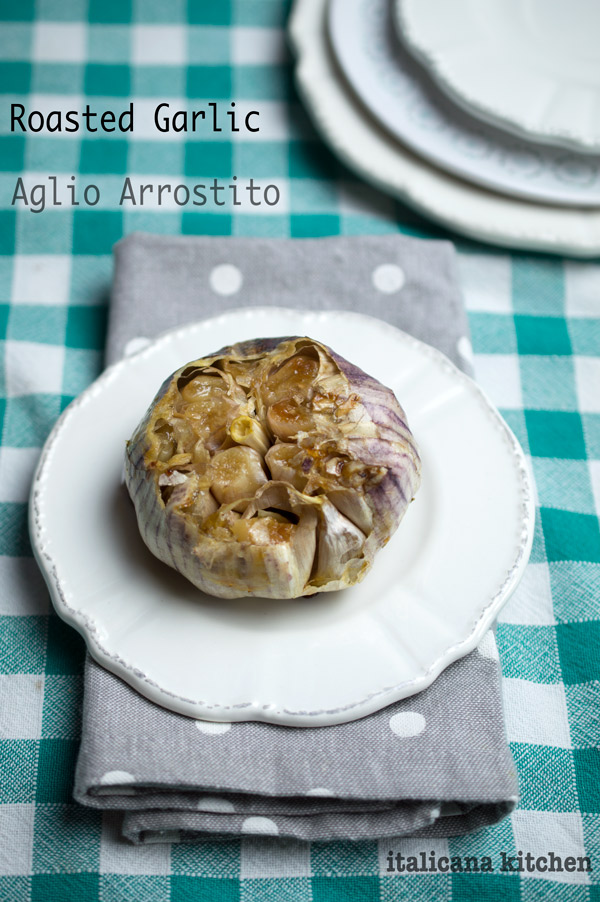 Whenever Mr. Italicano makes himself bruschetta he rubs the toasted bread with a garlic clove :: spicchio di aglio before adding a drizzle of extra virgin olive oil. He then eats it plain, sprinkled with a bit of sea salt or a few chopped tomatoes, olives or marinated artichokes.  Although the toppings may change, one thing that always remains the same is the garlic—it's a must.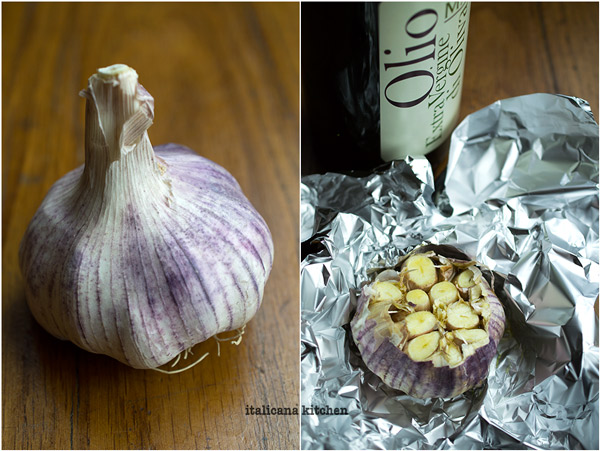 You would think that Italians, who are extreme garlic lovers, would be fully aware that by roasting the garlic first means that you don't just have to rub :: strofinare the garlic on the bread to give it some aroma, but you can actually spread the garlic on top because it becomes soft and smooth like freshly churned butter.  I thought roasted garlic was common everywhere, but to my surprise, Mr. Italicano had never even heard of roasted garlic, let alone tried it. Let's just say, he was quite the happy camper to discover it.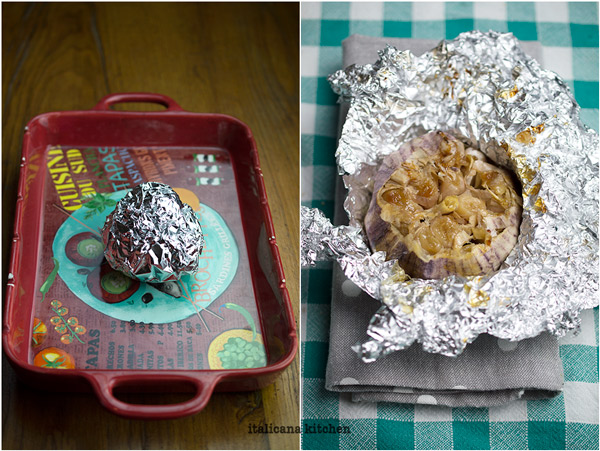 Roasted garlic isn't as potent as fresh garlic; it's like a creamy, buttery, caramelized, melt-in-your-mouth spread with a hint of garlic that is so addicting you might find yourself eating half a garlic bulb :: testa d'aglio. Which you should actually bring it on! Garlic has a ton of health benefits like fighting the common cold that circulates in this season, just to name one.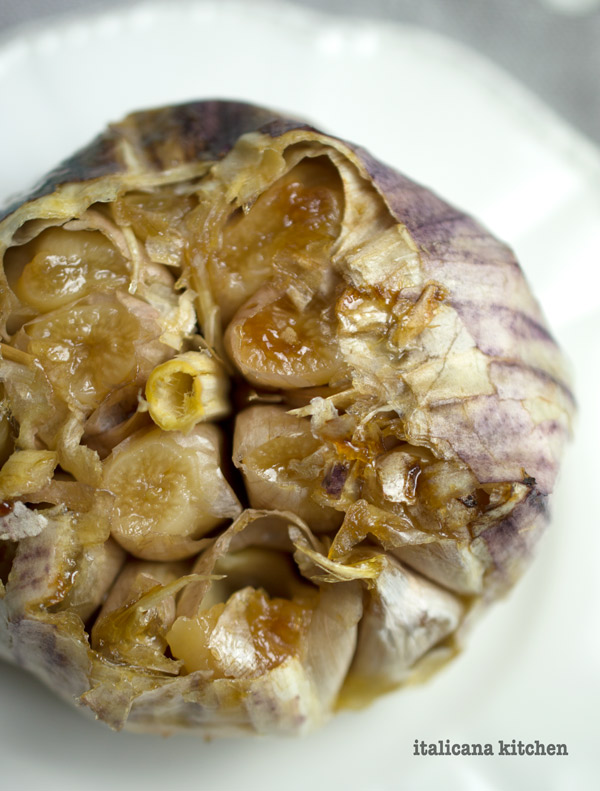 My sister-in-law :: cognata Jordan taught me how to roast garlic this way when I was in college in Seattle and would go to her and my brother Cliff's apartment occasionally on the weekends for a home cooked meal. They both are exceptional cooks and I always looked forward to dinners with them because I felt like I was in some high quality gourmet restaurant. It beat out the Top Ramen or box mac and cheese by a zillion to one.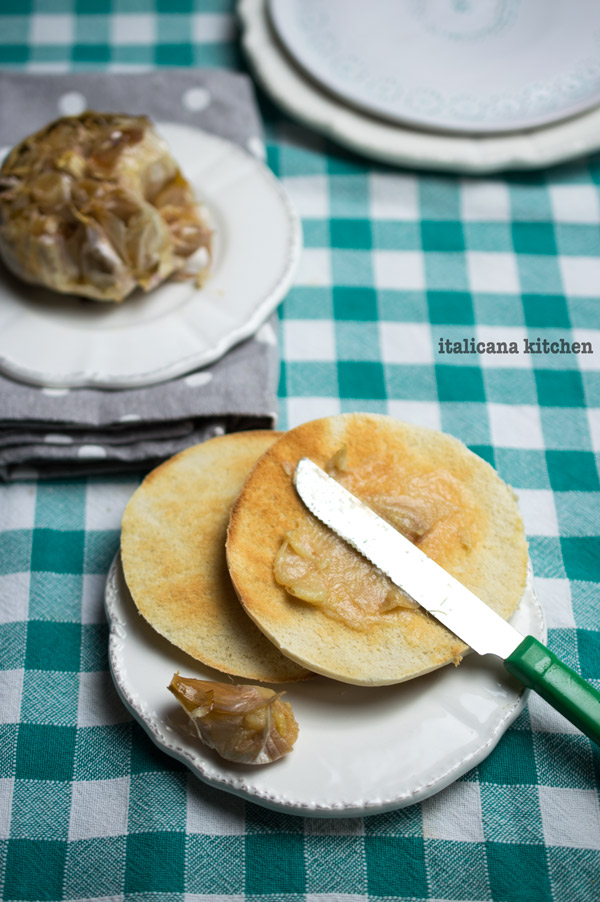 When I smelled this garlic roasting in the oven :: forno this afternoon, it brought me back to these family memories that were over a decade ago. Oh, the power of smell—how I adore you and your ability to transport me back in time, if only for a sweet and fleeting moment.
What I love about roasting garlic is how quick it is to prepare—less than 1 minute—and how elegant it is to serve, making it a fuss free appetizer you can serve at dinner parties. You can spread it on hot toasted bread, pita chips and crackers or stir it into sauces, pestos and hummus for a richer flavor sensation.  It's also perfect as a quick snack because, once cooked, you can store it in the fridge for up to a week and have it ready to slather on a piece of bread right out of the toaster.
Roasted Garlic
Roasted garlic is the perfect appetizer for the winter holidays; it's easy to make, tastes amazing and it's super healthy.
Ingredients
1 garlic bulb
Extra virgin olive oil
Instructions
Preheat the oven to 400°F (200°C). 
Peel off the outer layers of the garlic bulb then cut off ¼ inch from the top. Drizzle some extra virgin olive oil and rub it onto the cloves with your fingers. Wrap in aluminum foil, place in a casserole dish or on a baking sheet and bake for 40-55 minutes, or until the garlic clove when squeezed out of the clove comes out soft and creamy like freshly churned butter. Spread onto bread, pita chips, crackers or stir it into sauces, pestos and hummus. Store the roasted garlic in an airtight container in the refrigerator.
Related posts: