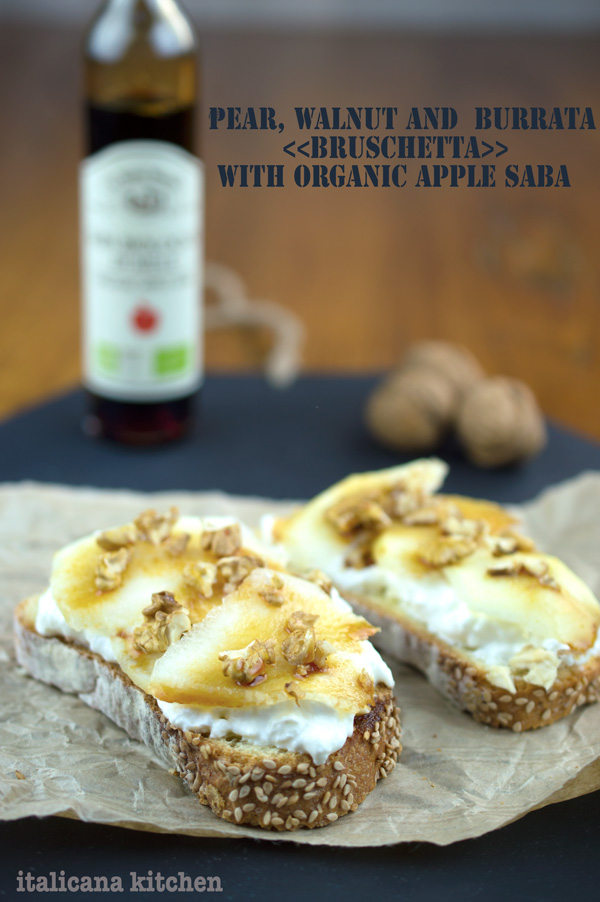 You may have used honey, maple syrup or agave nectar to naturally sweetened your baked goods or morning bowl of yogurt, but now I will tell you about apple saba, a natural sweetener :: dolcificante naturale that many of you might never have heard of but what the Romans commonly used over two thousand years ago.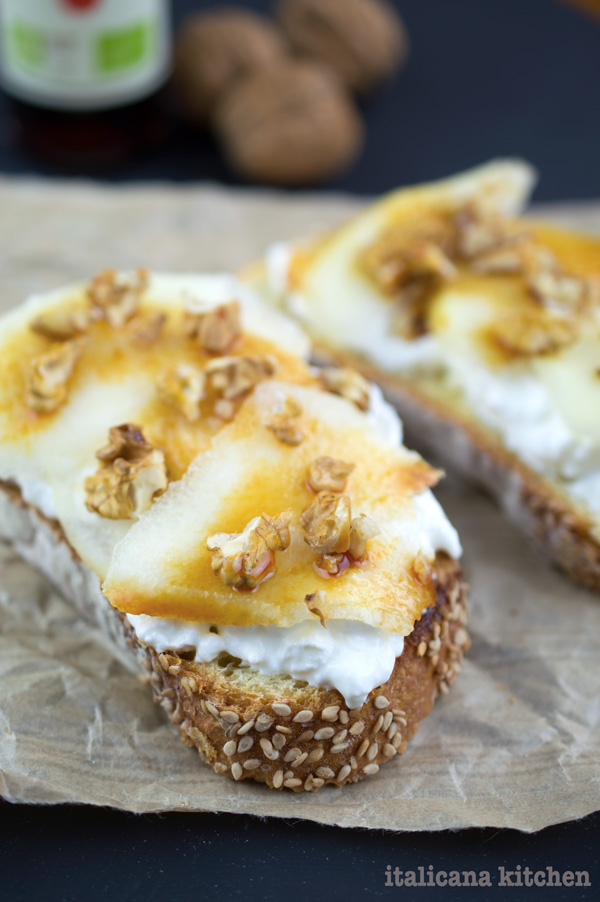 I met a lot of great artisanal producers at the Cibus tradeshow a few months back. Among them was La Vecchia Dispensa, a producer of traditional balsamic vinegars and other delicious products like fruit condiments and organic apple saba, just to name two. So, what is apple saba and how is it used? Apple saba is a thick sweet syrup made from 100% apple must. It is commonly used as a condiment drizzled over fresh cheeses :: formaggi and gelato or to naturally sweeten baked goods or pasta fillings.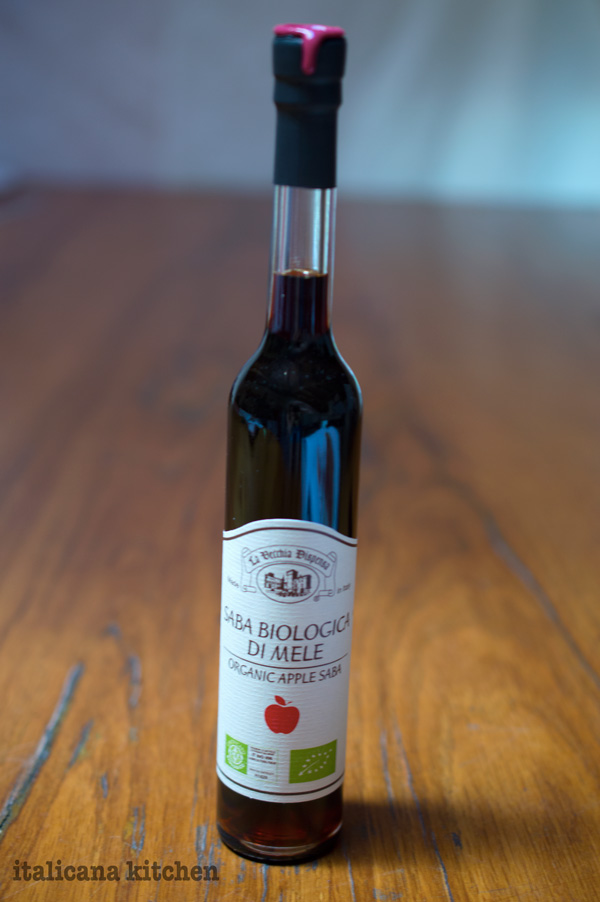 In the region of Emilia Romagna, grape saba (which is made with 100% grape must) is commonly made in-house and used to flavor ice and snow— the original and all-natural slushie or snow cone.  I remember doing this as a child as well, but our version was less healthy as we would add milk, sugar and food coloring :: colorante per alimenti to the snow. I'm glad to know that a healthier version exists and can't wait for the snow to fall to try out both grape and apple flavors :: sapori. In the meantime, I couldn't resist inventing a recipe with this organic apple saba that La Vecchia Dispensa was so kind to send me, and therefore came up with one of my new favorite bruschetta recipes: pear, walnut and burrata bruschetta with organic apple saba.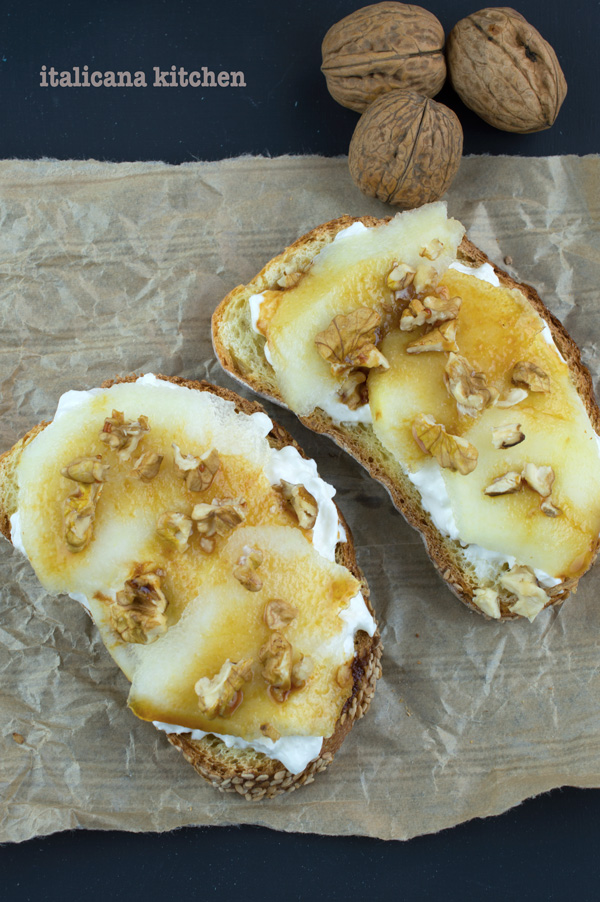 I've already eaten three of these bruschette today. One in the morning for breakfast to test out the recipe then two alongside a side salad for lunch after photographing them. You think I would be satiated? Not even close. As I write this, I secretly am thinking about toasting another slice of sesame Sicilian bread, piling it high with creamy burrata cheese, layering on a few thin pear slices, arranging walnuts :: noci on top so I have a piece in each bite and drizzling the whole delicious masterpiece with organic apple saba. Oh, I'm being tortured as I write this post. Resist, Mrs. Italicana, resist! For now, at least. Tomorrow, I know exactly what I will be having for lunch…and maybe even dinner. 🙂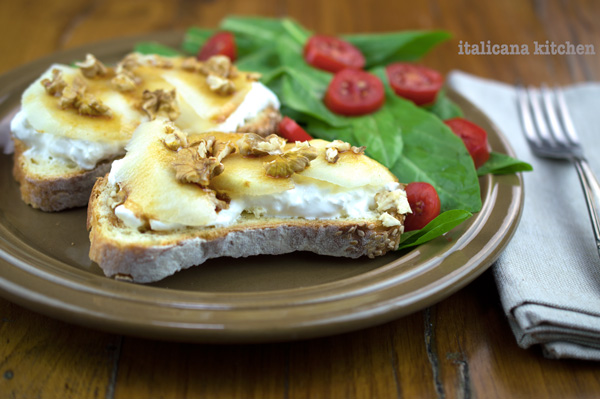 Note: This post is not paid by La Vecchia Dispensa. I promote companies who products I like and think you will enjoy. La Vecchia Dispensa was kind to give me some samples of their high quality products to use in my recipes.
Pear, Walnut and Burrata Bruschetta with Organic Apple Saba 
Pear, walnut and burrata bruschetta with organic apple saba is a delicious and healthy Italian appetizer that is also easy to make.
Ingredients
3.5 ounces (100g) burrata or stracciatella cheese
¼ pear, thinly sliced
2 walnuts, chopped
La Vecchia Dispensa Organic Apple Saba, as needed
2 slices rustic Italian bread, toasted (I used a sesame Sicilian bread which was divine)
Instructions
Divide the following ingredients in the order given on top of the two slices of toasted bread: buratta cheese, pear slices and walnuts. Drizzle the apple saba on top and serve alone or alongside a side salad.
 
Related posts: