If you have never tried roasting tomatoes, you are in for a delicious surprise. This recipe for paccheri with roasted tomatoes and ricotta is one you won't want to miss.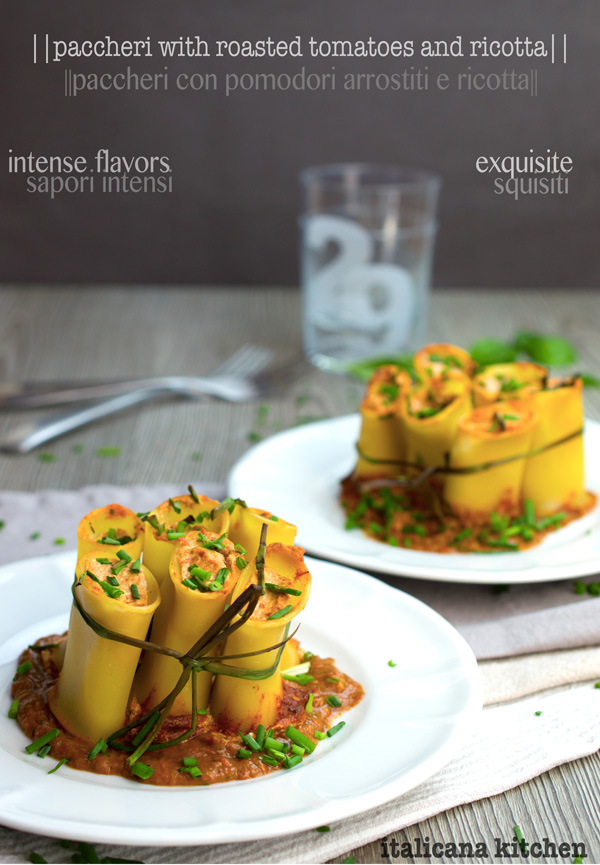 In the States, I have vivid memories of buying plump red tomatoes that were picture-perfect but tasted like…well, nothing. I remember my continued disappointment! Of course, if I took some from my mother's garden or hit the farmers market, I usually had better luck, but, let's face it—these days it's sometimes hard to find a tomato that tastes like a tomato. Even in Italy, where I usually do find juicy and flavorful tomatoes, sometimes I find some duds. In these cases, I have a natural remedy: roast them. If you never have roasted tomatoes, you are in for a delicious treat.  Roasted tomatoes concentrate the tomato taste leaving them bursting with robust flavors. They makes every dish pop and are the star in this recipe for paccheri with roasted tomatoes and ricotta.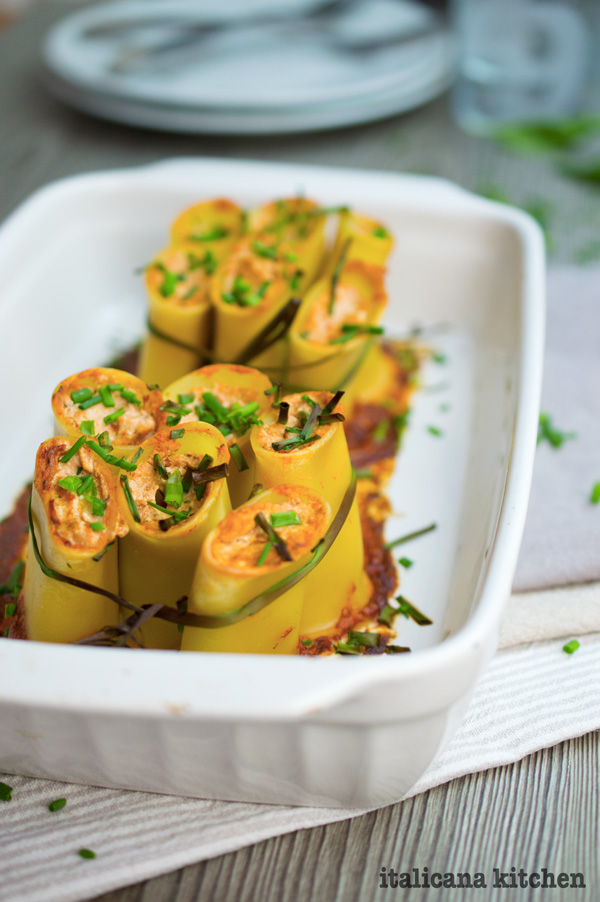 Ever since I have discovered roasting tomatoes, I have found myself adding them to a variety of dishes because they are an easy and healthy option to add flavor to most savory dishes. I used them as the base in this delicious roasted tomato and basil soup and as a topping for these double baked kale potatoes and breakfast bruschetta.  In this roasted tomato and ricotta paccheri recipe I pureed them so they blended perfectly with the ricotta cheese then used the rest to line a dish with a few spoonfuls of sauce.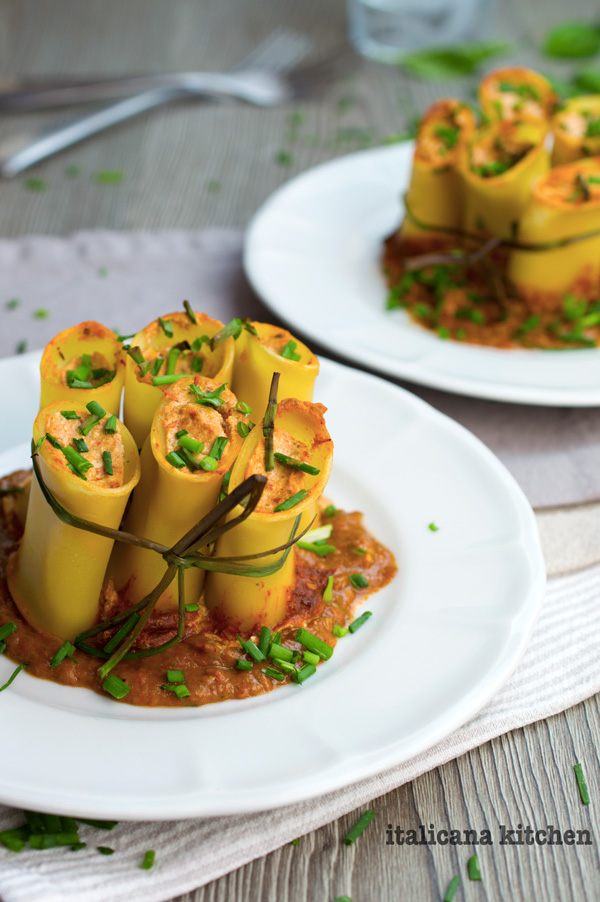 Roasting tomatoes and then freezing them is a great way to preserve tomatoes for use in the fall and winter months when tomatoes are out of season.  They will last for about 4-5 days in the refrigerator and up to 6 months in the freezer. I like to freeze them in small portions and whip out a bag at a time to make a quick pasta sauce or bruschetta with fresh herbs. There are some recipes that say to roast tomatoes at a low temperature for up to 2 hours; however, I've found that roasting tomatoes for around 40-50 minutes at a higher temperature is just as sufficient to draw out their intense caramelized flavors. (Sometimes, I even roast them for less time if I am in a hurry. Even at the 20-30 mark, they still have a strong flavor.)
Paccheri with Roasted Tomatoes and Ricotta
If you have never tried roasting tomatoes, you are in for a delicious surprise. Here's one recipe you won't want to miss.
Ingredients
For the tomatoes and sauce:
1 pound (450g)Datterini tomatoes
Salt and freshly ground pepper, to taste
2 tablespoons extra virgin olive oil
.5 ounce (19g) Arugula
10 Basil leaves
1 cup (8.9 ounces, 250g) ricotta
Chives (optional)
For the pasta:
12 Paccheri pasta
½ tablespoon course salt
Instructions
Preheat the oven to 400°F (200°C).
Line the baking sheet with parchment paper or a silicon mat. Arrange the tomatoes in one layer on top of the baking sheet. Drizzle with extra virgin olive oil and season with salt and pepper. Bake for 40 minutes or until the tomatoes are have shrunk, keeping a close eye on them so they don't burn. When you take the tomatoes out, keep the oven on.
In the meantime, bring a medium pot of water to a boil and add the course salt. Cook the paccheri pasta according to the directions on the box. Drain the pasta, let cool.
In a blender purée the roasted tomatoes, arugula and basil leaves. Scoop out 4-5 spoonfuls and spread on the bottom of a casserole dish. Set aside.
In a medium bowl, add the ricotta then pour in the rest of the tomato sauce and stir until combined.
Using a pastry bag or small spoon, fill each tube of pasta with the ricotta mixture and set the pasta tubes upright in the casserole dish. If you want, tie the tubes in groups with a chive stem and top with chopped chives.
Bake at 400°F (200°C) for 10-12 minutes or until the filling is warm and the top is slightly golden. Serve warm. Buon appetito!
A few helpful hints:
Roast tomatoes ahead of time and keep them in the refrigerator (up to 4-5 days) or freezer (up to 6 months) to whip out when you need them. If you have the roasted tomatoes on hand, this pasta recipe goes from 60 minutes to around 25 minutes.
Be sure to fill the pasta tubes completely full as the sauce sinks when baking.
If you have some ricotta filling left over, spread it on a piece of toasted bread for a quick bruschetta.
If you want to elegantly plate the pasta like in my photos, reserve a few extra spoonfuls of sauce and heat it on the stovetop in a small saucepan. The sauce baked in the oven will have a different consistency and dries out a bit more.
Related posts: