This breakfast bruschetta is my favorite recipe to get my day off on a delicious start. Packed with fresh vegetables and protein, it's my go-to breakfast when I need a lot of energy to fuel me until lunch.  This recipe is for one but can easily be multiplied for the whole family.
Notice how I created an Italian flag bruschetta?  This wasn't intentional but it did make me laugh after I had thrown together all of my favorite ingredients and the colors that dominated were red, green and white. Coincidence? Probably not, just my Italian-infatuated-mind taking control.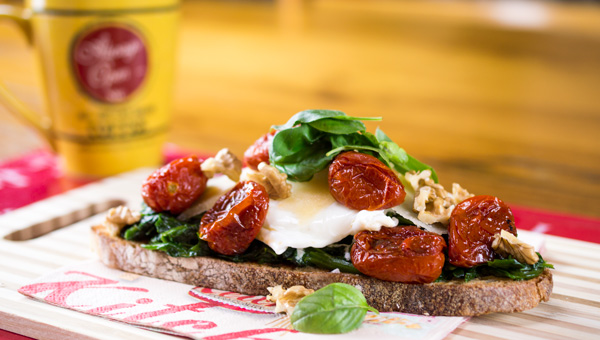 Be sure to pick up some Italian artisanal rustic bread, it really does make a difference on the overall taste. Rub the piece of bread with a clove of garlic if you like or you can skip that part and just drizzle the bread with a bit of olive oil before you stick it in the oven. Of course, if you are in a hurry you can always pop the slice of bread in the toaster.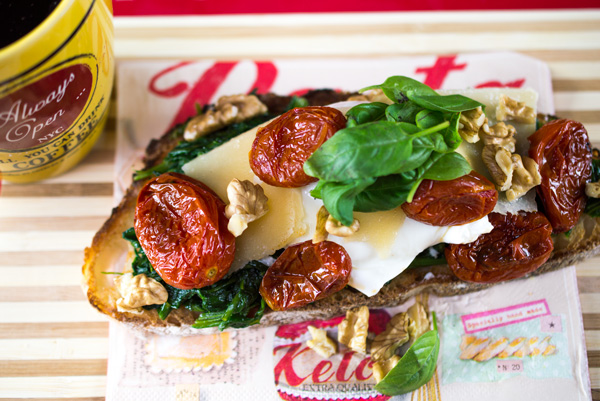 Even when tomatoes are out of season, you can get a caramelized and intensified flavor simply by roasting them. This recipe only calls for five roasted tomatoes but it seems like a lot of effort to roast such a small portion so I usually do a whole tray full and keep the extras in the fridge (up to 5 days) or freezer (up to 6 months).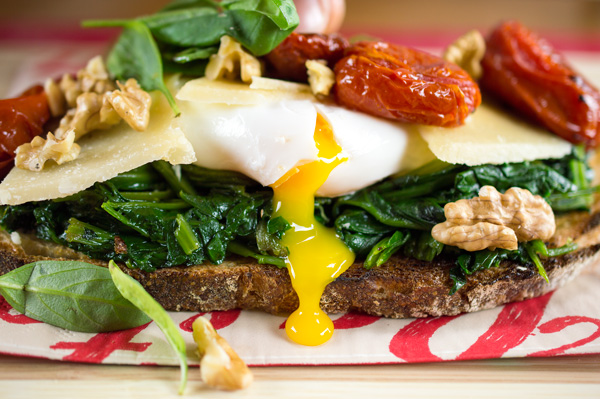 Left over roasted tomatoes are extremely versatile and can enhance the flavors of pastas, soups and sandwiches. In my gourmet grilled cheese sandwich I used fresh datterini tomatoes, but I'm sure it would be even more flavorful with these instead.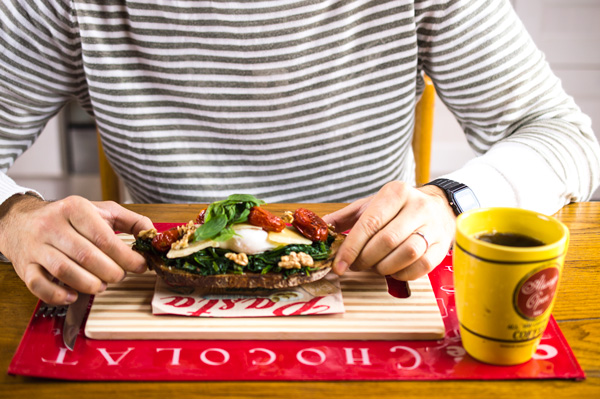 Giant green basil leaves add not only a vibrant color to the breakfast bruschetta, but also a burst of freshness. Try it out for yourself and let me know what you think!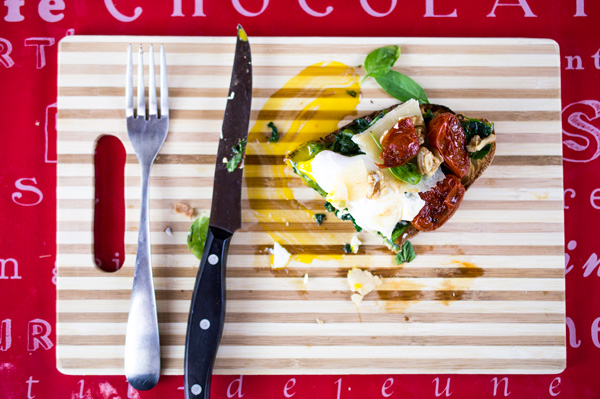 Italicana Breakfast Bruschetta
Ingredients
This breakfast bruschetta makes for a delicious start to your day. Packed with fresh veggies and protein, it will keep your energy going until lunch time.
5 datterini, cherry or baby plum tomatos
2 tablespoons extra virgin olive oil
Sea salt and pepper, qb
1 small handful spinach, washed then chopped
1 spoonful pesto
1 egg
2 slices Parmigiano Reggiano cheese (otherwise known as Parmesean)
Small handful of fresh basil
4 walnuts, shelled
1 slice of rustic bread
Instructions
Preheat the oven to 400 F.
Line a rimmed baking sheet with parchment paper, add the tomatoes, drizzle with 1 tablespoon olive oil and sprinkle with sea salt and pepper. Roast for 15 minutes. (I tend to make a large batch and keep the rest of the roasted tomatoes in the fridge (up to 5 days) or freezer (up to 6 months).
Meanwhile heat a small sauce pan with water over high heat.
In a small pan heat 1 tablespoon olive oil over medium heat. Add the spinach and saute' until wilted, about 5 minutes. Stir in the pesto.
Once the water has boiled add a pinch of salt then reduce to a simmer. Gently crack in the egg. For a super runny egg, cook for about 2 minutes. For an egg yolk that is slightly runny it will take 3-4 minutes. With a slotted spoon life up the egg and gently wiggle to see if it is at the right consistency. You can tell by how much the yolk wiggles and if the egg white firms up. If it's not, return it to the pan and cook for another minute. When the egg is done, take it out with a slotted spoon and let it drain for a few seconds over the pan. Gently blot with a paper towel.
Toast the bread in the toaster or stick it into the warm oven for a few minutes. I usually rub with garlic and drizzle with olive oil before putting it in the oven, but you can also skip this step.
Now we're ready to stack the bruschetta. Place the warm bread on a plate. Add the spinach and the poached egg followed by the cheese, roasted tomatoes, basil and walnuts. Season with additional salt and pepper and enjoy!
Related posts: