These no-bake chocolate and raspberry tartlets are the perfect dessert for chocolate lovers.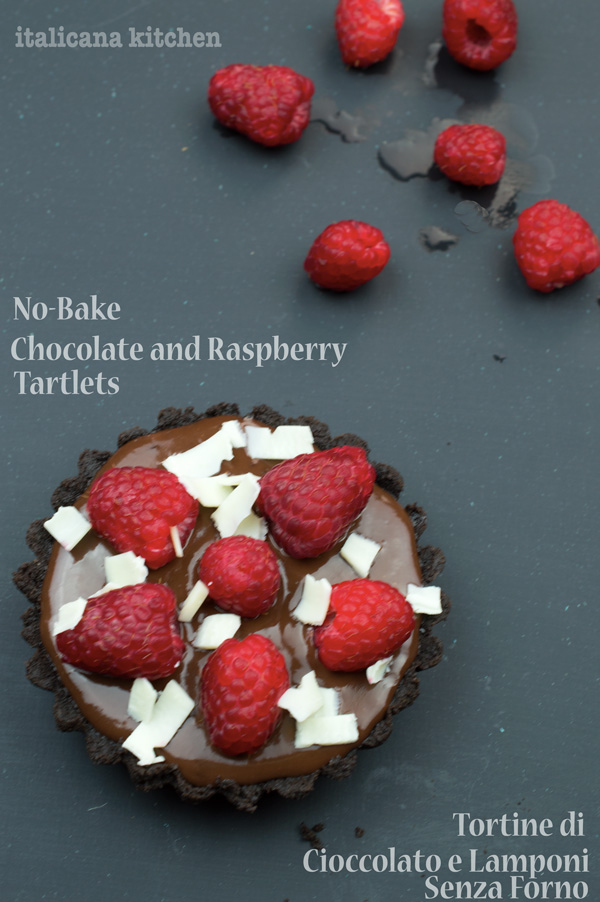 Rich dark chocolate combined with sweet raspberries create the perfect flavor combination in these no-bake chocolate and raspberry tartlets.  This ultra-chocolatey dessert is perfect for your next girl's night in, book club meeting or Sunday lunch and are bound to make a good impression, or as they say in Italian, "fare una bella figura."  Just look at how cute they are!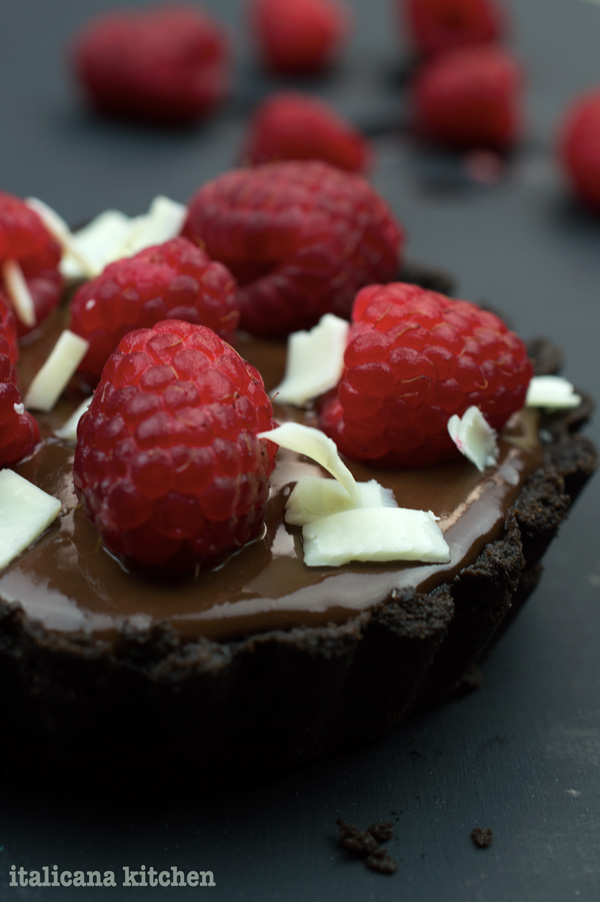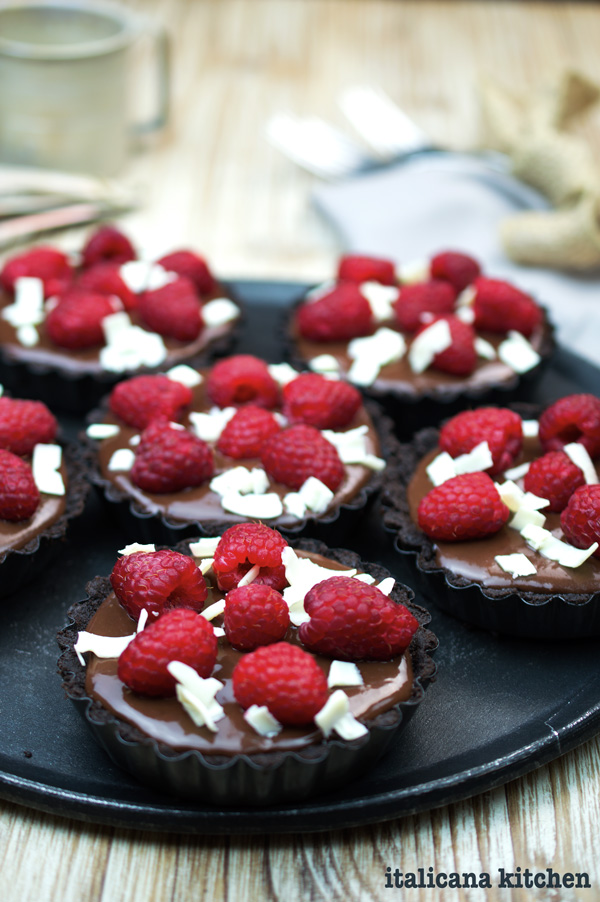 I rarely use processed foods, but I guiltily adore the taste of Oreo cookies. Everything in moderation, right?  So, what can be more heavenly than these childhood cookies ground finely and packed in little tart pans to create a cookie crust, which is then filled with a velvety chocolate and raspberry :: lamponi ganache and topped with fresh raspberries and white chocolate shavings? In two words: chocolate divinity.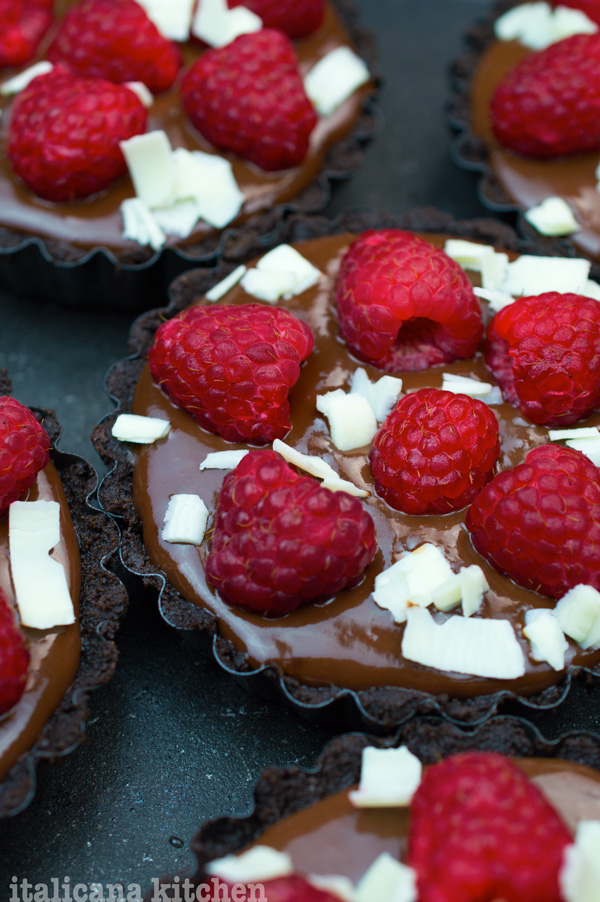 Aside from their deliciousness, the best thing about these tartlets is that there is no baking required.  Just pop them in the fridge for an hour :: un'ora to set, then they are ready to devour!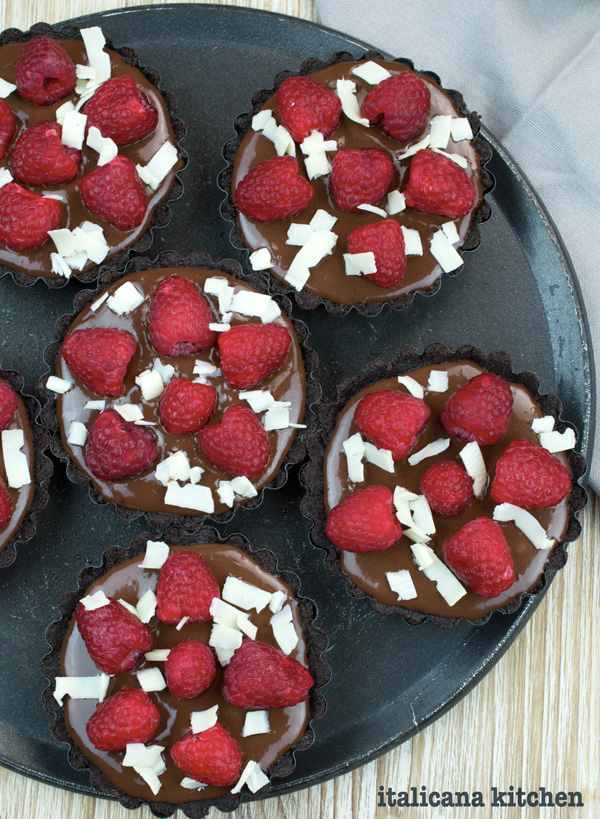 No-Bake Chocolate and Raspberry Tartlets
These no-bake chocolate and raspberry tartlets are the perfect dessert for chocolate lovers. 
Ingredients
For the Crust:
32 Oreo cookies
6 tablespoons (85g) butter 
1 ounce (28g)  dark chocolate
⅛ tsp sea  salt 
Dash of cinnamon
For the ganache: 
7 ounces (198g) dark chocolate, chopped
1 cup (236ml) heavy whipping cream
½ teaspoon pure vanilla extract
½ cup (75g) raspberries, puréed
1 pint fresh raspberries, rinsed and dried
White chocolate shavings, qb
Instructions
For the crust: 
Finely grind the cookies in a blender or food processor. 
Over low heat, melt the butter and dark chocolate in a bain-marie or in a microwave dish for 1 minute stirring every 15 seconds until melted. 
Stir in the sea salt, cinnamon and cookie crumbs; mix until the cookie crumbs are well moistened. 
Distribute the mixture among the six  4 inch (10cm) tarlet pans. Using a flat bottom measuring cup or drinking glass, press down firmly so the crust is packed on the bottom and the sides of the pans. Store in the freezer for 10 minutes. 
For the ganache: 
Over low heat, melt the chocolate with the the whipping cream in a bain-marie. Be careful not to let the mixture boil. Remove from heat and add the vanilla extract and puréed raspberries. 
Take the tarlet crusts out of the freezer and evenly divide the ganache among the 6 tartlets. Refrigerate for 15 minutes then top with fresh raspberries and white chocolate shaving and return to the refrigerator for at least one hour. Store in the refrigerator and consume within 4-5 days. Buon appetito! 
Adapted from Love and Olive Oil
Related posts: