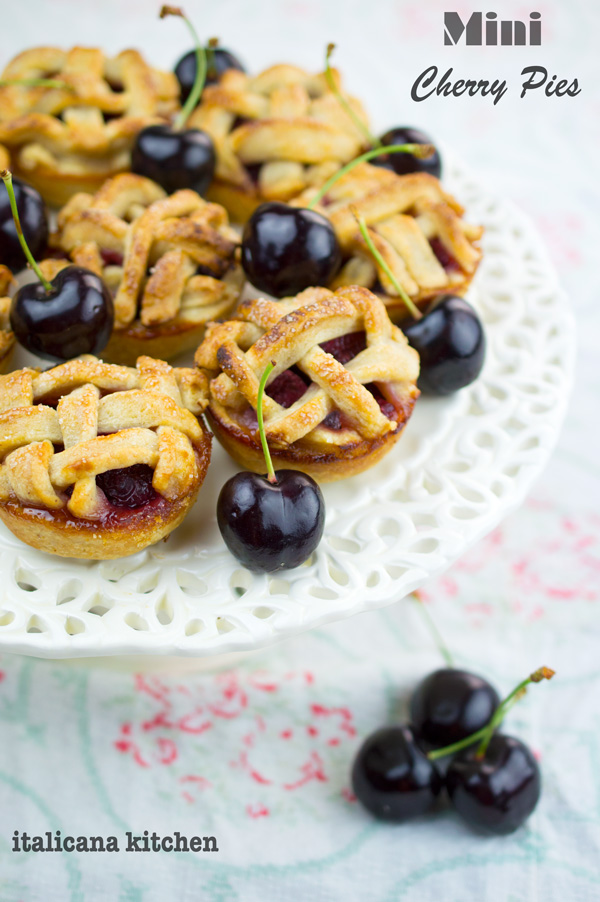 I am so behind! I made these delicious mini cherry pies a few weeks ago and have yet to write about them. Where does the time go? Before too long cherries will be out of season and I'll have to update the recipe with mini apple pies. Speaking of which, that's not a bad idea. I'll have to add it to my list. Although I haven't tested their baking times, you could experiment with any kind of fruit filling :: ripieno di frutta like blueberries, apples, peaches or rhubarb. If you do use another filling, let me know how they turn out and if you needed to adjust the baking time.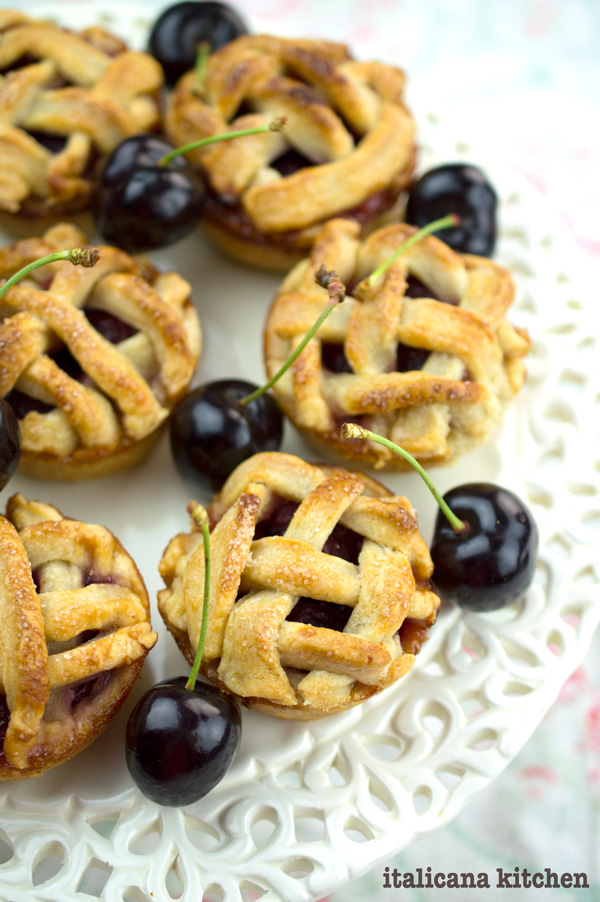 I've seen a lot of markets and grocery stores :: supermercati slashing prices on cherries.  If you've taken advantage of a good deal but now are staring at a box (or boxes) of cherries and don't know what to do with them all, these mini cherry pies are a great solution. Of course, you could could easily make a regular pie and call it a day; but, there is something about "mini" things that just are more appealing.  Take my little Fiat 500, for example. It's cuteness factor increases just for being so small. (Although, I'm sure if I drove this in the states a lot of truck drivers would laugh at the lego car on the road! I should have really taken the photo with me next to the car so you can get a feel for how tiny it is.)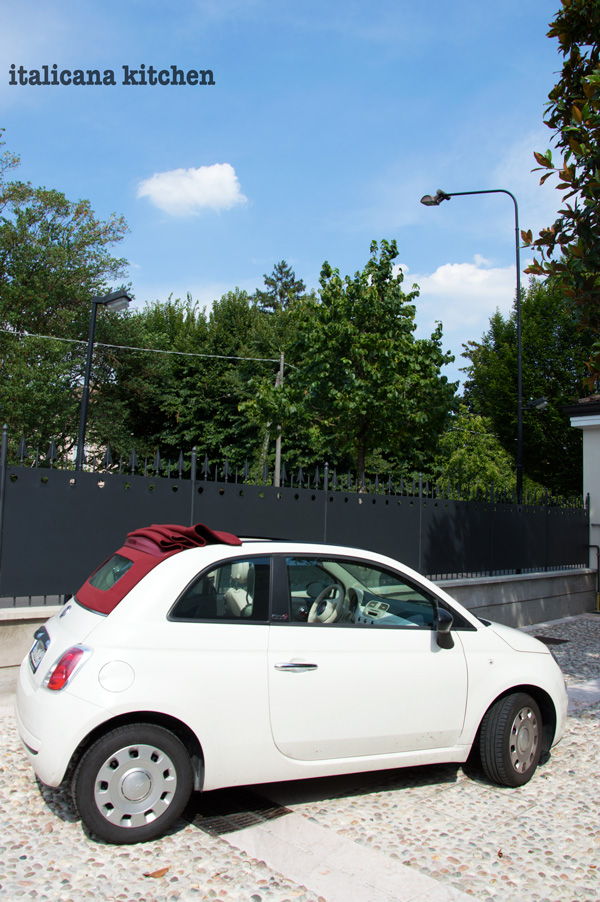 Although these mini cherry pies ::  tortine di ciliegie require a bit more time in the kitchen due to their cute little lattice tops, it's definitely worth it—especially if you have guests you want to impress. I mean, who doesn't want a pie all to themselves? You get that same rush of happiness you do on your birthday when you know that someone made something special just for you. I served these mini cherry pies with fior di latte gelato, which is basically a neutral white gelato.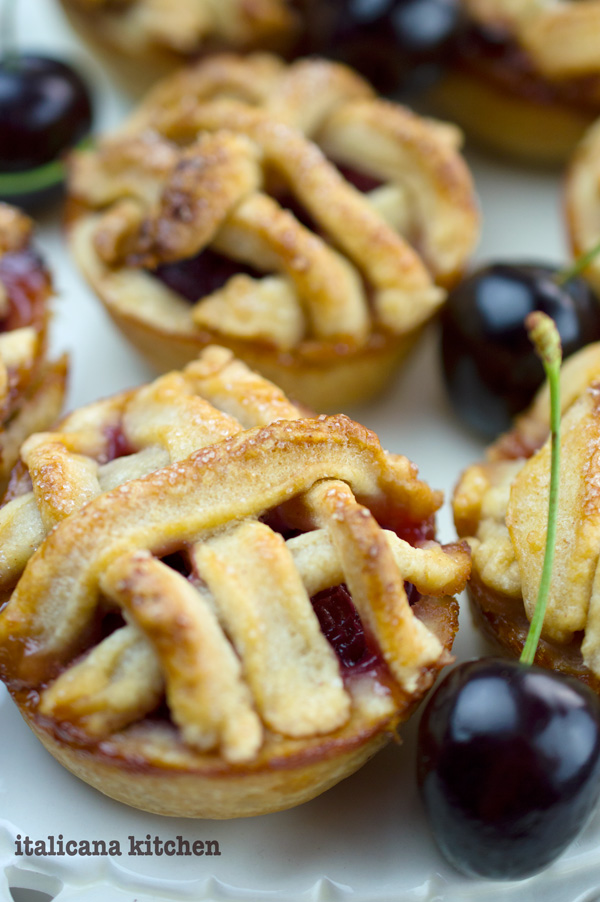 The classic vanilla would of course accompany these perfectly, and for an extra splash of flavor add a dash of aged balsamic vinegar or sprinkle a bit of cinnamon :: cannella on top. Buon appetito!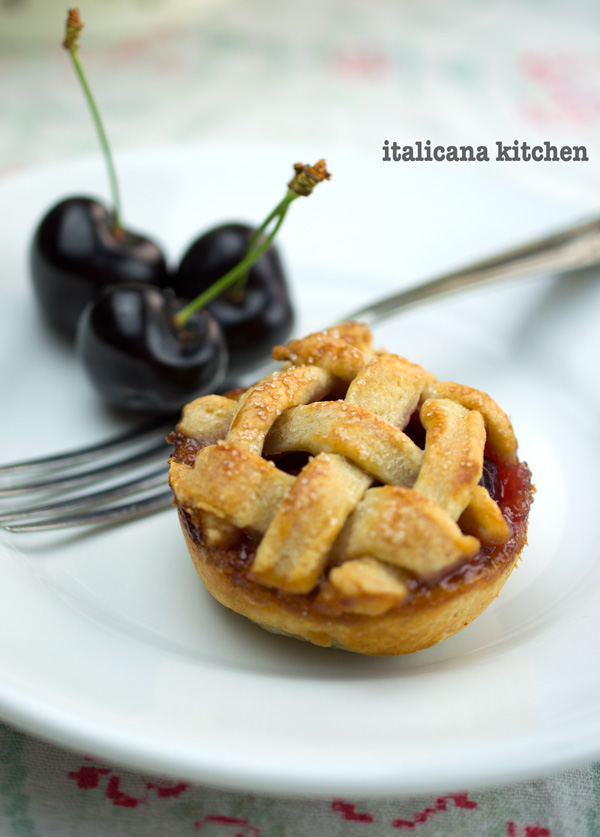 Mini Cherry Pies
These mini cherry pies are perfect for BBQ's and potluck dinners. You don't even need silverware or plates to serve them. Just pick one up and take a bite!
Serves:
12 mini cherry pies
Ingredients
For the crust:
½ cup (118ml) soy milk 
½ tablespoon (7.4ml) white vinegar
1½ (225) cups  kamut flour
1 cup (125g) all purpose flour
1 teaspoon (5g) sea salt
1 tablespoon (13g) sugar
1 teaspoon (2.3) cinnamon
1 cup (226g) cold unsalted butter
3-4 tablespoons (45-60ml) vodka
For the filling: 
3 cups (about 1 pound, 500g) bing cherries, pitted and halved
2 teaspoons (10ml) lemon juice
¼ cup (50g) sugar
pinch of sea salt
1½ (13g) tablespoons cornstarch
½ teaspoon (2ml) pure vanilla extract 
½ teaspoon (2ml) almond extract 
Dash of cinnamon 
For the egg wash:
1 large egg white
1 tablespoon (15ml) water
Raw sugar, qb
Instructions
Measure out the soy milk and add the vinegar to create homemade buttermilk. Store in the refrigerator.
In a large bowl, whisk together the flours, salt, sugar and cinnamon. 
Cut up the butter into small pieces and add it to the bowl. Mix. (Easiest if using a pastry cutter, but I just used a rubber spatula.) 
Add the buttermilk and vodka. Mix until the dough starts to stick together. Add water by the tablespoon, if necessary. Divide the dough into 2 balls, wrap each ball in plastic and flatten slightly to form a disc. Refrigerator at least 1 hour or up to two days. 
In the meantime, make the filling. In a medium bowl, combine the cherries, lemon juice, sugar, salt, cornstarch, vanilla extract, almond extract and cinnamon. 
When the dough is ready, preheat the oven to 400°F (204°C). 
Take out one disc of dough and place on a floured workspace. Roll out the dough until it is around ¼-inch thick. Flour a round cutter or top of a glass/jar (about 3½ inches round) and punch out 6 circles. Place the circles in the in an ungreased muffin tin and slightly press down the sides. Gather the scraps and wrap in plastic wrap and store in the freezer. Take out the other disc and repeat the process so that the muffin tin is full. Cut the remaining dough into 48 narrow strips, use the chilled dough in the freezer if necessary. 
Divide the filling among the 12 muffin cups. Put four strips on each muffin and weave together in a lattice pattern. Trim and press the edges together to seal each cup. 
In a small bowl, whisk egg white and water together and brush over the lattice tops. Sprinkle with raw sugar. 
Bake for 30-32 minutes. Cool mini pies on a wire rack for at least 30 minutes before sliding them out of the muffin pan. (I used a knife to prop them up and they easily came out). 
Note: If you have extra dough, you can make cinnamon and sugar sticks. Simply cut it into strips, twist into a spiral and lay on a cookie sheet with parchment paper. Combine a bit of sugar and cinnamon, sprinkle on top and bake at 400°F (204°C) until the top is golden brown and the inside well cooked. 
Adapted from: Tutti Dolci
For another mini dessert, check out these adorable and delicious Blueberry and Oreo Mini Cheesecakes!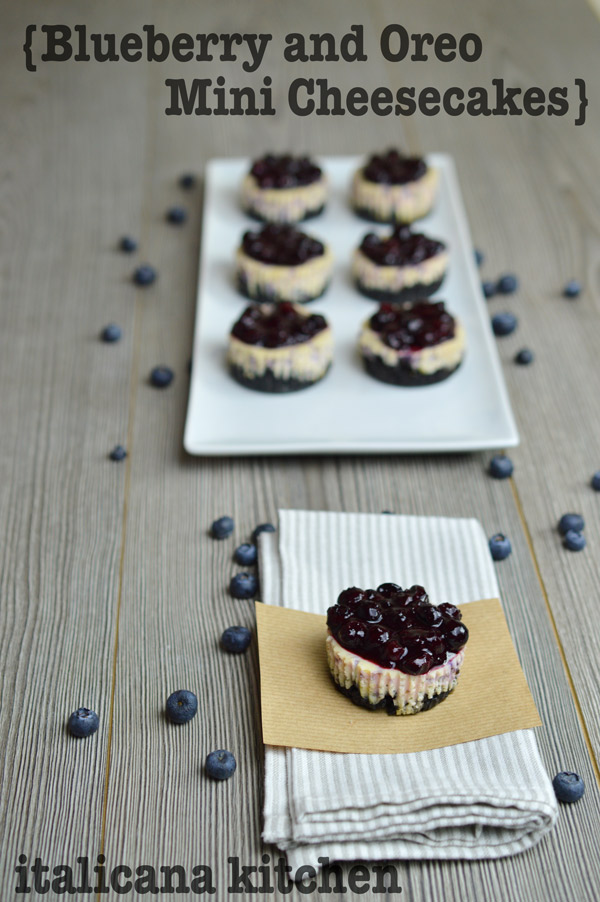 Related posts: