If you want to make a gourmet looking dessert that is easy to do, definitely give these Blueberry and Oreo Mini Cheesecakes a whirl. It's a perfect dessert for your upcoming Super Bowl party.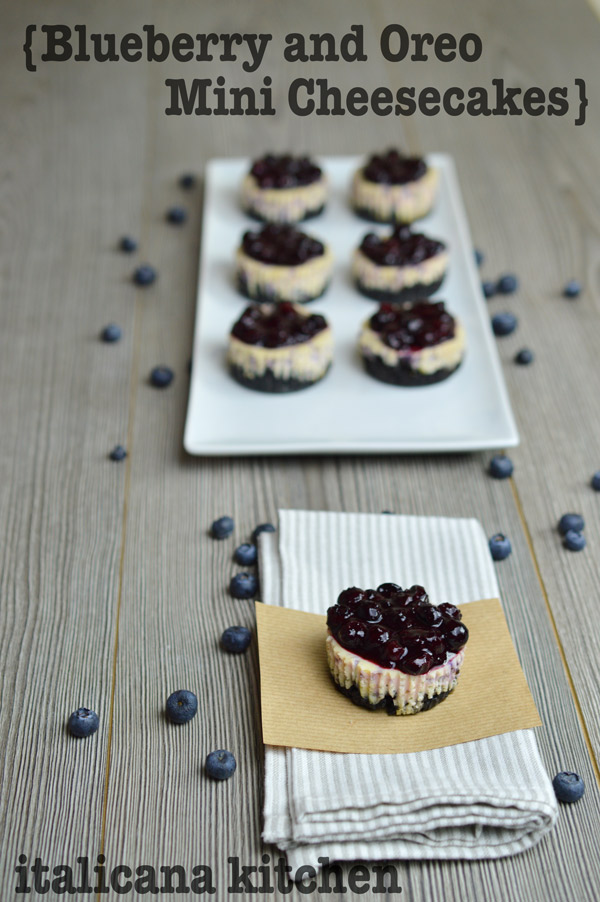 I made these about a month :: mese ago for Mr. Italicano's birthday :: compleanno and I'm now craving to make them again…they were ridiculously delicious. Mr. Italicano doesn't have a big sweet tooth so my options for his birthday cake were: gelato, cheesecake, gelato, or cheesecake. This time cheesecake was the winner.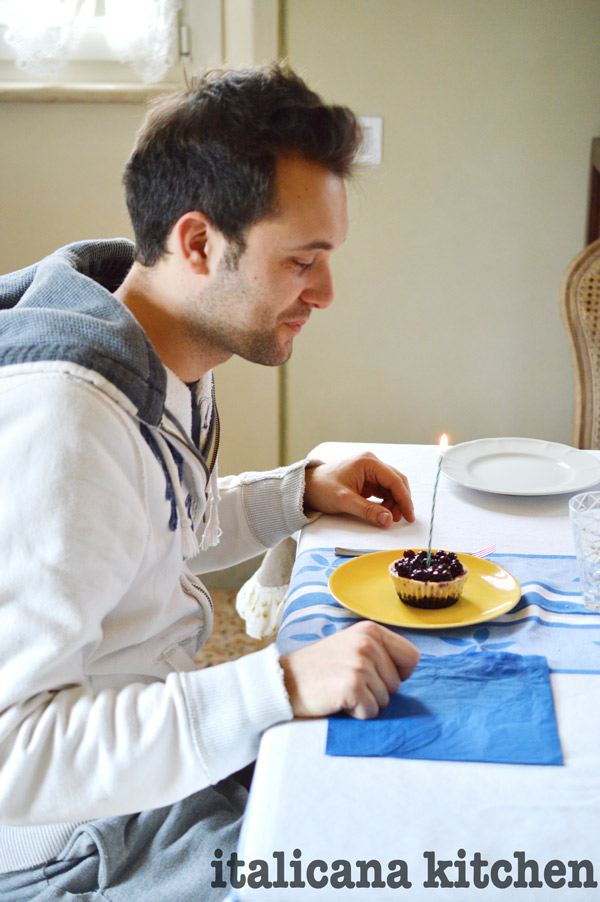 Although, we really do love gelato too so it was quite a hard decision. For our wedding :: matrimonio we "scooped the gelato" instead of "cut the cake," that's how much we love it….in other words, we're pretty much obsessed. Good thing we live in Italy where there are 5 gelato shops around our house :: casa in less than a 1 mile radius.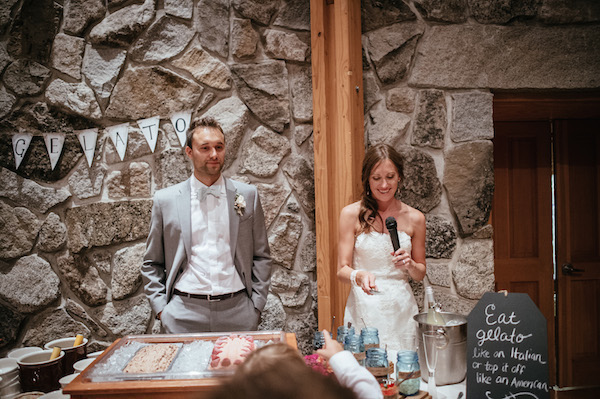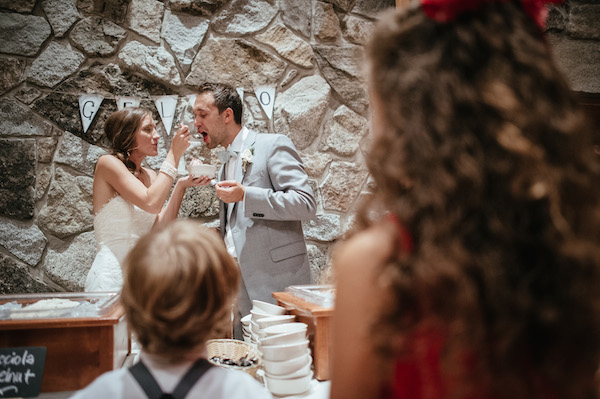 The blended Oreos make the perfect crust :: base for these mini cheesecakes.  I am a big fan of combining fruit with chocolate, then if you add a silky rich middle layer to the dessert, well, you've got yourself a bite of heaven :: paradiso.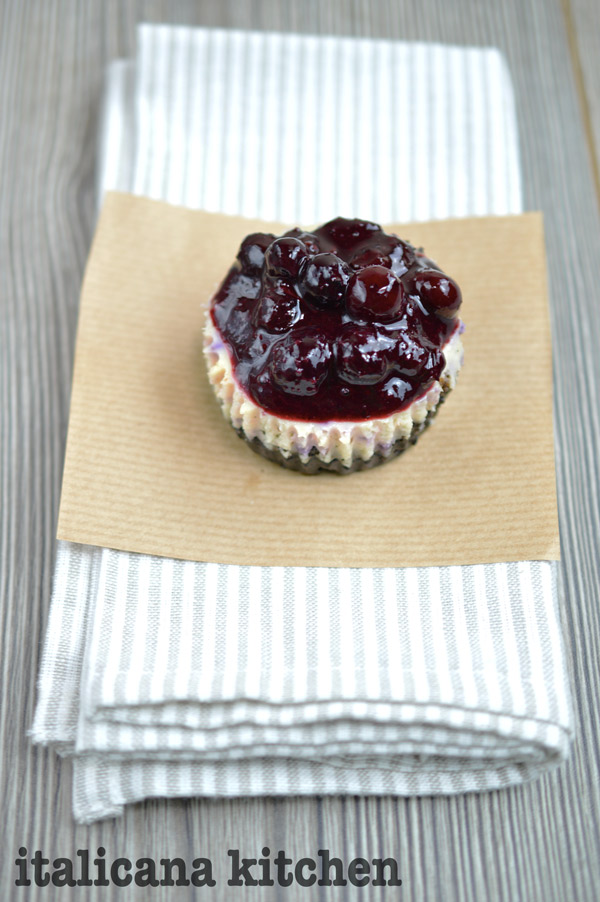 Mini desserts rock.  Somehow you just don't feel as guilty by eating one…or two *cough*. These Blueberry and Oreo Mini Cheesecakes are also easier to serve at a party :: festa or BBQ than a regular sized cheesecake. Just set them out and people start snagging them up. No dirty plates. No dirty silverware. No cleanup. You can eat them with your hands :: le mani. *Love.*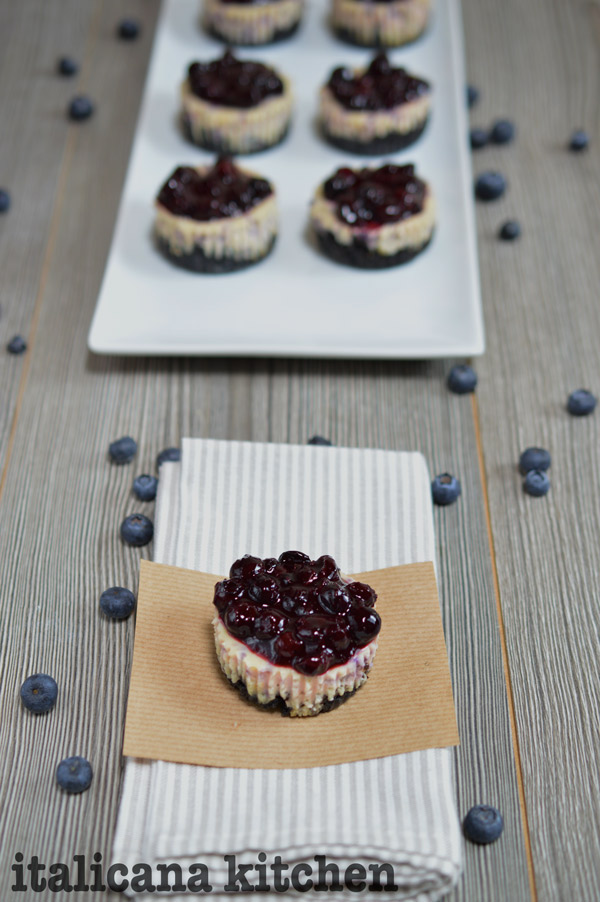 You can continually vary this recipe in many ways: use strawberries, raspberries, huckleberries or other fruit :: frutta.  Or, of course if you want something more rich, top with caramel or chocolate. The options are truly endless.  You can also skip the extra step of making a blueberry purée and just make a plain cheesecake filling :: ripieno.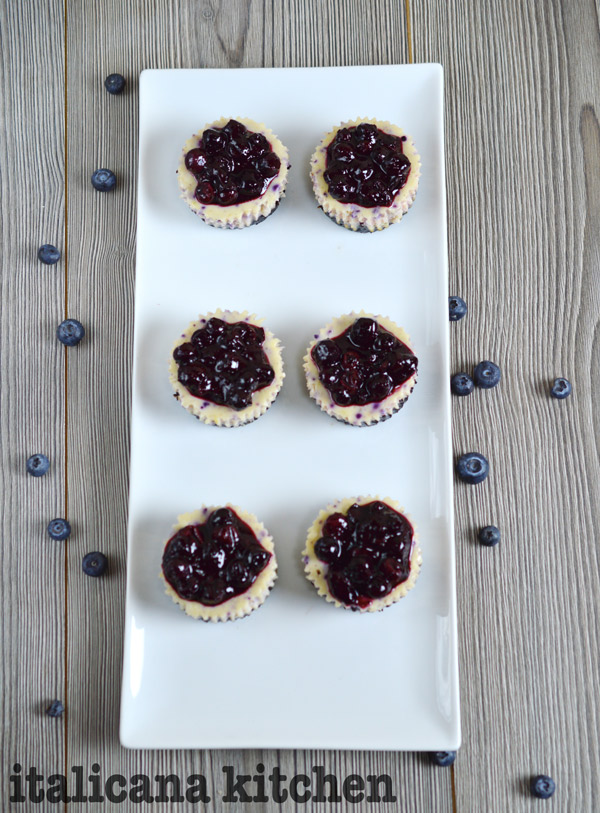 You can use regular graham crackers for the crust, although, I'm telling you, this oreo-cheesecake-blueberry combination is to die for.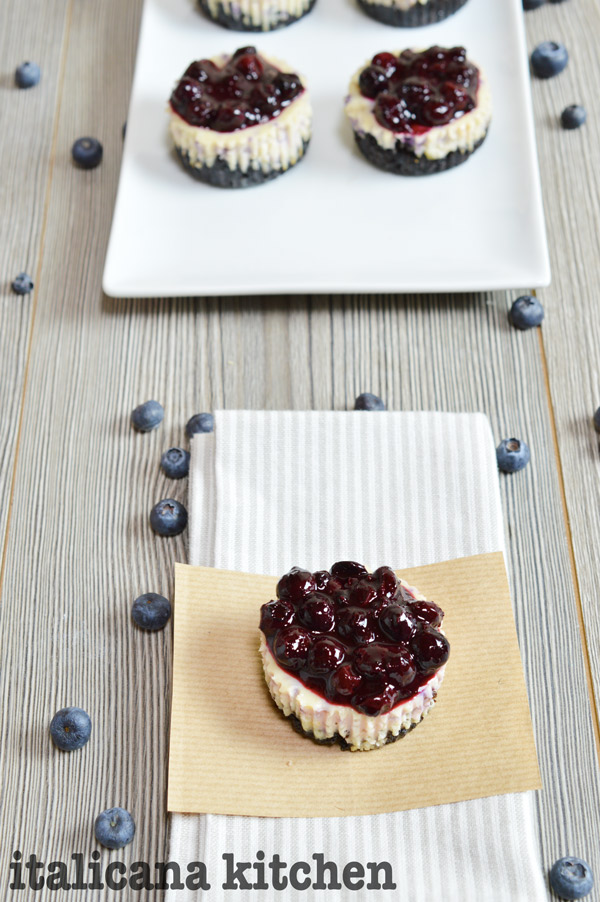 As they say in Italy, Buon appetito!

Blueberry and Oreo Mini Cheesecakes
If you want to make a gourmet looking dessert that is easy to do, definitely give these Blueberry and Oreo Mini Cheesecakes a whirl. It's the perfect dessert for any party or BBQ.
Serves:
16 mini cheesecakes
Ingredients
For the Oreo crust:
2 cups blended Oreos (approximately 27 cookies)
2 tablespoons butter (28g), melted
1 teaspoon (2g) ground nutmeg
For the cheesecake filling:
¼ cup (48g) blueberries
2- 8oz (about 500g) light cream cheese, room temperature
½ cup (125g) plain yogurt
1 cup (200g) granulated sugar
1 tablespoon lemon juice (1/4 medium sized lemon)
Zest of half a lemon
Dash of salt
Seeds from ½ vanilla bean or ½ teaspoon (2g) vanilla extract
2 large eggs, room temperature
½ tsp (1.5g) flour
For the Blueberry Sauce:
1 cup (190g) blueberries, divided ¾ cup (142g) ¼ cup (48g)
½ teaspoon (2.5g) cornstarch
1 tablespoon (15ml) water
2 tablespoons (22g) blueberry jam (optional)
Instructions
For the Oreo crust:
Preheat the oven to 325°F then line cupcake pans with liners.
In a blender, pulse the Oreos until they are ground together. Pour the blended Oreos in a small bowl and add the melted butter and nutmeg. Mix until well combined.
Divide the Oreo mixture among the cupcake liners and press down with the back of the spoon. Bake for 5 minutes then remove from the oven and set aside.
For the cheesecake filling:
In a blender, pulse the blueberries until they are a purée. Set aside
In a large bowl mix together the cream cheese, yogurt, sugar, lemon juice, lemon zest, salt and vanilla with a spatula.
Stir the blueberry purée into the cream cheese mixture and stir until combined.
Stir in 1 egg at a time, then the flour and mix until just combined. Do not over mix.
Divide the batter among the cupcake liners.
Bake for 22-25 minutes, or until the filling is set.
Cool completely on a wire rack before chilling in the refrigerator for at least 4 hours (can also be made ahead and chilled overnight.)
For the blueberry sauce:
With the back of a fork, smash ¼ cup of blueberries.
Transfer the blueberries to a small saucepan and add the cornstarch, water, blueberry jam and the rest of the blueberries. Heat on low and stir occasionally.
Continue to cook until the sauce starts to thicken and simmers for a few minutes. Remove from heat and transfer to a glass jar. Let the mixture cool at room temperature before chilling in the refrigerator.
To serve:
Take the mini cheesecakes out of the refrigerator and keep them at room temperature for 5 minutes before serving.
Top with the blueberry sauce and enjoy!
Adapted from
Hearts in My Oven
Related posts: