Yes! Gluten-free mini blueberry muffins that actually taste amazing!
Guys, you are going to love these. Whether or not you follow a gluten-free diet or you just want to mix up your diet with other healthy flour substitutes, these gluten-free mini blueberry muffins are so delicious that you will be too busy having a second one to even think about "normal" muffins.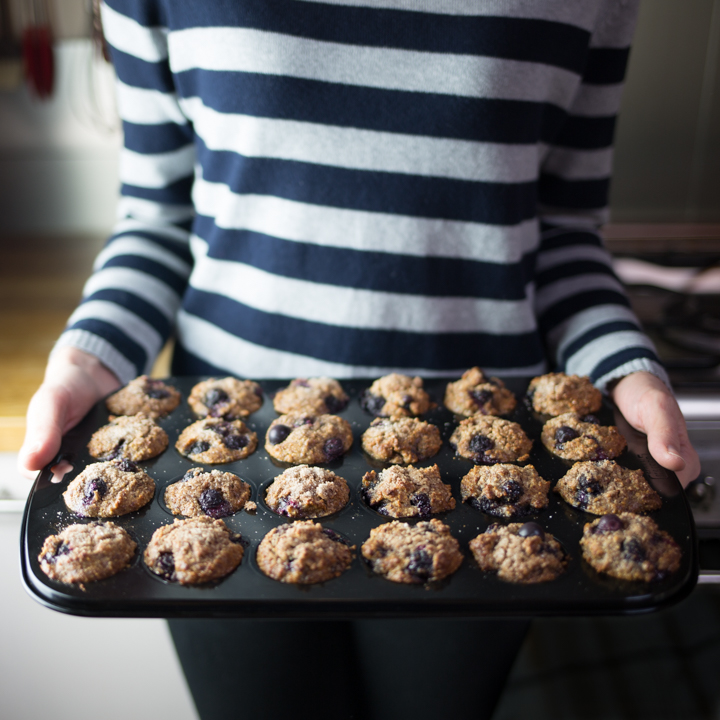 What I love about these muffins is that they are made with almond meal (just throw raw almonds in your blender or food processor and blend until it because a crumbly flour.) Almonds— and all nuts in general—are one of my favorite go-to snacks. Why? Just a handful of almonds give me a boost of energy throughout the day and they are full of healthy fats, fiber, protein and all sorts of other nutritional benefits. I always bring them with me when I go hiking or on road trips. And, I love topping almonds in my salads or making almond butter to swirl in my smoothie or grain bowls.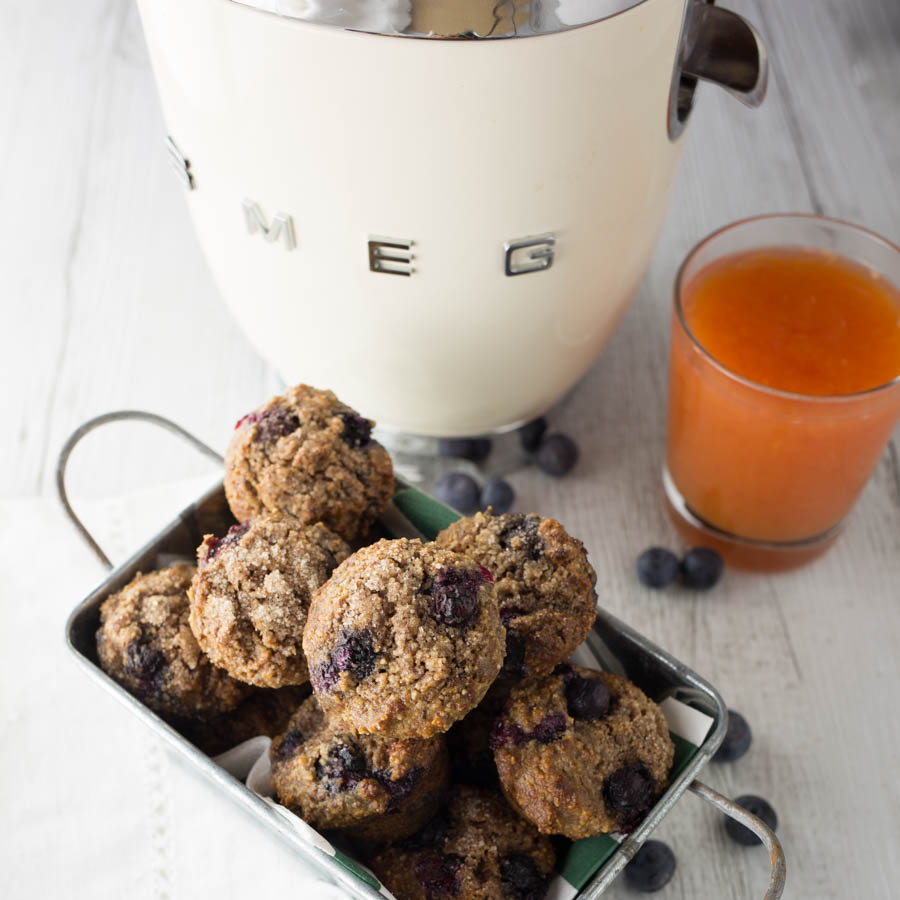 When I was a kid, my mom always had a wooden bowl full of nuts. Not the already shelled kind that I usually have in my cupboards, but a bowlful of almonds, walnuts, hazelnuts and Brazilian nuts to actually crack. Surely you've seen the shells of walnuts, but have you ever seen the shell of an almond? With its tan oval shape and tiny little holes, it looks like its made out of cork. Or, how about a hazelnut shell? It looks like an acorn missing its little top. Then there is the peculiar Brazilian nut shell with its brown rugged surface that seems like a chunk  of washed up wood that you'd find at the beach. All so distinctive and unique, all so delicious too.
Gluten-Free Mini Blueberry Muffins
These gluten-free mini blueberry muffins are made with almond meal and are a great breakfast or snack filled with a good source of protein and fiber.
Ingredients
3 cups (330g) cups almond meal
¼ (1g) tsp salt
½ tsp (3g) baking soda
1 tsp (2g) cinnamon
1 tablespoon (12g) chia seeds
2 tbsp (45g) honey
¼ cup (50g) melted coconut oil
½ cup almond milk
3 organic eggs
1 cup (150g) fresh blueberries
2 tablespoons raw cane sugar
¼ teaspoon cinnamon
Instructions
Preheat the oven to 350°F (175°C). Butter or spray a mini muffin pan.
In the bowl of a stand mixer equipped with the whisk attachment, add the following: almond meal, salt, baking soda, cinnamon and chia seeds. Mix on speed 4 for 10 seconds.
In a separate bowl mix together: honey, coconut oil, almond milk and eggs.
Add the wet ingredients to the bowl of the stand mixer and whisk on speed 4 until just combined, about 10 seconds. Remove the bowl from the stand mixer and stir in the blueberries with a spatula.
In a small bowl, mix together the raw cane sugar and cinnamon.
Fill the greased muffin cups until full. Sprinkle with the cinnamon sugar mixture.
Bake for 12-14 minutes or until a toothpick inserted into the center comes out clean.
Store in an air tight container for up to 5 days or freeze in an airtight container for up to 2-3 months.
Related posts: