Calamari in umido (calamari stew) is a common recipe found throughout Italy.  A similar recipe is also common with octopus :: polipo, an ingredient loved and used often in Italian cuisine.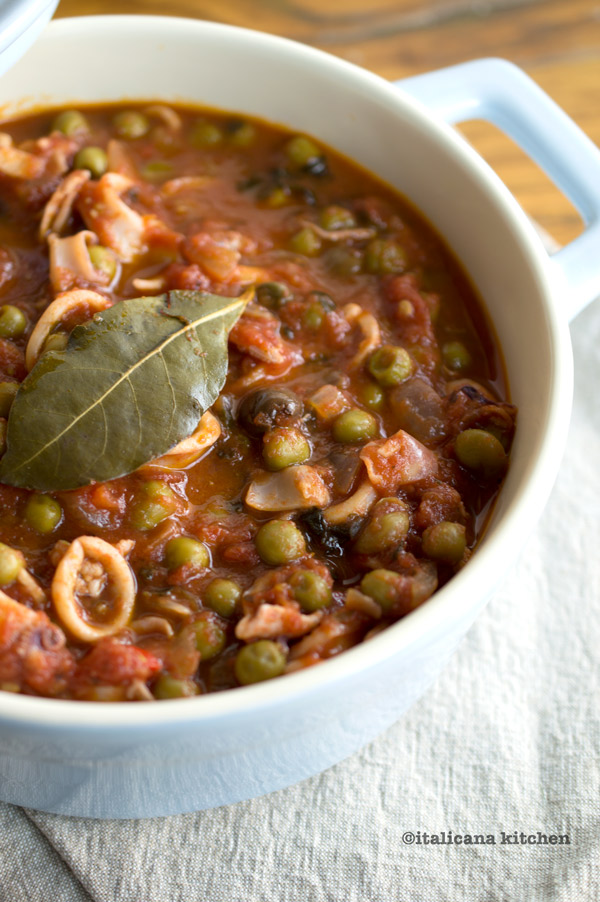 This calamari stew is a great recipe when you want a meal that warms you up. It's a synch to make and is packed with aromatic Mediterranean flavors like onions, garlic, white wine :: vino bianco, tomatoes, basil, capers and taggiasche olives.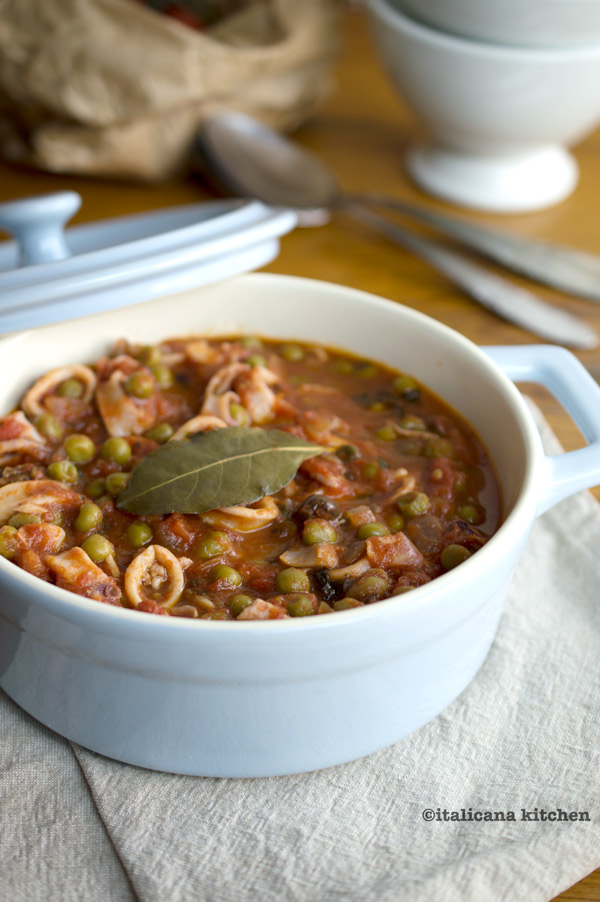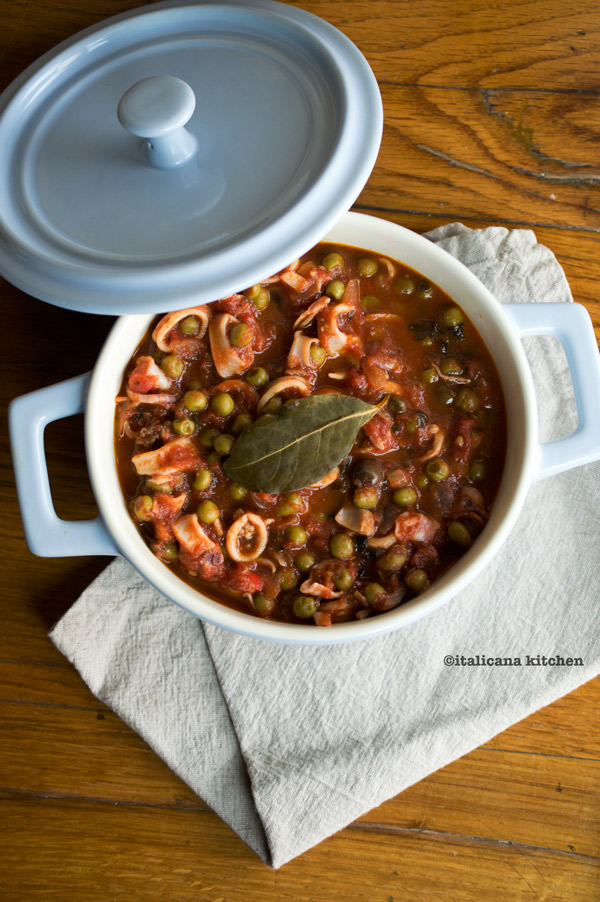 Before living in Italy, I had only eaten fried calamari rings as an appetizer :: antipasto in restaurants usually dipped in some honey mustard or aioli sauce. I had never eaten stuffed calamari, nor had I tried them grilled or in a stew.  It was only by living and traveling in Italy, that I discovered these foreign delicacies.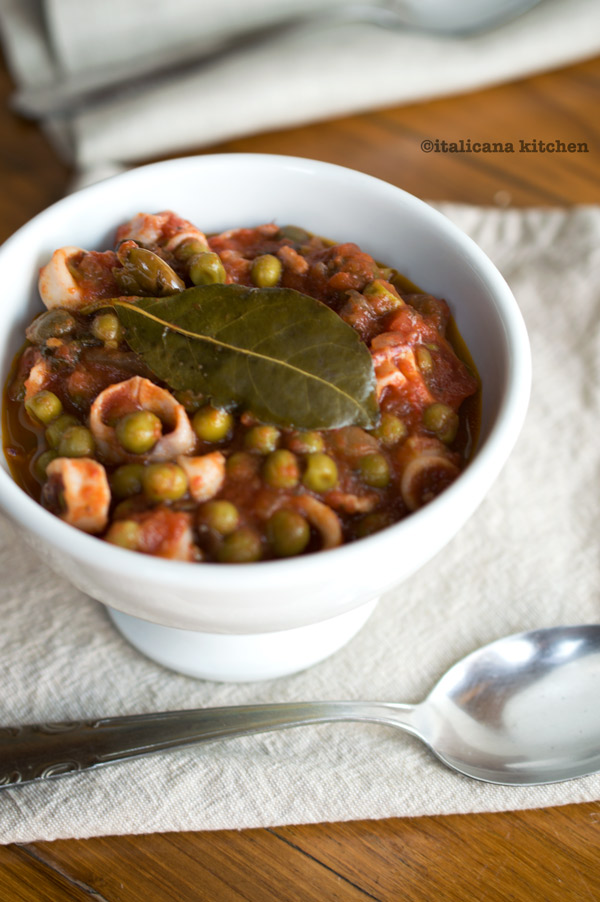 Exploring and learning about the Italian culture through it's magnificent cuisine is  one of the things I love most about living in Italy. And, for those who may not have an Italian trip scheduled in the near future, you too can get a taste :: un assaggio of Italy just by making this traditional recipe at home. Buon appetito!

Calamari Stew
This calamari stew is easy to prepare and full of Mediterranean flavors.
Ingredients
1 tablespoon extra virgin olive oil
½ red onion, finely diced
1 clove garlic, finely diced
½ cup dry white wine
1 large tomato, peeled and chopped
One 12 oz can (330g) tomato purée
1 lb (500g) fresh calamari, cleaned(ask your fishmonger) & chopped into ¼ inch rings
1 handful fresh basil
2 teaspoons capers (rinsed if packed in salt)
2 teaspoons (10g) taggiasche olives (or kalamata olives)
¾ cup (140g) peas (fresh or frozen)
Salt and freshly ground pepper, to taste
Instructions
Heat the extra virgin olive oil in a large skillet then add the red onion and cook for 3-4 minutes over medium heat. Add the garlic and cook for another minute.
Pour in the white wine, chopped tomatoes and tomato purée. Simmer over low heat for 10 minutes.
Add the calamari to the skillet along with the basil, capers and taggiasche olives. Simmer for 15 minutes.
Add the peas and cook for 1-2 minutes or until soft.
Serve warm with a good chunk of homemade bread.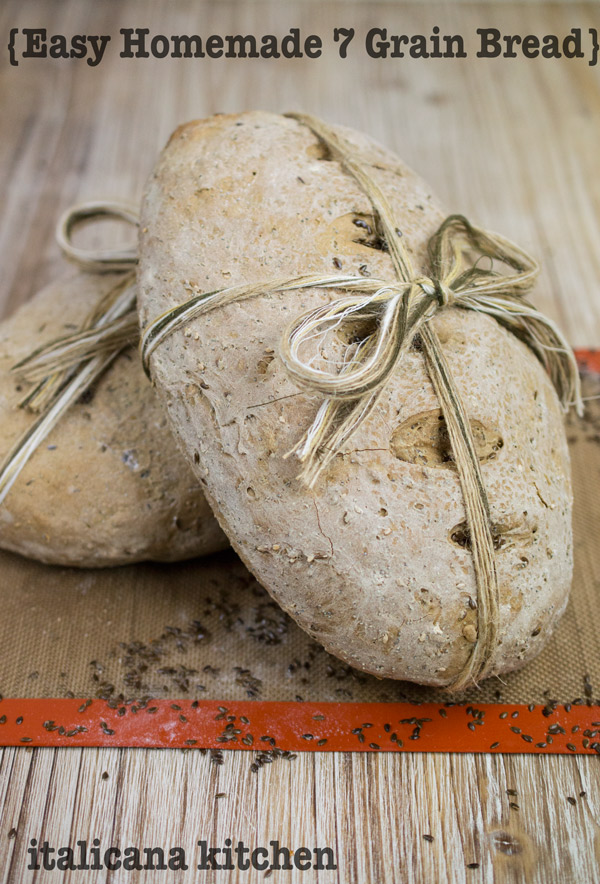 Related posts: