Fried calamari rings are a popular and much loved appetizer in the United States, yet when you want to eat lighter definitely try out a healthier Italian version that is stuffed with herbs and simmered in a fragrant tomato sauce.
It wasn't until moving to Italy that I ate stuffed calamari.  In reality, up until five :: cinque years ago I didn't even know what whole squid looked like, I just knew that the fried ring variety found on the appetizer list in many restaurants was pretty dang good.  Little did I know that I was missing out on a multitude of other delicious variations scarcely found in the states (at least in WA state and in the restaurants I frequented).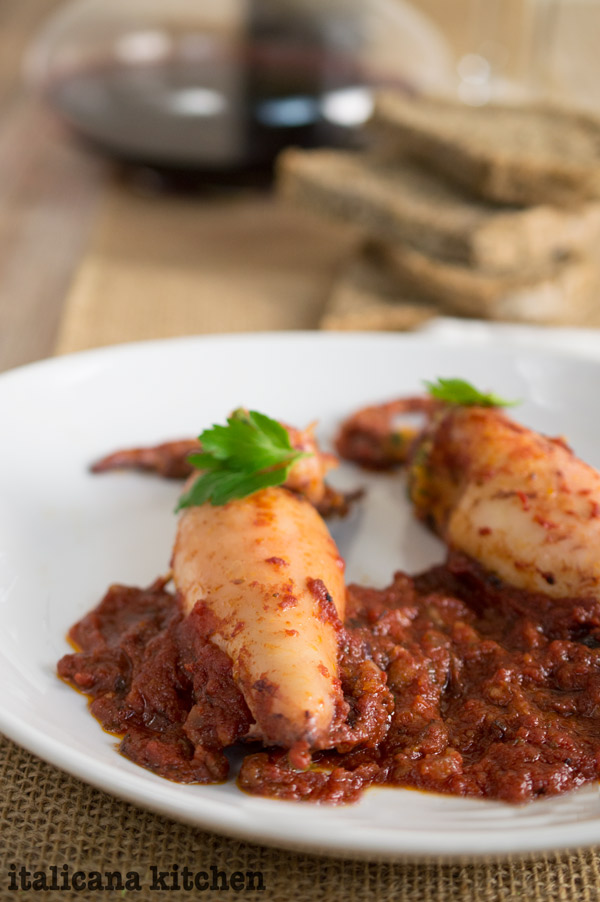 In Italy, squid and octopus dishes are abundant.  From grilled to baked or boiled to stewed, you can find a multitude of varied recipes that are easy :: facile to make and healthy to eat.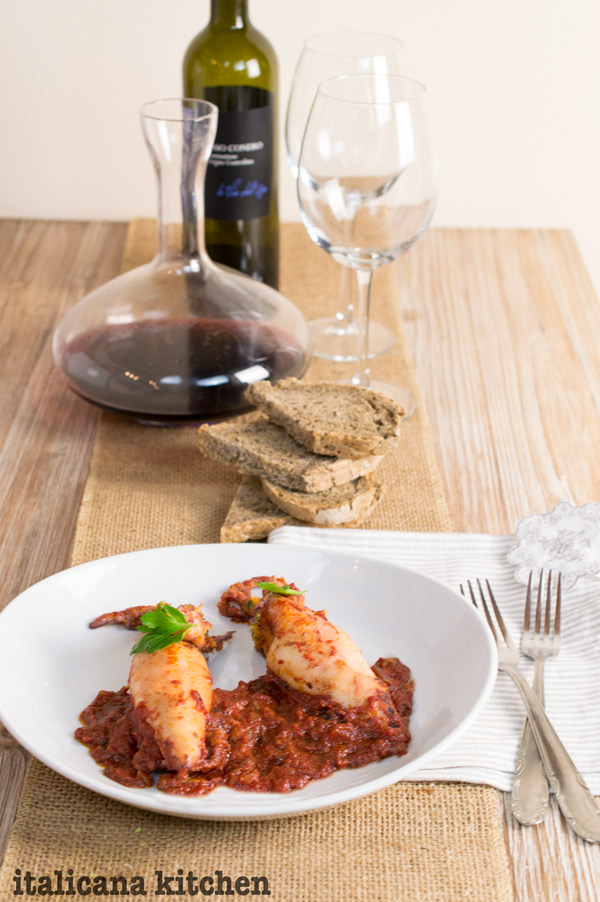 I've read in a number of recipes that calamari must either be cooked on high heat for less than 2 minutes or more than 1 hour and that any amount of time in between will yield a chewy meal.  I followed the instructions my Italian fish monger gave me, and would like to add that the 20 minute cook time in the red sauce :: sugo produced a perfectly cooked squid that was neither gooey nor rubbery, but tender and firm.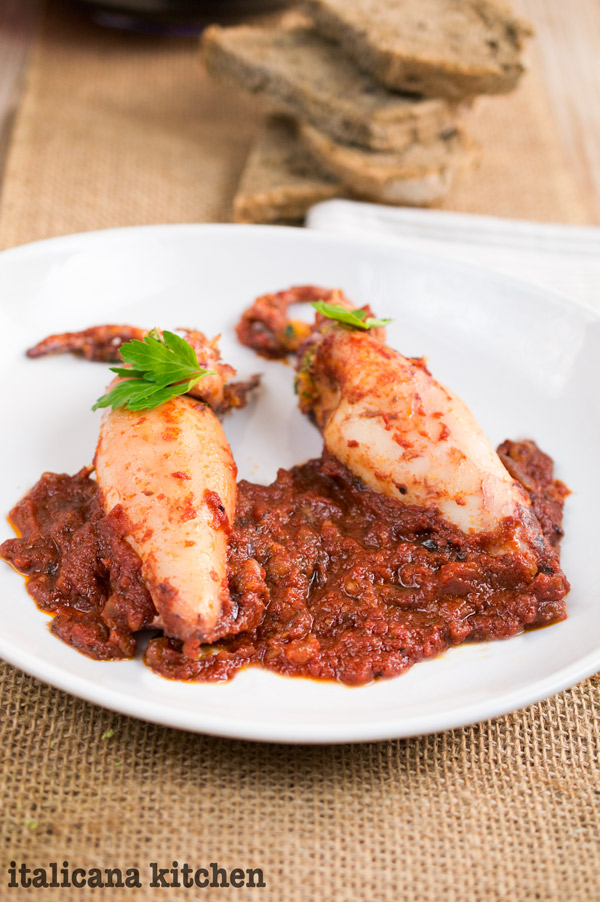 Some people chop the tail into tiny pieces :: pezzettini, cook it for 5 minutes then add it to the stuffing mixture. I, however, attached it with toothpicks to the whole calamari, as the long tentacles add a gourmet appeal to the plated presentation.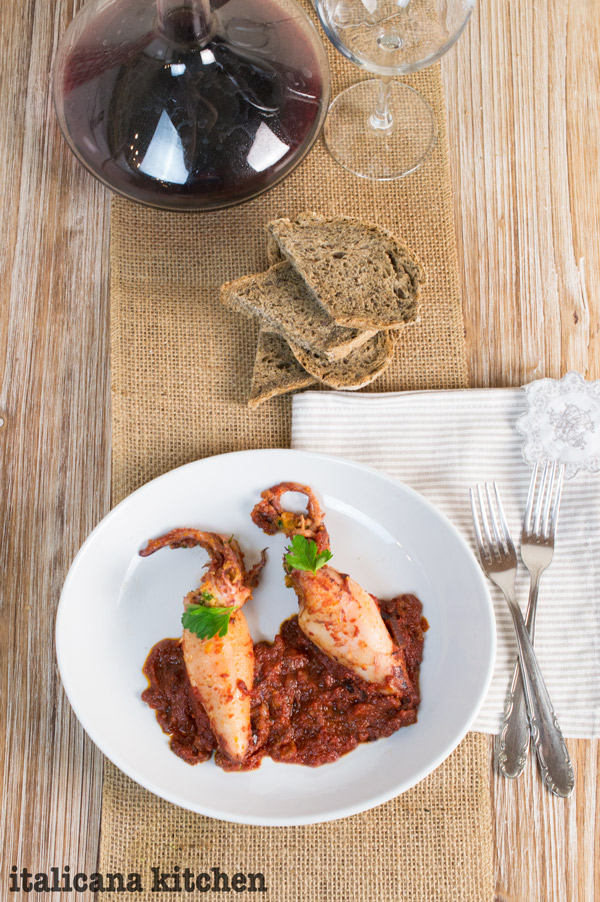 This recipe is for two as an appetizer but can easily be turned into a meal by doubling or tripling the portions.  Whole calamari is a relatively inexpensive :: economico fish to buy and since the recipe calls for a minimal list of ingredients, it is an affordable seafood dish for entertaining guests (or a hungry husband like Mr. Italicano!)
Italian Style Calamari Stuffed with Herbs
A healthy Italian calamari recipe that is stuffed with herbs and simmered in a fragrant tomato sauce. Perfect as an appetizer or main course.
Ingredients
For the stuffing:
¼ cup bread crumbs
¼ cup chopped fresh parsley
3 tablespoons extra virgin olive oil
Salt and pepper, to taste
2 whole calamari, cleaned with tail set aside
For the sauce:
2 tablespoons extra virgin olive oil
½ small onion, finely chopped
1 clove garlic, peeled and smashed
1 cup tomato purée
¼ teaspoon dried oregano
Salt and pepper, to taste
Instructions
For the stuffing:
In a small bowl, combine the bread crumbs, parsley, olive oil, salt and pepper. Stir until combined then divide the mixture and stuff the calamari leaving a little room at the top.
Close each calamari with a toothpick. Then take another toothpick and attach the tail to each calamari.
For the sauce:
In a medium skillet over low heat, add the olive oil, heat for 1 minute then add the onion and garlic. Cook for about 10 minutes or until the onion is translucent, stir often.
Remove the garlic then add the tomato purée, salt, pepper and calamari. Simmer for 15-20 until the calamari is white and firm and the sauce has thickened. Serve warm.
Related posts: