One of my favorite appetizers is baked brie. It's simple to throw together, mouthwatering delicious and it's always a hit at dinner parties.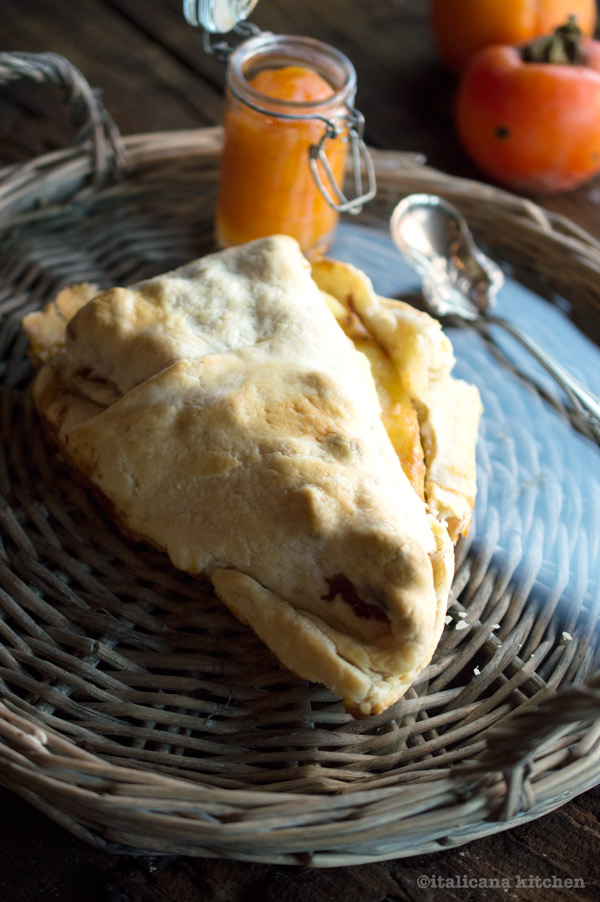 It's a classic recipe that can be adapted in many ways. Some of my favorite combinations include:
-Brown sugar and pecans-
-Cranberry jam and toasted almond slivers- 
-Now adding to this list of favorites is pureed persimmons with Acacia honey and walnuts-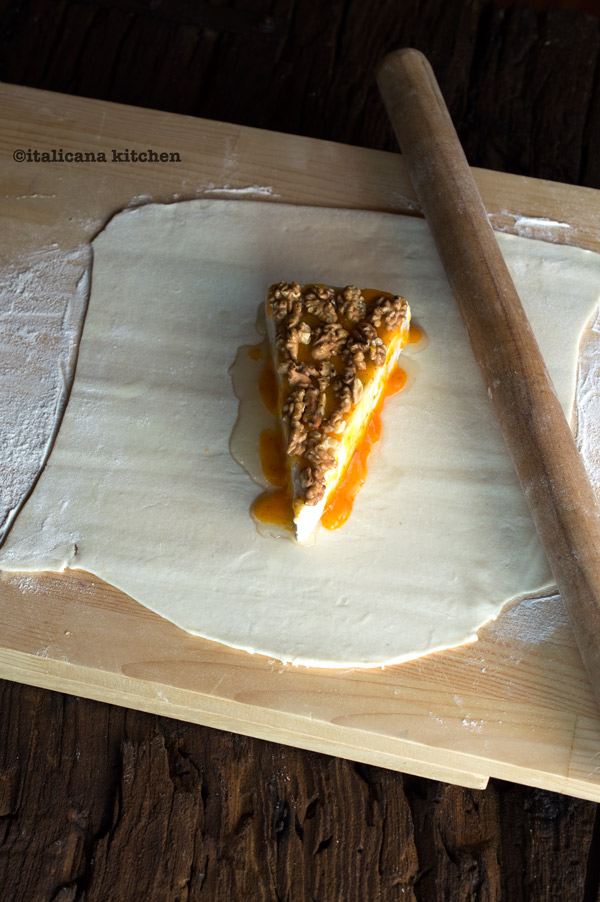 I have a love hate relationship with persimmons: I love the flavor, but I hate the texture. It's soft, squishy and the occasional "slurp" slips out when you eat a persimmon with a spoon. I despise that noise; for me it's worse than nails on a chalkboard. How to get around this problem? Puree the persimmon. It's that easy. (If you have leftovers, serve as a condiment with cubes of artisan cheese. It's fantastic.)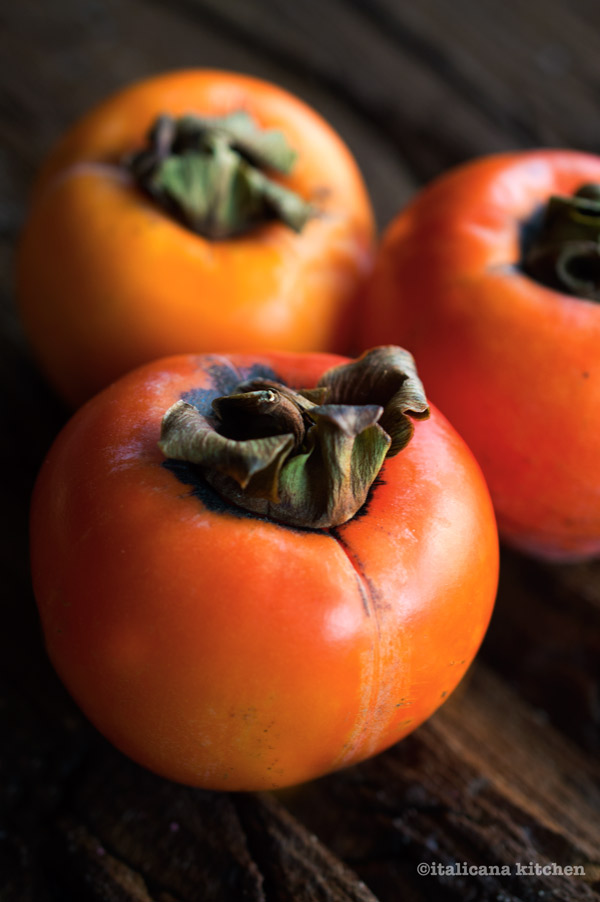 I use to buy the store-bought dough, but then I learned how easy it is to make it from scratch. I always have the ingredients on hand, and there are no preservatives like the industrial ones often have.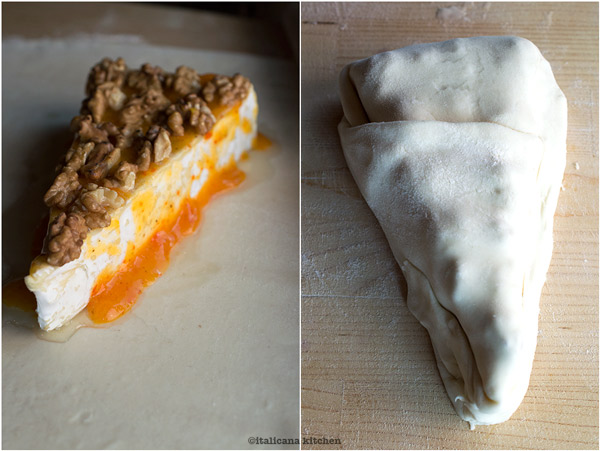 This dough seriously takes 5 minutes to toss together and an hour rest time in the refrigerator before use. I often make 3-4 batches at a time and freeze what I'm not using in separate bags to use later on. (Just thaw it out in the refrigerator the evening before you want to use it.)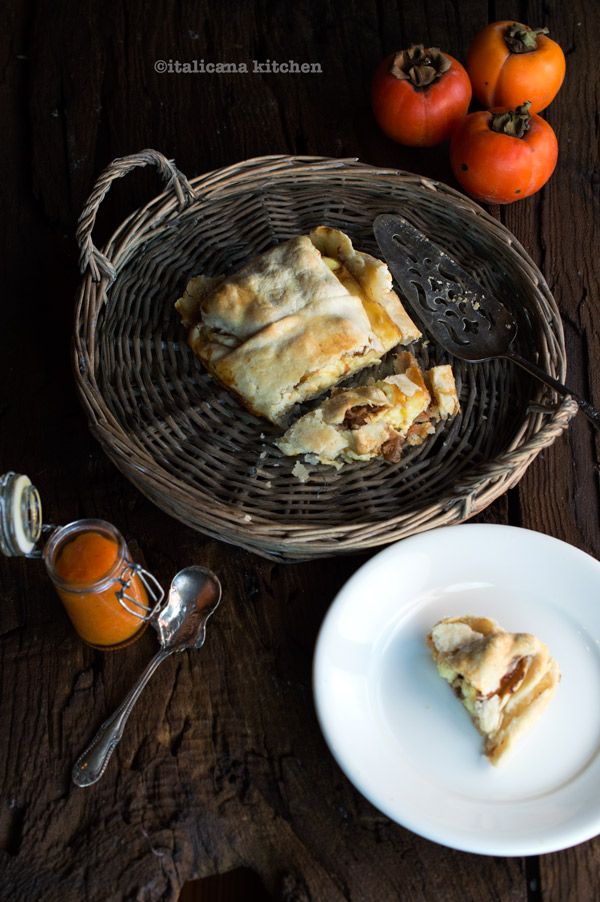 I hope you enjoy this baked brie with persimmon sauce, honey and walnuts. If you have any favorite flavor combinations, I would love to hear them!

Persimmon Baked Brie
A mouthwatering appetizer that is always a hit at dinner parties.
Ingredients
For the dough:
¾ cup (85g) Type 1 flour (or all-purpose, or ½ all-purpose, ½ whole wheat)
¼ teaspoon (1.5g) salt
4 tablespoons (1/2 stick, 57g) butter
2-3 tablespoons ice water + more if needed
For the brie:
One 7-oz brie triangle or circle
1-2 tablespoons honey, I like acacia
1 persimmon, pureed
⅓ cup walnuts halves
1 egg, lightly beaten
Instructions
For the dough:
Chop up your butter, place it on a plate and stick it in the freezer for 5-10 minutes.
In a medium bowl mix together the flours and salt. Dump in the cold butter and toss with
the flour so it's covered. Cut in the butter using a pastry cutter or using a snapping
motion with your fingers until the mixture is crumbly and is the size of peas. A stand
mixer is also perfect to use.
Add the ice water, 1 tablespoon at a time, mixing just until the dough comes together as a
ball. Pat the ball into a flat disc, wrap tightly in plastic. Chill in the refrigerator for at
least an hour.
For the brie:
Preheat the oven to 375°F (190°C).
Roll out the dough on a floured surface. Roll out the dough in a rectangle (or circle if you have a circle brie.) Put the brie in the center, smother with a few spoonfuls of honey and persimmon puree then line the walnuts on top.
Fold the dough around the brie (like you would if you were wrapping a present). Brush the top with the beaten egg.
Bake for 30-40 minutes or until the dough is golden brown.
Notes:
You can also make this recipe with the store bought puff pastry dough.
The total hands on time for this recipe is 15 minutes, the rest is the time in the refrigerator or in the oven.
Related posts: