This Maple Almond Sole with Blueberry Compote is the perfect New Year's recipe for an easy and elegant dinner at home with friends.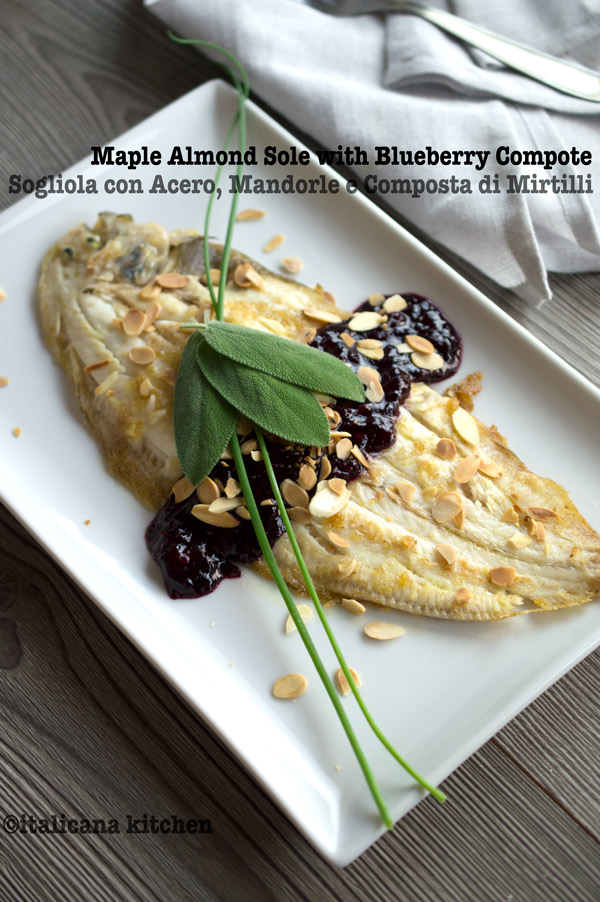 About 10 years ago my oldest brother Cliff was approached at a supermarket :: supermercato in New York by a cameramen who was asking shoppers for their favorite recipes. Cliff recounted the sole almondine recipe that our mom often cooked and a few weeks later was invited on Joan Lunden's cooking show to demonstrate how to prepare the recipe.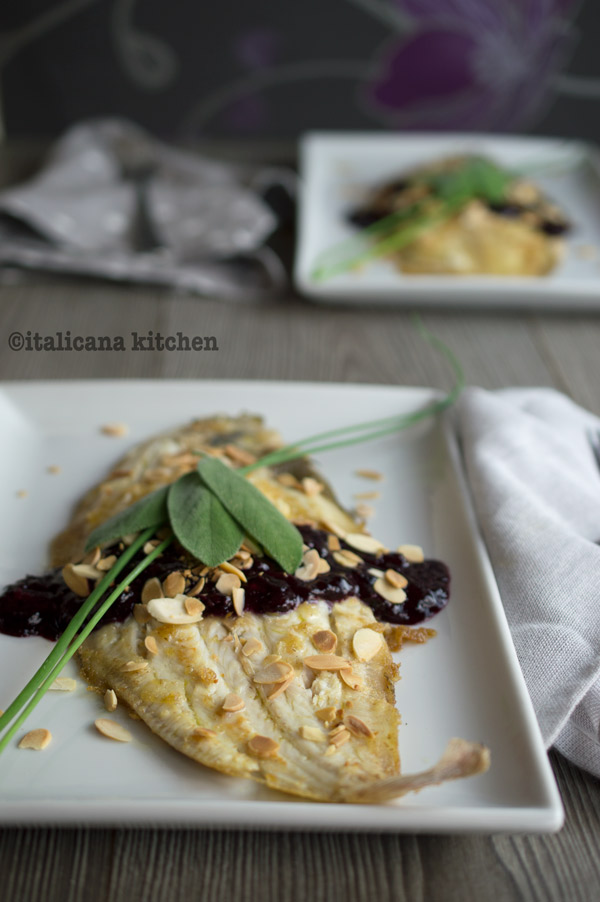 When I was preparing recipes for my 5 day national T.V. appearance on the Italian cooking show La Prova del Cuoco, I immediately thought about this sole almondine recipe which is made with flour, butter, heavy cream :: panna, almonds and lemon.  I loved that recipe growing up, although when I tested it in my own kitchen I was surprised at how much my taste buds have changed over the past few years as I've adopted more of a healthier and lighter approach to cooking, and for me the butter and cream was too heavy for such a delicate fish.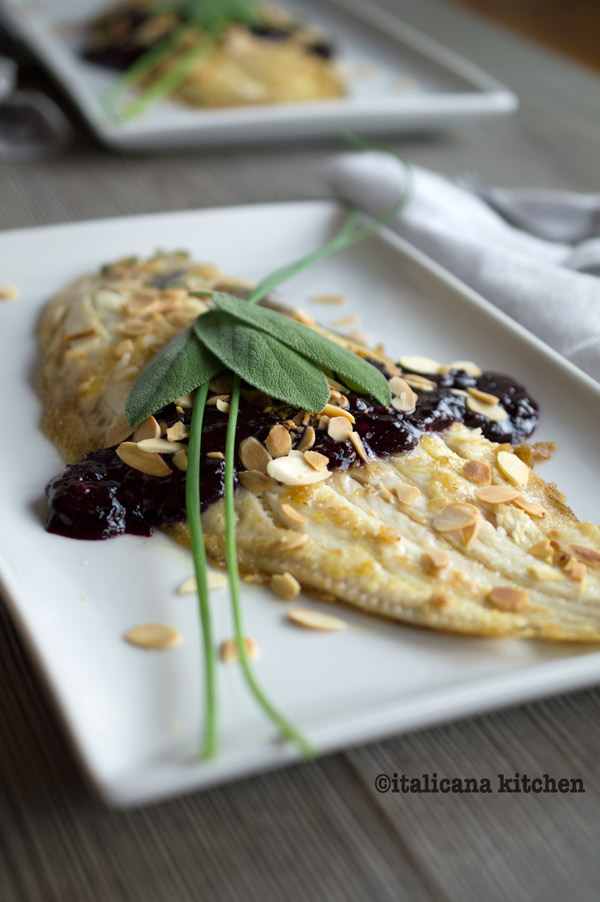 Therefore, I decided to lighten up the original recipe by topping the fish with a blueberry compote instead of cream and butter and I enhanced the flavors by using maple syrup and cinnamon :: cannella. It may sound like quite an unusual combination for fish, but the end result was fantastic. Both Mr. Italicano and I couldn't stop raving on how flavorful and delicious this maple almond sole with blueberry compote was. Thanks to my mother-in-law who is the atypical Italian cook and likes to experiment with various ingredients, I am lucky to have an Italian husband who is open to unique recipes…just as long as I don't disturb him while he eats!

Maple Almond Sole with Blueberry Compote
This Maple Almond Sole with Blueberry Compote is the perfect New Year's recipe for an easy and elegant dinner at home with friends.
Ingredients
For the blueberry compote: 
1 cup (168g) blueberries, mashed
4 teaspoons honey
1 teaspoon cornstarch
8 spoonfuls of water
2 dashes of cinnamon
2 pinches of lemon zest, freshly grated
For the sole:
2 soles cleaned, without skin (or 4 fillets)
Salt and freshly ground black pepper
2 tablespoons maple syrup
Whole wheat flour, as needed
2 tablespoons extra virgin olive oil
2 tablespoons (20g) almonds, slivered
Instructions
In a small saucepan, cook the blueberries, honey, cornstarch, water, cinnamon and lemon zest over medium heat for 10 minutes, stirring occasionally.
In the meantime, salt and pepper the fish then dip both sides into the maple syrup then the whole wheat flour. Add the extra virgin olive oil to a medium skillet and cook on medium  heat for 5 minutes on each side.
During the last 5 minutes, add the almonds slivers to the side of the pan or another small skillet and cook until slightly toasted, stirring often.
Remove from the heat and top with the blueberry mixture and toasted almonds.
Related posts: