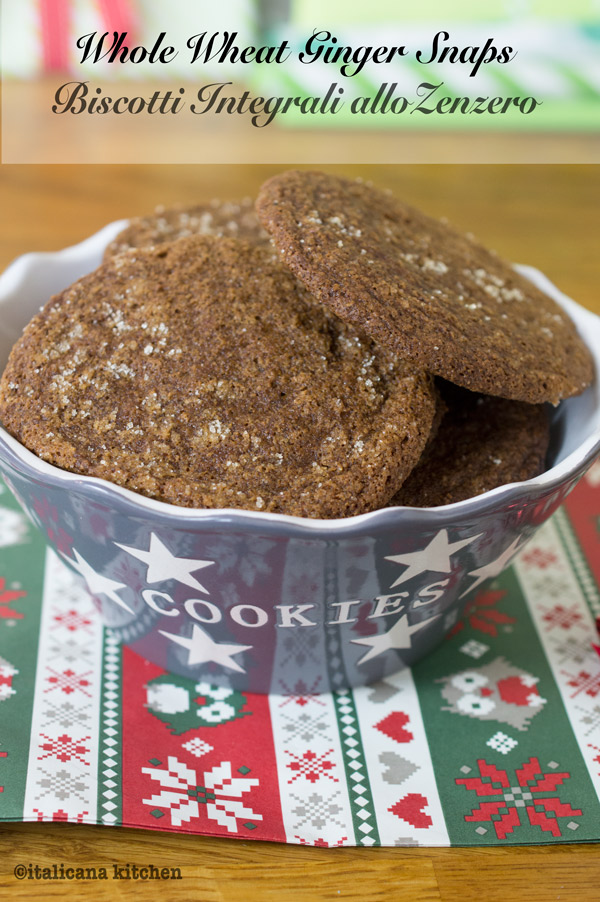 For me, no Christmas would be complete without a layer of freshly fallen snow, houses adorned in twinkling lights, a tree decorated to the brim and these freshly baked whole wheat ginger snaps.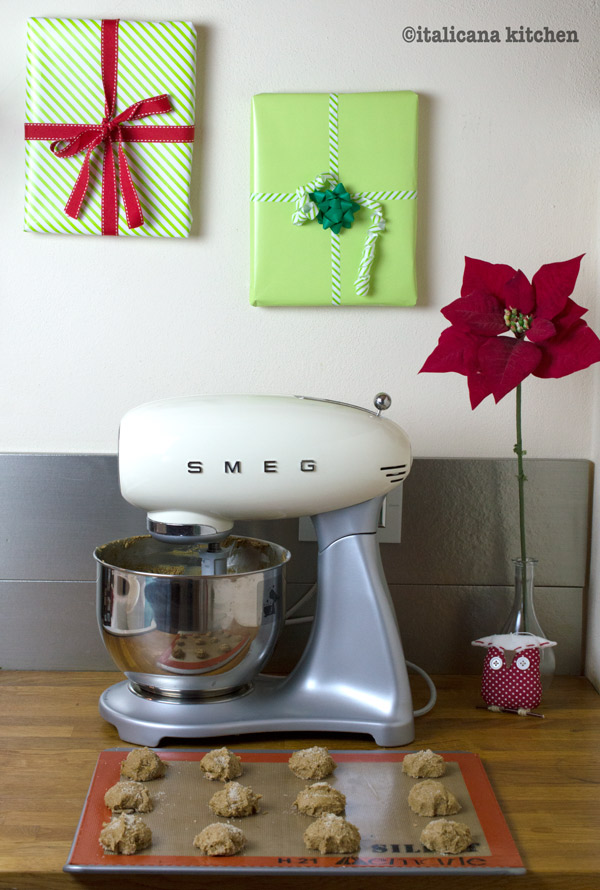 The traditional recipe calls for white sugar and white flour. I replaced most of the white sugar with brown sugar and substituted all of the white flour for whole wheat flour. Using whole wheat flour in some cookie recipes leaves the cookie dense and hard. Not in this case at all. In fact, I couldn't even tell that a substitution had been made.  These whole wheat ginger snaps were slightly crunchy on the outside, soft in the inside and burst with delicious Christmas time spiced flavors.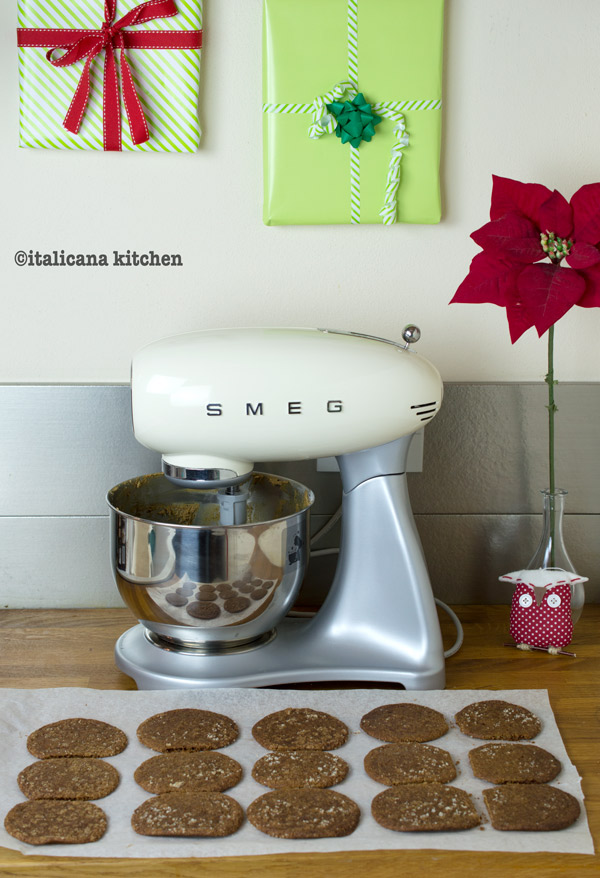 I made these cookies twice: the first time without chilling the dough and the second time I had placed the dough in the refrigerator for 1/2 hour. I highly recommend chilling your dough first because if you don't will be flatter, a bit crunchier and don't have the characteristic cracks on top. (As seen in the photo. Unfortunately when I made the second batch, they got eaten up before I could take new photos.)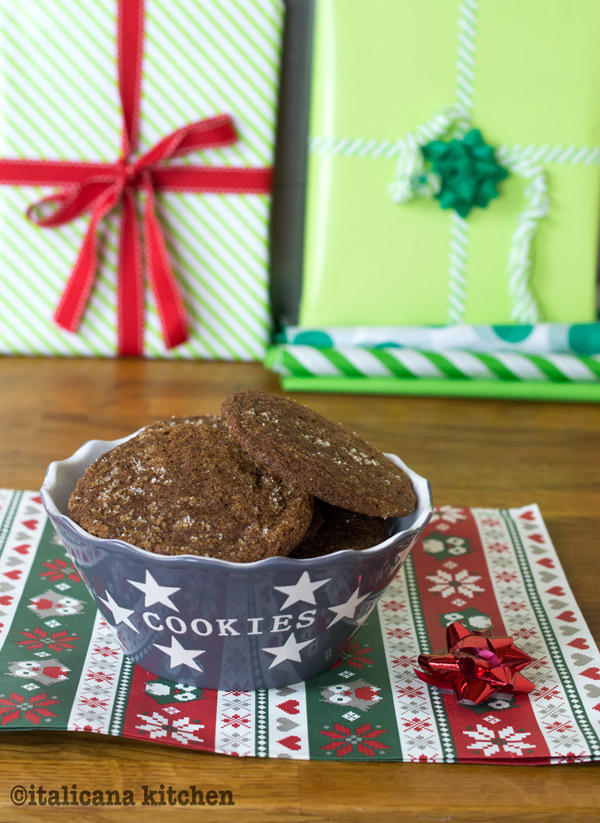 This year Mr. Italicano and I will spend Christmas in America with my family and friends. I'm currently writing this post as we fly over Greenland and in only 5 more hours we'll land in beautiful Seattle. To get me in the Christmas spirit I already know my first stop: Starbucks! I am craving one of their holiday lattes.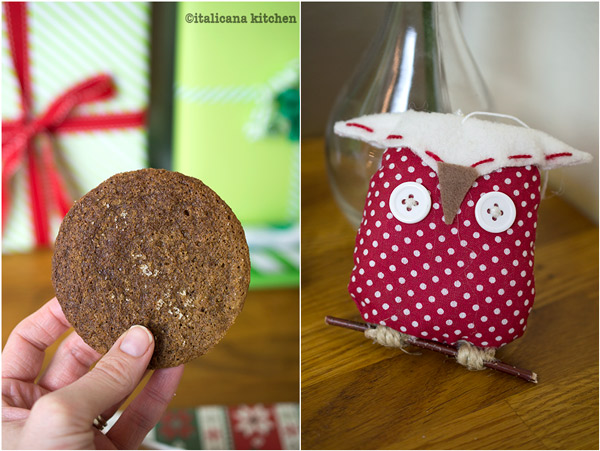 Mr. Italicano has never spent Christmas in America. Our traditions are similar to those in Italy, but not exactly the same. I will definitely keep you up-to-date on all the holiday festivities and specifically the gastronomical differences. I will be posting at least one recipe a week here on the blog, but for all updates on my travels, check out my Instagram, Facebook and Twitter pages where I will be posting daily.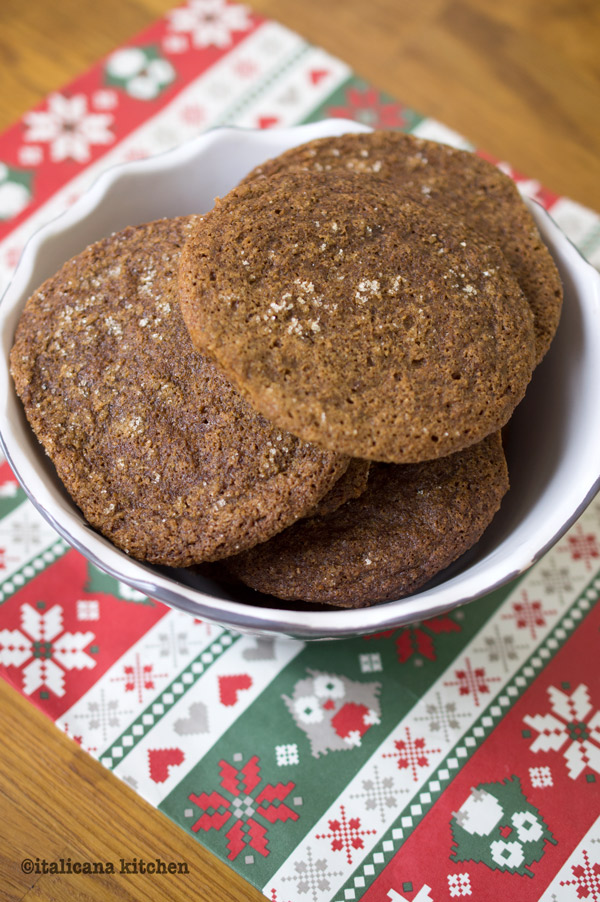 Our holiday festivities start with Christmas Eve dinner, which is usually light and consists of oyster soup with freshly baked bread, followed by family photos in front of the tree with everyone dressed up before we all head off to church. Later in the evening family friends stop by for some cookies and holiday drinks. After we wish them a farewell, we change into our pajamas and start to open presents, a family tradition, while the stockings from Santa Claus are opened in the morning. When I was a kid, all of my friends envied me because they had to wait one more day.
The thing I love most about our tradition of opening presents, is that we take time to watch each person open their gift. For me, it's a magical Christmas moment as I get to watch the face of the person light up when they open my gift. It's simply priceless. The following day while the kids play with their new toys, the adults are busy at work: preparing the grand Christmas lunch.

Whole Wheat Ginger Snaps
These whole wheat ginger snaps are slightly crunchy on the outside, soft in the inside and burst with delicious Christmas time spiced flavors.
Ingredients
2 cups (240g) whole wheat flour
1½ (6g) teaspoons baking soda
1 teaspoon (3g) baking powder
2 teaspoons (3g) ground ginger
¾ teaspoon (2g) ground nutmeg
1 (2g) teaspoon ground cinnamon
½ teaspoon (1g) ground cloves
Pinch of salt
½ cup (115g) butter, softened
¼ cup (50g) white sugar
½ cup (80g) brown sugar
1 large egg, beaten
¼ cup (78g) molasses
¼ cup (70g) maple syrup
Cane sugar, as needed
Instructions
Preheat the oven to 350 degrees F (175 degrees C). Put parchment paper on one or more cookie sheets.
In a bowl combine the whole wheat flour, baking soda, baking powder, ginger, nutmeg, cinnamon, cloves and salt.
In the bowl of a stand mixer fitted with the paddle attachment, beat together the butter and sugars for about 4-5 minutes on medium speed until the mixture is light and fluffy. (If you don't have a stand mixer, you can do this and the following steps by hand or with an electric mixer.)
Add the egg and continue to beat until smooth. Add the molasses and maple syrup and mix until blended.
Pour half of the flour mixture into the stand mixer and mix for 1-2 minutes. Stop the mixer and scrape down the sides with a spatula. Then add the rest of the flour mixture and continue to mix until the dough has been combine.
Refrigerate for ½ hour.
Roll the dough into balls the size of a walnut, then roll them in the cane sugar.
Bake for 8-10 minutes, until the tops are cracked and the cookies have spread.
*Note: I advise you to put the dough in the refrigerator for at least a half an hour before making the cookies, however, if you are in a rush you can simply use a gelato scoop to form the little balls as the dough is too soft and sticky to do it with your hands. The cookies will have the same flavor but will be less soft in the middle and will not have the signature ginger snap cracks on top.
[|http://allrecipes.com/recipe/whole-wheat-ginger-snaps/?scale=30&ismetric=0]
Related posts: